What to Do If Your Drug Is Recalled
Drug recalls are more common than people think, but most are minor and don't pose a major threat to your health. If your prescription medication is on a recall list, keep taking your medication as directed until you talk to your health care provider or pharmacist. Consumers can check the FDA's website or talk to their pharmacist for information on recalled products.

Finding out that your prescription drug may be recalled can be concerning. Fortunately, most recalls aren't a reason to panic. In fact, while you should take a drug recall seriously, they are common and most are minor, according to pharmacist Chris Snyder in an article by Cleveland Clinic.
"We get alerts from the FDA almost daily," Snyder told Cleveland Clinic. "The majority aren't impactful. The big ones are rare."
For example, from January 1, 2020 to March 31, 2020, the U.S. Food and Drug Administration announced 25 drug recalls for reasons such as mislabeling, contamination, defective packaging or formula impurities, according to the FDA's drug recall page.
"Patients shouldn't just stop the medication when they see a recall … First talk to the healthcare provider that prescribed the medication and talk about what other medication they should switch to."
You may think you should stop taking a prescription drug immediately if you hear about a recall. But most pharmacists, doctors and the FDA don't recommend that you stop taking your medication — especially if it treats a serious condition. One example is the 2018 recall announcement for valsartan and other "sartans" in the same drug class.
"[The 'sartans'] treat high blood pressure or congestive heart failure, and to suddenly stop the medication could actually result in harm to the patient. Patients shouldn't just stop the medication when they see a recall. They should first talk to the healthcare provider that prescribed the medication and talk about what other medication they should switch to," Dr. Michael Carome, director of Public Citizen's Health Research Group, told Drugwatch in a telephone interview.
While your health care provider and pharmacist are always your best source for information, you can still educate yourself as a consumer. Here's how you can learn about the drug recall process, see if your lot number is a part of the recall, check how serious a recall is and learn how to dispose of your medication.

Who Is Responsible for Drug Recalls?
The FDA defines a drug recall as "a voluntary action taken by a company at any time to remove a defective drug product from the market." Contrary to popular belief, the FDA rarely has to force a manufacturer to recall a drug. Most of the time, manufacturers find out something is wrong with a drug and recall it before consumers are affected, according to Board Vitals.
Manufacturers remove about 4,500 drugs and medical products from the market each year for various reasons, pharmacist Deborah Simonson wrote for the Ochsner Clinic Foundation.
During the first quarter of 2020, manufacturing issues were the top reason for drug recalls, according to the Stericycle Expert Solutions report. Other reasons for drug recalls included issues with the quality of the drug, presence of foreign material in the drug, issues with the drug label or contamination of the drug.
"A recall is a voluntary action taken by a company at any time to remove a defective drug product from the market."
The FDA's main role is to oversee the drug recall process and make sure manufacturers act in a timely manner to protect the public.
For example, the antacid drug Zantac, known as ranitidine in its generic form, experienced widespread recalls in late 2019 and early 2020. Although 15 different companies had issued ranitidine recalls by March 27, 2020, the FDA requested that all manufacturers immediately withdraw both over-the-counter and prescription ranitidine products from the market in an announcement on April 1, 2020.
The FDA cited new studies showing that ranitidine may contain levels of the carcinogen N-Nitrosodimethylamine (NDMA) that are unacceptable for daily intake, posing a risk to public health. The Zantac recall and market withdrawal doesn't apply to the new Zantac 360 formula made with famotidine.
Once a manufacturer informs the agency of a recall, the FDA typically announces it on its website. Typically, the public is only notified when a drug poses a serious health hazard. In these cases, patients may get notifications from the manufacturer, their pharmacist or health care provider.

How to Find Out If Your Drug Is Recalled
Some patients may receive letters or find out about a recall at their pharmacy. For example, pharmacies like CVS, Walgreens and Rite Aid may contact consumers or provide information on their websites, but this isn't always the case.
There are a couple of main ways to find out if a manufacturer has recalled a drug. One way is to simply talk to your pharmacist.
"Usually, the lot number appears on the prescription bottle. If a patient is uncertain as to whether their specific drug has been recalled they should take the bottle and go back to the pharmacy and find out if it's covered by the recall," Carome told Drugwatch.
If you follow the FDA on social media such as Twitter or Facebook, they may announce drug recalls there. However, patients can also get information directly from the FDA's website.
Searching the FDA Recalls List
Patients can search the FDA list of drug recalls for their medication and find out the date the recall started, the reason for the recall and the drug's manufacturer.
In some cases, a manufacturer may only recall a few lot or batch numbers of a medicine. In the case of generic medicines, there are dozens of manufacturers and only some of their products are affected. For example, when the FDA announced the valsartan recall in July 2018, only certain manufacturers and lot numbers were a part of the recall.
Fact
The FDA's Office of Drug Security, Integrity, and Response (ODSIR) coordinates recalls and communicates them to the public. You can contact them by email
CDERDrugSupplyChainIntegrity@fda.hhs.gov
or phone 301-796-3130.
Patients can find batch and lot numbers along with the manufacturer's contact information listed on the recall notice on the FDA's website.
Finding Your Lot Number
Next, it's time to locate the lot number of your medication. Depending on the package your drug comes in, the lot number may be located in different places, according to GoodRx.
Bottles and Vials
If your medication comes in a bottle or vial, the lot number will be next to the expiration date underneath the dosing instructions or by the barcode.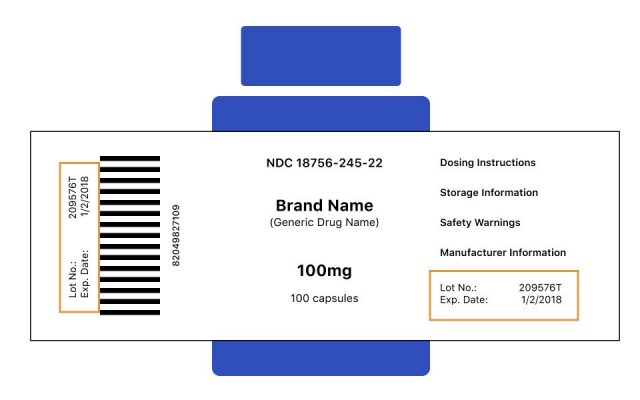 Tubes
If your medication comes in a cream or gel form, the lot and expiration number will either be on the crimp at the end of the tube or on the back of the tube.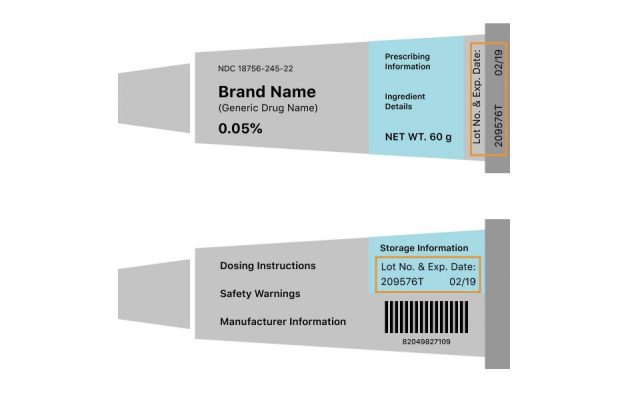 Blister Packs
Medications that come in blister packs will have lot numbers and expiration dates printed directly on the foil packaging or on the box the drug comes in.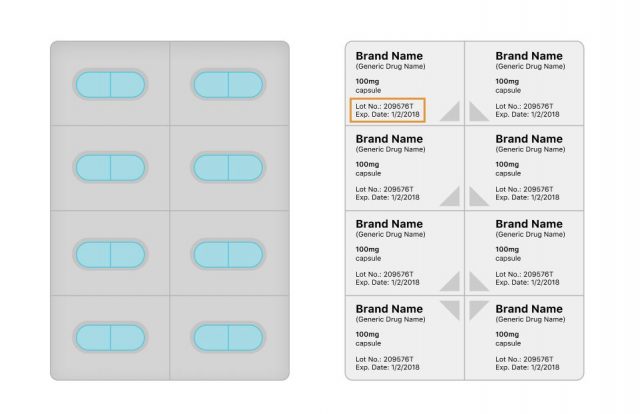 How Serious Is My Recall?
One of the FDA's jobs during a recall is to classify how severe it is. The FDA breaks recalls down into three classes. Class I is the most serious type of recall. Products in this category can cause serious harm or death.
The FDA typically classifies a recall about a week after the manufacturer notifies them and initiates the recall. Check the FDA's Enforcement Report to find out a drug's recall classification, number of products affected, lots included in the recall and the name and address of the manufacturer.
FDA Recall Classification:
Class I:

The recalled product could cause serious health problems or death. Fortunately, these are rare. Example: On December 18, 2012, Matrixx Initiatives recalled 46,752 bottles of Zicam Extreme Congestion Relief (oxymetazoline HCl) because of possible contamination with Burkholderia cepacia, bacteria that can cause serious lung infections that can be fatal.

Class II:

The recalled product might cause a temporary health problem or slight threat of a serious nature. Most recalls fall in this category. Example: On July 16, 2018, Teva Pharmaceuticals USA recalled 13,555 bottles of valsartan. The company detected the carcinogen N-nitrosodimethylamine (NDMA) in the active ingredient for the blood pressure drug.

Class III:

The recalled product is unlikely to cause any serious health problems but it violates FDA labeling or manufacturing laws. Example: On November 1, 2018, Bound Tree Medical, LLC recalled 747 Curaplex Epi Safe Kits because of an incorrect expiration date, and the FDA did not clear the syringe in the kit for sale.
Recall Information
The FDA announced a voluntary recall of valsartan after certain lots of the drug were found to contain NDMA, a possible carcinogen. Learn more.

How to Dispose of Old Medication
If your drug was on the recall list and you've gotten your replacement prescription, you should safely dispose of your old, recalled medication.
At Your Pharmacy
Customers can talk to the pharmacist that gave them their medication for information on possible refunds. In addition, the pharmacy may have a medication takeback program. For example, Walgreens has safe medication disposal kiosks. A customer just drops their unwanted, unused or expired medication in the box, "just like putting a letter in a mailbox," according to the website.
DEA-Registered Collectors
The U.S. Drug Enforcement Administration has medication takeback programs in many cities. To locate one, people can visit the DEA's website. From time to time, the DEA also hosts National Prescription Drug Take Back events. You may also contact your local law enforcement agency, city or county government for information on local medication disposal locations.
In Your Trash
If you have no other avenue for disposing of medications, you can throw them in your household trash, according to the FDA's guide on how to dispose of medications. The FDA has a list of approved medications for flushing down the toilet.
If the medication is not on the flush list, the agency recommends a few steps for household trash disposal of drugs, according to its website:
Mix medicines (do not crush tablets or capsules) with an unpalatable substance such as dirt, cat litter, or used coffee grounds
Place the mixture in a container such as a sealed plastic bag
Throw the container in your household trash
Delete all personal information on the prescription label of empty pill bottles or medicine packaging, then dispose of the container
Please seek the advice of a medical professional before making health care decisions.
Share This Page:
How can we improve this page?
Thank You for Your Feedback
We appreciate your feedback. One of our content team members will be in touch with you soon.
We appreciate your feedback. One of our content team members will be in touch with you soon.
Who Am I Calling?
Calling this number connects you with a Drugwatch representative. We will direct you to one of our trusted legal partners for a free case review.
Drugwatch's trusted legal partners support the organization's mission to keep people safe from dangerous drugs and medical devices. For more information, visit our partners page.