How to Obtain Medical Records
The Health Insurance Portability and Accountability Act (HIPAA) gives patients the right to view their medical records, get copies and make corrections to them. This step-by-step guide explains how to obtain medical records, how much they cost and what to do if your request is denied.

By law, patients and their representatives have access to medical records including billing information, medical test results, doctor's notes, lab reports and more.
Plaintiff's lawyer Holly Ennis helps her clients understand the medical records process and obtains records on their behalf. There are many reasons why someone may want their records, she said.
"The most common are: the patients are moving to a different area and want continuity of care with their records, they are changing physicians, they are involved in litigation or the health care providers may be retiring or closing the practice," Ennis said.
Keeping copies of your medical records can also help you spot errors that save money and even your life, according to U.S. News and World Report.
Benefits to Keeping Medical Record Copies
Allows you to make sure your records are complete and correct
Your doctors may not always share information, having copies to show your doctors will help you get better care
Allows you to ask about preventative care and treatment
Helps prevent getting tests you don't need
Gives you a current list of medications and immunizations
Helps keep your allergy information up-to-date
Allows you to check records to make sure your diagnosis and reason for a doctor's visit matches your billing statement and billing codes
Allows you to dispute charges for in-hospital care like surgery time, drugs you didn't take or procedures you didn't have
Gives you information you need to negotiate bills with your insurance provider

Who Can Request Records
According to HIPAA, patients have the right to request their records. Other individuals can also request records on behalf of a patient. These include a parent, legal guardian, patient advocate or caregiver with written permission from the patient.
Some providers may have special forms for patients to complete to give permission for representatives to obtain medical records on their behalf.
"An attorney would still need a signed medical authorization release to obtain a client's medical records from any healthcare provider," Ennis said. "Often, many healthcare providers respond more quickly to an attorney than to a patient."

Requesting Your Records
Most hospitals and providers in each state have a similar process for requesting records. It typically begins with a written or in-person request.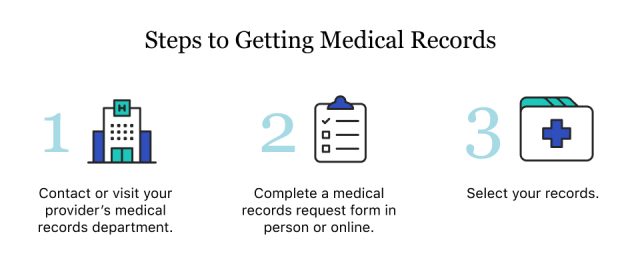 "Normally, one would simply have to call the health care provider and request a copy of the record and pick them up, after signing a release for the records," Ennis said. "If they want them mailed or are gathering them from a hospital, they will be required to sign a medical authorization release form first."
Requesting medical records in person allows a patient to make sure they get the exact records they want, Ennis added.
"You are much more likely to get a more complete and quicker response this way," she said.
"Normally, one would simply have to call the health care provider and request a copy of the record and pick them up, after signing a release for the records."
Some records that patients may want to request are test results, reports for surgeries, doctor's notes, discharge summaries and specialists' reports.
If you've had surgeries that require implants such as knee replacement surgery or hernia surgery, the surgical notes should have information about the model and brand of the implant. This is important information for recalls or if you need to file a lawsuit for a faulty product.
Each state has laws for how long they must keep records. Most states will keep records anywhere from five to 10 years. For a complete list, visit HealthIT.gov.
If you are in person, bring an ID. If sending to another person or party, you will need to sign an authorization form and personal representatives need powers of attorney.
Electronic copies may be available as DVDs, CDs, USB flash drives or secure emails, and patients may request one of these formats.
Records Your Provider May Deny
HIPAA allows a patient to get almost all records with a few exceptions. These exceptions typically include a provider's psychotherapy notes with impressions rather than diagnoses. In general, if any information may lead to patient harm, a provider may deny the request.
Examples of Records Providers May Deny
Psychotherapy notes and other mental health notes that may lead to patient harm
ER records that are specific to hospital or company procedure and not patient care
Information involved in a lawsuit
Records that include information about other people or a third party that may be harmed by the release of information
Ongoing research that has not been completed
Any records that may endanger patient safety
How Long Does It Take?
Providers have anywhere from 30 to 60 days to process a request. But many facilities may provide records within five to 10 days, according to American Health Information Management Association.
"I called the records department and they sent me forms to fill out via email or online," said patient Rachel Brummert, who has had to request medical records on multiple occasions. "On average it took about two weeks for my records to be copied."
Always keep records of your requests in case you need to follow up with the provider.
"On average it took about two weeks for my records to be copied."
How Much Does It Cost?
Under HIPAA law, a provider may not charge you for the labor of searching or retrieving records. They also cannot deny you a copy of your records if you have not paid for services rendered. But they can charge you a reasonable fee for the copies.
"There are statutes in every state concerning how long healthcare providers must retain medical records and what they are allowed to charge for copying said records," Ennis said.
Costs for Copies
The cost for medical records ranges from $0.25 to $2.00 per page in most states. Check your state's fees on the
Records Company website
.
In most states, the cost ranges from $0.25 to $2.00 per page.
The rate typically gets cheaper as the page count goes up. For example, Louisiana charges $1.00 a page for the first 25 pages, $0.50 for pages 26 to 350 and $0.25 for pages above 351.
"It does get pricey though," Brummert warned. "I was charged $1 per page, and my records are pretty thick."
The Records Company has a list of records fees by state, said Ennis. Patients should inquire about the price and get an estimate before ordering records to avoid a large bill for copies.
Records from a Provider No Longer in Practice
Sometimes, patients may need records from a doctor no longer in practice. Under law, the doctor must transfer his or her records to another provider.
If the doctor left a practice that is still operating, the records will remain with the practice. If another doctor bought the practice, the new practice would maintain the records.
If the provider didn't leave any details before leaving practice, a patient may be able to put together records from hospitals, labs and specialists they saw. The insurance company may also be able to help.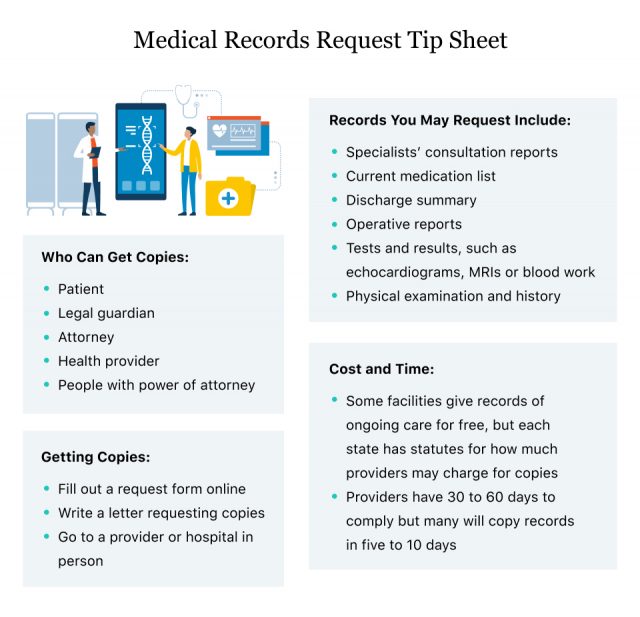 Electronic Records and Patient Portals
Electronic Health Records (EHR) are another way patients may have access to information. Patients should ask their provider if they have a patient portal available and information on how to access it.
Portals allow patients to access their health information anywhere with an internet connection at their convenience, according to HealthIT.gov. Records available through patient portals include: recent doctor visits, lab results, medication lists, allergies, immunizations and discharge summaries.
Patients may also have portals to view test results directly from the lab. For example, LabCorp's patient portal allows patients to view and print recent lab results.

Requesting Another Person's Records
Requesting another person's medical records has its own requirements. There are different forms to fill out and the requestor must have the proper legal documents to show the medical records department.
If a patient is no longer able to make decisions or is incapacitated, their representatives must have a power of attorney for healthcare and finances — a special document that allows a specified person access to medical records.
Requesting medical records of a deceased patient requires someone to be an executor of the deceased patient's estate or to get permission from the executor. If no executor exists, someone can petition to become the executor through probate court. The petitioner must have documentation of their relationship to the deceased.

How to Correct Errors or Omissions
"I've had to request my medical records several times," Brummert said. "Sometimes to check for and correct inaccuracies — you'd be shocked how many there could be in your file."
An example of an error might be that a hip patient complained of pain in swelling after the surgery, but the medical record reports no pain or swelling. Other errors might be in the medication list or allergies to medications a patient has.
Most of the time, patients can simply call the provider to get these errors fixed. They should do so as soon as possible.

What to Do If Your Request Is Denied
If a provider denies a medical records request, patients should make sure they provided all the information necessary on the form and that all proper authorizations have been signed.
If the patient wrote a personal letter requesting records, make sure the following patient information was in the original request:
Date of birth
Name
Social Security number
Contact information (address and phone number)
Email address
Dates of service and specific records requested (tests, discharge notes, etc.)
Method of delivery (email, in person, through mail)
Sometimes, just calling the provider's medical records department can resolve any issues.
"Patients are absolutely entitled to obtain their medical records as indicated by 45 CFR, section 164.524. Usually, the provider has 30 days to respond," Ennis said. "Patients need to look up the state law in their states so they are ready to demand their records under legal authority if the health care provider is non-compliant."
George Washington University publishes the laws in each state on its website.
Patients may also file a complaint with the Office for Civil Rights (OCR) if they feel a provider violated their rights. Patients have to file a complaint within 180 days of the violation.
Please seek the advice of a medical professional before making health care decisions.
Share This Page:
How can we improve this page?
Thank You for Your Feedback
We appreciate your feedback. One of our content team members will be in touch with you soon.
We appreciate your feedback. One of our content team members will be in touch with you soon.
Who Am I Calling?
Calling this number connects you with a Drugwatch representative. We will direct you to one of our trusted legal partners for a free case review.
Drugwatch's trusted legal partners support the organization's mission to keep people safe from dangerous drugs and medical devices. For more information, visit our partners page.