All expired, unwanted or unused drugs and devices, including prescription pills, liquids, patches and over-the-counter medicines, inhalers and injectable products, should be disposed of as quickly and securely as possible. The goal is to help reduce the chance of accidental or intentional exposure.
The U.S. Drug Enforcement Administration and the U.S. Food and Drug Administration provide guidelines and regulations for safe disposal of all unused medicines and potentially dangerous devices, such as syringes used to administer certain medicines.
The rules are intended to prevent:
Harm to children, pets and others
Accidental overdose
Medicine cabinet mix-ups
Abuse or misuse, especially by teens and young adults
Harm to the environment, especially when disposed of improperly (i.e. pouring certain liquid medicines down the drain)
Drug Disposal Sites and Events
The DEA works with local governments and private entities to provide safe drug disposal opportunities for the public. You can find DEA-authorized collectors online.
Local governments and law enforcement agencies also participate in drug-disposal events. More than 4,200 local governments across the country participated in the DEA's last National Prescription Drug Take Back Day in November.
Did You Know
Consumers got rid of a record 912,305 pounds of unwanted pills during National Prescription Drug Take Back Day in November 2017.
The public dropped off a record 456 tons of medications at 5,300 collection sites. That marked a six-ton increase from the previous drug-disposal event earlier in 2017.
If a patient has questions regarding the safe disposal of a medication or device, they should contact their pharmacist. Local health departments can also assist with instructions for disposal or the retrieval of sharps disposal containers. The local waste management service may be able to answer questions about whether certain drugs or devices can be disposed of in a person's household trash.
Steps for Household Trash Disposal
Most medicines, including prescription and over-the-counter drugs, pills, liquids, creams, etc., can be thrown into the household trash, unless otherwise instructed on the label. To properly throw away used or expired medications in the kitchen or bathroom garbage cans, there are a few steps people should take:
Step 1

Mix any leftover medicines with an inedible substance such as dirt, kitty litter or used coffee grounds. The point is to make the mixture unappealing to both children and animals.

Step 2

Place the mixture in closed container, such as a sealable plastic bag.

Step 3

Throw the container with the mixture into the household trash.

Step 4

Use a permanent marker to black out all personal information on prescription labels of empty pill bottles or other medicine packaging. Then discard the materials.
Disposing of Inhaler Products
Inhalers and other aerosol products can pose an environmental concern if they are punctured or thrown into a fire or incinerator during disposal.
Inhalers are portable devices that administer a type of drug that is to be breathed in. These products are often used by patients who have asthma or other breathing problems, such as chronic obstructive pulmonary disease (COPD).
When disposing of inhalers, people should read instructions on the labeling and follow local regulations and laws regarding the disposal of aerosol products. Most inhalers can be safely thrown into the household trash or recycled.
Disposing of Injectable Products
Unused or expired injectable products, such as those used to take insulin for diabetic patients, can be safely disposed of using a sharps disposal container. If a person needs assistance obtaining such a container, contacting your pharmacist that dispensed the injectable medicine is a good place to start.
Short-, rapid-, intermediate- and long-acting insulin medicines, including Humulin, NovoLog, FlexPen, Novolin, Levemir, Lantus and Tresiba, are all injectable products that require safe disposal via a sharps disposal container.
Other injectable products may include:
Fertility drugs (follicle stimulating hormone – FSH, Pergonal, Metrodin, Pregnyl, Novarel, Lupron, Synarel and Antagon)
Antibiotics (Apo-ampi)
Allergy medicines (Dimetapp – brompheniramine maleate)
Anti-anxiety medicines (Ativan – lorazepam and Librium – chlordiazepoide)
Antipsychotics (Thorazine – chlorpromazine)
Testosterone (Testopel, Depo-Testosterone and Aveed)
Sharps Disposal Containers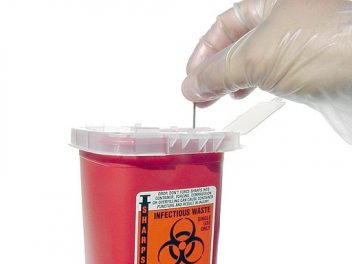 Sharps disposal containers should only be filled about three-quarters full before the container is disposed of. Sharps containers should never be overfilled. All injectable products should be safely and securely out-of-sight and out of immediate reach in a sharps disposal container.
Sharps disposal guidelines may vary depending on where a person lives. Patients should follow local guidelines regarding the safe disposal of sharps containers.
Whenever possible, a patient should attempt to secure a sharps disposal container with a mail-back box, which allows for injectable products to be returned after use to a company for disposal.
People can check with their local trash removal service or health department to learn about safe methods for disposal of sharps containers where they live.
When Is It Safe to Flush?
Some medicines can be especially harmful to others and therefore, labeling may instruct patients to immediately flush these medications when they are no longer needed, or if they've expired and will not be used.
The FDA has provided a list of medicines recommended for disposal by flushing.
These medications, among others, have been found to cause harm, and in some cases cause fatalities, when exposure, sometimes just one dose, occurs in a person for whom the medicine was not prescribed. To prevent accidental exposure or ingestion of these substances by children, pets or others, it is recommended that these medicines be flushed down the toilet when another means of safe disposal by a DEA-authorized collector is not available.
Environmental Concerns
The FDA has acknowledged that there are concerns about the small levels of drugs that may be found in surface water, such as rivers and lakes, and in drinking water supplies, when medicines are flushed as a means of disposal. An environmental assessment expert at the FDA, Raanan Bloom, pointed out, however, that the majority of water contamination occurs when people take the drugs and naturally pass them from their bodies.
The FDA maintains that there has been no sign of environmental effects caused by flushing recommended drugs. However, because the federal agency takes this concern seriously, its staff published a paper to evaluate the environmental and human health risks associated with flushing 15 different medicines. The results confirmed that most of the medicines presented a low risk to the environment, and that all 15 medicines presented negligible risk to humans through indirect exposure, such as ingestion of water and fish.
The known risk of harm or death to humans from accidental exposure to these medicines, therefore, far outweighs any potential risk to humans or the environment from disposal by flushing, as concluded by the FDA.
Disposing of Fentanyl Patches
The FDA has special instructions for disposing of fentanyl patches via flushing. Young children have died or become seriously ill following accidental exposure to the skin patch (sold under brand name Duragesic) that has a powerful opioid pain reliever on its surface. This exposure can occur when a child comes into contact with the patch, especially patches that have been discarded in household trash receptacles.
An overdose of fentanyl can occur if the child puts the patch in his or her mouth or even when applied to the skin. Even after a patch has been worn for the full three days for which it is prescribed, the used patch can retain more than 50 percent of the fentanyl, according to the FDA.
Signs and symptoms of an overdose can include:
Slowed breathing
High levels of carbon dioxide in the blood
Lethargy (lack of energy)
Death
The FDA is aware of 32 cases of accidental exposure to fentanyl since 1997. Most of these exposures occurred in children under 2, resulting in 12 deaths and 12 hospitalizations. These cases led to the FDA issuing two public health communications, one in 2005 and another in 2007, as to the dangers of accidental exposure to fentanyl, especially in children.
Therefore, the FDA has included fentanyl patches to the list of medicines that should be flushed down the toilet when no longer needed. The FDA recommends disposing of the patches by first folding them in half with the sticky sides together, and then flushing them down the toilet to completely eliminate the risk of harm to people in the home.