Stevens-Johnson Syndrome
Stevens-Johnson syndrome (SJS) is a rare, potentially fatal skin disease that causes flu-like symptoms and a blistering, painful skin rash that makes skin peel. It's most often caused by medications but may also be caused by infections. Treatment typically requires hospitalization, medication to treat infections and supportive care.

Stevens-Johnson syndrome is a hypersensitivity reaction. This means the immune system overreacts, causing inflammation, skin rashes and other symptoms, but it's not contagious. SJS may also be called erythema multiforme major and is often grouped together with toxic epidermal necrolysis (TEN), which is a similar condition with more severe symptoms.
SJS is rare, and it affects about one to two million people each year, according to the U.S. Library of Medicine. People of all ages can get SJS.
It typically starts within one to three weeks after taking a drug. The chance of dying from this disease is about ten percent, while up to 50 percent of people with TEN may die. People who survive the disease may take weeks or months to recover.
This disease is a medical emergency, and people who notice symptoms should seek medical care immediately.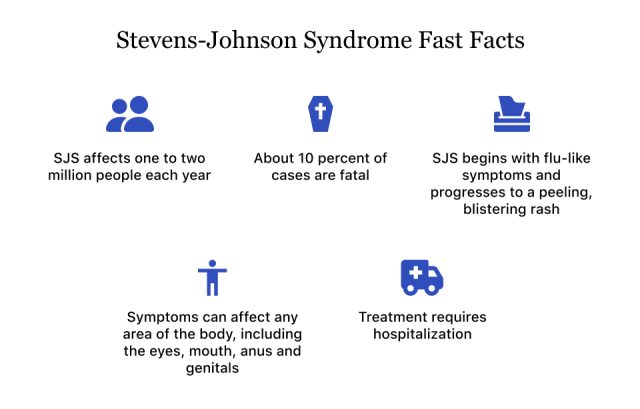 Symptoms
The first symptoms of SJS start around one to three weeks after taking a drug and include headache, cough, fever, body aches and inflammation in the eyes.
A few days after these flu-like symptoms, people with SJS develop a flat red rash on the face, trunk and neck that spreads to the rest of the body and begins to blister. SJS rash affects up to 10 percent of the body's surface.
The painful rash spreads to the mouth, throat, eyes, genitals and anus. It makes it difficult to urinate and swallow. If it affects the digestive and respiratory tract, people may have diarrhea and difficulty breathing.
Symptoms of SJS include:
Blistering, peeling rash with sores on the skin
Blisters and sores on mucus membranes of the throat, mouth, eyes, anus and genitals
Blisters and swelling causing eyes to crust shut
Body aches
Cough
Fever
Painful mouth that is difficult to close and may cause drooling
Painful urination from blistered mucous membranes
Complications
SJS affects the skin and mucous membranes and it may lead to other health problems. The most severe complication is death.
SJS complications include:
Dangerous loss of fluids through damaged skin
Eye problems
Uneven skin color after regrowth of skin
Problems with internal organs such as the heart, lungs, liver, kidneys and esophagus
Multi-organ failure
Skin infections that can lead to sepsis (blood poisoning)
Death
Causes
Reactions to medications and infections are the causes of SJS.
Drug reactions are the most common cause in adults, and about 60 percent of cases can be linked to certain medications, according to an article published in U.S. Pharmacist by Melissa A. Ruminski and colleagues. In fact, researchers have identified more than 100 drugs that could trigger SJS.
Drugs
The highest risk drugs include anticonvulsants, anti-gout medications and some nonsteroidal anti-inflammatory drugs (NSAIDs). The anticonvulsant Lamictal has a black box warning for the risk of SJS and other serious rashes.
Common drugs linked to SJS include:
Antigout: Zyloprim (allopurinol)
Antibiotics: sulfonamides, penicillins, fluoroquinolones, tetracyclines, macrolides
Anticonvulsants: Lamictal (lamotrigine), Tegretol (carbamazepine), Dilantin (phenytoin), Depakote (valproate)
Antiretrovirals: Viramune (nevirapine)
Pain Relievers: NSAIDs (ibuprofen, diclofenac meloxicam), Tylenol (acetaminophen)
Infections
Viral infections are more likely to cause SJS in children, but adults may also get the disease from an infection. Although less common, bacterial infections may also trigger a reaction.
Infections linked to SJS include:
Coxsackie virus
Epstein-Barr virus
Flu
Herpes-simplex virus
Mumps
Pneumonia
Risk Factors
Some factors can increase a person's risk for SJS. These include genetics and having other health conditions.
Risk factors include:
Autoimmune diseases (psoriasis, rheumatoid arthritis and others)
Bone marrow transplant
Females are more likely to get it than males
Genetics – specific human leukocyte antigens (HLAs)
HIV
Organ transplant
Previous history of SJS
Systemic lupus erythematosus
Weakened immune system
Diagnosis & Treatment
There is no specific test for SJS. In order to diagnose it, medical providers will ask questions, take blood samples, do a skin biopsy and examine the rash.
Most people with SJS end up in the hospital for treatment. Doctors will look at any drugs that may have caused the reaction and stop the medication. Because of the extent of skin damage, some people may be treated in the burn unit of the hospital and receive special care to prevent infections.
Sometimes, a patient may receive a plasma exchange. A plasma exchange involves removing blood and separating the plasma from the blood cells and platelets. The theory is that this treatment may remove the drug or antibodies that could be causing the reaction.
Once the drug that has been causing the reaction has stopped or the infection that triggered the reaction is treated, the rash will go away. After a few days, new skin will grow.
Treatment for SJS focuses on controlling symptoms and making the patient comfortable. It may include:
Antiseptic, anesthetic mouthwashes to relieve mouth pain
Cool, moist compresses
Corticosteroids to control skin inflammation
Eye ointments or drops for eye symptoms
Fluids and nutrition passed through a nasogastric tube, a tube that goes to your stomach through the nose
Painkillers to help soothe the pain of raw skin
Removing dead skin and applying dressings
Unscented lotions to moisturize and calm skin
Recovering from SJS
The severity of the reaction determines how long it will take to recover. Even after the reaction stops, it can take weeks or months to recover, and fatigue after leaving the hospital may last for weeks.
People who survive SJS or TEN may have long lasting complications. These include dry, discolored skin, hair loss, excessive sweating and loss of fingernails and toenails.
Some people may also have impaired taste, genital abnormalities, problems urinating and chronic dry eyes which may increase sensitivity to light and impair vision.
Make sure you talk to your doctor about how to avoid the medication that caused the reaction and medicines similar to it. After you've had SJS, you have an increased risk of developing it in the future.
There is no way to prevent it, but you can make sure you don't expose yourself to medication that could trigger a reaction. Make sure you talk to your doctor about any medications before starting them.
Please seek the advice of a medical professional before making health care decisions.
Share This Page:
How can we improve this page?
Thank You for Your Feedback
We appreciate your feedback. One of our content team members will be in touch with you soon.
We appreciate your feedback. One of our content team members will be in touch with you soon.
Who Am I Calling?
Calling this number connects you with a Drugwatch representative. We will direct you to one of our trusted legal partners for a free case review.
Drugwatch's trusted legal partners support the organization's mission to keep people safe from dangerous drugs and medical devices. For more information, visit our partners page.