The DePuy Synthes 4.5mm VA-LCP Curved Condylar Plate is a thigh implant designed to repair fractures just above the knee, known as distal femur fractures.
The plate is part of the DePuy Synthes Periarticular Plating System. The device is made up of a plate and screws.
A series of predrilled holes run the length of the plate. Doctors insert locking screws into the holes that align with pieces of broken bone to hold them in place while they heal.
The long, metal plate is made from stainless steel and titanium alloy. It features a curved portion designed to fit around the lower end of the thighbone, where the femur flares out before joining the knee. The rounded "knuckle" at the end of a bone is called a condyle.
Fact
VA-LCP stands for "Variable Angle – Locking Compression Plate"
Treating Thigh Fractures with Condylar Plates
The DePuy Synthes 4.5mm VA-LCP Curved Condylar Plate is what's known as a locking compression plate. Locking compression plates have become an increasingly popular solution to repairing a rare but difficult to treat type of fracture.
Fractures of the thighbone just above the knee account for less than one in every 200 fractures. But because of the shape of the thighbone, repairing the damage can lead to complications.
Most Common Complications Of Thighbone Fracture Treatments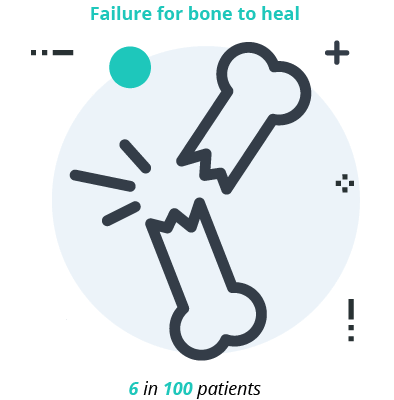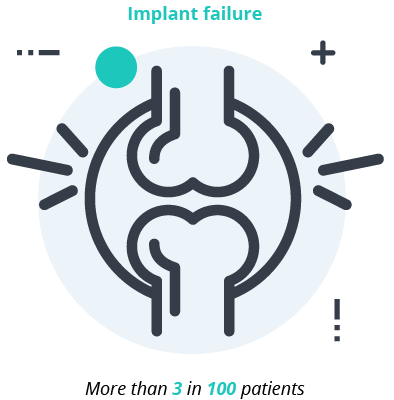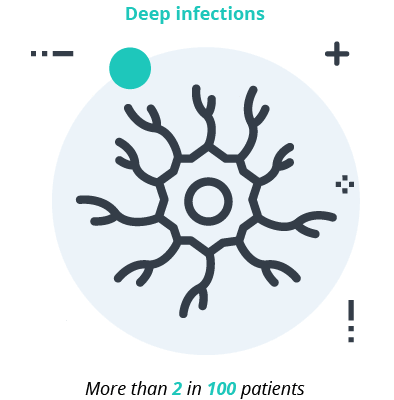 Conventional plates utilize metal plates and screws to compress and hold broken pieces of bone together. Locking plates use screws that lock in place, making it more difficult for the screws to slip out.
Locking compression plates, such as the DePuy Synthes 4.5mm VA-LCP Curved Condylar Plate, combine principles of both conventional and locking plate designs.
A 2015 examination of medical literature published in Trauma International called locking plates "the greatest revolution in implant technology in recent times." But the author also warned that "over-reliance" on the devices "has led to inappropriate" use of the plates.
VA-LCP Curved Condylar Plate Complications
The most serious complication with the DePuy Synthes 4.5mm VA-LCP Curved Condylar Plate is breakage.
If the plate breaks, the patient will require revision surgery to remove and replace the device. Some people who suffered breakage or other serious complications requiring surgery have filed DePuy Synthes Curved Condylar Plate lawsuits .
A 2006 case review published in the Journal of Bone and Joint Surgery looked at 46 patients implanted with LCP plates similar to the DePuy Synthes devices. Six of those patients suffered plate failure and half of those failures were due to the plate breaking.
"We propose that the LCP condylar plate be used only when conventional fixed-angle implants cannot be placed," the authors wrote.
Any implant surgery also involves a risk of infection. Doctors will attempt to treat infection with antibiotics if possible. If drugs are ineffective, a patient may require surgery to remove the infection.
Symptoms and complications of Condylar Plate Failures
Pain
Bone fracture
Failure of bone to heal from previous fracture
Inability to walk or move leg
Studies, FDA Reports Reveal VA-LCP Curved Condylar Plate Failures
Published research and a U.S. Food and Drug Administration database detail cases of DePuy Synthes 4.5mm VA-LCP Curved Condylar Plates breaking. These failures can result in severe disability and require surgery to correct.
In January 2018, the FDA's MAUDE (Manufacturer and User Facility Device Experience) database showed that the agency had received more than 200 adverse event reports about the 4.5mm VA-LCP Curved Condylar Plate since 2011.
A study presented at the March 2017 Orthopaedic Research Society's annual conference found the honeycomb pattern of between six and 22 holes for locking screws may contribute to breaking.
Researchers "consistently observed" failures between the eighth and ninth holes for the screws in longer versions. DePuy Synthes supported the study.
"The results of this study highlight the unique design characteristics of the variable angle plate and raise further questions with respect to its potential implication in implant failure…."
A January 2016 study in the Journal of Orthopaedic Trauma found "early mechanical failure" with variable angle locking plates, such as the VA-LCP Curved Condylar Plate, were "higher than traditional locking plates" for certain types of fractures. Researchers cautioned against the use of such plates for fractures along the length of the thighbone.
VA-LCP Curved Condylar Plate FDA Approval and Recalls
There are no active recalls of the 4.5mm VA-LCP Curved Condylar Plate, but Synthes issued a voluntary recall related to similar devices in 2013.
The company recalled 13 VA-LCP Curved Condylar Plates because a straight version of the plates had been improperly etched with a curved plate part number. The recall ended in August 2015.
Synthes received the FDA's 510(k) clearance to market the VA-LCP Curved Condylar Plate in January 2009.
The clearance allows manufacturers to market a new medical device simply by showing that their product is "substantially similar" to other devices already on the market.
It eliminates the need for more stringent testing to show that a device is safe and effective.
Please seek the advice of a medical professional before making health care decisions.
How helpful was this page?
How can we improve this page?
How can we improve this page?