Many women were told transvaginal mesh would be a quick and easy fix for pelvic organ prolapse or stress urinary incontinence. A simple hammock-like piece of mesh would be implanted through their vagina to support pelvic organs. But few women were warned about the complications that could occur after surgery.
The rate of complications caused by transvaginal mesh was so high that the U.S. Food and Drug Administration reclassified the devices as Class III devices in 2016. Class III devices are the riskiest devices approved by the FDA.
Surgeons began using surgical mesh without FDA approval to treat pelvic organ prolapse in the 1990s. The FDA approved the first transvaginal mesh for prolapse in 2002. In 2011, the FDA reported that it had received nearly 4,000 complaints of injury, death or malfunction associated with transvaginal mesh surgeries performed between 2005 and 2010.
At the time, the FDA concluded that complications from these implants were "not rare." The agency has stated that vaginal mesh procedures are not more effective than standard surgeries. But mesh can expose patients to greater risk.
"I dare to be as bold to say this is almost like genocide on women," Teresa Sawyer told Drugwatch. Sawyer had surgery for stress urinary incontinence. She received a Johnson & Johnson Ethicon TVT sling. After surgery, she experienced tissue erosion, infection and other complications.
More than 100,000 women who experienced serious injuries from transvaginal mesh filed lawsuits against mesh manufacturers. The devices have not been recalled, and several surgeons continue use them today. Women considering surgery for pelvic organ prolapse or stress urinary incontinence should ask their doctor if transvaginal mesh will be used during surgery. They should discuss all options and weigh the benefits and risks of all treatments.
Dr. Christopher Walker, Urogynecologist, discusses the symptoms that can occur in women affected by transvaginal mesh
Mesh Erosion, Organ Perforation & Other Serious Complications
Erosion and organ perforation are the worst problems associated with transvaginal mesh implants. Erosion of mesh through the vaginal wall can require multiple surgeries to repair, and there is no guarantee that doctors can cure complications from erosion. The mesh can also perforate nearby organs, such as the bladder, causing permanent damage.
| Complications | Number of Reports | Percent of Reports |
| --- | --- | --- |
| Erosion | 528 | 35.1 |
| Pain | 472 | 31.4 |
| Infection | 253 | 16.8 |
| Bleeding | 124 | 8.2 |
| Dyspareunia (painful sex) | 108 | 7.2 |
| Organ perforation | 88 | 5.8 |
| Urinary problems | 80 | 5.3 |
| Vaginal scarring | 43 | 2.8 |
| Neuro-muscular problems | 38 | 2.5 |
| Recurrence | 32 | 2.1 |
Note: Several reports contained multiple complications
Other complications and side effects of vaginal mesh implants include:
Nerve damage
Fistulas (abnormal connection of organs)
Vaginal scarring
Degrading of the mesh
Autoimmune problems
Vaginal shrinkage or shortening
Blood in the stool or urine
Hematomas (abnormal blood clotting)
Urinary retention
Vaginal discharge
Bruising
Dr. Walker details some of the complications he's seen from transvaginal mesh
Despite the number and severity of adverse events caused by transvaginal mesh, the FDA has not received enough evidence to warrant a recall of the devices.
But juries have seen enough evidence to find mesh manufacturers guilty of inadequate product design and failing to warn of the risks of their devices. Several companies have lost multimillion dollar verdicts associated with transvaginal mesh. The women who won the lawsuits claimed they had experienced complications such as erosion.
Mesh Erosion
Erosion of mesh through the vagina, also called vaginal erosion, is the most common complication of transvaginal mesh after pelvic organ prolapse or stress urinary incontinence surgery. Erosion can be extremely painful, and vaginal erosion usually makes sex impossible. Mesh erosion occurs when transvaginal mesh wears through a woman's internal tissues.
Mesh erosion can refer to three types of internal complications caused by mesh:
Exposure: The mesh can be seen through a tissue.
Extrusion: The mesh protrudes out of a body structure or tissue.
Perforation: An abnormal opening into an organ caused by mesh.
In addition to the vagina, erosion can affect several other organs. Urinary tract erosion can cause recurring infections and severe pain. Erosion into the bladder or rectum can cause fistulas (abnormal connections), infections and pain.
Other complications caused by mesh erosion include:
Abscesses (pus-filled sores)
Vaginal discharge
Vaginal scarring
Neuro-muscular problems
A 2010 analysis of 110 studies reported that 10.3 percent of mesh implants eroded. The study was published in the International Urogynecology Journal. Other studies have found that erosion rates vary from 7.3 percent to 21 percent, according to a 2012 review published in the Indian Journal of Urology.
Removal of mesh is often the only solution to erosion, but removal is not always possible. Some doctors compare mesh removal to cutting gum out of hair. In many cases, multiple surgeries are required, and there is no guarantee that all of the mesh will be removed.
Organ Perforation
Organ perforation is defined as the penetration of the wall of a hollow organ in the body. As mesh erodes through internal tissues, it can perforate organs. This usually happens to the bladder, urethra, bowel or rectum. On rare occasions, perforation occurs during the surgery to implant the mesh.
Severe cases of organ perforation may result in infection and difficulty breathing. Surgery is nearly always required. Revision surgery may include mesh removal, bowel resection, colostomy and blood transfusion. Perforated organs can leak urine or waste into the bloodstream, causing fatal complications such as septic shock.
Swedish researchers studied 389 women with pelvic organ prolapse in a 2011 study comparing colporrhaphy, a surgery to repair the vaginal wall, and transvaginal mesh procedures. Two hundred women underwent transvaginal mesh repairs, and 189 underwent colporrhaphy. All of the women had a prolapse in the anterior (front) vaginal wall.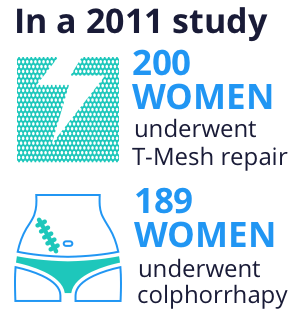 Complication rates were significantly higher for the transvaginal mesh group. These women suffered a 3.5 percent greater incidence of bladder perforation than the colporrhaphy group.
Removing mesh is the first treatment for organ perforation. Surgeons may reconstruct mesh-damaged tissue or cauterize (burn) ruptured blood vessels to stop bleeding. If urine or feces leak from the bladder or bowels, doctors remove the waste using a catheter or other devices. If perforation causes infection, antibiotics are prescribed. Removing mesh may require multiple surgeries.
People Who Experienced Transvaginal Mesh Complications
Teresa Sawyer said that when she went to see her doctor in February 2010 because of incontinence issues, she was told that surgery would be a "quick fix." Her gynecologist assured her that the Gynecare TVT bladder sling that he would implant would fix the problems she was having.
---
"Mesh wiped me out of the world. Some days, I could barely get out of bed and walk to the bathroom. It was like walking with knives inside of me."

- Teresa Sawyer, recipient of a Johnson & Johnson Ethicon TVT sling
---
Instead, she had to endure four painful revision surgeries to try and correct severe complications after the mesh eroded through the vaginal wall.
She had her mesh removed in November 2011.
Christy Hammond was never told about the risks of mesh before her bladder sling was implanted – or that she was having mesh implanted at all.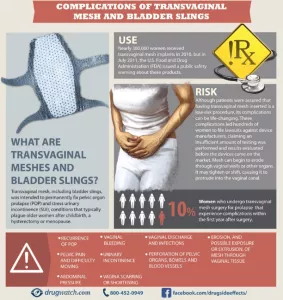 "A while after surgery, something began happening to my body," Hammond told Drugwatch. "I was in terrible pain. My pelvic area was on fire. Sex was out of the question because it hurt so bad. I was getting urinary tract infections (UTIs) on a regular basis. There was e-coli in my urine, I learned, after I started going from doctor to doctor wanting to know what was happening, asking them to help me figure out what was going on, I begged for answers."
The mesh eroded through her vaginal wall. A doctor later removed most of the mesh, and Hammond said most of the pain had subsided. But she may require future surgeries if complications occur later in life.
Sawyer, Hammond and thousands of other women were never warned of the risks associated with transvaginal mesh. If you're considering surgery for prolapse or incontinence, discuss all of your options with your doctor. If you've experienced pain or discomfort after treatment for one of those conditions, visit your doctor as soon as possible and ask about complications associated with transvaginal mesh.
Please seek the advice of a medical professional before making health care decisions.
Author

Chris Elkins is a writer and researcher for Drugwatch.com. He's worked for various newspapers and has writing experience in sports, health communication and public relations fields. He graduated from the University of West Florida with a master's degree in Strategic Communication and Leadership, a graduate-level certificate in Health Communication Leadership and a bachelor's degree in Journalism.
---