Allergan Breast Implant Recalls
In July 2019, the FDA requested that Allergan recall its Biocell textured breast implants because they had been linked to BIA-ALCL, or breast implant-associated anaplastic large cell lymphoma, a rare cancer. The FDA advises women with BIA-ALCL to have their implants removed.
Allergan's July 2019 Biocell textured breast implant recall doesn't include its smooth or Microcell breast implants or tissue expanders, which have a much smaller risk of BIA-ALCL. The recalled breast implants represent less than 5 percent of implants sold in the United States. The FDA has not released the exact number of implants affected.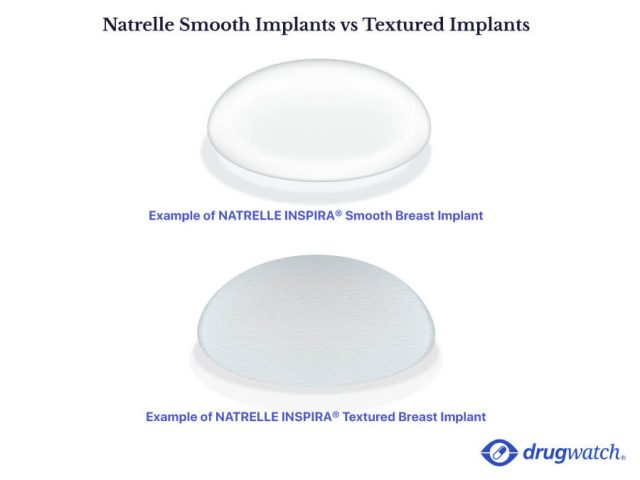 The FDA first acknowledged a connection between breast implants and anaplastic large cell lymphoma in 2011. During a review of scientific literature published between 1997 and 2010, the agency had identified 34 unique cases of ALCL in women with breast implants throughout the world, though it determined there were too few cases to take definitive action.
"Women with breast implants may be more likely to be diagnosed with anaplastic large cell lymphoma (ALCL)," the agency said in its 2011 FDA Update on the Safety of Silicone Gel-Filled Breast Implants. But lawsuits against Allergan say the company might have been aware of the risk in the 1990s.
In August 2022, the FDA reported that it had received 1,130 reports of BIA-ALCL, and 953 of those reports were related to Allergan implants. In September 2022, the FDA received additional reports of other types of cancer not related to BIA-ALCL found in scar tissue of smooth and textured implants.
Lawsuit Information
The main injury claimed in Allergan breast implant lawsuits is BIA-ALCL, a rare type of cancer.
Is My Allergan Breast Implant on the Recall List?
Allergan released a comprehensive list of all its recalled textured breast implant products sold globally. People who received Allergan implants in the U.S. should check the FDA-released list for implants they may have received that were recalled.
The following Allergan breast implants and tissue expanders were on the FDA's July 2019 recall list:
Breast Implant and Tissue Expanders in July 2019 U.S. Recall
BRAND/MODEL
FDA PREMARKET APPROVAL
FDA PREMARKET APPROVAL
Natrelle Saline-Filled Breast Implants
P990074
163 – BIOCELL Textured Shaped Full Height, Full Projection Saline Breast Implants

168 – BIOCELL Textured Round Moderate Profile Saline Breast Implants, also referred to as 168MP (168 Moderate Profile)

363 – BIOCELL Textured Shaped Moderate Height, Full Projection Saline Breast Implants, Allergan catalog includes 363LF, or 363 Low Height Full Projection

468 – BIOCELL Textured Shaped Full Height Moderate Projection Saline Breast Implants
Natrelle 410 Highly Cohesive Anatomically Shaped Silicone-Filled Breast Implants
P040046
410 LL, 410 LM, 410 LF, 410 LX, 410 ML, 410 MM, 410 MF, 410 MX, 410 FL, 410 FM, 410 FF, 410 FX
Biocell Textured Round Gel-Filled Implants
P020056
110, 115, 120 — Moderate, Midrange and High Projection
Natrelle Inspira Biocell Textured Responsive Silicone-Filled Breast Implants
P020056
TRL, TRLP, TRM, TRF, TRX
Natrelle Inspira Biocell Textured Cohesive Silicone-Filled Breast Implants
P020056
TCL, TCLP, TCM, TCF, TCX
Natrelle Biocelle Textured Soft Touch Silicone-Filled Breast Implants
P020056
TSL, TSLP, TSM, TSF, TSX
Natrelle 133 Tissue Expanders with suture tabs
K102806
All styles
Natrelle 133 Plus Tissue Expanders
K143354
All styles
The Premarket Approval or PMA number is a reference number for the original application the FDA used to approve the device for sale.
If you aren't sure if your implant is on this list, make sure you check with your surgeon.
Previously Recalled Natrelle Devices
Allergan had previously recalled other products in its Natrelle line in 2015. These include an implant sizer and tissue expanders. Unlike the textured implant recall, these recalls involved a relatively small number of devices.
Natrelle Re-sterilizable Breast Implant Sizer, Size 410

Dates: June 8, 2015 to Dec. 16, 2015

Reason: Labeling error. Allergan shipped expired products. The company sent recall letters to customers.

Number in Commerce: 9 units

Natrelle 133 Series Tissue Expanders

Dates: June 18, 2015 to Dec. 16, 2015

Reason: Incorrect or no expiration date. Allergan shipped expired products.

Number in Commerce: 167 units total, 114 in the United States

Natrelle CUI Series Tissue Expanders

Dates: June 18, 2015 to Dec. 16, 2015

Reason: Incorrect or no expiration date. Allergan shipped expired products.

Number in Commerce: 23 units total, 16 in the United States
McGhan and Inamed Textured Breast Implants
Allergan sold most of the recalled products under its Natrelle brand, but some Americans may have received older textured breast implants sold by McGhan and Inamed. Allergan bought these companies and became responsible for these products and all liability associated with them. McGhan and Inamed textured implants are also a part of the recall.
McGhan RTV Saline-Filled Mammary Implants became Allergan Natrelle Saline-Filled Breast Implants, and Inamed Silicone-Filled Breast Implants became Allergan Natrelle Silicone-Filled Textured Breast Implants.
Most cases of BIA-ALCL occur many years after receiving a textured implant, according to the FDA. So women with older implants may be at increased risk.
For example, Sandra Rush — a woman who filed an Allergan breast implant lawsuit — received a McGhan textured saline implant in 1995. Doctors diagnosed her with BIA-ALCL in 2017.
What Should I Do If My Implant Is Recalled?
If your breast implant is on the recall list and you have no symptoms, the FDA does not recommend that you remove your implants. Though BIA-ALCL is a serious and potentially fatal disease, the risk of developing the cancer is low.
Women who received Allergan textured implants should know the symptoms of BIA-ALCL and monitor their health.
Keep a record of the device manufacturer, unique device identifier and implant model. This information may be in your medical records, or you may have received it on a medical device card at the time of surgery. If not, you can call your surgeon or the surgery center.
Should I Have My Implants Removed?
The FDA says women who don't have symptoms of BIA-ALCL shouldn't remove their implants.
At the first sign of persistent swelling or pain around the implants, women should speak to their health care providers and undergo tests for BIA-ALCL. The disease is highly treatable, especially if diagnosed early.
Diagnosing BIA-ALCL usually involves MRIs and ultrasounds to check for fluid buildup and scar tissue. Health care providers may also perform a biopsy to test for cancer cells.
Women diagnosed with BIA-ALCL will have to have the implant and surrounding scar tissue removed. Sometimes, the doctor will recommend chemotherapy or radiation therapy. Some women may choose to have breast reconstruction using another implant or their own fat tissue.
Other Countries Issued Allergan Recalls
Allergan issued a worldwide recall on July 24, 2019, but other countries had already asked the company to stop selling its implants because of BIA-ALCL concerns. While textured implants like those sold by Allergan make up a relatively small percentage of the U.S. market, in Europe and other countries it is as high as 80 percent.
France and Other Countries in Europe
In late 2018, French regulatory agency Agence Nationale de Sécurité du Médicament (ANSM) requested Allergan recall its textured breast implants and tissue expanders from European markets.
In order to sell its breast implants in 33 European countries, Allergan needs a safety certificate known as a CE mark. The company's CE mark for the products expired in December 2018 after a French certification firm decided not to renew it because of BIA-ALCL concerns.
Worldwide Recall
Allergen issued its textured breast implant recall in the United States in July 2019, but France had requested the company recall its products from Europeans market in back 2018.
Allergan insisted the actions were not related to new safety issues and said ANSM's request was not based on new scientific evidence. But the company complied and halted all sales and recalled the devices.
Canada
In May 2019, Health Canada suspended Allergan's licenses to sell its macro-textured Biocell breast implants in Canada after a 2017 safety review found that the rate of BIA-ALCL in Canada is significantly higher in patients with those implants compared to other implants.
"Because the potential risks associated with the implants outweigh their benefits, including the rare but serious risk of BIA-ALCL, Health Canada has suspended the licenses for Allergan's Biocell breast implants (the only macro-textured implants available in Canada)," the regulatory agency said in a press release. "This means that no one can sell Allergan's Biocell breast implants in Canada or import them into the country."
Allergan said Health Canada's decision didn't match the positions held by other countries' regulatory bodies, including the FDA, according to Reuters. At the time, the FDA had said it would not ban or recall any textured devices.
Australia
On July 11, 2019, the Australian Therapeutic Goods Administration proposed either canceling or suspending several textured implants because of their link to BIA-ALCL. Brands included in the proposed cancellation list were all Allergan textured implants.
TGA gave manufacturers until July 24, 2019, to respond. On Aug. 2, 2019, Allergan announced it would recall the products from the Australian market.
Frequently Asked Questions
Can Allergan breast implants cause cancer?
The FDA has linked Allergan's textured breast implants, mostly those sold under the Natrelle brand, to a rare cancer called breast implant-associated anaplastic large cell lymphoma, or BIA-ALCL. Not all Allergan breast implants have been linked to cancer.
Will Allergan pay to have my breast implants removed?
Allergan has agreed to pay for the medical expenses of women who were diagnosed with BIA-ALCL after using its textured breast implants. The compensation will vary depending on whether the patient has already been diagnosed with cancer or is choosing to have them removed as a preventative measure.
What are my options if I was diagnosed with cancer?
If you have Allergan textured breast implants and were diagnosed with cancer, the FDA recommends that you have your implants removed. You may also be eligible to file a lawsuit against the manufacturer.
Please seek the advice of a medical professional before making health care decisions.
Share This Page:
How can we improve this page?
Thank You for Your Feedback
We appreciate your feedback. One of our content team members will be in touch with you soon.
We appreciate your feedback. One of our content team members will be in touch with you soon.
Who Am I Calling?
Calling this number connects you with a Drugwatch representative. We will direct you to one of our trusted legal partners for a free case review.
Drugwatch's trusted legal partners support the organization's mission to keep people safe from dangerous drugs and medical devices. For more information, visit our partners page.