Hip Replacement Complications
Hip replacement procedures have become increasingly safe as technology has advanced, but the major operation can still result in complications. Common issues from surgery include inflammation and pain. More serious but less frequent problems include infection, metallosis and fractures.
Hip replacement surgery (hip arthroplasty) has been touted by many experts as one of the most significant medical device innovations of the last half century. It has helped millions of people overcome painful arthritis, recover from fractures and improve quality of life.
A 2018 study in Clinical Orthopaedics and Related Research even found that total hip arthroplasty patients had a slightly improved life expectancy compared to the general population — an advantage that lasts for about 10 years.
However, hip implants do not come without risk. Dislocation, inflammation and pain are the more common side effects after hip replacement surgery. The type of implant may increase the risk for certain other complications.
For example, studies show metal-on-metal implants have greater risk of loosening or early failure because metal particles released from the device may weaken nearby bone and tissue. However, most manufacturers stopped making metal-on-metal implants after they faced lawsuits over complications.
Lawsuit Information
Learn more about currently pending hip replacement lawsuits.
View Lawsuits
Common Complications and Risks
In some patients, a small amount of pain or instability can occur after hip replacement surgery. There may also be stiffness, bleeding or nerve injury.
Patients usually experience relief from pain or increased mobility following a recovery period. But many people also feel minor side effects, and a small number of people experience major complications.
Common complications after surgery:
Dislocation
Inflammation
Pain
Instability
Stiffness
Bleeding
Nerve injury from surgery
Heterotopic Ossification (muscle tissue calcifying near the implant)
Dislocation
During hip replacement surgery, surgeons remove the thick, dense tissue that surrounds the joint and helps hold the natural hip in place. This can allow dislocation to occur.
Proper placement of the implant during surgery is vital to it remaining in place for the long-term. Patients may also need to adjust their habits to avoid the common complication.
A 2014 study in the journal Deutsches Arzteblatt said dislocation occurs in about 2 percent of patients within the first year of hip replacement. The rate jumps to 28 percent in patients who undergo revision hip surgery.
Authors Jens Dargel and colleagues called dislocation "extremely traumatizing for patients," and they warned that it could cause patients to lose confidence in the implant.
"The dislocation of a total hip [implant] is an emotionally traumatizing event that should be prevented if possible."
Dislocation leading to implant failure is most likely to occur within the first few months after surgery. The complication may require revision surgery in some cases. But in many cases, dislocations can be fixed with a process called a "closed reduction" that avoids surgery.
Dargel and colleagues recommended surgeons work with patients to minimize the chances of the complication occurring.
The American Academy of Orthopaedic Surgeons says people may have to learn new ways to make routine movements, such as bending or lifting.
Doctors generally recommend avoiding certain movements, such as pulling the knees to the chest, in the first weeks after surgery to avoid dislocation. They also prescribe anti-inflammatory drugs to reduce inflammation.
Heterotopic Ossification
Heterotopic ossification is considered one of the most common complications of hip arthroplasty. It is the process of bone forming outside of the skeleton, and it happens when soft tissue is calcified.
The problem usually occurs in areas of the body where severe trauma has occurred. In the case of hip arthroplasty, the muscles around the joint calcify and become stiff.
A review in the Indian Journal of Orthopaedics looked at of several studies in 2002 and found that heterotopic ossification occurs in as many as 90 percent of hip patients. But only about 2 percent to 7 percent of patients actually present any symptoms, and less than 1 percent require surgery.
Side effects from the condition include tenderness, swelling or decreased range of motion. The condition can be treated with low-dose radiation and anti-inflammatory drugs. In severe cases, surgery is required to remove the calcified tissue.
Infection
Infection is one of the most feared postoperative complications. Authors of a 2017 U.K. study called infection around hip implants "one of the more devastating complications" of hip replacement.
But infection is a rare complication. The study reviewed medical literature on infection following total hip arthroplasty and found various studies that showed between 0.57 percent and 2.23 percent of patients may experience infection around or near the joint. The American Academy of Orthopaedic Surgeons puts the risk at about 1 percent.
"Although the likelihood of infection is relatively small, the impact, and long term implications can be catastrophic," the researchers wrote in the Indian Journal of Orthopaedics.
"Although the likelihood of infection is relatively small, the impact, and long term implications can be catastrophic."
If the infection is caught within four weeks of surgery, doctors may re-open the wound to clean it and inject antibiotics.
If that does not work or if the infection is not discovered until later, the implant may need to be removed and re-implanted after the infection has been eradicated. To avoid scar tissue and bone degeneration, re-implantation needs to occur within three months.
In the most extreme cases, when the infection cannot be controlled, the leg, including the hip joint, may have to be amputated and replaced with a prosthetic limb. This is called transpelvectomy or hip-disarticulation, and it is exceptionally rare.
Issues from Long-Term Wear
After total hip replacement or resurfacing, particle debris from the cup, ball or ball covering can lead to complications and implant failure.
As the implant recipient moves, the surfaces of the components rub against each other. The friction and abrasive wear between the components produces debris.
The particles are incredibly small and every step releases massive numbers of them. Studies have tried to pin down exact numbers, but they range widely.
A 2001 study in The Journal of Orthopedic Surgery and Traumatology Czechoslovakia said previous research showed 470,000 particles were released in every step with a metal and polyethylene artificial hip.
A different 2001 study referenced in Joint Replacement Technology estimated each step with a metal-on-metal hip could produce 56 million particles.
The type of debris depends on the type of implant. Different materials can cause different long-term complications.
For example, metal-on-metal implants create metal debris called ions that can cause a condition known as metallosis. Metal-on-plastic implants create polyethylene particles that can lead to a condition known as osteolysis.
The U.S. Food and Drug Administration lists many of the most severe long-term complications as the result of metal ions entering the bloodstream.
Long-term complications:
Metallosis (a type of metal poisoning)
Osteolysis (bone loss near implant)
Early implant failure
Skin Rash
Cardiomyopathy (reduced ability for the heart to pump blood)
Neurological changes including hearing or visual impairments
Psychological changes including depression or cognitive impairment
Impaired kidney function
Thyroid dysfunction including neck discomfort, fatigue, weight gain or feeling cold
Metallosis
Metallosis is a rare condition that is caused by the buildup of metallic debris from an implant in the soft tissue of the body. The risk of metallosis appears significantly higher with metal-on-metal hip implants than other designs.
A 2014 study in the European Journal of Radiology Open reported metallosis was diagnosed in 5 percent of metal-on-metal hip arthroplasties. Researchers reported the rates declined as surgeons moved away from implanting the metal-on-metal implants.
Metallosis can cause grey discoloration of the tissue surrounding the implant, usually indicating that the tissue is oxygen-starved and dying. The effects of metallosis can be particularly acute in implant recipients who have a condition known as metal sensitivity. In patients who have metal sensitivity, metallosis can lead to metal poisoning.
Osteolysis
Osteolysis, or periprosthetic osteolysis, is the loss of bone around the implant. It occurs when the body recognizes particle debris, plastic or metal that's produced by the implant as foreign and releases enzymes, cytokines and other cellular reactions into the area in an attempt to either expel or dissolve the particulates. The process causes a chronic inflammatory condition.
Did You Know?
At the National Institutes of Health consensus conference, osteolysis was recognized as the most significant long-term adverse effect of total hip replacement.
A 2007 article in Postgraduate Medicine said osteolysis is the most common long-term complication of hip arthroplasty.
"The incidence of periprosthetic osteolysis in many studies is greater than the sum of all the rest of the complications," author Rupen Dattani wrote. He added that bone loss following total hip replacement "remains a significant concern."
Dattani's article referenced a review of the Swedish Total Hip Replacement Register, which showed osteolysis accounted for 75 percent of revision hip surgeries.
Other Rare but Serious Problems
Major complications do not subside with medication or physical therapy alone. They often require revision surgery or intensive treatment.
Some risks are avoidable. For example, patients can remove the risk of developing metal poisoning if they choose not to receive a metal-on-metal implant.
However, some complications can develop even if surgeons and patients follow proper procedures – no matter the type of implant used.
Although hip arthroplasty is performed more than 450,000 times a year in the United States — and it's considered by many to be routine surgery — complications can be dangerous and deadly.
The vast majority of implants will last 15 years or more, but in rare instances, patients may suffer from components loosening, or bone around the implant fracturing or dying.
The chance of a patient dying during replacement surgery or recovery is extremely low and appears to be getting even lower over time.
Component Loosening and Early Implant Failure
Implant components can loosen over time. Loosening is considered the most serious long-term complication because it is the strongest indicator that a revision surgery will be required. A component could loosen because it's worn out or because cement fails to hold it in place.
A July 2012 study in the journal Orthopedics looked at 80 patients with metal-on-metal (MoM) hips who needed revision surgery. It found that early failure could be due to loosening, metal hypersensitivity, metallosis-related complications or the device seizing up.
Causes of early implant failure in 80 patients with MoM hips:
Loosening (cup or stem) – 60%
Component failure or improperly aligned – 13.75%
Metallosis and related infection – 12.5%
Metal hypersensitivity – 6.25%
Bone fracture – 5%
Other – 2.5%
Researchers said that loosening of the cup-shaped socket in metal-on-metal hip implants was the most common culprit of early implant failure. The sockets – or acetabular cups – failed at a rate of 56.25 percent.
"Of the 45 cups that loosened, 35 (78%) were Durom acetabular cups (Zimmer). The second most common cup that experienced aseptic loosening was the ASR cup (DePuy), with 4 (9%) failed cups. The remainder of the cups that loosened were 2 (4.4%) Magnum cups (Biomet), 2 (4.4%) Pinnacle cups (DePuy), 1 (2.2%) Conserve cup (Wright Medical), and 1 (2.2%) unknown cup," the authors wrote.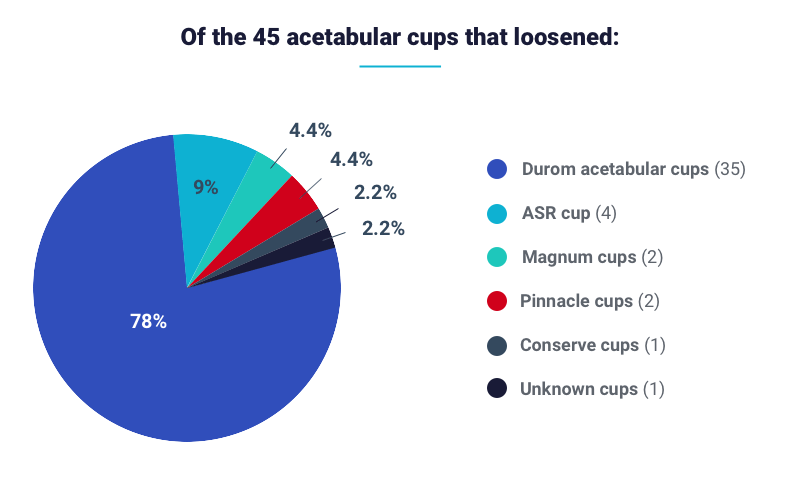 The researchers wrote that their study "corroborates the findings of many previous studies" on early metal-on-metal hip failures.
Loosening of a hip implant can also be a warning sign of other serious conditions because it can result from metallosis or a defect in the implant. If loosening is suspected, doctors will use a series of X-rays to detect movement in the components and to determine if any corrective actions are necessary.
Periprosthetic Fractures
Periprosthetic fractures involve bone breaks around the implant that can cause it to fail. They typically occur because the bone around the implant was weakened by osteoporosis, medications, pressure from the implant or stress placed on the implant.
The American Academy of Orthopaedic Surgeons says these fractures are a rare complication and usually occur years after a hip replacement.
But a 2012 study in Geriatric Orthopaedic Surgery & Rehabilitation said these fractures were the third most common cause of revision surgery behind loosening and infection.
A 2017 study in Clinical Cases in Mineral and Bone Metabolism found wide ranging estimates of how frequently periprosthetic fractures happen after replacement surgery. The researchers' review of medical literature found the risk of a fracture after primary surgery ranged from 0.1 percent up to 18 percent. The rates were 4 percent to 11 percent following revision surgery.
In the study, uncemented implants tended to have a higher risk of causing fractures compared to implants that relied on cement to connect with bones.
Death
Death in the 90 days after hip replacement is extremely rare. A 2017 study in The Journal of Bone and Joint Surgery, American Edition, found that heart disease was the leading cause of death within 90 days of surgery. They also saw an increase in digestive system-related deaths.
Leading causes of death for hip replacement patients in the U.K., 2003-2012
Malignant neoplasms (cancerous tumors) – 33.8%
Circulatory system disorders – 32.8%
Respiratory system disorders – 10. 9%
Digestive system diseases – 5.5%
The researchers looked at the mortality rate among 332,734 hip replacement patients between 2003 and 2012. Researchers relied on data from the National Joint Registry for England, Wales and Northern Ireland. They found 26,766 of the patients had died during the period they examined.
They found the overall leading cause of death among patients was cancer followed closely by cardiovascular disease. These are also the two leading causes of death for all people in the U.S., according to the Centers for Disease Control and Prevention.
Other studies have found that mortality risk has decreased as hip arthroplasty techniques have become more sophisticated.
A 2013 study in The Lancet found that mortality rates after hip arthroplasties in England and Wales decreased from 0.56 percent in 2003 to 0.29 percent in 2011.
In the United States, 90-day mortality decreased from 1.2 percent in 1991 to 0.8 percent in 2008, according to a 2011 study in the Journal of the American Medical Association.
It's important to keep in mind that age affects these mortality rates. The vast majority of hip arthroplasty patients are older and many may be in poor health before hip surgery.
Risks Associated with Partial Replacements and Resurfacing
With a partial hip replacement (hemiarthroplasty), the artificial metal ball that's implanted touches natural cartilage in the socket, which can cause cartilage and surrounding tissues to become weak and less healthy, leading to problems over time.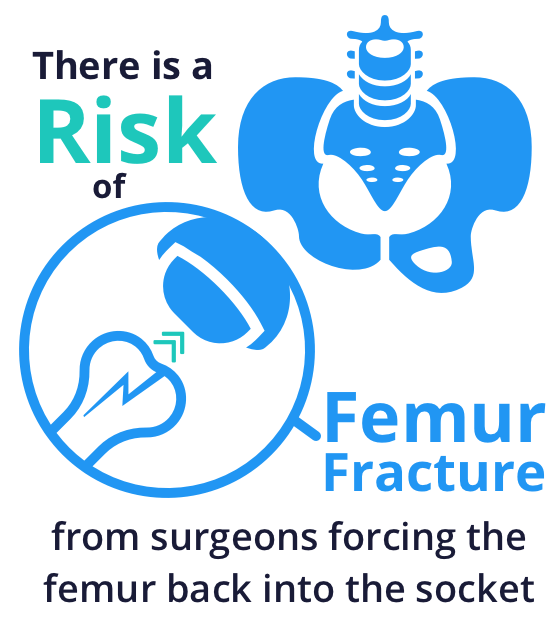 The long-term risks of hip hemiarthroplasty are loosening of the joint and infection, according to an article published by the University of Michigan.
There is also a slight risk of the thighbone fracturing during surgery. This is because the surgeon has to dislocate the hip joint, and then force the bone back into the joint after attaching the artificial ball. The incidence of fractures during surgery is rare, and there is little research to indicate how often it happens.
Avascular Necrosis (Osteonecrosis)
Avascular necrosis, also called osteonecrosis, is bone death caused by lack of blood. It can lead to implant failure.
If the bone is deprived of blood for an extended period of time, it will collapse, destroying the bone and disrupting use of the joint. In extreme cases, the implant has to be replaced.
Avascular necrosis is more often associated with hip resurfacing than total or partial replacement. The only way to treat avascular necrosis is with a total hip replacement.
A 2015 study in the World Journal of Orthopedics estimated 20,000 to 30,000 Americans are diagnosed with avascular necrosis every year. The researchers calculated that treating the condition accounts for 250,000 total hip arthroplasties every year.
Please seek the advice of a medical professional before making health care decisions.
How helpful was this page?
How can we improve this page?
How can we improve this page?