Stryker Hip Replacement Lawsuits
As of October 2022, there were 581 Stryker hip replacement lawsuits federal court and many more in state courts. Stryker agreed to a confidential settlement of lawsuits over its LFIT V40 Femoral Head in 2018. The company paid $2 billion in 2014 to settle Rejuvenate and ABG II hip lawsuits. Now, attorneys are investigating complications related to the company's Tritanium Acetabular Shells.
See If You Qualify for a Hip Replacement Lawsuit
If you experienced serious complications from your hip replacement device, you may be entitled to compensation. Get a free case review.
We value your privacy.
By clicking REVIEW MY CASE
, you agree to our
privacy policy
and
disclaimer
. After submitting, you will be contacted by one or more of Drugwatch's
trusted legal partners
(including autodialed and prerecorded calls or text/SMS messages). Msg. and data rates apply. Your consent to text messaging is not required for a case review and you may opt out of text messages at any time by texting STOP. This is legal advertising.
Stryker hip lawsuits claim faulty hip implants caused severe pain and other complications that required additional surgery to repair. The lawsuits blame metal parts in the implants for releasing toxic metal ions into the body. The metals can cause tissue damage, loosening of the implants and other complications.
At least six models of Stryker hip replacements or their components have been named in lawsuits. Three brands — Rejuvenate, ABG II, and LFIT Anatomic CoCr V40 femoral heads — have been included in federal mass litigations.
Tritanium Acetabular Shell Lawsuits
Attorneys are accepting cases from people who've suffered complications after receiving Stryker Tritanium Acetabular Shell hip implants.
The devices, which are designed to replace a person's hip socket, are supposed to fuse to your own bones by encouraging bone growth, but they don't always work. Sometimes the hip implants loosen shortly after surgery, causing pain that can only be fixed through more surgery.
If you've had a Tritanium hip device implanted within the past five years and are experiencing pain or have been told you need a revision surgery, you may want to speak with a lawyer.
A hip replacement should last decades — not months — and revision surgeries are expensive and painful. You may be entitled to compensation for your medical bills, pain and suffering and other expenses.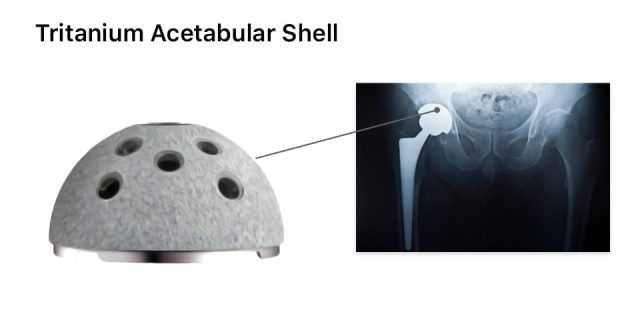 LFIT V40 Femoral Head Settlement
Stryker and lawyers for plaintiffs suing the company over its LFIT V40 Femoral Head announced an initial settlement agreement on November 2, 2018. As of October 2022, there were still 581 lawsuits pending in the mass litigation in a Minnesota federal court.
Federal court documents confirmed that the agreement would include another 100 lawsuits combined in a New Jersey multicounty litigation (MCL).
Terms of the settlement were confidential as both sides finalized an agreement.
Hundreds of people filed lawsuits over the company's LFIT V40 components after Stryker recalled 42,519 units in 2016, citing "higher than expected" complication rates.

Injured by a Stryker Rejuvenate hip implant?
$2 Billion Rejuvenate and ABG II Settlement
In 2014, Stryker agreed to pay $1.43 billion to settle thousands of hip replacement lawsuits. It extended the settlement to more patients in 2016, raising the total settlement amounts to between $2 billion and $2.2 billion. The average amount paid for each problematic hip implant was $600,000.
Under the settlement, the deadline to file a lawsuit over those hip replacements was March 2017. Stryker expected all settlement payments to be delivered by the end of 2017.
As of October 2022, there were still 81 lawsuits pending in a Minnesota federal court as part of the Rejuvenate and ABG II multidistrict litigation.
Stryker had recalled nearly 44,000 Rejuvenate and 9,000 ABG II implants in April 2012. The company sent out an Urgent Field Safety Notice that warned "fretting and/or corrosion" could lead to "metallosis, necrosis, and/or pain" for people implanted with the devices.
Timeline of Rejuvenate & ABG II Litigation
July 2012

Stryker issued a market withdrawal of all Rejuvenate and ABG II hip implants worldwide after the company alerted doctors to potential

health complications of the hips

.

August 2012

The first lawsuit was filed in New Jersey state courts.

June 2013

U.S. Judicial Panel on Multidistrict Litigation combined federal lawsuits into Minnesota federal court.

December 2013

The first trial was canceled as Stryker offered to settle.

November 2014

The company offered a $1.4 billion settlement.

December 2016

Stryker extended the settlement.

March 2017

The time period to apply for the settlement ended; Stryker promised to have all settlement payments sent out by end of year.

August 2019

There were 1,209 lawsuits still pending in federal court in Minnesota.
People Who Have Filed Stryker Hip Lawsuits
Mern Direnzo received the Accolade TMZF and LFIT Anatomic V40 Femoral Head in October 2009. Following the hip replacement, blood tests showed high levels of metal ions in her blood and urine. She underwent a revision surgery to remove the device. Direnzo filed a lawsuit in 2014.
"[Stryker] failed to adequately design and manufacture the device to insure that it would not fret, corrode, erode, deteriorate and induce severe metal toxicity in patients," Direnzo's attorneys wrote in her complaint.
A 73-year-old man in Boynton Beach, Florida, filed a lawsuit after he required revision surgery less than two years after receiving a Stryker hip replacement. Branko Obradovic told the Palm Beach Post in 2013 that he couldn't sit for long periods of time and getting out of a car was an ordeal.
"I'm very angry about the whole thing," Obradovic said. "They should know what they are putting in someone's body."
Tracy Sponer of North Little Rock, Arkansas, had a Rejuvenate hip implanted on Sept. 6, 2011. A year later, she was forced to have revision surgery after the hip failed. In her lawsuit, Sponer claimed the device failure and subsequent revision surgery had resulted in ongoing mental and physical pain.
Her complaint accused Stryker of "flagrant disregard for human life" and asked the court to award punitive damages to punish the company.
Please seek the advice of a medical professional before making health care decisions.
Share This Page:
How can we improve this page?
Thank You for Your Feedback
We appreciate your feedback. One of our content team members will be in touch with you soon.
We appreciate your feedback. One of our content team members will be in touch with you soon.
Who Am I Calling?
Calling this number connects you with a Drugwatch representative. We will direct you to one of our trusted legal partners for a free case review.
Drugwatch's trusted legal partners support the organization's mission to keep people safe from dangerous drugs and medical devices. For more information, visit our partners page.