Smith & Nephew Hip Replacements
Smith & Nephew makes several hip replacement systems that use patented technology to increase mobility and improve durability. However, the company's metal-on-metal implants were linked to adverse events. Today, Smith & Nephew sells more reliable products while continuing to research innovative hip solutions.
UK-based medical technology company Smith & Nephew manufactures joint replacement systems for hips, knees and shoulders. While hip implants make up a substantial part of their business, the company also manufactures products used to treat severe wounds, broken bones and sports injuries.
In 2016, its worldwide sales were more than $4.6 billion. According to the company's annual report, its hip implants brought in $597 million that year.
Smith & Nephew manufactures hip replacement parts for several types of hip replacement surgery, including partial or total hip replacement surgery, resurfacing and revision surgery.
Over the years, the company made innovative contributions to total hip implant design, but some of its implants came under scrutiny for early failure rates and fractures. The company also has a record of legal violations.
In 2007, the company paid $28.9 million to the U.S. Department of Justice for illegally paying surgeons to use their implants on patients. Smith & Nephew was forced to undergo 18 months of federal monitoring as well.
The metal liner in Smith & Nephew's R3 Acetabular System was recalled on June 1, 2012, because it was associated with implant dislocation, infection and bone fracture that required revision surgery. Another problematic Smith & Nephew hip product — the Birmingham Hip Modular Head implant — was associated with early failure.
Smith & Nephew warned doctors of the possibility of implant failure for the metal-on-metal components in its devices when people began experiencing pain and poor mobility.
Other problematic implants include the Emperion Modular, Short Modular Femoral and Redapt Revision Femoral Hip Systems. Smith & Nephew recalled the Modular SMF and Modular Redapt Revision system on November 15, 2016.
Hip Replacement Products
ANTHOLOGY Primary Hip System
R3 Acetabular System
SYNERGY
EMPERION Modular Hip System
SPECTRON Hip System
ECHELON Primary Hip System
CONQUEST FX Femoral Hip Implant
TANDEM Bipolar and Unipolar Hip System
REFLECTION Acetabular Cup System
POLARCUP
Hip Resurfacing Products
BIRMINGHAM Hip Resurfacing System
Short Modular Femoral Hip System
Hip Revision Surgery Products
Short Modular Femoral Hip System
ECHELON Revision
SLR-PLUS Revision Stem
REDAPT Revision Femoral System
Smith & Nephew's Oxinum Hip Replacement Products
Smith & Nephew introduced its exclusive alloy, Oxinum (oxidized zirconium), in 2003. Using a patented heating process, the surface of this metal takes on the wear-resistant properties of ceramic while retaining the strength of the zirconium metal alloy beneath.
The company uses Oxinum parts with highly cross-linked polyethylene (XLPE) plastic components in its Verilast line of products for both hips and knees. Studies have shown that oxidized zirconium improves the durability of joint implants and does not fracture like ceramic.
The company claims that its Verilast line also reduces metal sensitivity to nickel as well as the release of metal ions and debris into the body. These harmful conditions are commonly associated with metal-on-metal implants.
Lawsuit Information
Multiple models of Smith & Nephew's hip replacement implants are the subject of currently pending multidistrict litigation (MDL). Learn more.
Smith & Nephew's R3 Acetabular System
The Smith & Nephew R3 Acetabular System was a modular hip implant system. This means that the surgeon can choose the individual components based on the needs of the patient. These components come in plastic, metal and ceramic.
Smith & Nephew began marketing this system in Europe and Australia in 2007, and it was made available in the United States and the rest of the world in 2009.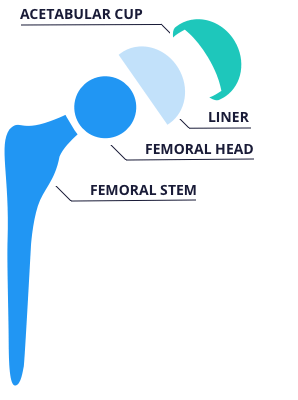 Most hip implant systems have several components: the acetabular cup (also called a shell), liner, femoral head and stem. The cup replaces the acetabulum, or hip socket. The liner fits in between the cup and the femoral head.
The R3 Acetabular System included an acetabular cup made of plastic, metal or ceramic; a femoral head made of Oxinum, cobalt chrome or Biolox ceramic; and a liner made of Oxinum, metal, ceramic or XLPE plastic. These pieces could be combined with several types of stems, allowing the surgeon to tailor the system to the patient.
The metal liner featured in the system was made of high carbide cobalt chrome, which the company claimed was designed to reduce wear rates and provide optimal friction reduction. In addition to the high carbide cobalt chrome liner, the R3 system came with a polyethylene (plastic) liner.
Smith & Nephew's design allowed the liners to fit better in the cup, which would enhance range of motion while decreasing the risk of loosening, nerve impingement and dislocation.
This system was designed to withstand an active patient's lifestyle, and its larger femoral head sizes provided better range of motion, greater hip flexibility and more stability. The cup featured a porous coating that was intended to enhance fixation and promote bone growth into the implant. Despite claims of superior design by Smith & Nephew, patients still reported complications with the implants.
Problems with the R3 Acetabular System and Metal Liner
Many of the problems associated with the R3 Acetabular System were caused by optional metal liners that interacted with metal femoral head components.
Recall
On June 1, 2012, just five years after its initial release, Smith & Nephew recalled the metal liner option of the device, citing higher than normal revision surgery rates and performance levels that were not acceptable.
Metal-on-metal implants, those that use two metal surfaces, are associated with higher than normal revision surgery rates and may present additional complications such as metallosis (metal poisoning). The complication occurs because the metal particles entering the body.
Smith & Nephew said the voluntary recall was a precautionary measure, but data had already documented problems with the R3 Acetabular System. Since it was released, 7,700 patients received the metal liner and a number of the patients had already required revision surgery.
Between 3,000 and 4,000 R3 Acetabular Systems were distributed in the United States between 2009 and the June 1, 2012, recall. People who received this recalled device may have legal options against Smith & Nephew to recover compensation for any pain or revision surgery costs.
Problems with the Emperion Hip System
Smith & Nephew's Emperion Modular Hip System is also under scrutiny for premature failure and fractures that lead to revision surgery. The Emperion hip stem is a titanium modular implant with several interchangeable parts. The stem is the part that surgeons insert into the thigh bone.
"The benefits of modularity come with the potential drawback of a combination of fretting and crevice corrosion at the modular junction, which may accelerate fatigue, crack initiation and ultimately reduce the hip longevity."
These modular stems are becoming more popular because they allow surgeons to mix and match components to fit a wide variety of patients. But the small crevices between parts can also cause problems.
A study published in January 2016 in Arthroplasty Journal detailed the case of a 67-year-old man whose Emperion hip stem fractured six years after implantation.
Another study published in the February 2014 issue of The American Journal of Orthopedics also detailed potential issues with modular hip stems like the Emperion.
When used with another metal component, such as the Birmingham hip, "crevice and fretting corrosion as well as the potential effect of metal debris generated by MOM [metal-on-metal] articulations" can cause premature fractures and failure, the authors wrote.
Modular SMF and Modular Redapt Femoral Hip Systems
Smith & Nephew recalled another pair of problematic hip implants in November 2016 — the modular SMF and Redapt Femoral Hip Systems. They also recalled the corresponding hip stem components because the company received reports of higher than anticipated complaints and adverse events.
The company analyzed data and found patients implanted with the modular implants may have a higher risk of revision surgery than patients with monolithic products. As with many other metal-on-metal hips, patients with these implants may have adverse reactions to metal debris that may flake off from the junction of the metal neck and stem and embed in surrounding tissues and travel in the bloodstream.
Despite a number of recalls and pending lawsuits against the company, Smith & Nephew's annual revenue continues to increase. It controlled about 10 percent of the $15 billion hip and knee market in 2016, behind larger companies such as Zimmer Biomet, DePuy and Stryker.
Please seek the advice of a medical professional before making health care decisions.
Share This Page:
How can we improve this page?
Thank You for Your Feedback
We appreciate your feedback. One of our content team members will be in touch with you soon.
We appreciate your feedback. One of our content team members will be in touch with you soon.
Who Am I Calling?
Calling this number connects you with a Drugwatch representative. We will direct you to one of our trusted legal partners for a free case review.
Drugwatch's trusted legal partners support the organization's mission to keep people safe from dangerous drugs and medical devices. For more information, visit our partners page.