Stryker Hip Replacements
The Stryker company continues to offer new products and procedures, including the 2022 release of the New Gamma4 Hip Fracture Nailing System. Despite many successful products, Stryker recalled its Rejuvenate and ABG II hip replacements in 2012 and the Accolade I was susceptible to failure.
Stryker's Hip Replacement Products
Stryker announced $17.1 billion in global sales in 2021 with hip products making up 8% of those sales. Founded in Michigan, today the company offers products in the medical, surgical, neurotechnology, orthopedic and spine fields. 
Stryker says it impacts more than 100 million patients per year and employs about 46,000 employees globally. The company's location in Limerick, Ireland, for example, just celebrated its 50th anniversary with Stryker Corp in 2022. 
In September 2022, Stryker announced the launch of a new system to address hip fracture. The New Gamma4 Hip Fracture Nailing System features the Precision Pin, redefined nail design and integrated instrument platform. 
Orthopedic surgeon and design surgeon for Gamma4 Dr. James Maxey said in Stryker's new product announcement "Our design team spent the last decade working to understand how we could enhance the Gamma System based on surgeon experience and feedback. Being one of the most commonly used devices to repair a hip fracture, I'm confident that we met our goal of reshaping patient hip fracture care for many years to come."
What Hip Replacement Products Does Stryker Manufacture?
In 2020, Stryker released the Mako Total Hip 4.0. This latest SmartRobotics system from the company includes new software, 3D modeling and new planning features. 
President of Stryker's Joint Replacement division, Don Payerle, said in the company's announcement, "Surgeons have access to information they've never had before. Now they have the ability to visualize impingement issues before they arise and can plan a patient's implant position based on that patient's individualized pelvic tilt through different ranges of motion."
Stryker's current hip products currently include:
Accolade II morphometric wedge
Anato femoral hip stem
Exeter hip stem
Insignia hip stem
Modular Dual Mobility Mobile Bearing Hip System
Restoration Modular
Secur-Fit Advanced Femoral Hip Stem
Trident Acetabular Shell Systems
Trident II Acetabular System
X3 precisely engineered polyethylene
In addition to hip replacement components, Stryker also offers the Direct Anterior Reconstruction Technique. It's described as a minimally invasive technique used in total hip replacement surgery. The company offers medical education for implementing the technique in conjunction with their products.
A direct superior muscle-sparing surgical approach is also part of Stryker's product and service offerings. It's described as  a total hip arthroplasty surgical technique and it uses Stryker's proprietary instrumentation. Instruments include a "tissue-friendly" retractor and acetabular reamer.
Were Stryker Hip Replacement Products Ever Recalled?
Stryker recalled two of its hip replacement systems that contained a proprietary titanium alloy called TMZF. The alloy is a mix of titanium, molybdenum, zirconium and iron that was meant to resist corrosion and small particles flaking off the implant known as fretting. However, corrosion, fretting loosening and the release of toxic metals were all reported.
Stryker voluntarily recalled all of its Rejuvenate and ABG II hip replacements from the market in July 2012. The potential for fretting and corrosion that could cause pain, swelling and tissue damage prompted the recall.
The company advised doctors to not only perform exams on patients who had received these implants, but also to conduct blood work.The U.S. Food and Drug Administration classified the voluntary process as Class II recalls and determined the cause of the recall to be "defective design."
Lawsuit Information
Multiple lawsuits involving Stryker hip implants are currently pending in state and federal court. Learn more about this litigation.
Problems with Tritanium Acetabular Shells
Some patients have reported loosening of the shells of cups after hip replacement surgery with the titanium Stryker Tritanium Acetabular Shell. This loosening caused hip and groin pain and some patients required revision surgery. 
Doctors at NYU Langone Orthopedic Hospitals described five implant failures associated with Stryker's Tritanium cups implanted between 2011 and 2016 in their 2018 report in the journal Arthroplasty Today. Imaging revealed the Tritanium components were loose and all five patients underwent surgery to correct the problem. 
A 2018 study in the journal of Orthopaedic Proceedings reported that X-rays showed changes that could lead to "poorer clinical function" within a year for more than a third of hips implanted with Tritanium shells. The recommendation was to monitor patients with these devices.
Loosening and failure of the devices has also been reported to the FDA's Manufacturer and User Facility Device Experience database. Stryker has not recalled these hip implants. 
Stryker's Rejuvenate, ABG II and Other TMZF Systems Complications
Many complications that are the subject of numerous lawsuits involving hip replacements are related to metal-on-metal ball-and-socket components, however, Stryker products were made of chromium and cobalt that rubbed against titanium coating on the stem. While Stryker implants contained different components, metal particles could also rub off and enter other parts of the body.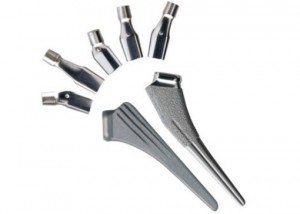 Thousands of people with failed hip implants sued Stryker. Implant failure caused complications that required revision surgery. The company resolved many of the claims in a billion dollar settlement in 2014 with more than 1,000 lawsuits still pending years later.
Typical hip implant systems include a one-piece neck and stem called a monoblock design. Stryker's ABG II system had eight right stems, eight left stems and 10 modular necks. Stryker's Rejuvenate hip featured six stems and 16 necks.
These modular, interchangeable systems were designed to give surgeons custom-fit devices  tailored for each patient. The devices were also designed to last longer and offer a better range of motion.
New Model and Material Replace Accolade TMZF
The Accolade TMZF implant was replaced in the U.S. market because it could cause corrosion and fretting if used with cobalt chromium femoral heads. Complications led some patients to require revision surgery.
A November 2022 case series published in Geriatric Orthopaedic Surgery & Rehabilitation examines three cases of catastrophic trunnion failure of the TMZF version of the Citation femoral stem. In discussing these cases, researchers noted, "Failure has been particularly noted in the single wedge Accolade 1 stem design. Other stems also used this alloy including the anatomic designed Citation stem."
The researchers also stated, "Femoral stems manufactured from TMZF have been susceptible to trunnion failure. The majority of reports involving trunnion failure involve the single wedge Stryker Accolade I TMZF stem design.5–7 Failure has also been reported in the Meridian stem. Trunnion failure is thought to be due to fretting when paired with a Cobalt-Chromium head."
The Accolade II replaced the Accolade TMZF. The Accolade II comes in 12 different sizes and has 132 and 127 degree offset options. The Accolade II is a similar stem that uses a metamorphic wedge designed to fit a range of bone sizes.
It has an underlying base made from a commercially pure plasma sprayed titanium alloy called Ti-6Al-4. A portion of the stem is covered in a proprietary version of a calcium compound called hydroxylapatite (HA). Stryker calls its version of the material PureFix HA.
Please seek the advice of a medical professional before making health care decisions.
Share This Page:
How can we improve this page?
Thank You for Your Feedback
We appreciate your feedback. One of our content team members will be in touch with you soon.
We appreciate your feedback. One of our content team members will be in touch with you soon.
Who Am I Calling?
Calling this number connects you with a Drugwatch representative. We will direct you to one of our trusted legal partners for a free case review.
Drugwatch's trusted legal partners support the organization's mission to keep people safe from dangerous drugs and medical devices. For more information, visit our partners page.