IVC Filter Lawsuits & Verdicts
IVC filter lawsuits allege C.R. Bard and Cook Medical's devices had defects that made them more likely to fracture inside or perforate a vein. In March 2018, Bard was ordered to pay $3.6 million to settle an IVC filter case after losing a verdict.
This is an active lawsuit
See If You Qualify for a IVC Filter Lawsuit
If you suffered serious complications from your IVC filter, you may be entitled to compensation. Get a free case review today.
A+

BBB Rating

4.9 Star

Google Reviews
A+

BBB Rating

4.9 Star

Google Reviews
We value your privacy.
By clicking REVIEW MY CASE
, you agree to our
privacy policy
and
disclaimer
. After submitting, you will be contacted by one or more of Drugwatch's
trusted legal partners
(including autodialed and prerecorded calls or text/SMS messages). Msg. and data rates apply. Your consent to text messaging is not required for a case review and you may opt out of text messages at any time by texting STOP. This is legal advertising.
Latest IVC Filter Lawsuit Updates
Thousands of IVC filter lawsuits in multidistrict litigation remain active against Cook Medical in Indiana under MDL number 2570, and the next bellwether trial is scheduled for December 2023.
At one time, Bard faced 8,689 IVC filter lawsuits in MDL number 2641 in Arizona federal court. However, the company has reached confidential settlements with all of these plaintiffs. As of August 2023, no active cases remain in the MDL.
August 2023: No active cases pending against Bard.
July 2023: Plaintiffs continue to file new cases in the MDL against Cook.
June 2023: There were 7,981 cases pending in an MDL against Cook Medical. At one time, the medical device maker faced 11,252 cases.
June 2023: Pretrial conference in the Cook MDL scheduled for August 2023.
June 2023: Only one case was remaining against Bard in the MDL.
May 2023: Cook settled some cases in the MDL for confidential amounts, but thousands remained pending.
January 2020: The U.S. District Court for the Southern District of Indiana vacated the $3 million judgment against Cook Medical in Brand v. Cook Medical. The court said the plaintiff didn't have enough evidence.
May 2019: Bard reached a confidential settlement agreement with about 8,000 plaintiffs.
February 2019: A jury awarded $3 million to plaintiff Tonya Brand in Brand v. Cook Medical.
Unlike Bard, Cook Medical has yet to reach any notable or global settlements. In November 2017, Cook Medical won the first bellwether trial in its MDL. However, it lost the next two. Juries awarded $1.2 million and $3 million to the plaintiffs.
In May 2023, the judge scheduled the next Cook Medical bellwether trial, Scott v. Cook Medical, for Dec. 4, 2023.
Why Are People Filing IVC Filter Lawsuits?
People who had an inferior vena cava filter implanted are filing lawsuits after their filters caused them serious harm. IVC filters are designed to reduce the risk of blood clots in people who are unable to take blood thinners, but lawsuits claim serious IVC filter complications.
Plaintiffs claim their IVC filter fractured and punctured veins and tissue after it migrated to other parts of the body. These medical devices damaged lungs, the heart and other organs. Lawsuits also detail how some filters, after migrating, were impossible to remove or caused organ perforation or organ damage.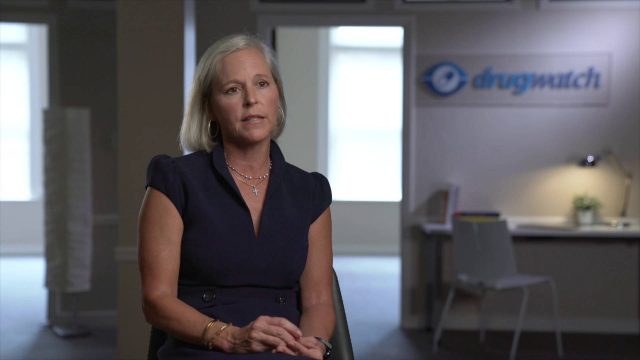 C.R. Bard and Cook Medical were named as defendants in the largest share of legal claims about defective IVC filters. Both medical device companies settled thousands of claims, although more lawsuits are still winding their way through litigation after years of legal back-and-forth.
People also filed other IVC filter manufacturers, including ALN, Argon, Boston Scientific and CORDIS. None of these lawsuits were part of any multidistrict litigation as of January 2023.
IVC Migration
Migration is a serious complication that occurs when an IVC filter has moved from its original implantation location. IVC filters get their name because of where they're normally implanted — inside the inferior vena cava vein, which carries blood to the heart. But some IVC filters may move from the inferior vena cava to multiple other places in the body, including pulmonary arteries, hepatic veins, other veins and the heart.
Migration rates of various IVC filters range from 0% to 11.8%. What makes migration problematic is that filters can be hard to retrieve once they move, especially if they break inside the body. Fragmenting makes retrievals difficult. Success rates for finding and removing IVC filter fragments range from 50% to 100%.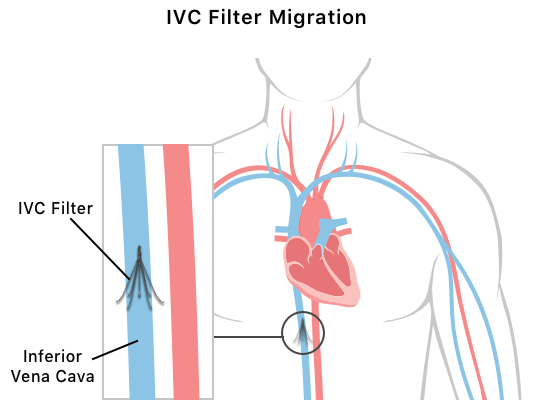 Retrieval surgery is complex and can cause IVC filters to fracture, or break. Sometimes, retrieval is impossible. Both retrieval and inability to retrieve can pose serious risks.
Doctors have documented successful fragment removals from the IVC filter site and also from the pulmonary artery, aorta and right ventricle. Complications from migration surgery include stroke, pulmonary infarction and bacteremia.
Suffering complications from an IVC Filter?
Manufacturers and Brands Named in Lawsuits
Bard, Cook and Cordis are manufacturers that have multiple models of IVC filters named in legal claims. Cordis and Cook have two models named. Bard has six, according to available filings.
Plaintiffs allege at least one IVC filter model from three other device makers — ALN, Argon and Boston Scientific — was defective. However, neither Cordis nor ALN, Argon and Boston Scientific are part of an IVC filter MDL as of May 2023.
| MANUFACTURER | MODELS NAMED IN LAWSUITS |
| --- | --- |
| ALN | Optional |
| Argon | Option Elite |
| Bard | Recovery, G2, G2 Express (G2X), Eclipse, Denali, Meridian |
| Boston Scientific | Greenfield |
| Cook Medical | Celect, Gunther Tulip |
| Cordis | TrapEase, OptEase |
Federal lawsuits filed against Bard and Cook and other IVC filter manufacturers allege that defects in the design of IVC filters make them more likely to fracture, migrate, tilt or perforate the blood vessel. People who were injured say the companies knew or should have known about the dangers but failed to warn doctors and patients of the risks.
During a 2015 investigation of Bard IVC filters, NBC News reported that Bard executives had been aware of the risks for years, but the company did nothing. NBC obtained a 2004 Bard-commissioned study that found the Bard Recovery IVC filter had a higher failure rate than competing devices. NBC linked Bard IVC filters to 39 deaths.
Bard's IVC Filter Lawsuits
Jury verdicts in Bard IVC lawsuits have found in favor of plaintiffs, awarding compensatory damages and ruling that Bard was negligent. A federal jury in Portland, Oregon, for example, ruled that Bard's filter had a negligent design, and that the company did not warn doctors and patients about migration and perforation risks.
$926,000: In May 2021, an Oregon jury ruled in favor of plaintiff Justin Peterson's claim of damage to his internal vena cava and duodenum after a Bard Eclipse Filter failed.
$3.6 million: In April 2018, the Ninth Circuit ruled in favor of the plaintiff in the first Bard IVC Filter bellwether trial, awarding $1.6 million in actual damages and $2 million in punitive damages to Sherr-Una Booker.
Juries award punitive damages to punish a defendant — in this case, Bard — when their actions cause severe harm. Booker's lawyer argued Bard executives knew their product was dangerous but continued selling it without warning doctors about its risks.
Boston Scientific Greenfield IVC Filter Lawsuits
Boston Scientific is defending multiple individual lawsuits about its Greenfield IVC filter. It won one case in a summary judgment in October 2022 against plaintiff John Fuss.
The company is still fighting a claim from Kentucky resident Katherine Milan related to her Greenfield filter implant, which became occluded. She sued in 2016.
Cook IVC Filter Lawsuits
As of June 2023, there were nearly 8,000 active IVC lawsuits against Cook Medical, the majority of which are in an MDL. The company has found mixed results in court.
In December 2022, the Seventh Circuit ruled in favor of two Cook IVC filter plaintiffs, reversing the MDL judge who had dismissed their claim citing the statute of limitations. After Cook won its first bellwether trial in November 2017, a judge threw out the second bellwether based on an Indiana statute of limitations. However, an appellate court reversed that decision because courts previously allowed similar plaintiffs in an MDL.
In May 2018, a Texas jury awarded a $1.2 million verdict to Houston firefighter Jeff Pavlock, who claimed a Cook Celect IVC filter damaged his aorta and small intestine. The lawsuit was not part of the bellwethers. Cook is appealing.
IVC Filter Recalls and FDA Actions
Device makers issued seven IVC filter recalls between 2005 and 2019. Two actions were serious Class I recalls — the 2013 Cordis recall of 33,000 of its OptEast IVC filters and the 2005 Boston Scientific recall of 18,000 Greenfield filters.
The OptEase recall, to correct labeling and prevent backwards insertion of the devices, is the largest to date. The last IVC filter recall came in 2019 from Cook, which brought back multiple sets of its Gunter Tulip IVC because of labeling issues.
Questions IVC Filter Attorneys May Ask
What kind of problems has your IVC filter had?
Thousands of IVC filters have been recalled because they were defective, failed to open, tilted or migrated. Be sure to let your attorney know if your device malfunctioned.
When was your IVC filter implanted?
Most people filing lawsuits had their IVC filters implanted before 2003. Your IVC filter lawyer will want to review your medical records to confirm the date of your procedure.
What company made your IVC filter?
C.R. Bard and Cook Medical are responsible for making the majority of IVC filters being named in lawsuits. However, people have filed individual lawsuits against other IVC filter makers, including Boston Scientific and Cordis. The surgeon who performed your procedure should be able to tell you who made your device.
How have your IVC filter complications impacted your daily life?
Complications associated with IVC filters can have a physical and emotional impact on your life. Your attorney will want to know the degree to which your IVC filter complications have affected your ability to do your daily tasks.
Please seek the advice of a medical professional before making health care decisions.
Share This Page:
How can we improve this page?
Thank You for Your Feedback
We appreciate your feedback. One of our content team members will be in touch with you soon.
We appreciate your feedback. One of our content team members will be in touch with you soon.
Who Am I Calling?
Calling this number connects you with a Drugwatch representative. We will direct you to one of our trusted legal partners for a free case review.
Drugwatch's trusted legal partners support the organization's mission to keep people safe from dangerous drugs and medical devices. For more information, visit our partners page.