IVC Filter Lawsuits, Verdicts & Settlements
IVC filter lawsuits claim C.R. Bard and Cook Medical's devices were defective, making them more likely to fracture or perforate the inferior vena cava. In March 2018, Bard was ordered to pay a woman $3.6 million to settle an IVC filter case. Bard and Cook have agreed to individual IVC filter lawsuit settlements for undisclosed amounts.
This is an active lawsuit
See If You Qualify for a IVC Filter Lawsuit
If you suffered serious complications from your IVC filter, you may be entitled to compensation. Get a free case review today.
We value your privacy.
By clicking REVIEW MY CASE
, you agree to our
privacy policy
and
disclaimer
. After submitting, you will be contacted by one or more of Drugwatch's
trusted legal partners
(including autodialed and prerecorded calls or text/SMS messages). Msg. and data rates apply. Your consent to text messaging is not required for a case review and you may opt out of text messages at any time by texting STOP. This is legal advertising.
As of October 2022, more than 8,023 lawsuits are still pending against two IVC filter makers.
Cook Medical faced 8,021 lawsuits in an Indiana federal court. Bard negotiated a confidential settlement with more than 8,000 plaintiffs in its Arizona MDL, and as of October 2022, only 3 cases remain in that MDL.
IVC filter attorneys believe hundreds more people could file suits.
A federal panel combined lawsuits against each company into multidistrict litigations (MDLs) in order to move the lawsuits through the legal process more efficiently.
Bellwether trials — representative test cases used to determine possible settlements — were underway in both MDLs as of July 2018. Neither Bard nor Cook Medical has offered a global settlement. The companies have agreed to a few individual IVC filter settlements for undisclosed amounts.
Currently, no IVC filter class action lawsuits have been filed in the United States. Law firms launched at least two class actions in Canada, both targeting Cook Medical's IVC filters.
Suffering complications from an IVC Filter?
Timeline of IVC Filter Bellwether Trials
November 9, 2017

Cook Medical won its first bellwether trial.

March 2018

The judge in the Cook MDL dismissed its second bellwether. It was set for April 30, 2018, but the judge said the plaintiff waited too long after his injury to file suit.

March 30, 2018

A jury in the first Bard trial awarded a $3.6 million verdict to Sherr-Una Booker. She claimed a Bard IVC filter broke and injured her.

June 1, 2018

Bard won its second bellwether trial.

July 12, 2018

Bard won its third bellwether case after the judge declared the statute of limitations expired.

September 2018

In the fourth Bard bellwether case, Hyde v. Bard, went to trial at the end of September. The jury decided in Bard's favor after one day of deliberation.

February 2019

A jury awarded Tonya Brand $3 million in the third Cook bellwether trial.

May 2019

The fifth Bard bellwether trial was settled for an undisclosed amount just before trial.
IVC Filter Complications
IVC filters are designed to reduce the risk of blood clots in people who are unable to take blood thinners. But people claim IVC filters punctured their veins, broke or moved, leading to serious IVC filter complications.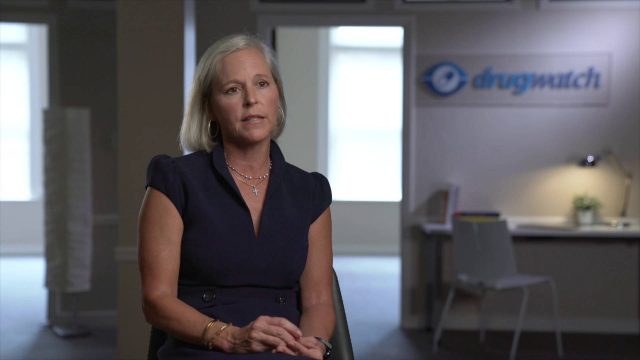 IVC Filter Complications People Can Sue For
Blood clots
Device migration
Filter fracture
Impossible filter removal
Organ damage
Organ perforation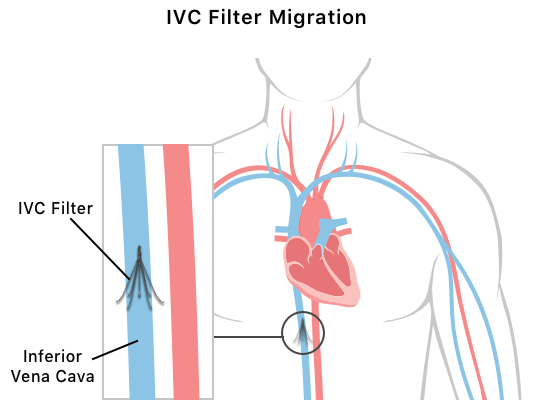 The filters are cage-like devices that are inserted through a person's groin or neck. Spindly legs deploy inside the inferior vena cava — a large vein that carries blood to the heart — and trap clots before they can reach the lungs.
Lawsuits filed in federal court allege that defects in the design of IVC filters manufactured by Bard and Cook make them more likely fracture, migrate, tilt or perforate the inferior vena cava. In some cases, when the devices break, pieces can travel through the body, damaging the heart, lungs and other organs.
People who've been injured say the companies knew or should have known about the dangers but failed to warn doctors and patients of the risks.
Manufacturers and Brands Named in Lawsuits
Cook Medical and Bard manufactured several of the IVC filter models named in MDLs.
IVC Filters Named in MDLs Include
Cook Celect
Cook Günther Tulip
Bard Recovery
Bard G2
Bard G2 Express
People have also filed individual lawsuits against other IVC filter manufacturers. Companies sued include ALN, Argon, Boston Scientific and CORDIS. None of those lawsuits were part of any MDLs as of August 2018.
| MANUFACTURER | MODELS NAMED IN LAWSUITS |
| --- | --- |
| ALN | Optional |
| Argon | Option Elite |
| Bard | Recovery, G2, G2 Express (G2X), Eclipse, Denali, Meridian |
| Boston Scientific | Greenfield |
| Cook Medical | Celect, Gunther Tulip |
| Cordis | TrapEase, OptEase |
Manufacturer Knew of IVC Filter Deaths
In 2015, NBC News linked Bard IVC filters to 39 deaths. The network's investigation claimed that Bard executives had been aware of the risk for years but the company did nothing.
During its probe, NBC obtained a 2004 study commission by Bard that found the Bard Recovery IVC filter had a higher failure rate than competing devices.
NBC reported that company executives made copies available on a "need-to-know" basis and told those who read the report to keep it secret.
Did You Know?
In July 2015, the FDA sent a warning letter to Bard about its medical device reporting, stating the company had failed to report knowledge of a malfunctioning device that "would be likely to cause or contribute to a death or serious injury, if the malfunction were to recur."
Bard's IVC Filter Verdicts and Settlements
The Ninth Circuit ruled in favor of the plaintiff in the first Bard IVC Filter bellwether trial, resulting in a $3.6 million verdict for a Georgia woman. The jury awarded $1.6 million in actual damages and $2 million in punitive damages to Sherr-Una Booker.
Juries award punitive damages to punish a defendant — in this case, Bard — when their actions cause severe harm.
Booker's lawyer argued Bard executives knew their product was dangerous but continued selling it without warning doctors about its risks.
Bard won its second bellwether trial in a case involving plaintiff Doris Jones in June 2018.
Jones received a Bard Eclipse IVC Filter in 2010. Years later, doctors found that the filter had fractured, and a piece of it blocked her right pulmonary artery. Doctors could not remove the piece.
A jury concluded Bard's warnings to doctors were adequate.
Bard has settled some individual IVC filter lawsuits for undisclosed amounts, but the company has made no global offer to settle all the lawsuits in the MDL.
Court records show the company settled at least three cases involving Bard's Recovery and G2 IVC filters between 2013 and 2015.
Timeline of Bard IVC Filter Payouts
2013

Lisa Davis sued Bard over its G2 IVC filter in Michigan federal court. She claimed the device broke and migrated to her heart. Davis' lawsuit said her continuing heart problems were due to the device. Davis filed suit in 2011. Attorneys for both sides told the judge they had reached a settlement in March 2013.

2014

Kelly and Chris Vlasvich filed suit in Illinois federal court over the Bard G2. They claimed the IVC filter broke, damaging Kelly's heart and lungs. Court records show the Vlasvichs were close to settling with Bard in December 2014. They asked the court to dismiss their suit a month later.

2015

Kevin Phillips' lawsuit over the Bard Recovery went to trial in Nevada federal court. Phillips claimed the IVC filter broke and perforated his heart. Ten days after the trial began, Bard agreed to an undisclosed settlement.
Cook Verdicts and Settlements
Cook Medical won the first bellwether trial in its multidistrict litigation in November 2017.
The judge overseeing the Cook IVC filter MDL had scheduled a series of settlement talks between the company and people filing suits in 2015 in hopes of resolving the cases before trial. The following year, however, the judge moved forward with pretrial proceedings and selected the first bellwether cases in the MDL.
The judge threw out the second bellwether case, which, like the first, was submitted by Cook Medical, on the grounds that the plaintiff's claim was time-barred. The statute of limitations for the breach-of-warranty claim was a year and a day.
Then in May 2018, a Texas jury awarded a $1.2 million verdict to Houston firefighter Jeff Pavlock, who claimed a Cook Celect IVC filter damaged his aorta and small intestine. The lawsuit was not part of the bellwethers.
Cook Medical plans to appeal the jury's decision.
Boston Scientific Greenfield IVC Filter Lawsuits
Boston Scientific's Greenfield filter is also named in lawsuits. There is no MDL involving Greenfield IVC filters, but lawyers have filed individual lawsuits.
Boston Scientific recalled 18,000 Greenfield filters in 2005. The company warned that a part could detach and potentially cause a heart or lung embolism. Boston Scientific issued a second recall that same year based on reports that Greenfield filters could cause blood vessel damage.
A 2016 study published in the journal Cardiovascular Diagnosis & Therapy looked at IVC filter complications, including perforation, incomplete opening, migration and fractures. The authors cited an earlier study of Greenfield filter deployment problems, published in the Journal of Vascular and Interventional Radiology, which reported poor distribution of filter legs in 71 percent of placements.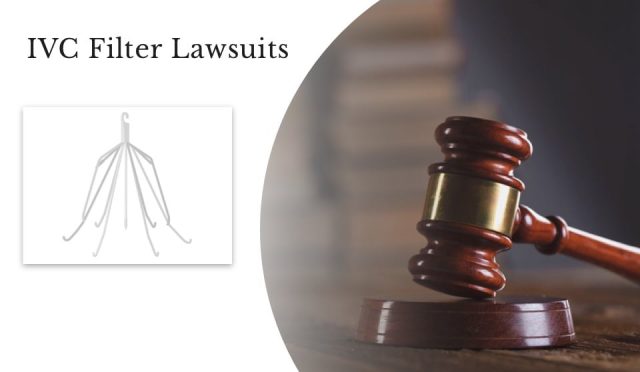 IVC Filter Recalls and FDA Actions
There were six major IVC filter recalls between 2005 and 2015. Manufacturers have not issued an IVC filter recall since 2015.
Most IVC filter lawsuits target devices that Bard or Cook never recalled.
IVC Filter Reports
The FDA's MAUDE database shows IVC filter reports dating back to February 2008.
The U.S. Food and Drug Administration tracks IVC filter complications. The FDA's database shows thousands of reports on IVC filter complications.
Patients, doctors and manufacturers file the reports when they experience a problem. More than 500 reports came in during the first two months of 2018 alone.
In 2014, The FDA updated a 2010 Safety Communication advising doctors to remove retrievable IVC filters as soon as they are no longer needed. The FDA said the ideal time for removing IVC filters is between 29 and 54 days after implantation.
Questions IVC Filter Attorneys May Ask
What complications have you experienced from your IVC filter?
Patients who have experienced IVC filter migration that has made removal impossible, filter fracture, organ perforation, blood clots or other serious injuries may be eligible to file a lawsuit. Your attorney will want to know about the complications you've experienced from your IVC filter.
What kind of problems has your IVC filter had?
Thousands of IVC filters have been recalled because they were defective, failed to open, tilted or migrated. Be sure to let your attorney know if your device malfunctioned.
When was your IVC filter implanted?
Most people filing lawsuits had their IVC filters implanted before 2003. Your IVC filter lawyer will want to review your medical records to confirm the date of your procedure.
What company made your IVC filter?
C.R. Bard and Cook Medical are responsible for making the majority of IVC filters being named in lawsuits. However, people have filed individual lawsuits against other IVC filter makers, including Boston Scientific and Cordis. The surgeon who performed your procedure should be able to tell you who made your device.
How have your IVC filter complications impacted your daily life?
Complications associated with IVC filters can have a physical and emotional impact on your life. Your attorney will want to know the degree to which your IVC filter complications have affected your ability to do your daily tasks.
Please seek the advice of a medical professional before making health care decisions.
Share This Page:
How can we improve this page?
Thank You for Your Feedback
We appreciate your feedback. One of our content team members will be in touch with you soon.
We appreciate your feedback. One of our content team members will be in touch with you soon.
Who Am I Calling?
Calling this number connects you with a Drugwatch representative. We will direct you to one of our trusted legal partners for a free case review.
Drugwatch's trusted legal partners support the organization's mission to keep people safe from dangerous drugs and medical devices. For more information, visit our partners page.