Unlike other selective serotonin reuptake inhibitors (SSRIs) such as Zoloft and Paxil, Lexapro (escitalopram) is approved for treating major depressive disorder in adolescents 12 or older, in addition to adults. It is also used for generalized anxiety disorder in adults.
Doctors may even prescribe the drug to pregnant women suffering from mental disorders. However, studies show that women who take Lexapro and other SSRIs while pregnant have an increased chance of giving birth to a baby with a developmental disorder.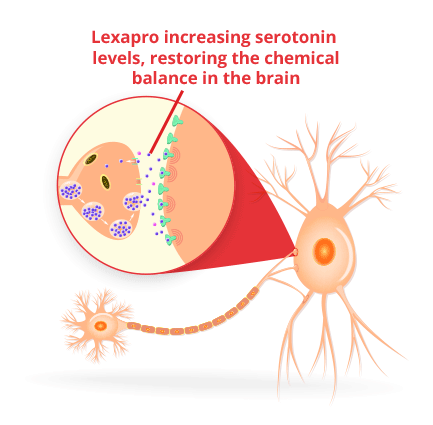 Lexapro restores the chemical balance in the brain by increasing serotonin levels, a chemical that influences mood. Low levels of serotonin in the brain are associated with depression and anxiety.
When the U.S. Food and Drug Administration (FDA) initially approved it, Lexapro was only to be used to treat adults. Later, the FDA approved it to treat depression in adolescents 12 or older.
During the drug's 10-year run before its patent expired, Lexapro manufacturer Forest Laboratories made nearly $14 billion in earnings, more than half of the total sales of the entire company. Sales and use of Lexapro plummeted, however, after the generic version of the drug (escitalopram) hit the market and Forest Laboratories faced a string of lawsuits related to improper marketing and birth defect accusations.
Approved Uses of Lexapro
Lexapro is designed to improve generalized anxiety disorder (GAD), which occurs when day-to-day worries are exaggerated and become overwhelming. It also aims to improve depression, which is caused by an imbalance of serotonin levels and which affects the ability to work, sleep and enjoy once-pleasurable activities.
Lexapro generally takes several weeks to start working. Often the physical symptoms of depression and GAD — which include changes in sleep patterns — improve first.
Lexapro vs. Other SSRIs
When Lexapro was introduced in 2002, Forest Laboratories marketed it as an upgraded version of Prozac, the most prescribed antidepressant in history. Lexapro promised fewer side effects without compromising effectiveness, and for the most part, it delivered.
The most common side effects associated with Lexapro are insomnia, nausea and drowsiness. These are likely to go away as the body adjusts to the medication.
Other side effects, including impotence and ejaculation disorder, are less likely to go away while taking Lexapro. Some patients also complain that the drug causes decreased appetite, weight gain, vomiting, vivid dreams and a tingling sensation in arms, hands, feet and legs.
Adults and adolescents who stop using Lexapro may experience some adverse side effects.
The most common side effects associated with discontinuation of Lexapro include:
Adults: Nausea, ejaculation disorder, insomnia and fatigue
Adolescents: Insomnia, back pain, urinary tract infection, vomiting and nasal congestion
People who take Lexapro may experience more difficulties sleeping compared to patients taking other SSRIs. Zoloft is another SSRI commonly associated with insomnia.
If you are having trouble sleeping while taking Lexapro, let your doctor know. Alternative antidepressants such as Oleptro (trazodone) are used to treat similar disorders and can work as a sleep aid.
While the use of alcohol is not recommended for patients taking Lexapro, a clinical trial showed the drug did not increase the cognitive and motor effects of alcohol, as it often does with other psychotropic medications.
Drug Interactions of Lexapro
You should not take Lexapro if you have taken monoamine oxidase inhibitors (MAOIs) in the last 14 days, as a dangerous drug interaction could occur.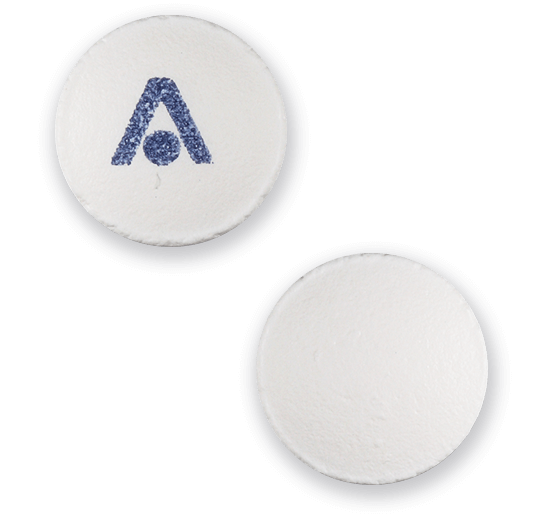 You should avoid taking Axert while taking Lexapro
Other common drug interactions with Lexapro include:
Serotonergic drugs (Robitussin DM, chlorpheniramine allergy tablets)
Triptans for migraine headaches (Axert, Frova, Maxalt)
Drugs that interfere with hemostasis (NSAIDS, Aspirin, Warfarin)
Cimetidine (Tagamet)
Metoprolol (beta-adrenergic blocker)
Black Box Warning and Other Serious Side Effects
Lexapro has been linked to several serious side effects that can be life-threatening, including suicidal thoughts and tendencies and serotonin syndrome.
While these are rare, patients should consult a doctor and weigh the risks of taking Lexapro or other SSRIs with the clinical need.
Suicidal Thoughts
In 2004, the FDA added a black box warning to Lexapro to alert patients to the increased risk of suicidal thoughts and behaviors, especially in patients younger than 25. An increased risk of suicide is a common severe side effect of SSRI antidepressants.
Patients taking Lexapro are known to become suicidal, especially in the first weeks of treatment. The risk is even greater for patients with bipolar disorder, a family history of bipolar disorder or those who have attempted suicide previously.
Serotonin Syndrome
Patients taking Lexapro should be aware of serotonin syndrome, a potentially life-threatening drug interaction that causes the body to have too much serotonin. This typically occurs in patients who simultaneously take two drugs that affect the body's serotonin levels.
For example, patients who take certain migraine medications, including triptans, along with Lexapro are at risk.  Symptoms include restlessness, diarrhea, hallucinations, fever, vomiting and rapid blood pressure changes.
Developmental Disorders and Discontinuation Syndrome
Research studies show women who take SSRI drugs, including Lexapro, while pregnant have an increased risk of giving birth to a child with autism and birth defects.
In 2006, the FDA issued a public health advisory noting SSRIs can cause serious birth defects if taken during pregnancy. A 2015 JAMA Pediatrics study showed mothers who took Lexapro and other SSRIs while pregnant have double the risk of giving birth to a baby with autism spectrum disorder.
The FDA lists Lexapro as a category C medication in pregnancy, meaning animal studies have shown it to have an adverse effect on the fetus. There are no complete studies in humans.
While the risk of birth defects is low, the FDA advises pregnant and nursing mothers not take Lexapro or other SSRIs unless they feel the benefits greatly outweigh the risks.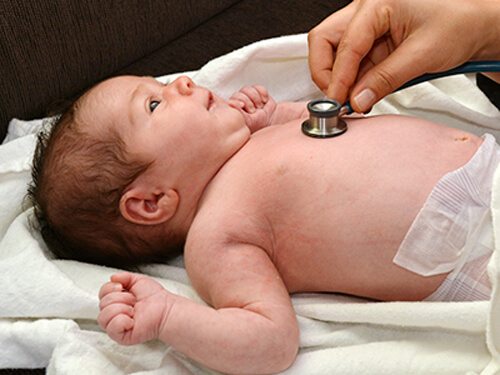 Heart defects are a known side effect in infants whose mothers took SSRIs
Researchers have found SSRIs increase the risk of infant heart defects, including persistent pulmonary hypertension of the newborn (PPHN). PPHN is a rare condition seen in newborns whose circulatory systems do no adapt to breathing outside the womb.
This leads to abnormal blood flow between the heart and lungs. Many infants born with this disorder die. Those who survive face disabilities that include cerebral palsy, Erb's palsy, seizures and hearing loss. In 2006, the FDA issued an advisory warning to patients and physicians of the dangers, saying infants born to mothers taking Lexapro were six times more likely to be born with PPHN.
In addition, infants born to mothers who take Lexapro are known to have congenital heart defects, including atrial and ventricular septal defects, which disrupts the infant's blood flow through the heart and forces the organ to work harder. Lexapro is also linked to infant neural tube defects, which can cause a malformed brain and skull, cleft palate, respiratory distress and possibly autism.
Discontinuation Syndrome
Discontinuing Lexapro rapidly can cause SSRI discontinuation syndrome, which leads to flu-like symptoms, including headache, diarrhea, nausea and chills. Patients can also experience electric-shock sensations, also called brain shivers or brain zaps, and restlessness.
Please seek the advice of a medical professional before making health care decisions.
Author
Matt Mauney is a writer and researcher for Drugwatch.com. Before joining the Drugwatch team, he spent 10 years in journalism working for various newspapers and news websites. Matt has a degree in journalism with a double minor in broadcasting and public relations from Georgia Southern University.