Anxiety Treatment Online
Experts estimate that more than 30% of U.S. adults will experience an anxiety disorder at some point. Since the pandemic, online treatment has emerged as a promising anxiety therapy. You can receive online anxiety treatment from specialists and primary care physicians.
How Does Online Treatment for Anxiety Work?
There are many online ways to access therapy for anxiety, including video conferencing with Zoom, Google Meet, Skype or FaceTime, through phone and tablet apps and via text messaging.
Most patients won't need a referral from their primary care doctor to see a psychologist, counselor, therapist or nurse psychotherapist for online therapy. A clinical or licensed social worker with training can also provide anxiety therapy.
However, you may need a referral to see a psychiatrist, and only your psychiatrist or general practitioner can prescribe anxiety medications. Check with your health insurance provider to find a therapist covered by your plan.
Types of Online Anxiety Treatment
Networks of therapists and professional counselors exist to support people dealing with anxiety and mental health challenges. The type of therapy you receive depends on your circumstances and your specific treatment.
Examples of anxiety therapies available online include:
ACT, or acceptance and commitment therapy, uses acceptance and mindfulness to build a commitment to change behavior.
Cognitive Behavioral Therapy, or CBT, involves identifying negative thinking patterns and reframing them into positive ones using new behaviors, exposure therapy, emotional regulation and relapse prevention.
Dialectical Behavioral Therapy is a type of cognitive behavioral therapy that combines mindfulness and acceptance. It teaches people to develop healthy ways to cope with stress and improve relationships with others.
EMDR refers to eye movement desensitization and reprocessing therapy. It treats traumatic memories that cause anxiety. This method involves moving your eyes a specific way while reprocessing a memory to repair the mental injury.
IPT, or interpersonal therapy, eases anxiety symptoms by improving interpersonal functioning specific to grief, role disputes, role transitions and other deficits.
VRE refers to virtual reality exposure therapy, a new immersive exposure treatment. The person receives experiential stimuli through a computer-based display to relieve specific anxieties and fears, such as a fear of flying, thunderstorms, loud noises or other phobias.
Therapists have engaged in many therapies to treat symptoms of anxiety. Although CBT is the most widely used, other treatments may also be appropriate, depending on your circumstances.
Advertisement
Professional Therapy, Done Online
A licensed therapist with BetterHelp can provide professional support and guidance, on your schedule. Sign up and get matched in as little as 48 hours.
Get Started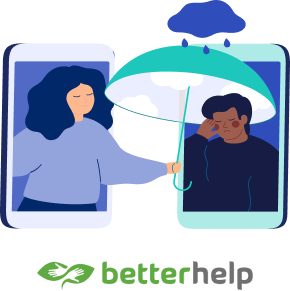 Benefits of Online Anxiety Treatment
Results of one study focusing on college students with anxiety found that in-person and online (synchronous video) counseling methods were equally effective in delivering treatment. Another review related to university students supported the idea that different online interventions can promote mental health, though they recommended more research.
Experts investigating child anxiety found that symptoms and functional impairment improved after they offered families online support and intervention. Most children showed a reliable change in symptoms and needed no further treatment to deal with their anxiety.
Several studies have demonstrated the effectiveness of SMS (text) messaging in supporting changes in the attitudes of individuals with anxiety. One study showed the necessity of specific message construction for successful treatment. Another study found that, even without therapist guidance, significant gains are possible for some types of anxiety, such as social anxiety, though not generalized anxiety disorder.
However, not all therapies work online. Research relating to laughter therapy found no impact on anxiety, though it reduced depression.
Advertisement
Real Therapy, Done Online
BetterHelp offers flexible scheduling so you can make time for therapy in between meetings, classes, child care, and more. Get 20% off your first month.
Get Started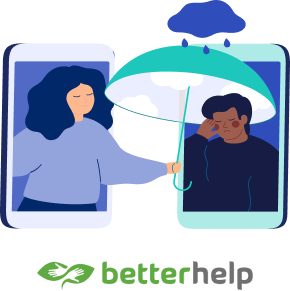 How Much Does Anxiety Online Treatment Cost?
The cost of online anxiety treatment depends on where your provider works, that provider's hourly rates, what portion of the charges your insurance covers and whether your therapist accepts insurance. Some therapists offer telehealth sessions for a $25 copay. For people without insurance, in-person sessions cost $60 on the low end and up to $250 or more for specialized or more experienced therapists. One pre-pandemic research review suggests that telehealth mental therapy is less expensive than in-person sessions. Per-hour costs of online therapy vary by provider, so research your options.
Although most insurance plans cover psychological therapy, check with your insurer to confirm it covers online therapy. The specific coverage may depend on your chosen therapist, state regulations and insurance plan.
The Paul Wellstone and Pete Domenici Mental Health Parity and Addiction Equity Act of 2008, or MHPAEA, is a federal law protecting mental health and substance use disorder benefits. A study found that since MHPAEA passed, more children and adolescents were diagnosed with and treated for anxiety, suggesting that anxiety screening also improved.
How to Choose the Best Anxiety Online Treatment
There are several pathways to choosing the best online therapist to treat your anxiety. If you already have an in-person therapist you like, ask them if they offer telehealth or online therapy. Your general practitioner is another person who can make a referral.
You should be able to identify online therapists via your insurance network. Confirm the type of practice and their qualifications to ensure they treat anxiety. Another useful source of information may be online patient reviews.
Advertisement
Professional Therapy, Done Online
A licensed therapist with BetterHelp can provide professional support and guidance, on your schedule. Sign up and get matched in as little as 48 hours.
Get Started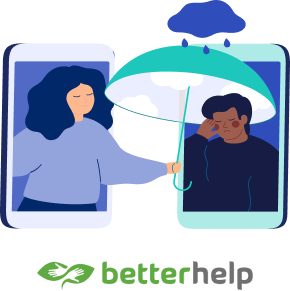 Please seek the advice of a medical professional before making health care decisions.
Share This Page:
How can we improve this page?
Thank You for Your Feedback
We appreciate your feedback. One of our content team members will be in touch with you soon.
We appreciate your feedback. One of our content team members will be in touch with you soon.
Who Am I Calling?
Calling this number connects you with a Drugwatch representative. We will direct you to one of our trusted legal partners for a free case review.
Drugwatch's trusted legal partners support the organization's mission to keep people safe from dangerous drugs and medical devices. For more information, visit our partners page.