Online Therapy for Teens
Online therapy for teens has emerged, post-pandemic, as a promising intervention for mental health issues. Online therapy for adolescents happens through video chats, texts, phone, and other online methods. It has shown promise for treating teens with depression, anxiety, OCD, and other conditions.
What Is Online Teen Counseling?
How teens receive mental health counseling evolved with the growing acceptance of digital health care. Online counseling — also called telemental health, teletherapy or e-therapy — occurs virtually via texts, emails, video chats, phone calls and apps.
Research suggests that the effectiveness of online counseling platforms for teens is similar to that of face-to-face therapy if properly implemented. It also has the advantages of being flexible, convenient, cost-effective and accessible for those outside of urban areas.
Types of Online Therapy for Teens
Access to online mental health therapy grew rapidly because of the COVID-19 pandemic. The transition of mental health therapy to an online environment comes naturally to most teens because they grew up using digital screens.
Types of therapy available via virtual counseling include:
Cognitive behavioral therapy (CBT)
Dialectical behavior therapy (DBT)
Eye movement desensitization and Reprocessing (EMDR)
Family therapy
Interpersonal therapy
Psychodynamic therapy
Substance use counseling
Extensive networks of therapists, psychologists, psychiatrists, nurses, social workers and other licensed professional counselors are available to offer support to teens. The type of counseling recommended for a specific adolescent or teen depends on their diagnosis, circumstances and the nature of treatment sought.
Advertisement
Real Therapy, Done Online
BetterHelp offers flexible scheduling so you can make time for therapy in between meetings, classes, child care, and more. Get 20% off your first month.
Get Started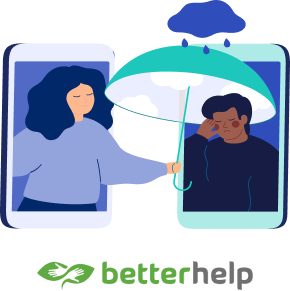 How Online Therapy for Teens Works
As with traditional therapy, psychologists and counselors must follow guidelines and best practices when providing online therapy. People should be cautious when choosing a therapist, however. The terms therapist and psychotherapist can mean different things depending on training and licensing requirements, which vary from state to state. Make sure a potential therapist has the training and credentials you require.
Speak to your doctor or insurance company about a referral for your teen to an online professional health provider. Although most insurance plans cover both in-person and online therapy, coverage of specific therapy types and in-network doctor options may be limited.
Online therapy can take place through a variety of digital tools including:
Apps
Instant messaging
Teletherapy
Text-based chats
Video conferencing
The U.S. Food and Drug Administration oversees the safety and effectiveness of mobile medical apps. The FDA only regulates apps that function as medical devices. Apps providing therapeutic interventions must receive FDA approval. Telemedicine is a form of communication so it doesn't require regulation.
The rise of artificial intelligence in mental health care is helpful in assisting the physician, who ultimately makes the final decisions about care. There is potential for unhealthy patient outcomes if AI makes diagnoses or provides treatment without an expert human clinician. This type of tech could one day require FDA regulation.
Online Therapy for Minors
Many large organizations that provide online therapy do so for adults only. It's best to find a therapist that specializes in children or teens. Each state has its own rules about whether teens under 18 can seek therapy without parental consent. Minors can't legally keep their medical records private from their parents or guardians.
Most therapists respect the trust of their patients and won't share personal things a teen has told them without their permission. The exceptions are if the child is at risk of self-harm or is being abused.
Benefits of Online Therapy for Teens
Researchers agree that more studies are needed to determine the specific benefits of online mental health therapies. The evidence of the success of e-therapy also depends on the therapy being provided and the condition being treated. One important benefit of telemedicine is increased access to care, especially in rural areas.
A recent systematic review published in the Journal of Telemedicine and Telecare found that online mental health therapies for teens can be effective. It also noted the emerging use of self-help platforms and artificial intelligence-based chatbots in mental health care for teens.
Another study of adolescents ages 12 to 17 with anxiety and depression found that a brief online intervention had promising results.
Advertisement
Professional Therapy, Done Online
A licensed therapist with BetterHelp can provide professional support and guidance, on your schedule. Sign up and get matched in as little as 48 hours.
Get Started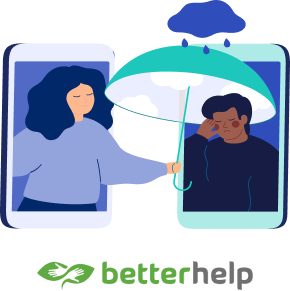 Please seek the advice of a medical professional before making health care decisions.
Share This Page:
How can we improve this page?
Thank You for Your Feedback
We appreciate your feedback. One of our content team members will be in touch with you soon.
We appreciate your feedback. One of our content team members will be in touch with you soon.
Who Am I Calling?
Calling this number connects you with a Drugwatch representative. We will direct you to one of our trusted legal partners for a free case review.
Drugwatch's trusted legal partners support the organization's mission to keep people safe from dangerous drugs and medical devices. For more information, visit our partners page.