FDA Approves Aveed Testosterone Product, with Restrictions
Fact-Checked
Editors carefully fact-check all Drugwatch content for accuracy and quality.
Drugwatch has a stringent fact-checking process. It starts with our strict sourcing guidelines.
We only gather information from credible sources. This includes peer-reviewed medical journals, reputable media outlets, government reports, court records and interviews with qualified experts.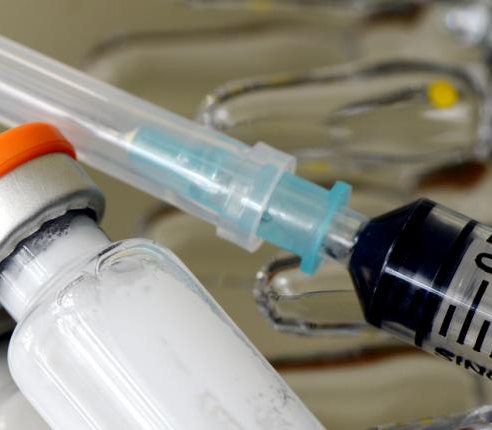 The U.S. Food and Drug Administration (FDA) this month approved the testosterone replacement therapy (TRT) drug Aveed, despite recent studies that show these types of medications significantly increase the risk of heart attacks in many men.
FDA officials rejected Aveed three times prior to granting final approval because they needed more information on the drug's safety profile and the company's risk-management plan. Endo listened. A recent press release from the company shows it will include a label on the box warning users that the injectable drug may cause lung problems and serious allergic reactions, but the release said nothing about potential troubles with heart attacks.
"With AVEED, Endo can now offer men living with hypogonadism (low testosterone) different treatment options to raise testosterone levels," Rajiv De Silva, president and chief executive officer of Endo, said in the press release. "We are focused on getting AVEED to market to ensure that appropriate patients have access to it."
The Dublin-based pharmaceutical company expects to start selling Aveed this month.
Aveed will compete for attention among men who are looking to boost energy levels and sex drive that can be linked to low testosterone levels. Although there has not been much research to prove conclusively that "Low T" drugs like Aveed produce those results, testosterone sales in the U.S. are skyrocketing — reaching nearly $2 billion in 2013.
Risk of Heart Attack
TRT products have been on the market for years, but there has been little research to document their long-term effects.
A study published in January 2014 in PLoS One showed that men older than 65 who started TRT were twice as likely to have heart attacks within 90 days, compared with men who did not take the drugs. The study also found the rate of heart attacks tripled among men younger than 65 with a history of heart disease who started TRT treatments.
Advocacy group Public Citizen in February urged FDA regulators to require a black-box warning label on all Low T drugs about their cardiovascular risks. Dr. Sidney Wolfe, founder of Public Citizen's Health Research Group, said the FDA's panel of outside advisers, who discussed the safety issues of Aveed in 2013, did not talk about heart risks.
Dose and Label on Aveed Packaging
Aveed is a long-acting injection treatment that consists of testosterone undecanoate in castor oil and benzyl benzoate. A single 750 mg injection is given as the initial dose of the drug, another injection four weeks later, and follow-up injections every 10 weeks thereafter. Other TRT drugs are usually taken in weekly or biweekly doses.
The labels that will appear on Aveed will warn that it should not be taken by women or children. Patients who use insulin, blood-clotting medications or corticosteroids are urged to alert their doctors before using Aveed.
Some of Aveed's side effects mentioned in the company's press release include acne, fatigue, irritability, risk of prostate cancer, liver problems, enlarged breasts, blood clots and problems breathing while sleeping. Large doses of Aveed could lower a patient's sperm count.
FDA labels on Low T drugs specify use only for men with hypogonadism, an extremely low testosterone level. However, critics contend that physicians are writing TRT prescriptions for men without conducting a blood test to confirm low testosterone levels.
The FDA's decision to approve Aveed was made, in part, because of a nearly two-year study of men with hypogonadism. The average testosterone levels of these men were less than 300 ng/dt. The normal range for men is 270 to 1,070 ng/dt.
Doctors Urges Caution in Prescribing TRTs
Dr. Bu Beng Yeap from the University of Western Australia published his results from a testosterone study in the November 2013 issue of the Journal of Clinical Endocrinology & Metabolism.
Yeap told Medscape.com that he's concerned about the limited research available on testosterone. He specifically questioned the safety of men undergoing TRT, unless they had "unequivocally low levels" of testosterone.
"In view of the controversy over possible adverse effects of testosterone therapy, particularly in older men who have limited mobility or [additional disorders], the benefits vs. risks of testosterone should be carefully considered," Yeap told Medscape.
He added there is a strong need for "rigorous randomized clinical trials to test whether testosterone supplementation in men with low-normal, as opposed to unequivocally low levels, would improve health outcomes. Pending such studies, we should adhere to existing consensus guidelines when considering testosterone therapy in men."
Share This Page:
How can we improve this page?
Thank You for Your Feedback
We appreciate your feedback. One of our content team members will be in touch with you soon.
We appreciate your feedback. One of our content team members will be in touch with you soon.