Doctors Debate Transvaginal Mesh Risks, Benefits at Urology Meeting
Fact-Checked
Editors carefully fact-check all Drugwatch content for accuracy and quality.
Drugwatch has a stringent fact-checking process. It starts with our strict sourcing guidelines.
We only gather information from credible sources. This includes peer-reviewed medical journals, reputable media outlets, government reports, court records and interviews with qualified experts.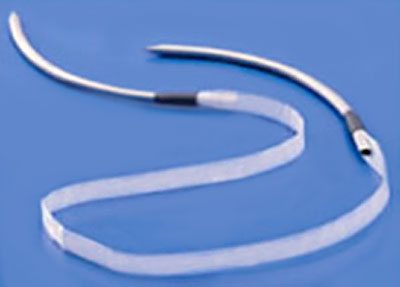 ORLANDO – Prominent doctors gathered at the annual American Urological Association (AUA) meeting recently to debate the use of controversial mesh slings for the treatment of stress urinary incontinence (SUI), devices that have come under fire because of rising reports of severe complications.
The AUA's official position has always been that mid-urethral mesh slings, thin strips of polyethylene plastic that resemble window screen material, are important options for women who choose surgery to treat SUI – a condition where the bladder leaks because of pressure from laughing, activity or sneezing. The AUA says: "restriction on the use of synthetic polypropylene mesh would be a disservice to women."
In front of a packed house of hundreds, a panel of four specialists in the field of urology took turns presenting data and refuting one another's claims regarding surgical mesh slings. The heated debate was focused on the risk of severe complications that could plague women after the surgery, including erosion, chronic pelvic pain and painful sexual intercourse. The doctors debated whether these complications outweigh the benefits, and whether these problems are inherent in mesh or the technique.
Minimally Invasive Surgery Only Takes 22 Minutes
The doctors who argued in favor of mesh slings were Dr. Michael J. Kenelly a urologist at Carolinas Rehabilitation – Urology and Women's Center for Pelvic Health, and Dr. Eric S. Rovner, director of the Section of Voiding Dysfunction, Female Urology and Urodynamics in the Department of Urology at Medical University of South Carolina.
Kennelly and Rovner praised the fact that sling surgeries are minimally invasive, requiring only a small incision, and that the surgery can be done in as little as 22 minutes.
"[The] mid-urethral sling is the recognized worldwide standard of care for the surgical treatment of stress incontinence," Kennelly said in his opening argument. He presented evidence from years of studies of the product's effectiveness.
While Rovner acknowledged that there are complications unique to mesh, he maintained that it is safe to use and blamed lawyers for highlighting the complications linked to the product. He said his wife chose a mid-urethral sling.
He added, "Polypropylene mesh sutures have been used in hernia repair and sutures for 50 years. Is there any reason to believe that mid-urethral sling mesh will behave any differently than polypropylene mesh used in these other applications?"
Drs. Jerry Blaivas and Helen O'Connell disagreed with this reasoning and are both passionate about alternative treatments that do not use mesh.
Mesh Slings Cause Serious Complications
Blaivas, clinical professor of urology at Weill Cornell Medical College and attending surgeon at New York Presbyterian Hospital and Lenox Hill Hospital, and O'Connell, associate professor, Department of Surgery at the University of Melbourne and senior urologist at Royal Melbourne Hospital, made compelling arguments against mesh.
They both highlighted the serious complications caused by mesh. In fact, both doctors are often sought out by women who need mesh removed.
These two doctors favor autologous slings made from the patient's own tissue to treat SUI and other pelvic problems such as pelvic organ prolapse (POP).
"We're not debating efficacy," Blaivas said. "What we are talking about is safety."
Blaivas addressed the numerous complications caused by mesh, including organ injury, erosion, exposure, bladder and urethral erosion, painful intercourse and pelvic pain.
Injured by complications related to Transvaginal Mesh?
The audience was silent as Blaivas showed graphic slides of patients and the terrible complications they suffered after undergoing "one of these 22-minute retropubic slings, done minimally invasive." One of the slides featured a patient who underwent six operations to remove the mesh, which, as Blaivas stressed, can be difficult even for the most experienced of surgeons.
"We all agree that most surgeons recommend mesh slings, but in 1965 most Americans smoked cigarettes, and we know what happened by 1978," he said.
Rovner fired back, "But there's no free lunch with autologous pubovaginal slings either, Jerry, because there's pain and bladder injury, urethral injury – they are all listed. How high should the bar be set?"
'Disasters are Avoidable'
The final rebuttal came from O'Connell, who stressed that "the complications are avoidable; the disasters are avoidable." What's more, she said, mesh sling revisions are on the rise and there are not just a few problematic meshes. Even those deemed safe are causing problems, some many years later.
"The idea that [mesh] slings are minimally invasive just because the incisions are smaller is only part of the story. Synthetics are only minimally invasive in the size of the wound," O'Connell said.
She then proceeded to show photos from the surgery of a 48-year-old woman who had mesh implanted for SUI. The patient had pain and bleeding for 5 years before being referred to O'Connell. "These problems could have been avoided by a properly placed fascial sling," she said.
Next, O'Connell showed data that came from Rovner in which 90 percent of his own patients who chose slings suffered painful sexual intercourse. For these problem cases, Rovner used fascia – the patient's own tissue – to repair the problems. "Why not use fascia to begin with?" she asked.
She stressed it was about choice, and that women should have a better choice.
Blaivas maintains that mesh slings are effective, but should be considered experimental because complications are underreported.
"So, if these bad complications are up to about 4 percent, which I think we can probably agree on, that's 1 out of 25 patients," he said. "I would personally play the lottery all day if I had a 1 in 25 percent chance of winning the lottery. And it's not clear to me that we should be making decisions for our patients that allow us to do those same odds."
Share This Page:
How can we improve this page?
Thank You for Your Feedback
We appreciate your feedback. One of our content team members will be in touch with you soon.
We appreciate your feedback. One of our content team members will be in touch with you soon.