FDA Stops Sales of Transvaginal Mesh for Pelvic Organ Prolapse
Fact-Checked
Editors carefully fact-check all Drugwatch content for accuracy and quality.
Drugwatch has a stringent fact-checking process. It starts with our strict sourcing guidelines.
We only gather information from credible sources. This includes peer-reviewed medical journals, reputable media outlets, government reports, court records and interviews with qualified experts.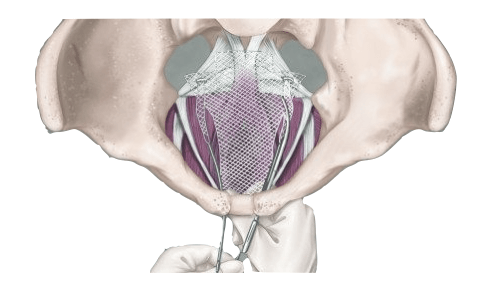 The U.S. Food and Drug Administration has ordered manufacturers of all remaining transvaginal mesh devices for pelvic organ prolapse repair to stop selling their products immediately, according to the agency's April 16, 2019 press release.
The action comes after the FDA convened an advisory panel on Feb. 12, 2019 to solicit input from experts on how to evaluate the risks and benefits of mesh placed through the vagina for repair of pelvic organ prolapse, a condition in which organs drop into the vagina, usually after childbirth. The controversial implant has been blamed for complications such as severe pelvic pain, bleeding, vaginal erosion and death.
The agency reviewed data provided by manufacturers, and it did not find evidence that transvaginal mesh for POP works better than surgery without mesh to repair weakened pelvic muscles. Thousands of women undergo transvaginal surgery for POP each year, and this order is the latest aimed at protecting these women, the agency said in its press release.
Patient advocates and consumer watchdog groups applaud the FDA's crackdown on mesh.
"The FDA has made the right decision," Diana Zuckerman, president of the National Center for Health Research, told Drugwatch in an emailed statement. "Since it is well known that surgical mesh can cause very painful and serious complications, we agree with the FDA that it should not be approved for use in procedures where there are no benefits compared to surgery without mesh."
The affected mesh devices are Boston Scientific's Uphold LITE Vaginal Support System and the Xenform Soft Tissue Repair System and Coloplast's Restorelle DirectFix Anterior.
The FDA is giving the companies 10 days to submit a plan to withdraw their devices. They must also continue to follow-up with patients who are already enrolled in their 522 clinical trials.
No 'Reasonable Assurance of Safety and Effectiveness'
After the FDA reclassified transvaginal mesh for POP as a high-risk device in 2016, the agency required manufacturers to submit new safety and effectiveness data. Most manufacturers, including Johnson & Johnson, simply pulled their devices off the shelves instead of doing additional studies.
That left Boston Scientific and Coloplast.
To continue selling their devices, the companies had to submit a premarket approval (PMA) application with additional data to prove the effectiveness of surgical mesh for transvaginal repair of POP.
"The panel recommended that to support a favorable benefit-risk profile, the effectiveness of surgical mesh for transvaginal repair of POP should be superior to native tissue repair at 36 months and the safety outcomes for surgical mesh for transvaginal repair of POP should be comparable to native tissue repair," the FDA press release said.
After reviewing the PMAs, the FDA determined manufacturers "have not demonstrated a reasonable assurance of safety and effectiveness."
"In order for these mesh devices to stay on the market, we determined that we needed evidence that they worked better than surgery without the use of mesh to repair POP. That evidence was lacking in these premarket applications, and we couldn't assure women that these devices were safe and effective long term," Dr. Jeffrey Shuren, director of the FDA's Center for Devices and Radiological Health, said in the agency's press release.
Implants Sold Without Clinical Trial Data
These implants were originally cleared for sale through the controversial 510(k) process, which allows devices on the market without rigorous testing.
"Too many women and men have been harmed by surgical mesh that was allowed on the market without any requirement for clinical trials," Zuckerman told Drugwatch. "Even when FDA expressed concern about surgical mesh for POP in 2016, too many surgeons continued to use it."
The FDA began slowly chipping away at mesh after it held its first committee meeting in 2011, and thousands of women have been waging a war against the device for years.
Many have filed lawsuits against mesh makers such as Johnson & Johnson's Ethicon unit, Boston Scientific and Coloplast. In a 2018 report, 60 Minutes called the consolidated mesh litigation, which includes tens of thousands of lawsuits, "the largest multi-district litigation since asbestos."
Injured by complications related to Transvaginal Mesh?
'Problems Don't End with POP Mesh'
While many advocates laud the FDA for their decision, others claim safety issues don't end with pulling POP mesh from the market.
Removing POP mesh is a "wonderful start," patient advocate and mesh survivor Tammy Jackson told Drugwatch. Jackson told her mesh story in the Netflix documentary The Bleeding Edge. She points out that mesh for stress urinary incontinence remains on the market.
"It's made from polypropylene [like] POP mesh. SUI mesh causes the same complications," she said. "The problems don't end with POP mesh being removed."
She calls on the FDA and medical device industry to "do the right thing" and stop making and marketing pelvic mesh.
Zuckerman says the agency should require clinical trials for all mesh used in surgeries.
"FDA's finally requiring clinical trials for mesh used for pelvic organ prolapse (POP) was an important first step, but the thousands of patients harmed by surgical mesh clearly show that clinical trials should be required for all types of surgical mesh," she said.
In the meantime, the FDA has told women who are currently implanted with mesh to continue to see their doctors for routine check-ups. If they are satisfied with their surgery, they don't need to take action. But women who suffer from vaginal bleeding or discharge, pelvic or groin pain, or pain with sex should notify their health care providers.
Share This Page:
How can we improve this page?
Thank You for Your Feedback
We appreciate your feedback. One of our content team members will be in touch with you soon.
We appreciate your feedback. One of our content team members will be in touch with you soon.