Big Pharma Paid $3.5 Billion to Doctors, Hospitals in 2013
Fact-Checked
Editors carefully fact-check all Drugwatch content for accuracy and quality.
Drugwatch has a stringent fact-checking process. It starts with our strict sourcing guidelines.
We only gather information from credible sources. This includes peer-reviewed medical journals, reputable media outlets, government reports, court records and interviews with qualified experts.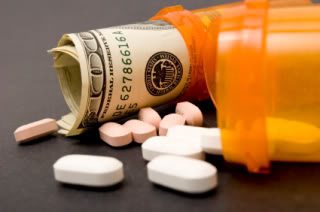 Drug and medical device companies shelled out at least $3.5 billion in payments last year to doctors and hospitals – money Big Pharma views as necessary to get new prescription medications and medical devices into the hands of consumers.
Documentation of these payments arrived this week from the Centers for Medicare and Medicaid Services (CMS). A Sunshine Act provision in the Affordable Care Act aimed mandated that the companies disclose the payments in an attempt to make the drug and device industry's relationship with medical professionals more transparent.
"When you look at why drug companies and device companies make gifts and offer consulting payments and honoraria to physicians, the main goal is to influence prescribing practices," Dr. Michael Carome, the director of Public Citizen's Health Research Group told The New York Times. "The interest of those companies is to improve their financial bottom line, and not necessarily represent the best interest of patients."
The data is available to the public via a searchable database.
More than half a million doctors and over 1,300 hospitals received money from drug and device makers between August 1 and December 31, 2013. Companies classified payments in categories such as travel, meals and entertainment, consulting and research grants.
What many people might not know is that these payments are common in the industry.
The controversial payout practice aroused the ire of critics and consumer advocacy groups who say these payments are incentives for doctors and hospitals to use specific products – possibly compromising the quality of patient care. Some advocates say that is the only reason these gifts exist.
Top Payouts in Orthopaedics
Many of the highest monetary awards went to orthopaedic surgeons who served as consultants to medical device manufacturers. Some of these companies are currently facing lawsuits filed by patients injured by their products.
For instance, Dr. Richard Berger received $330,000 from Zimmer Holdings in the last few months of 2013. Zimmer is currently facing lawsuits for its Durom Acetabular Cup hip implant and NexGen Knee implant. Berger received millions in consulting fees in the past decade from the company and even openly warned Zimmer that its CR-Flex knee loosened prematurely.
Orthopaedic surgeon Dr. Chitranjan Ranawat took in about $4 million from a number of companies, including Johnson & Johnson who paid him for "royalty or license." J&J already paid out millions to settle lawsuits for its DePuy ASR hip implant with thousands more pending. It also faces thousands of federal and state lawsuits for its Pinnacle Hip implant.
Even before the Sunshine Act, the government cracked down on drug and device companies for questionable payments. The feds forced Big Pharma's top players including Eli Lily, Pfizer and GlaxoSmithKline (GSK) to report all their gifts to health care providers after they were investigated for improper marketing practices.
In an attempt to distance themselves from the perception that they're putting profits over patients, GSK plans to cease paying doctors to promote their drugs by 2015. While the company will discontinue paying doctors for promotional services, it will continue to pay them consulting fees for "sponsored clinical research, advisory activities and market research," according to a company statement.
"These activities are essential in providing [GSK] with insights on specific diseases; identification of symptoms and diagnosis; application of clinical trial data or medication dosage and administration; and how to effectively and appropriately communicate the benefits and risks of its medicines to help meet patient needs," the statement shows.
Some Doctors Criticize Database
While supporters say the database will hold doctors and companies accountable, as well as provide useful information to patients, not everyone agrees it is beneficial. Making these payments public puts doctors in the hot seat, and many are concerned patients will get the wrong idea.
The American Medical Association says the information lacks "context" and appealed to the federal government to delay making the information public to allow physicians more time to review the reports.
"Questions from confused patients are especially likely, given that the online database is not expected to offer much context for the financial interactions it reports between physicians and manufacturers of medical devices and drugs," the American Medical Association told the Wall Street Journal.
Database Still Incomplete
So far, the data is not complete, and CMS withheld a third of its records. Some physicians' names didn't make it into the database because of conflicting state medical license numbers on some of its lists. Though, Lawmakers say that while it isn't perfect, it's still beneficial.
"Some information will be withheld because CMS wanted to protect doctors from a small amount of reports that might be imprecise. But as the information is refined, the database will improve. It will become more complete as doctors, drug and device companies and CMS work to update and refine the information," Sen. Chuck Grassley (R., Iowa), a co-author of the Sunshine Act legislation, said in a written statement to WSJ.
Next year, CMS plans to release all data and update it with all the missing physicians' names.
Share This Page:
How can we improve this page?
Thank You for Your Feedback
We appreciate your feedback. One of our content team members will be in touch with you soon.
We appreciate your feedback. One of our content team members will be in touch with you soon.