The company got its start in 1849 when German cousins Charles Pfizer and Charles Erhart combined their chemistry and confectionery skills and started a business. They began in Brooklyn with one building used as an office, laboratory, factory and warehouse. One of their first successful products was Santonin, a cure for intestinal worms.
Now Pfizer operates in 180 countries and employs more than 96,000 people worldwide with revenue topping $52 billion in 2016. The company has these five operation areas: Primary Care, Specialty Care and Oncology, Established Products and Emerging Markets, Animal Health, and Consumer Health Care and Nutrition.
But the company has had more than its share of controversy, including four settlements — one totaling $2.3 billion — over charges of illegal marketing. It's also involved in countless personal injury lawsuits. It also ranked last among the top 17 drug makers for reputation, according to a Reputation Institute 2017 report.
History of Pfizer
After its launch in 1849, Pfizer grew during the Civil War selling painkillers, preservatives, disinfectants and solutions like iodine, morphine, chloroform, camphor and mercurial. As the company expanded, the headquarters moved to Manhattan in 1868, and a warehouse opened in Chicago in 1882. The company's next major discovery was pioneering the mass production of citric acid, which is used in Coca-Cola, Dr. Pepper and Pepsi. Pfizer's studies of citric acid and fermentation technology later would assist the company in penicillin production.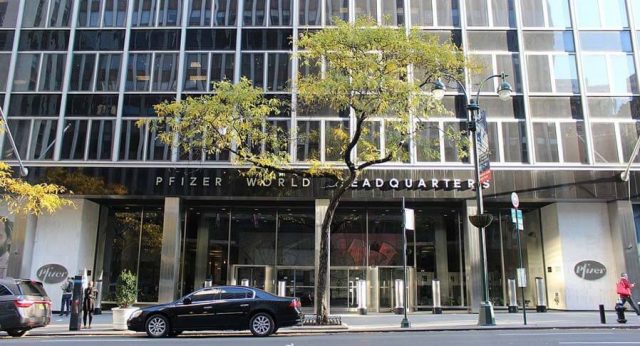 By the 20th century, Pfizer had established itself as an industry leader. It celebrated its 50th anniversary and continued to increase profits, exceeding sales of $3 million in 1906. In 1941, Pfizer began mass production of penicillin, responding to the U. S. government's request to provide World War II soldiers with the new antibiotic. By taking an active role in dispersing this antibiotic, Pfizer cemented its place in medical history.
Another major discovery for Pfizer around this time was a fermentation-free method of producing vitamin C. Researchers noted that the vitamin could be used as a defense against scurvy and the common cold. Pfizer built a new plant dedicated to nonstop production and quickly became the world's top producer of vitamin C.
International Expansion
By 1952, Pfizer had moved into eight new international locations — Belgium, England, Cuba, Canada, Brazil, Mexico, Panama and Puerto Rico — and had established its Agricultural Division, which later would be known as Animal Health. As its international business grew, so did its staff. In 1958, international personnel increased from 4,300 to more than 7,000.
Acquisitions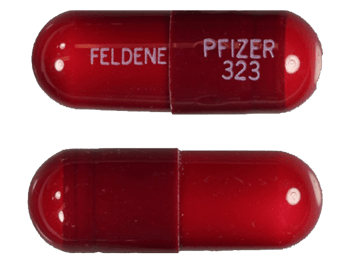 Pfizer continued to reinvest its profits in new research and development and began to acquire other companies, like J.B. Roerig and Co. and Mack Illertissen, that were already involved in research and development of new pharmaceutical products. Within a few decades, the efforts paid off, as new drugs brought in billions. In 1980, Feldene, an anti-inflammatory pain medication, became Pfizer's first billion-dollar product. Pfizer created antibiotics, antifungal medications, blood pressure, diabetes and depression drugs and was named the world's most admired pharmaceutical company by Fortune magazine in 1997.
Blockbuster Drugs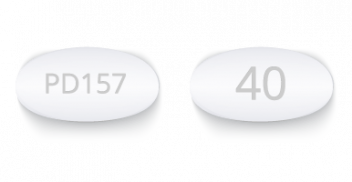 The 1990s and early 2000s were a time of blockbuster drugs for Pfizer, including a popular erectile dysfunction drug and a statin drug called Lipitor that proved far better than its competitors in clinical trials. Warner-Lambert originally developed Lipitor, and the company merged with Pfizer in 2000.
Lipitor quickly grew to be the largest-selling pharmaceutical of any kind in history, reaching $9.6 billion in revenue in 2011. The company also had two other major successes at the time, Chantix (a smoking cessation drug) and Bextra (a painkiller).
In 2009, Pfizer acquired another giant company, Wyeth, broadening its product offerings and expanding its workforce. At the end of 2011, however, Lipitor lost patent protection.
In order to combat decreased sales revenue from patent expiration of Lipitor and other drugs, the company cut back on around 600 primary care sales employees. It stated the downsizing move would put the company in a place that would best utilize its resources and meet the needs of the business as it continued to change over time.
Fraud Charges and Litigation
Amid its successes, Pfizer faced a growing number of scandals involving some of its most popular drugs. Pfizer has agreed to multiple settlements over charges of illegal marketing.
In 2002, Pfizer paid a $49 million fine based on claims that it defrauded the Medicaid program and overcharged consumers for Lipitor. Other settlements varied in size — the Neurontin settlement in 2004 cost $430 million, and Detrol in 2011 cost $14.5 million.
In 2009, the company paid $2.3 billion to settle civil and criminal allegations and setting a record at the time for the largest health-care fraud settlement and the largest criminal fine of any kind. Pfizer drugs involved in the historic settlement include Bextra, Geodon, Zyvox and Lyrica.
Did You Know
Pfizer set a record for largest health care fraud settlement and the largest criminal fine of any kind with $2.3 billion in 2009.
The U.S. Department of Justice (DOJ) filed the criminal charges because of Pfizer's marketing for Bextra. Although the FDA only approved the drug for arthritis and menstrual cramps, Pfizer reportedly told sales representatives to tell doctors it could be used for unapproved indications, like acute pain and surgical pain, and that it could be taken in high doses. However, the drug came with serious heart and skin risks, which caused Pfizer to withdraw it in 2005 and face a criminal investigation for misbranding the drug.
In 2012, it paid $164 million to settle a lawsuit that claimed it misled investors about the clinical results of Celebrex, used to treat arthritis. A month after that case was finalized, Pfizer settled a class action lawsuit filed by investors claiming they were misled about the risks associated with the antidepressant drug Pristiq. The Pristiq case cost the company $67.5 million.
In 2016, Wyeth and Pfizer agreed to pay $784.6 million to settle allegations that Wyeth knowingly underpaid drug rebates to Medicaid. Wyeth reported false prices to the government for Protonix Oral and Protonix IV, according to the DOJ.
Deadly Trovan Clinical Trial Scandal
In 1996, Pfizer conducted an unapproved clinical trial on children with meningitis in Nigeria, CBS News reported. It conducted tests on 200 children with its antibiotic Trovan — a drug severely restricted in use because of potential liver damage leading to liver failure and death.
The Trovan trials resulted in the deaths of 11 children, and dozens more were left disabled.
Whistleblower Dr. Juan Walterspiel — a pediatric research physician with Pfizer in 1996 — worked on the clinical trials but did not agree to the method used. He later wrote a letter to a federal judge claiming Pfizer did not obtain proper approval for the drug trial and faked the paperwork.
He claimed the drug company bribed local Nigerian officials and that 40 Pfizer executives and FDA officials knew about it. While the FDA began an investigation, it suddenly stopped, according to Walterspiel.
Walterspiel's letter claims Pfizer:
Used bribes to continue the Trovan study
Did not obtain consent from the parents of the children
Ignored potential drug reactions
Produced fake ethics documents in support of the test and gave them to the FDA
Walterspiel first made the accusations in the early 2000s, but because they were part of a sealed file, it went largely unnoticed. He sent a copy to Judge Jeff Kindler Pauley in January 2011, and the judge entered it into court records.
In 2011, Pfizer paid out $175,000 each to four families who lost children during the Trovan trials. The payouts were a part of an out-of-court settlement reached in 2009, the Guardian reported. The company set up a $35 million fund for those affected by Trovan and agreed to sponsor health projects in Kano, Nigeria.
Drug Warnings, Settlements and Litigation
Some of Pfizer's drugs have been under scrutiny after studies linked them to serious side effects. The FDA released several safety communications warning about these adverse events. The company also faced litigation from people who claim many of its drugs are dangerous. According to lawsuits, Pfizer released defective drugs and failed to warn about the side effects.
The following Pfizer drugs came under scrutiny:
Protonix

Protonix belongs to a class of stomach acid-reducing drugs called proton pump inhibitors (PPIs). The FDA released several safety communications warning the drugs increase the risk of fractures of the hip, wrist and spine and bacteria-induced diarrhea. Studies link PPIs to an increased risk of kidney disease. Some people filed lawsuits against PPI makers, claiming they failed to warn about the risk of kidney problems.

Prempro

Prempro artificially boosts estrogen production in women undergoing menopause. A 2002 National Institute of Health study showed women receiving hormone-replacement therapy had an increased risk of breast cancer, strokes and heart attacks. Following the study, nearly 10,000 women filed lawsuits against Pfizer claiming Prempro gave them breast cancer. By 2012, Pfizer settled most of the claims for more than $1 billion.

Effexor

By 2007, doctors prescribed Effexor to more than 17.2 million people. It became the sixth most prescribed antidepressant in the United States that year. But studies indicated antidepressants like serotonin–norepinephrine reuptake inhibitor (SNRIs) and selective serotonin reuptake inhibitors (SSRIs) may increase the risk of birth defects like respiratory distress, anencephaly, craniosynostosis, heart defects, omphalocele, cleft lip and cleft palate in rare cases. The medication also has a black box waring for increased risk of suicide in children and adolescents.

Zoloft

The FDA approved Zoloft in 1991. By 2002, the drug was the most popular antidepressant nationwide, bringing Pfizer nearly $2.9 billion that year. It lost patent protection in 2006. Studies show there may be a small risk that Zoloft can cause birth defects when taken by pregnant women. While the drug has a black box warning for increased risk of suicide in children and adolescents, some people also filed lawsuits against Pfizer after adult family members committed suicide while on the drug.

Chantix

Pfizer faced litigation linked to its smoking cessation aid Chantix. About 3,000 people filed lawsuits against the drug company claiming Chantix caused suicidal thoughts and severe psychological disorders. In 2013, the company set aside about $288 million to resolve these cases.

Zithromax

Zithromax, one of the most commonly prescribed antibiotics in the world, is linked to serious side effects. A 2012 study found that patients taking Pfizer's popular antibiotic had a higher risk of cardiovascular death than patients taking other antibiotics or none at all. Although the risk for most patients was found to be very low, the high rates of death found in Zithromax users with previous heart conditions was concerning enough for the FDA to issue a warning about the drug in March 2013.

Depo-Testosterone

Pfizer and subsidiary Pharmacia & Upjohn Co. have a product in the multibillion-dollar testosterone market called Depo-Testosterone. But testosterone supplements have been linked to cardiovascular issues like heart attacks and strokes, and the FDA ordered manufacturers to add information on the increased risk to warning labels in March 2015. Some people filed lawsuits against Pfizer claiming the drug caused strokes, blood clots and heart attacks.

Lipitor

Pfizer is also facing lawsuits over its blockbuster drug Lipitor. The drug was linked to serious side effects, including Type 2 diabetes and complications of the muscles, liver and kidneys.

Eliquis

Pfizer partnered with Bristol-Myers Squibb to develop a new anticoagulant (blood thinner) called Eliquis to give patients an alternative to warfarin. The new drug has been linked to uncontrolled bleeding. Families of patients filed lawsuits against Pfizer and Bristol-Myers Squibb after they say the drug caused fatal bleeding.