FDA: Diabetes Drug Invokana Can Cause Too Much Acid in Blood
Fact-Checked
Editors carefully fact-check all Drugwatch content for accuracy and quality.
Drugwatch has a stringent fact-checking process. It starts with our strict sourcing guidelines.
We only gather information from credible sources. This includes peer-reviewed medical journals, reputable media outlets, government reports, court records and interviews with qualified experts.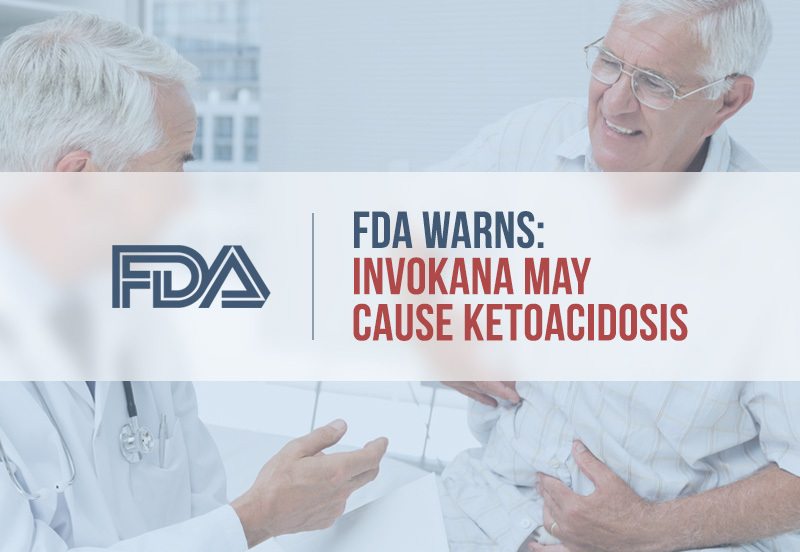 This article was updated to include study data showing risk for type I diabetes patients.
The Food and Drug Administration (FDA) warned that a new class of Type 2 diabetes drugs, including Johnson & Johnson's blockbuster Invokana, may cause a serious condition that can lead to hospitalization.
J&J's Invokana (canagliflozin) works by causing blood sugar to leave the body through urine and is the most popular medication in a class of Type 2 diabetes drugs called SGLT2 inhibitors. According to the FDA's warning, the drugs can cause a condition called ketoacidosis that happens when the body produces too many acids called ketones.
Warning symptoms of the condition include nausea, vomiting, difficulty breathing, confusion, abdominal pain and unusual fatigue or sleepiness. The FDA urges patients who are taking SGLT2s  and are suffering from these symptoms to seek medical attention immediately.
So far, the FDA said it received about 20 cases of ketoacidosis and all of these patients had to go to the hospital for treatment of the condition. Most patients took the drug for about 2 weeks before symptoms showed up.
Other medications in the class include AstraZeneca's Farxiga and Xigduo, Jardiance and Glyxambi from Lilly and Boehringer Ingelheim. J&J also combines the active ingredient in Invokana with metformin and markets it as Invokamet.
"We are continuing to investigate this safety issue and will determine whether changes are needed in the prescribing information for this class of drugs," the FDA said in its announcement.
Invokana A Blockbuster for J&J
The FDA first approved Invokana as the first SGLT2 drug in March 2013. Since then, it has become a cash cow for J&J and its Janssen Pharmaceuticals unit. In the first quarter of 2015, the drug already brought in $278 million, triple what it made last year.
"The product is getting very good acceptance, and it's now … exceeding all the other SGLT2 drugs that have recently come to market, by significant margins," J&J CEO Caruso said during the first-quarter earnings call with analysts. "And it's gaining market share despite increased competition."
With more people being diagnosed with Type 2 diabetes than ever before, the drug is poised to make more profits for J&J in the future. The drug is also well received by commercial insurance companies and Medicare Part D, meaning it is more likely to be covered and prescribed to a higher number of people.
J&J Spent Millions on Doctor Payments for Invokana
Invokana's high drug sales may not be solely based on effectiveness. A common practice among Big Pharma companies is to pay doctors to push drug brands, and Invokana made the top 4 of the list for most money spent.
According to ProPublica, a public interest website, J&J spent over $7 million from August to December 2013 on doctor speaking fees and related spending to support the drug's marketing. Of that money, J&J spent $4 million on speaking fees, $2 million on food and drinks for doctors and about $900,000 for so called "consulting fees."
As a part of advertising to doctors, it also spent $16 million to advertise in medical journals.
The strategy worked. So far, Invokana is the top-grossing drug in its class.
While the FDA continues to monitor the situation, its European counterpart, the EMA, reported over 100 cases of ketoacidosis related to SGLT2 drugs. Like the cases in the U.S., the European cases were serious and most required hospitalization.
Both agencies say they continue to monitor the situation.
"Healthcare professionals should evaluate for the presence of acidosis, including ketoacidosis, in patients experiencing these signs or symptoms; discontinue SGLT2 inhibitors if acidosis is confirmed; and take appropriate measures to correct the acidosis and monitor sugar levels," the FDA advised.
Type I Diabetes and Ketoacidosis Link
Researchers conducted studies to examine adverse events in people with Type 1 diabetes who used Invokana to help control blood sugar. The latest study — conducted by Dr. Anne L. Peters of the Keck School of Medicine of the University of Southern California in Los Angeles, and colleagues — looked at data from 351 patients who had Type 1 diabetes for at least one year.
The study data published in the March 2016 issue of Diabetes Care showed the drug can help people control blood sugar, but it also increased the risk for side effects like ketoacidosis. An earlier study published in the September 2015 issue of Diabetes Care by Dr. Robert R. Henry and colleagues found similar results.
"Canagliflozin provided reductions in HbA1c, body weight, and insulin dose with no increase in hypoglycemia, but increased rates of ketone-related AEs [adverse events], including DKA [diabetic ketoacidosis], in adults with type 1 diabetes inadequately controlled with insulin," authors wrote.
Currently, Invokana — manufactured by Johnson & Johnson's Janssen subsidiary — is only approved by the U.S. Food and Drug Administration to treat Type 2 diabetes. But doctors may use any drug for off-label (non-approved) uses if the drug may help a patient.
Share This Page:
How can we improve this page?
Thank You for Your Feedback
We appreciate your feedback. One of our content team members will be in touch with you soon.
We appreciate your feedback. One of our content team members will be in touch with you soon.