What You Can Do About J&J's Illegal Promotion of Risperdal
Fact-Checked
Editors carefully fact-check all Drugwatch content for accuracy and quality.
Drugwatch has a stringent fact-checking process. It starts with our strict sourcing guidelines.
We only gather information from credible sources. This includes peer-reviewed medical journals, reputable media outlets, government reports, court records and interviews with qualified experts.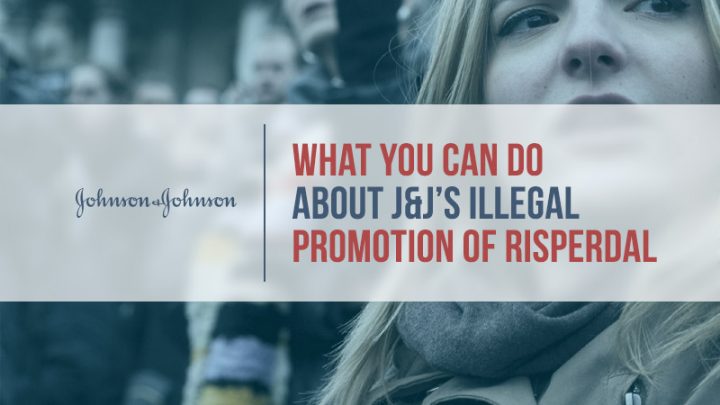 The evidence against Johnson & Johnson as a company that puts patients ahead of profits grew stronger when Steven Brill and the Huffington Post Highline opened the doors to the company and revealed its history of unethical and illegal behavior in a 15-chapter story this week.
The story is being released one chapter at a time over the course of 15 days from Sept. 15-29 and gives readers more details than ever before about what Brill calls, "America's Most Admired Lawbreaker."
"It's a really interesting story that's been told in bits and pieces for years," Brill said in a phone interview with Drugwatch. "I decided to go get every single document, to do Freedom of Information Act requests to the FDA, to get documents and transcripts that hadn't been made part of the record and then piece it all together in a narrative."
Quick Tips: What You Can Do to Hold Pharmaceutical Companies Accountable
Boycott products from that company, if possible.
Be an informed consumer.
Learn how much money companies give your doctor.
Write to your congressman or senator.
File a lawsuit if you were harmed.
In recent years, the public learned more and more about the illegal and unethical tactics Johnson & Johnson's sales units used to promote its antipsychotic Risperdal.
Brill said the fines and lawsuit verdicts do little to deter companies from behaving unethically and illegally.
"In the last chapter, I add up the math," said Brill, an author of a Time magazine investigation into the healthcare industry and three New York Times best-selling books. "When you add all that up, they still made billions of dollars. It's hardly a deterrent."
In 2013, J&J agreed to a $2.2 billion settlement with the U.S. Department of Justice for its illegal promotion of Risperdal.
In February 2015, a jury awarded the family of Austin Pledger $2.5 million in a lawsuit against J&J for failing to warn of its side effects in boys.
Recently released testimony from the Pledger case revealed J&J hid data indicating harmful side effects of Risperdal found in a clinical trial from the FDA during its approval process.
But if multi-billion dollar fines and multi-billion dollar verdicts don't deter companies, many people wonder what they can do to hold J&J accountable for its behavior.
It's a much more important topic than most people realize. It's why Brill said he wanted the public to know the truth about "arguably the most important industry in the country right now in terms of its effect on the economy and its effect on our lives."
Many People Surprised Johnson & Johnson Can't Be Trusted
Many people learned for the first time the history of unethical behavior of companies like J&J when they read Brill's story.
"From the avalanche of emails and response I'm getting, apparently the average member of the public doesn't know much at all and is quite surprised and quite alarmed," Brill said.
That lack of knowledge may be why many people support efforts to reduce regulation on pharmaceutical companies, like the 21st Century Cures Act and Free Speech rulings in favor of the drug makers.
"Certainly they'll be much more sensitive to the issues," Brill said of people who read his article. "One assumes they, and the people that represent them in Congress, will be much more sensitive to the issues surrounding the drug companies."
But being sensitive to an issue doesn't mean the public or its representatives in Congress will take action to prevent something like this from happening again. Fortunately, the U.S. Department of Justice recently introduced new policies to take matters into their own hands.
Prosecuting Corporations, Not People
For one of the first times, Brill gives readers an inside look as to why fines don't deter pharmaceutical companies. In his story, he describes how investors feel the fines and lawsuits are a "cost of doing business," that don't deter them from investing in the company.
The U.S. Department of Justice already exhausted its options for holding J&J accountable with its 2013 settlement. The company is currently facing civil lawsuits from those harmed by Risperdal as a last obstacle to hurdle before being free from accountability.
"The worst of all possible worlds happened to them, which is they got caught," said Brill, the founder of Court TV who has a law degree from Yale. "They had all of these horrendous verdicts and settlements. Even in the worst of all worlds, they made by my calculations something like three or four billion dollars."
So, why would a company that profits billions of dollars (after fines) and continues to receive money from investors stop acting unethically and illegally?
Actual people are not being held accountable.
"Criminal statutes were not written with corporations in mind," Brill said. "What are you supposed to do, put the building in jail?"
"Buildings and corporations don't do anything. People do things. People make decisions. People conduct themselves. To me, if you're going to have a crime, someone had to have committed a crime."
Fortunately, the U.S. Department of Justice recently introduced new guidelines for holding executives accountable in a memo to its prosecutors.
New policy measures include:
Focusing on individuals at the beginning of investigations
Ensuring the DOJ can pursue individuals even if corporations settle claims
Ensuring corporate cases are not resolved until there is a plan for holding individuals accountable
Focusing on individuals regardless of their ability to pay fines
"If those guidelines were in place, this may have had a different result," Brill said of the Johnson & Johnson Risperdal case.
What You Can Do to Hold J&J Accountable
Corporate fines aren't the only way to hold J&J accountable for its illegal actions.
You can make a difference by taking a number of simple actions:
Avoid drugs produced by companies with histories of illegal or unethical activity. Ask your doctor for generic drugs or alternative drugs that don't support pharmaceutical companies who act unethically or illegally.
Be an informed consumer. Read the labels of prescription and over-the-counter drugs, and ask your doctor about alternative treatments if you are concerned with the side effects.
Ask your doctor how pharmaceutical sales representatives affect his or her prescribing decisions. You can look up how much money your doctor accepted from drug companies on this ProPublica database.
Write to your congressman or senator expressing your displeasure with the provisions of the 21st Century Cures Act which make it easier for companies to gain prescription drug and medical device approval .
Write to your congressman or senator expressing your support for the DOJ's new guidelines for holding corporate executives accountable for misconduct.
Learn more about petitions and groups that advocate for holding corrupt pharmaceutical organizations accountable for their misconduct.
If you or someone you know were harmed by Risperdal, hold J&J accountable by filing a lawsuit
Many people have already taken steps to make a difference.
Making a Difference
The family of Austin Pledger did everything they could do to hold J&J accountable. Pledger and his family were awarded $2.5 million in February of 2015 after accusing J&J of illegally promoting Risperdal to children, causing Pledger – who suffers from an autism spectrum disorder – to grow 46DD breasts. The condition, called gynecomastia, is caused by increase prolactin levels caused by Risperdal.
Brill spoke with the Pledger family during his investigation.
"I think the parents feel it made a difference," Brill said. "But, they're certainly not rolling around in dough. J&J has filed all kinds of appeals."
In a chapter yet to be released, Brill said he delves deeply into the Pledger family's motivation for filing the lawsuit.
"I don't think they care much about the money at all," Brill said.
A story like the one Brill tells can make many people wonder how safe all drugs are, how unethically all companies operate and whether drugs like Risperdal have a place in society.
It's important to note that many drugs carry very harmful side effects, but may be necessary for patients with extreme symptoms. The rule of thumb for FDA approval is the benefits must outweigh the risks.
Risperdal carries numerous warnings for numerous side effects, some rare and some more common, but it is still approved for individuals whose benefit of taking the drug may outweigh the risks.
Brill is currently working on another story involving drug companies that investigates the process on how "miracle drugs are made." He suspects that the story will reveal some of "the good stuff the companies do."
If only the organizations the public relies on to produce such "miracles," could be trusted to act virtuously.
Share This Page:
How can we improve this page?
Thank You for Your Feedback
We appreciate your feedback. One of our content team members will be in touch with you soon.
We appreciate your feedback. One of our content team members will be in touch with you soon.