Opioid Use After Hip Replacement Linked to Revision Risk
Fact-Checked
Editors carefully fact-check all Drugwatch content for accuracy and quality.
Drugwatch has a stringent fact-checking process. It starts with our strict sourcing guidelines.
We only gather information from credible sources. This includes peer-reviewed medical journals, reputable media outlets, government reports, court records and interviews with qualified experts.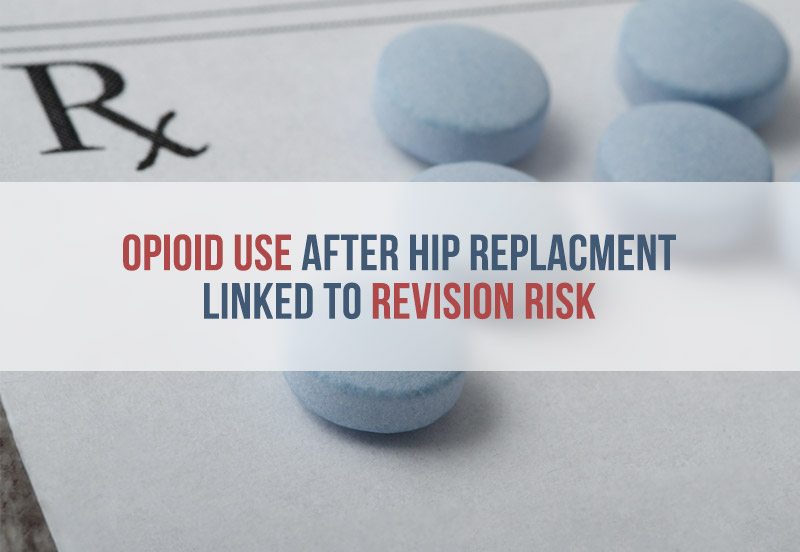 A new medical study showed that patients who took opioid painkillers three months after total hip replacement surgery were more likely to need revision surgery at one and five years than those who stopped taking the drugs. Experts also worry about an increase in opioid overdoses.
Opioids are powerful painkillers that are the equivalent of morphine, such as OxyContin, Percocet and Vicodin — these drugs are also highly addictive.  Maria C.S. Ignacio and colleagues at the University of South Australia found that 42 percent of patients who needed revision surgery were still taking opioids one year after the original hip replacement. Researchers published the results in the BMC Musculoskeletal journal.
"The observation that patients with revision procedures always had higher opioid consumption than patients that did not go on to be revised, including in the pre-operative period, offers a window of opportunity for surgeons to address opioid use and its possible post-operative impact pre surgery, when more frequent contact and surgical counselling is occurring," Ignacio and colleagues wrote.
Opioid Use Could Point to Patients Who Need Revision
Researchers say that this study does not determine that opioids lead to an increased risk of revision. Rather, increased opioid use may signal to surgeons that complications may be present from the original surgery, such as poor device placement or early device failure.
In certain instances, pain alone does not account for possible complications. For example, in the case of some metal-on-metal implants, other studies determined pain along with loosening, swelling and difficulty walking indicated early device failure, leading to revision. Some of these patients filed lawsuits against device makers, claiming the implants were faulty.
Ignacio found patients who needed revision surgery also used higher doses of opioid painkillers compared to those who did not. Study authors said healthcare providers should closely monitor these patients.
Some Patients Continue to Take Opioids Months After Surgery
Hip and knee replacements are increasingly common. Increased use of opioids after hip and knee replacement surgery may also lead to drug abuse, experts warn.
A another study published in the June issue of Pain by Jenna Goesling from the University of Michigan in Ann Arbor and colleagues followed 574 patients who had hip or knee surgery. About 30 percent of these patients took the powerful painkillers before surgery. After, 53 percent of knee surgery patients and 35 percent of hip surgery patients were still taking the drugs six months after.
In addition, patients who never took opioids before surgery were still taking them six month after joint replacement. It occurred in about 8 percent of knee patients and 4 percent of hip patients.
"In conclusion, many patients taking opioids before surgery continue to use opioids after arthroplasty and some opioid-naive patients remained on opioids," authors said. "However, persistent opioid use was not associated with change in joint pain. Given the growing concerns about chronic opioid use, the reasons for persistent opioid use and perioperative prescribing of opioids deserve further study."
Share This Page:
How can we improve this page?
Thank You for Your Feedback
We appreciate your feedback. One of our content team members will be in touch with you soon.
We appreciate your feedback. One of our content team members will be in touch with you soon.