Judge Selects First Cook IVC Filter Bellwether Trials For 2017
Fact-Checked
Editors carefully fact-check all Drugwatch content for accuracy and quality.
Drugwatch has a stringent fact-checking process. It starts with our strict sourcing guidelines.
We only gather information from credible sources. This includes peer-reviewed medical journals, reputable media outlets, government reports, court records and interviews with qualified experts.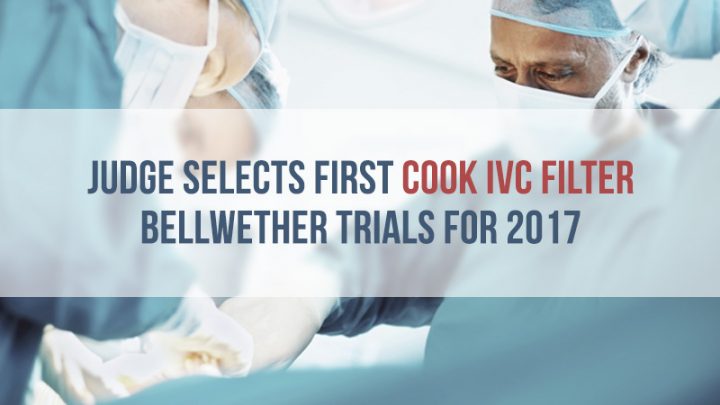 The judge presiding over the Cook IVC filter multidistrict litigation in Indiana selected three bellwether trials slated for 2017. These trials will set the bar for hundreds of other lawsuits filed by people who say Cook Medical's devices are prone to breaking in the vein and caused a number of injuries including punctured organs.
Doctors implant inferior vena cava (IVC) filters in patients to prevent blood clots from traveling to the heart or lungs. These small, cage-like devices anchor inside the inferior vena cava, the vein that takes blood to the lungs and heart. The filter stops blood clots that develop in the legs from developing into dangerous pulmonary embolisms or strokes.
By 2012, more than a quarter of a million devices made their way into patients, and the FDA recommends removing the filters one to two months after implantation.
But studies show these devices can be tricky to remove. Some may even break while inside a patient and 43 percent of Celect filters puncture the vena cava in within two months. The fragments can puncture organs or travel to the heart.
Hundreds of patients filed IVC filter lawsuits against Cook and a panel of judges centralized them before U.S. District Judge Richard L. Young in the Southern District of Indiana.
https://www.ncbi.nlm.nih.gov/pubmed/25791334

Injured by complications related to an IVC filter?
First Bellwether Alleges Negligence
The three bellwether cases allege a number of injuries caused by the Cook Celect and Günther Tulip filters. The first case set for trial belongs to Elizabeth Jane Hill of Florida.
According to Hill's complaint doctors were unable to remove the filter. After three years, she suffered from "persistent severe gastrointestinal symptoms, fatigue, diarrhea, vomiting and abdominal pain." Doctors discovered the filter punctured the vein and embedded in the intestine.
She went to several hospitals in the course of treatment to remove the filter. Now, she suffers from "narrowing at the explant site of the inferior vena cava and the bowel."
The lawsuit claims Cook concealed the "known risks and failed to warn of known or scientifically knowable dangers."
Part of the controversy surrounding these devices is the lack of proof that they are effective.
One study in the Annals of Surgery showed that IVC filters may not actually provide a survival benefit. Patients who received filters in the study also had an increased rate of deep vein thrombosis.
Additional Bellwethers and Settlement Conferences
According to the order signed by Chief Judge Richard L. Young, the three cases set for trial in 2017 are:
Brand v. Cook Medical, Inc. et al., Case No. 1:14-cv-6018 (Celect)
Gage v. Cook Medical, Inc. et al., 1:14-cv-1875 (Günther Tulip)
Hill v. Cook Medical, Inc., et al, 1:14-cv-6016 (Celect)
Last year, Judge Young scheduled a series of settlement talks in hopes of resolving the cases before trial.  In addition to the Cook Celect and Günther Tulip, plaintiffs also name C.R. Bard's G2 and Recovery filters in lawsuits. According to an NBC News investigation, Bard may have known about the risks before putting its filters on the market.
Judge David G. Campbell in Arizona presides over the Bard proceedings.
If both parties fail to reach a settlement in the Cook cases, bellwether trials will proceed in 2017.
Share This Page:
How can we improve this page?
Thank You for Your Feedback
We appreciate your feedback. One of our content team members will be in touch with you soon.
We appreciate your feedback. One of our content team members will be in touch with you soon.