Abilify Gambling, Compulsive Behavior Lawsuits Consolidated
Fact-Checked
Editors carefully fact-check all Drugwatch content for accuracy and quality.
Drugwatch has a stringent fact-checking process. It starts with our strict sourcing guidelines.
We only gather information from credible sources. This includes peer-reviewed medical journals, reputable media outlets, government reports, court records and interviews with qualified experts.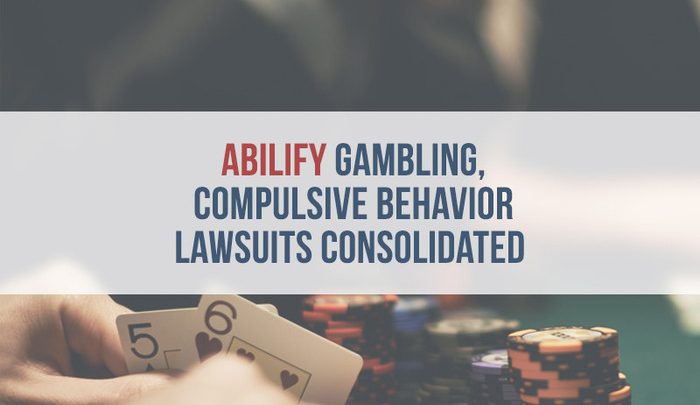 Federal judges have consolidated dozens of lawsuits alleging the blockbuster antipsychotic drug Abilify (aripiprazole) caused compulsive gambling, sex addiction and other disorders.
U.S. District Judge M. Casey Rodgers will preside over about 43 compulsive-behavior lawsuits in multi-district litigation in the Pensacola-based Northern District of Florida.
Plaintiffs allege the drug's makers, Bristol-Myers Squibb and Otsuka Pharmaceuticals, failed to properly warn patients about the drug's possible side effects, including binge eating, compulsive gambling and sex addiction.
The Judicial Panel on Multidistrict Litigation issued the order to consolidate cases on Oct. 3, according to court documents. Key issues in the Abilify litigation include whether defendants designed or manufactured a defective drug and whether they knew about the medicine's side effects and provided enough warning to patients.
In May 2016, the U.S. Food and Drug Administration (FDA) warned that it received reports of compulsive gambling, eating, sexual behaviors and shopping linked to Abilify. Pathological gambling was the most common behavior reported.
"These compulsive behaviors can affect anyone who is taking the medicine," the FDA said in a safety communication. "As a result, we are adding new warnings about all of these compulsive behaviors to the drug labels and the patient Medication Guides for all aripiprazole products."
The Northern District of Florida had the "the necessary judicial resources and expertise to efficiently manage this litigation," the Judicial Panel said in its order.
Abilify Users Lose Thousands of Dollars to Gambling
Plaintiffs who filed lawsuits against Bristol-Myers Squibb and Otsuka said the drug turned them into compulsive gamblers and sex addicts and ruined their lives.
Patrick Parks sued the drugmakers in November 2016. Parks began taking the drug around May 2013 and "began compulsively gambling shortly thereafter," the complaint says. He stopped taking Abilify in August 2014, and stopped gambling. But, by then he had already lost more than $75,000.
Parks is not alone. Drugwatch received numerous emails from patients who complained of sex addiction, compulsive eating and gambling while on the drug.
"I went to the casino almost daily, went through thousands of dollars of my own, used money that was not mine, borrowed money from my boss, bounced checks to get money and missed several days at work due to all nighters at the casino," one patient wrote in an email. "My losses due to gambling exceed $50,000."
All these stories have one thing in common: After patients stopped taking Abilify, the behaviors stopped.
Doctors Use Abilify for Unapproved Uses
The FDA approved Abilify in 2002 to treat schizophrenia. Since then, the agency approved the drug to treat bipolar disorder and irritability associated with autism. It is also approved as an add-on medication to treat major depressive disorder.
But doctors also prescribe the medication for a long list of off-label uses, according to the Psychopharmacology Institute. These include anxiety disorders, dementia, eating disorders, insomnia, obsessive-compulsive disorder and post-traumatic stress disorder — none of which had clinical trials to show efficacy or safety.
The wide variety of uses, approved and off-label, helped propel the drug to the top of the prescription charts. In 2014, it was the bestselling drug in the world, pulling in $6.8 billion. In the U.S., the FDA reports doctors wrote 1.5 million prescriptions in 2015 alone.
That means more than a million Americans could be exposed to the drug and its side effects.
Thomas J. Moore, a senior scientist at the Institute for Safe Medication Practices, did extensive research on drugs like Abilify.
"We live in a society whose rules and laws assume people are responsible for their actions, including running up a large gambling debt," Moore told the Daily Beast news website. "But we have scientific evidence that sometimes a drug can trigger a pathological urge to gamble so severe it can ruin someone's life."
Lawyers expect the number of lawsuits linked to Abilify to climb into the thousands.
Share This Page:
How can we improve this page?
Thank You for Your Feedback
We appreciate your feedback. One of our content team members will be in touch with you soon.
We appreciate your feedback. One of our content team members will be in touch with you soon.