Drug Makers Warned for Potential Diethylene Glycol Toxin Contamination
Fact-Checked
Editors carefully fact-check all Drugwatch content for accuracy and quality.
Drugwatch has a stringent fact-checking process. It starts with our strict sourcing guidelines.
We only gather information from credible sources. This includes peer-reviewed medical journals, reputable media outlets, government reports, court records and interviews with qualified experts.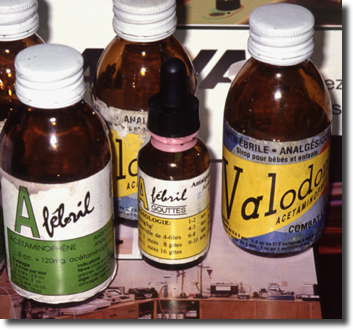 In January 2020, the U.S. Food and Drug Administration warned three pharmaceutical manufacturers for significant violations of current good manufacturing practices and regulations — particularly when it came to drugs containing glycerin potentially contaminated with the deadly toxin diethylene glycol. 
Diethylene glycol, or DEG, is a chemical that can cause potentially fatal kidney and neurological toxicity. Researchers have implicated the chemical in multiple medication-associated mass poisonings over the years, according to Joshua G. Schier and fellow researchers from the Centers for Disease Control and Prevention. 
Three companies that received the warnings are Chinese manufacturers Sunstar Guangzhou Ltd. and Huaian Zongheng Bio-Tech Co., Ltd. and German manufacturer Dental-Kosmetik GmbH & Co. The FDA is requiring more detailed information on how the companies plan to correct all violations. 
The FDA's warning did not specify which drugs or active ingredients were in question, but the agency noted that the two Chinese companies manufacture over-the-counter drug products, including medicines for children. 
In its warning letters, the FDA advised that it issued Import Alert 66-40 for all three companies. Import Alert 66-40 stands for "Detention Without Physical Examination of Drugs From Firms Which Have Not Met Drug GMPs." Under this alert, the FDA prevents pharmaceutical products in question from entering the U.S. marketplace. 
"Until you correct all violations completely and we confirm your compliance with CGMP [Current Good Manufacturing Practice], FDA may withhold approval of any new drug applications or supplements listing your firm as a drug manufacturer," the agency said in its letters. 
Offshore drug manufacturers recently came under fire because of contamination with N-nitrosodimethylamine (NDMA) — a known carcinogen — in drugs such as valsartan in 2018 and Zantac in 2019. Both instances led to worldwide recalls. 
The FDA has since pledged to be more vigilant and crack down on poor manufacturing practices. 
What Is Diethylene Glycol (DEG)?
Diethylene glycol is a colorless chemical with a sweet taste that's toxic when ingested by humans. It's a solvent for water-insoluble drugs and chemicals, and it's used to make products such as cigarettes, antifreeze, lubricants, brake fluids, cosmetics and wallpaper strippers. 
Because of its toxicity, it's not allowed in food or drugs. But because of its solubility, some drug makers have inappropriately substituted it for nontoxic ingredients, such as glycerin, in pharmaceuticals such as cough syrups and acetaminophen. 
Over the years, there have been more than a dozen instances of mass human poisonings with high death rates from consuming tainted medication.
Acute kidney failure is the number one cause of death in poisoning cases, and it starts between 8 to 24 hours after exposure to lethal doses of DEG. If people don't get treatment, symptoms progress to multi-organ failure in two to seven days, according to an article by William M. Snellings and colleagues in Regulatory Toxicology and Pharmacology. 
Side Effects of DEG poisoning include:
Abdominal pain

Acute kidney injury

Altered mental state

Brain disease and damage 

Cardio-respiratory failure

Coma

Convulsions

Death

Drowsiness

Excessive urination (polyuria) followed by low urine output (oliguria) 

Hepatitis

Increases in creatinine blood levels

Multi-organ failure

Nausea

Pancreatitis

Vomiting 
Historic Cases of DEG Poisoning with Medicines
The first known case of DEG poisoning with medicine occurred in the United States in 1937. Known as the sulfanilamide-Massengil disaster, DEG was used in elixir of sulfanilamide, an antibiotic. 
More than 100 people died, about a third of those victims were children. 
Since then, all recorded mass DEG poisonings have been in other countries. The most recent case occurred in Nigeria in 2008 and was linked to an oral painkiller. 
Three of the mass poisonings originated with products from Chinese manufacturing plants, according to Schier and colleagues.
DEG Mass Poisonings
| Year | Country | Medication Type | Type of Dose |
| --- | --- | --- | --- |
| 1937 | USA | Elixir of Sulfanilamide | oral |
| 1969 | South Africa | Sedative | oral |
| 1986 | India | Glycerin | unknown |
| 1990 | Nigeria | Acetaminophen | oral |
| 1990 | Bangladesh | Acetaminophen | oral |
| 1992 | Argentina | Propolis syrup | oral |
| 1995 | Haiti | Acetaminophen | oral |
| 1998 | India | Cough expectorant | oral |
| 1998 | India | Acetaminophen | oral |
| 2006 | Panama | Cough syrup | oral |
| 2008 | Nigeria | Analgesic | oral |
Share This Page:
How can we improve this page?
Thank You for Your Feedback
We appreciate your feedback. One of our content team members will be in touch with you soon.
We appreciate your feedback. One of our content team members will be in touch with you soon.