Approximately 5,000 people in the U.S. filed lawsuits against GlaxoSmithKline (GSK) since Paxil became available. Some of these claims were class-action suits.
In October 2009, the first birth defect case against the drug manufacturer went to trial. A Philadelphia jury awarded $2.5 million to 3-year-old Lyam Kilker, who was born with severe heart malformations as a result of his mother's use of Paxil for mild anxiety while she was pregnant.
The jury found GSK "negligently failed to warn" a doctor treating Kilker's mother, Michelle David, about Paxil's risks and that the drug was a "factual cause" of her son's heart defects.
David used Paxil prior to Dec. 8, 2005, when the FDA sent out a letter to physicians suggesting the drug might contribute to heart defects in infants when taken during the first trimester. Because of these findings, the FDA required GSK to update the pregnancy warning to "Category D" on Paxil's label, which signifies a positive evidentiary risk to fetal health.
By July 2010, GSK had settled approximately 800 Paxil birth defect lawsuits at a cost of $1.14 billion, with an average payout of $1.2 million to families of affected children.
When so many similar lawsuits are brought against a pharmaceutical company, they are often consolidated into multidistrict litigation (MDL), a special federal legal procedure designed to speed the process of handling complex cases. Streamlining cases into an MDL can eliminate duplicative discovery, conserve resources and maintain consistency.
This was done for two types of Paxil litigation — birth defects and withdrawal symptoms.
GSK Agrees to Record Settlement in Fraud Case
In the largest pharmaceutical settlement in U.S. history, GSK in 2012 agreed to plead guilty and pay $3 billion to resolve criminal and civil liability for promoting Paxil and other prescription drugs for unapproved uses and failing to report safety data about the medications.
The settlement was part of the so-called whistle-blower law, officially the False Claims Act, which dates back to 1863. Four GSK employees tipped off the government about a range of improper practices between the late 1990s and mid-2000s.
"Today's multi-billion dollar settlement is unprecedented in both size and scope. It underscores the Administration's firm commitment to protecting the American people and holding accountable those who commit health care fraud," James M. Cole, Deputy Attorney General, said in the U.S. Department of Justice announcement of the settlement. "At every level, we are determined to stop practices that jeopardize patients' health, harm taxpayers, and violate the public trust — and this historic action is a clear warning to any company that chooses to break the law."
Criminal counts included misbranding Paxil and Wellbutrin, another antidepressant, into interstate commerce. GSK also agreed to plead guilty to a criminal charge of failing to report safety data about the company's popular diabetes drug, Avandia, to the FDA.
Prosecutors said GSK illegally marketed Paxil to children, including helping to publish a medical journal article that misreported data from a clinical trial. The drug maker also attempted to bribe doctors to prescribe the antidepressant to children as an off-label treatment for depression and anxiety.
Paxil belongs to a class of antidepressants known as selective serotonin reuptake inhibitors (SSRIs). All SSRIs now carry FDA black box warnings for an increased risk of suicidal thoughts and behaviors in children and adolescents who take the drugs.
According to claims in the settlement, GSK tried to win over doctors by offering spa treatments, hunting excursions and tips to Bermuda and Jamaica.
The claims also said GSK illegally marketed Wellbutrin for off-label uses including weight loss and sexual dysfunction.
Birth Defect Cases Pending After $1.14 Billion Settlement
Kilker's case set the stage for more Paxil-related birth defect lawsuits. The majority of claims ended up consolidated in the Philadelphia County Court of Common Pleas, where the 800 cases settled in 2010.
GSK officials confirmed to Bloomberg it had set aside $2.4 billion to resolve litigation over Paxil and its diabetes drug Avandia. The company refused to comment on the terms of the settlements, but Bloomberg reported the birth defects settlements brought GSK's total to more than $2 billion to resolve Paxil lawsuits alone.
Although the MDL settlement took care of the majority of Paxil birth defect claims, around 100 lawsuits remained pending in Philadelphia for several years, with many of the remaining cases eventually de-consolidated.
Judge Tosses Mass Tort Birth Defect Lawsuit
In April 2016, Philadelphia County Court of Common Pleas Judge Kenneth Powell dismissed a cardiac birth defect suit against GSK mid-trial for lack of adequate evidence by the plaintiffs. It was the first of nine cases queued for trial as part of the remaining Paxil birth defect MDL.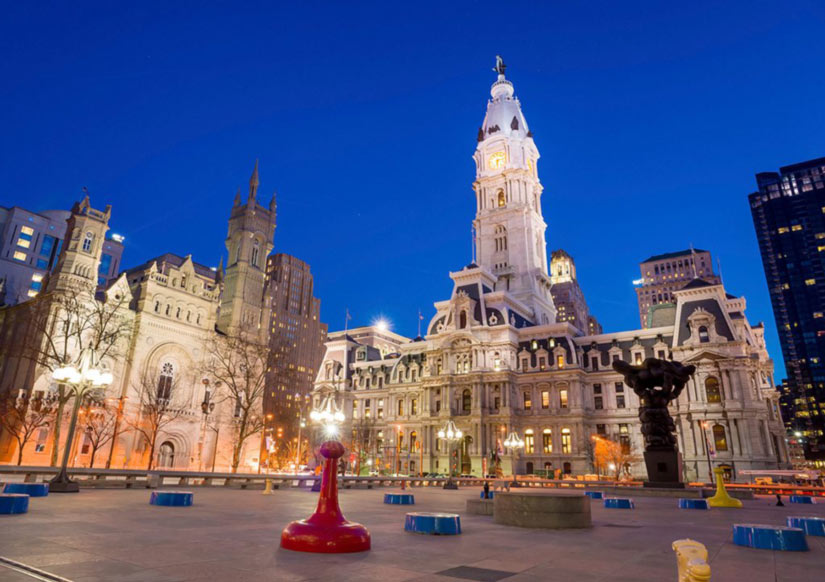 The Philadelphia County Court of Common Pleas, above, dismissed a cardiac birth defect suit against GSK mid-trial for lack of adequate evidence
The case was brought by plaintiffs Baden Rader and his mother, Elisabeth Balser, who allege GSK did not provide adequate warning of Paxil's birth defect risks during her pregnancy. Rader was born with Tetralogy of Fallot, a rare congenital birth defect that usually involves four abnormalities in the heart.
Paxil carried a milder pregnancy warning (category C) at the time Balser was prescribed the antidepressant in 2003.
Because of the lack of substantial evidence, Powell granted compulsory nonsuit to Rader and Balser's case against GSK.
In a written opinion issued in February 2017, Powell explained his bench ruling, calling the grant of nonsuit "an unfortunate, but absolute, necessity" because of an omitted witness question. Powell noted the plaintiffs' counsel failed to ask Dr. Robert Kiehn, the physician who prescribed Paxil to Balser, if Kiehn would have still prescribed the drug if he knew at the time about the potential birth defect risk.
"This failure painted the court, and the plaintiffs, into an unfortunate corner," Powell wrote. "Because the plaintiffs did not ask these questions, the jury could do no better than guess as to whether the additional information would have caused Dr. [Robert] Kiehn not to prescribe Paxil in this instance."
The plaintiffs are appealing Powell's decision to the state Superior Court based on an alleged 11 points of error in the ruling. On April 21, 2016, Philadelphia County Court of Common Pleas Judge Arnold New agreed to pause the consolidated Paxil litigation program until a final conclusion is reached in the case.
$6.2 Million Settlement Reached in Canadian Lawsuit
In February 2017, GSK announced a settlement was reached in a class action lawsuit filed by a Vancouver, Canada, firm that involves 50 mothers and their children.
In a class action lawsuit involving 50 mothers and their children, GSK agreed to a $6.2 million settlement but refused to admit any liability or wrongdoing.
GSK agreed to a $6.2 million settlement, but refused to admit any liability or wrongdoing, saying it agreed to the settlement to "avoid the time and expense associated with the trial and the subsequent steps in the class-action proceeding."
British Columbia resident Faith Gibson was the representative plaintiff in the suit. Gibson's daughter, Meah Bartram, was born with a hole in her heart in 2005.
The law firm that handled the case says as many as 200 children in Canada could benefit from the settlement.
Withdrawal Symptom Litigation
Withdrawal syndrome is listed in Paxil's label as a possible adverse effect.
Although no studies link Paxil to withdrawal or addiction, GSK has settled thousands of lawsuits related to these issues. All cases were settled out of court with no jury awards given.
In 2006, an MDL consolidated in the Central District of California closed in settlement, with 1,574 plaintiffs paid an average of about $50,000 per case. Ultimately, GSK would resolve approximately 3,200 claims linking Paxil to addiction problems for a total of $160 million.
Please seek the advice of a medical professional before making health care decisions.
Author
Matt Mauney is a writer and researcher for Drugwatch.com. Before joining the Drugwatch team, he spent 10 years in journalism working for various newspapers and news websites. Matt has a degree in journalism with a double minor in broadcasting and public relations from Georgia Southern University.
---