Propecia
Propecia is a men's only prescription drug used for the treatment of male pattern hair loss (androgenetic alopecia). Propecia works by binding the male hormone DHT to receptors in hair follicles at the top of the scalp.
Propecia is a once-a-day pill treatment for male-pattern hair loss, or androgenetic alopecia. Male-pattern hair loss is when the hairline recedes and hair thins at the temples and crown. This condition is hereditary and affects close to 50 percent of the male population aged 50 years or older. It is sometimes recognized by a horseshoe-shaped fringe around the sides and the back of the head.
Propecia's effects on hair loss were actually discovered by accident. Originally marketed as Proscar, doctors first prescribed 5 milligrams of finasteride (the active ingredient in Propecia) to treat benign prostatic hyperplasia (BPH), more commonly known as an enlarged prostate gland.
Merck later stumbled upon a remarkable side effect of Proscar treatment: Some balding patients started to grow hair back. By dropping the dose of finasteride to 1 milligram, researchers found a way to correct male-pattern hair loss.
In 1997, Merck introduced Propecia as a new use for finasteride. The company had developed the synthetic compound five years earlier.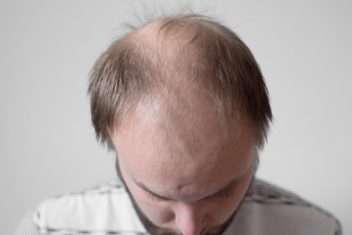 With nearly half a billion dollars of research behind it, Propecia entered the drug market to high acclaim. After its first year, about 400,000 men in the U.S. were filling prescriptions for Propecia and taking the drug daily. Merck provided early Propecia users with a list of sexual side effects researchers had uncovered in clinical trials. However, it later came to light that the company wasn't telling the whole story.
Upon approval of the drug, Merck disclosed that 3.8 percent of Propecia patients had one or more adverse sexual experiences, compared with 2.1 percent of patients taking a placebo. The company failed to warn, however, that these problems can persist even after patients stop taking the drug. In fact, Merck originally claimed that all of these issues would resolve after discontinuation of the drug.
The U.S. Food and Drug Administration (FDA) has since required updates to the drug's label to reflect the potential for persistent sexual side effects with Propecia use. Thousands of men have sued Merck over allegations that the drugmaker failed to provide adequate warnings and even "knowingly and recklessly omitted and concealed" known risks.
How Propecia Works
Baldness is caused by a potent male hormone called dihydrotestosterone, or DHT, which is produced in the adrenal glands, hair follicles, testicles and prostate gland. DHT is derived from the male sex hormone, testosterone. An enzyme (5-alpha-reductase) converts testosterone to DHT.
In people genetically predisposed to male-pattern baldness, DHT binds to receptors in hair follicles at the top of the scalp. When the DHT hormone acts on these follicles, they shrink and gradually lose the ability to grow thick and healthy hair. As a result, the person's hairline thins and recedes. Hair follicles on the back and side of the head are genetically resistant to DHT, which explains the common pattern seen in male baldness.
Fact
Propecia blocks the enzyme that converts testosterone to DHT, causing a rapid decline in DHT concentration.
Nearly 35 million men in the U.S. suffer from this type of hair loss. Other DHT-induced conditions include enlarged prostate and prostate cancer.
Propecia belongs to a class of drugs called 5-alpha-reductase inhibitors, which are used to treat conditions stimulated by DHT. Finasteride, the active ingredient in Propecia, blocks the enzyme that converts testosterone to DHT and causes a rapid decline in DHT concentration.
Propecia comes in the form of a tan, octagonal, film-coated tablet with a "P" logo on one side and "PROPECIA" embossed on the other. The drug's label instructs users to take one 1 milligram tablet once daily. Men can take Propecia with or without meals.
Within 24 hours of taking Propecia, the concentration of DHT drops by 65 percent. The full effects of daily Propecia use can take three months or more to appear. Stopping treatment leads to reversal of effect within 12 months, according to the drug's label.
FDA Strengthens Propecia Side Effect Warnings
Between 1998 and 2011, the FDA received more than 420 reports of sexual dysfunction in Propecia users. Nearly 60 men reported side effects that lasted longer than three months after they stopped using the drug, including erectile dysfunction, decreased libido, problems with ejaculation and orgasm disorders. More than 250 cases involved semen quality associated with Propecia.
In 2011, the FDA required the drug's label to include information about incidences of male breast cancer, an increased risk of high-grade prostate cancer and the potential of erectile dysfunction after stopping the drug.
Then in April 2012, the FDA required revisions to the Propecia label to include libido disorders, ejaculation disorders and orgasm disorders that continued after discontinuation of the drug, as well as a description of reports of male infertility and/or poor semen quality that normalized or improved after drug discontinuation.
Related Drugs
Propecia is not the only 5-alpha-reductase inhibitor currently available in the U.S. Two others, Proscar and Avodart, are also designed to prevent the conversion of testosterone to DHT. However, unlike Propecia, Proscar and Avodart are not indicated to treat male-pattern baldness. They are approved to treat BPH in men with enlarged prostate and to help manage the condition's urinary symptoms.
Proscar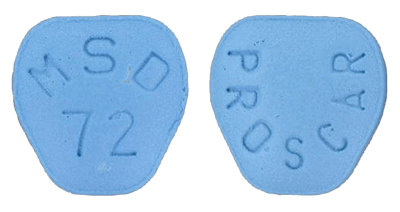 Proscar, like Propecia, is a 5-alpha-reductase inhibitor drug containing the active ingredient finasteride. Merck manufactures Proscar. The FDA approved the drug in 1992.
Proscar contains five times the dose of finasteride used in Propecia and offers a similar range of potential side effects.
In a four-year, placebo-controlled clinical study called the Proscar Long-Term Efficacy and Safety Study (PLESS), 3,040 patients between the ages of 45 and 78 with symptomatic benign prostatic hyperplasia and an enlarged prostate were evaluated for safety. Of these patients, 3.7 percent treated with Proscar and 2.1 percent given a placebo discontinued treatment because of adverse reactions to sexual function.
In another study of patients taking Proscar alone or in combination with doxazosin (another 5-alpha-reductase inhibitor), four out of 1,554 patients developed breast cancer. This rate is about 200 times the breast cancer rate of the general population.
Avodart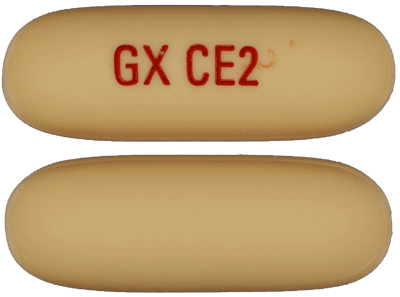 Though it has a different active ingredient than Propecia and Proscar, Avodart is also designed to block the enzyme that converts testosterone to DHT.
Like finasteride, dutasteride, the active ingredient in Avodart, is also associated with decreased libido, decreased semen released during sex, impotence, and breast tenderness or enlargement. Avodart may also increase patients' risk of developing prostate cancer.
The FDA first approved Avodart in 2001. GlaxoSmithKline manufactures the drug, which is available in once-daily 0.5 mg soft gelatin capsules.
While finasteride has no known drug interactions, dutasteride can interact with certain HIV drugs, such as ritonavir; certain blood pressure and angina drugs, such as amlodipine; and certain antibiotics, such as azithromycin. Taking dutasteride at the same time as any of these drugs may slow the breakdown of dutasteride in the liver, causing more of the drug to stay in the body.
As with Propecia, women and children should not take Avodart. The drug can cause birth defects if a woman is exposed to it during pregnancy.
Please seek the advice of a medical professional before making health care decisions.
How helpful was this page?
How can we improve this page?
How can we improve this page?