Eli Lilly's Prozac (fluoxetine) is the first drug in its class of selective serotonin reuptake inhibitor (SSRI).  The U.S. Food and Drug Administration approved the drug in 1987 to treat depression in adults, children and adolescents.
Prozac became the most prescribed antidepressant in history, and it earned the nickname "bottled sunshine."
Despite the competition, Prozac and its generic equivalents remain popular and have become the third-most-prescribed antidepressant in the U.S. In 2010, health care providers wrote more than 24.4 million prescriptions for generic fluoxetine.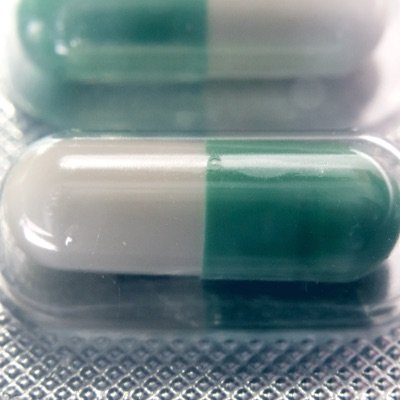 But critics of the drug say there is no real proof the drug works. One of these critics is Dr. Alexander Bingham, a psychotherapist who spent years studying Prozac.
"Eli Lilly, the manufacturer of Prozac, conducted 20 clinical trials, 17 of which were so bad and so flawed . . . that they didn't even submit them," Bingham told Drugwatch. "They only submitted three to the FDA and were denied approval twice."
Prozac has a controversial history filled with early failures.
Chemists Klaus Schmiegel and Bryan Molloy discovered the drug in 1971. Originally, Lilly designed the drug to treat blood pressure and as an anti-obesity agent. The drug failed to treat these problems. Then, the company tested the drug on hospitalized depressive patients. Not only did the drug not work, it made some patients worse. The drug finally worked when Lilly tested it on five mildly depressed patients and all five improved.
The popular antidepressant also comes with some serious side effects including sexual dysfunction, suicidal thoughts and anorexia. Studies also link it to birth defects.
Somatic Clinical Psychologist Andrew Bingham shares information he uncovered when studying the data on Prozac
What does Prozac Treat?
The FDA approved Prozac to treat four psychiatric disorders and an additional two in combination with Symbyax (olanzapine). In addition to the FDA-approved uses, doctors may also prescribe the drug off-label — for uses not approved by the FDA.
Generally, off-label uses may be helpful to patients who have no other treatment for an illness or condition. But these uses may not have clinical trials that prove safety or effectiveness
FDA-approved Prozac uses:
Major Depressive Disorder (MDD)
Obsessive Compulsive Disorder (OCD)
Bulimia Nervosa
Panic Disorder with or without agoraphobia
Acute Depressive Episodes associated with Bipolar I Disorder (with Symbyax)
Treatment Resistant Depression (with Symbyax)
Off-label Prozac uses:
Generalized anxiety disorder
Premature ejaculation
Migraine headaches
Diabetic neuropathy
Fibromyalgia
Neurocardiogenic syncope
Prozac Dosage
Prozac comes in a number of strengths and dosage indications. The typical dose is 20 mg a day taken in the morning. But depending on the psychiatric disorder treated, the frequency and dose may vary. The time of the day is also important in Prozac dosing. Some indications call for patients to take Prozac and Symbyax together.
Disorders and their Dosages
Major Depressive Disorder — Initial dose is 20 mg/day. After several weeks, the dose can increase to 20 mg twice a day (morning and noon). Maximum daily dose should not exceed 80 mg. It may take 4 weeks or longer to notice the full effect.
Major Depressive Disorder in Children — Initial dose of 10 mg or 20 mg/day. After 1 week at 10 mg, increase to 20 mg.
Obsessive Compulsive Disorder — Initial dose is 20 mg/day in the morning. After several weeks dose may increase to twice daily. Maximum dose is 80 mg/day. It may take 5 weeks for the full effect.
Bulimia Nervosa — Initial dose is 60 mg/day in the morning. There are no studies for higher doses in patients with Bulimia.
Panic Disorder — Initial dose of 10 mg/day and after one week, increase dose to 20 mg/day. Clinical trials did not study doses above 60 mg.
Depressive Episodes Associated with Bipolar I Disorder — 5 mg Symbyax and 20 mg Prozac once a day in the evening. Doctors may adjust the dose for effectiveness with up to 12 mg of Symbyax and 50 mg of Prozac.
Treatment Resistant Depression — 5 mg Symbyax and 20 mg Prozac once a day in the evening. Doctors may adjust the dose for effectiveness with up to 12 mg of Symbyax and 50 mg of Prozac.
Side Effects of Prozac
Even after three decades, researchers continue to study Prozac's effects on the body, and new information about potential complications is still coming to light. The safety insert lists a number of side effects discovered during clinical trials. In addition to common and mild side effects, Prozac may cause serious adverse events — some fatal.
Common side effects include:
Sexual dysfunction
Dry mouth
Nausea
Headache
Diarrhea
Nervousness
Restlessness
Agitation and anxiety
Increased sweating
Weight gain or loss
Insomnia
Drowsiness
Fatigue
Tremor
Impotence
Abnormal dreams
Serious side effects include:
Abnormal heart beat (OT prolongation)
Impaired judgement, thinking and motor skills
Abnormal bleeding
Allergic reactions, skin rash
Suicidal thoughts and behaviors
Serotonin syndrome
Activation of mania/hypomania
Vision problems (angle-closure glaucoma)
Seizures
Significant weight loss
Prozac Withdrawal
Although most doctors don't consider Prozac addictive — at least in the sense of inducing cravings in patients — doctors say it can make patients dependent. Drug dependency means that the body has adapted to a chemical to the point that it requires steady doses to normally function.
Because of this, patients who abruptly stop taking antidepressant drugs such as Prozac are likely to experience withdrawal symptoms such as nausea, headache, dizziness and lethargy. Patients must wean themselves off antidepressants slowly and under a doctor's care.
Serotonin Syndrome
High doses of SSRIs often increase the severity of side effects, and one particular side effect—Serotonin syndrome — can be fatal. Serotonin syndrome is a condition in which the body produces too much serotonin — a neurotransmitter that controls mood and behavior.
Symptoms can occur within minutes and include high blood pressure, hyperthermia, high body temperature and an increased heart rate that can lead to shock. Serotonin syndrome can arise when SSRIs act alone or in conjunction with other medications.
Prozac Black Box Suicide Warning
Prozac is one of the few antidepressants approved for the treatment of depression in youths. Unfortunately, however, studies on children have linked the drug to increased suicidal thoughts and behavior.
As a result, the FDA issued a public warning in October 2004, and two years later extended the advisory to include young adults as old as 24.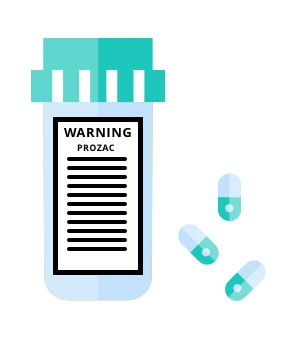 In 2007, the FDA took an even stronger stance. The agency required antidepressant manufacturers to update existing black box warnings about the increased risks of suicidal thoughts and behavior during initial treatment in the first one to two months.
An FDA black box warning is the most stringent precaution a drug can carry before it is pulled from the shelves. It takes its name from the black border that surrounds the warning information on the drug's packaging. The agency often requires pharmaceutical companies to include a bold warning on drug packaging and patient instruction sheets if serious or life-threatening risks are associated with the drug's use.
Prozac, Pregnancy & Birth Defects
In studies, most SSRIs can harm unborn animals in large doses, but there are no adequate studies in pregnant women. According to the Prozac medication insert, pregnant women should only use Prozac if the benefit outweighs the risk to the fetus, and breast feeding is not recommended.
"FDA will update the SSRI drug labels to reflect the new data and the conflicting results."

– The U.S. Food and Drug Administration
The FDA released a Safety Announcement in 2006 warning that SSRIs including Prozac can increase the risk of rare heart and lung condition called persistent pulmonary hypertension of the newborn (PPHN) when taken during the last half of pregnancy. The agency stated in its communication, "FDA has reviewed the additional new study results and has concluded that, given the conflicting results from different studies, it is premature to reach any conclusion about a possible link between SSRI use in pregnancy and PPHN."
This condition arises when a newborn's circulatory system does not properly adapt to breathing outside of the womb. The FDA based the initial warning on one study. Then, the agency found more studies with conflicting findings and released another warning in 2011.
So far, the FDA has yet to make a final ruling.
A study published in the British Medical Journal (BMJ) in July 2015 by Jennita Reefhuis and colleagues linked Prozac to increased risk of heart wall defects, craniosynoctosis and heart defects.
Researchers from the CDC's National Center on Birth Defects and Developmental Disabilities studied about 28,000 mothers with children born between 1997 and 2009. Of the 9,857 mothers of babies with birth defects, 659 reported taking an SSRI during pregnancy.
Drug Interactions
Prozac may interact with a variety of drugs and some complications may be severe. Side effects of drugs interaction include internal bleeding, seizures and abnormal heartbeats. Patients should always check with their doctor before taking any medication with Prozac.
Some serious drugs interactions include:
Drugs that Interfere with Hemostasis (NSAIDS, aspirin, warfarin) — These drugs taken with Prozac may increase the risk of gastrointestinal bleeding.
Serotonergic Drugs (including triptans, tricyclic antidepressants, fentanyl, lithium, tramadol, tryptophan, buspirone, amphetamines, and St. John's Wort) — These drugs increase the risk of serotonin syndrome.
Electroconvulsive Therapy (ECT) — ECT with Prozac may cause rare seizures.
Drugs Metabolized by CYP2D6 (duloxetine, opioids, tricyclic antidepressants, haloperidol, etc.) — Taking Prozac with these drugs may cause too much medication to remain in the body and a decrease in dose is recommended.
Pimozide and Thioridazine — Taking these drugs with Prozac increases the risk of serious heart arrhythmias and sudden death.
Anticonvulsants (carbamazepine, phenytoin, topiramate, oxcarbazepine) — Taking these drugs with Prozac can cause anticonvulsant toxicity.
Please seek the advice of a medical professional before making health care decisions.
Author
Michelle Y. Llamas is a senior content writer. She is also the host of Drugwatch Podcast where she interviews medical experts as well as patients affected by drugs and medical devices. She has written medical and legal content for several years — including an article in The Journal of Palliative Medicine and an academic book review for Nova Science Publishers. With Drugwatch, she has developed relationships with legal and medical professionals as well as with several patients and support groups. Prior to writing for Drugwatch, she spent several years as a legal assistant for a personal injury law firm in Orlando. She obtained her English – Technical Communication degree from the University of Central Florida. She is a committee member with the American Medical Writers Association.
---