Women and their families are suing Johnson & Johnson, claiming the company knew of the ovarian cancer risks its talcum powder products allegedly pose but failed to warn consumers.
According to the lawsuits, the company was aware of studies conducted over the last three-plus decades that have tied talc use to an increased ovarian cancer risk. However, Johnson & Johnson chose not to add warnings to the product labels in order to protect sales, the lawsuits allege.
Women who dusted their genitals with the talc products and developed ovarian cancer claim they would not have done so had they been warned of the risk. They say Johnson & Johnson's negligence is to blame for their illnesses.
Juries have overwhelmingly accepted these arguments, handing down more than $700 million in jury verdicts against Johnson & Johnson.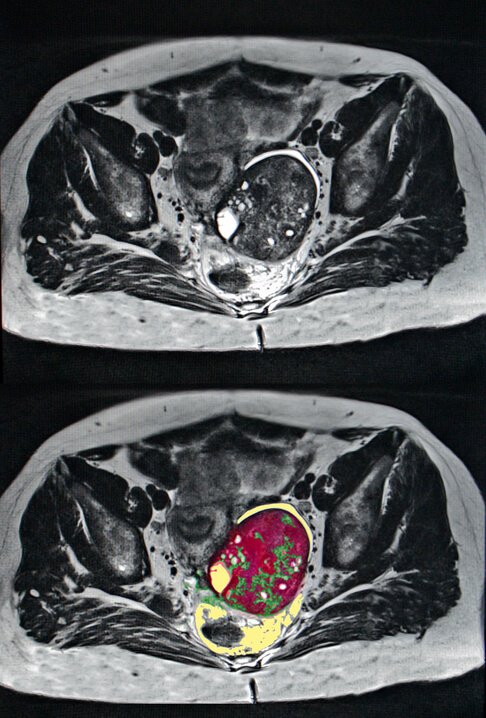 Medical scan showing location of ovarian cancer
However, some speculate that the talc cases that resulted in multimillion-dollar jury awards may be retried in wake of a recent Supreme Court ruling that limits where injury lawsuits can be filed. Justices ruled that state courts cannot hear claims against companies that are not headquartered in the state when the alleged injuries did not happen there.
So far, four of the plaintiffs who were victorious against Johnson & Johnson were out-of-state residents who filed their lawsuits in Missouri. Johnson & Johnson is based in New Jersey; however, attorneys for the plaintiffs argue the company uses a factory in Missouri to package and label talcum products.
Johnson & Johnson said it plans to appeal its losses and continues to fight talc ovarian cancer allegations in court. To date, the company has not publicly announced any settlements. It maintains that the arguments in the lawsuits rely on flawed, outdated science and that talc is accepted as safe for use in personal care products.
The company says its victory in Missouri state court in March 2017 — as well as a judge's decision in September 2016 to dismiss two cases in New Jersey— "highlights the lack of credible scientific evidence behind plaintiffs' allegations." In those cases, the plaintiff's scientific experts did not provide evidence to adequately support their theories that talcum powder causes ovarian cancer, the court ruled.
"We are preparing for additional trials this year in St. Louis and other U.S. cities and we will continue to defend the safety of Johnson's Baby Powder," spokeswoman Carol Goodrich said in a March 2017 statement.
Talcum Powder and Mesothelioma Cancer Verdicts
Johnson & Johnson is not the only company to be sued over allegations that talcum powder caused users' cancers. And ovarian cancer is not the only disease linked to talcum powder.
Talc deposits used to mine talcum powder can be interwoven with asbestos fibers. Asbestos causes mesothelioma, an aggressive cancer that often results in death.
Over the years, people have sued talc suppliers, claiming their asbestos-tainted products caused their mesothelioma. Several of these lawsuits have ended in multimillion-dollar jury awards for the plaintiffs.
$18 Million Verdict
In October 2016, a Los Angeles Superior Court jury awarded Philip Depoian $18 million against talc supplier Whittaker, Clark & Daniels. It marks the largest jury award for mesothelioma linked to talcum powder.
Doctors diagnosed Depoian with mesothelioma in May 2015. According to his lawsuit, Depoian was exposed to asbestos through talcum powder products used at the barbershop where his father worked.
Talc Products
Clark & Daniels talcum powder products include Desert Flower, Old Spice and Friendship Garden.
In the 1960s and 1970s, Whittaker, Clark & Daniels supplied talc for many popular consumer talcum powder products, including Desert Flower, Old Spice and Friendship Garden. The talc used in the products came from mines containing asbestos.
Depoian accused the company of marketing its talc as asbestos-free without adequately testing for signs of asbestos. After a six-week trial, the jury found the company 30 percent liable for Depoian's injuries. Both parties reached a confidential settlement before the jury could decide on punitive damages.
$13 Million Verdict
In May 2015, a jury awarded a California woman $13 million finding asbestos in a talc-based product led to her mesothelioma. The case was settled out of court for an undisclosed amount before a jury could decide on punitive damages.
Colgate-Palmolive Co. Allegations
Judith Winkel sued Colgate-Palmolive Co., alleging its Cashmere Bouquet product caused her cancer. According to her lawsuit, she regularly used the popular scented talcum powder from 1961 to 1976.
The jury found the company 95 percent at fault for Winkel's diagnosis; however, officials for Colgate-Palmolive later rejected the jury's verdict. They defended the safety of their talcum powder product and said it was not the cause of the cancer.
$7 Million Verdict
New York's first asbestos-contaminated talcum powder trial ended in November 2015 with a $7 million verdict against Whittaker, Clark & Daniels.
A jury awarded the compensation to the family of Long Island resident Joan Robusto. The jury found Robusto died of mesothelioma as a result of her longtime use of Desert Flower.
$2 Million Verdict
A jury in 2013 awarded a New Jersey woman with mesothelioma $2 million. According to the lawsuit, the woman's father worked at a factory that produced Old Spice and Desert Flower talcum powders. The woman was exposed to the asbestos-laced talcum powder through her father's work clothes, which he wore home after his shifts in the factory.
Talcum Powder Litigation Debuts
Four years ago, a South Dakota woman's lawsuit against Johnson & Johnson made history by alleging for the first time in the U.S. that ovarian cancer was caused by asbestos-free talcum powder.
Deane Berg of Sioux Falls alleged that J&J was negligent not to warn consumers that talc — a key ingredient in Johnson's Baby Powder and in Shower to Shower — could cause ovarian cancer. She used the product daily on her genital area for three decades.
Berg, then 49, was diagnosed with stage 3 ovarian cancer in 2006.
Doctor's conclusion
Talc particles were found in her cancerous tissues. Doctors who examined her concluded talcum powder caused her cancer.
A federal jury in October 2013 found that Johnson & Johnson's body powder products were a factor in Berg's condition. But J&J was not part of a conspiracy, according to the jury, which concluded the company had no liability.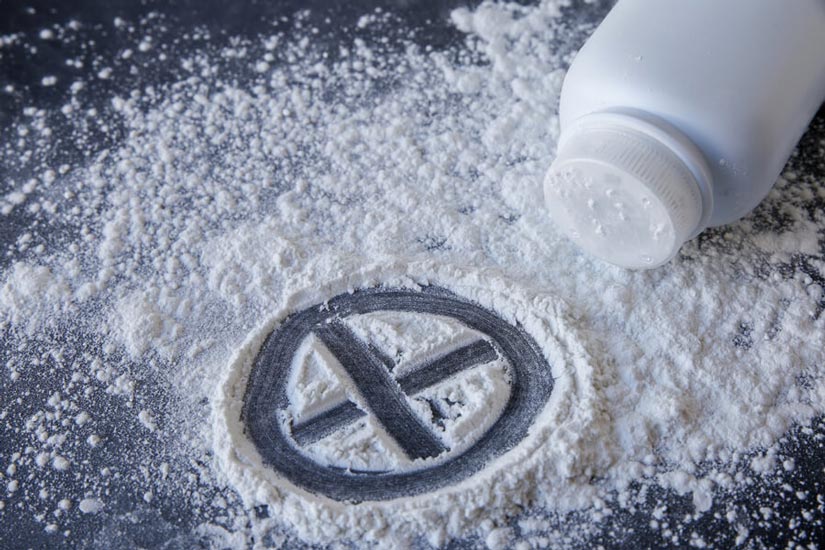 Although asbestos free, cases claim talcum powder still causes ovarian cancer
$72 Million Jury Verdict Overturned
The first Johnson & Johnson talcum powder case in which a jury awarded monetary compensation stemmed from the death of Birmingham, Alabama resident Jacqueline Fox. It was also the first talcum powder case to go to trial in St. Louis.
Victims of Talcum
Fox died of ovarian cancer in 2015 after allegedly using Johnson & Johnson talc products for more than three decades. She was 62.
In an audio deposition prior to her death, Fox stated that for 35 years she used Johnson & Johnson products containing talcum powder, including Johnson's Baby Powder and Shower to Shower body powder, for feminine hygiene. A pathologist discovered Fox's ovaries were inflamed from talc, which developed into cancer.
In February 2016, a St. Louis jury awarded Fox's family $72 million — $10 million in compensatory damages and $62 million in punitive damages. One male juror and nine female jurors voted in favor of Fox; two men voted against her, according to newspaper reports.
One juror said he was swayed by internal company memos presented in court that showed Johnson & Johnson "tried to cover up and influence the boards that regulate cosmetics."
---
"They could have at least put a warning label on the box but they didn't. They did nothing."

- Juror Jerome Kendrick told the St. Louis Post-Dispatch
---
The verdict was overturned in October 2017 by the Missouri Court of Appeals for the Eastern District based on a ruling in June 2017 by the U.S. Supreme Court that set limits on where state court lawsuits may be filed.
The nation's highest court, ruling in a case involving Bristol-Myers Squibb, said lawsuits may be brought only in the home state of the company being sued or where the harm is alleged to have occurred, likely the plaintiff's home state.
The attorney for Fox planned to appeal to the Missouri Supreme Court. He argues that the fact that Johnson & Johnson used a Missouri packaging plant establishes jurisdiction. Whether that argument prevails will likely determine the future of out-of-state lawsuits filed in Missouri.
If it is not overturned, the appeals court ruling is likely to have an impact on other verdicts won in Missouri by out-of-state residents.
$55 Million Verdict
In May 2016, a second Missouri jury concluded Johnson & Johnson was liable for a woman's cancer and had concealed the risks.
The jury ordered Johnson & Johnson to pay $55 million in compensatory and punitive damages to Gloria Ristesund, who said her 40-year genital use of talcum powder caused her ovarian cancer.
Ristesund was diagnosed with ovarian cancer in 2011 and had to undergo a hysterectomy and related surgeries, according to her lawyers.
The trial lasted for three weeks, and the jury deliberated for about a day before returning a verdict in Ristesund's favor.
"After we agreed on that, everything was easy," jury forewoman Teri Brickey told Bloomberg. "We felt like they knew for decades that they should have put a warning on this product."
$70 Million Jury Verdict
Johnson & Johnson then lost a third consecutive Missouri talc trial in October 2016.
Jurors found in favor of Deborah Giannecchini, a 63-year-old woman who said she, too, used Johnson & Johnson's powder on her genitals for about 40 years.
Doctors diagnosed Giannecchini with stage 4 ovarian cancer around 2013, and she underwent surgery, radiation and chemotherapy. In 2016, her lawyers said she had an 80 percent chance of dying within the next two years.
The jury ordered Johnson & Johnson to pay roughly $70 million and for codefendant Imerys Talc America, Inc., to pay $2.5 million.
J&J's First Talc Trial Victory
With three jury verdicts against Johnson & Johnson, it appeared that the major talcum powder manufacturer had bit the dust.
However, in March 2017, St. Louis jurors found in favor of Johnson & Johnson and decided not to award money to plaintiff Nora Daniels, who claimed the company's talcum powder caused her ovarian cancer.
"We deeply sympathize with the women and families impacted by ovarian cancer," Johnson & Johnson said in a statement following the verdict. "The jury's decision is consistent with the science, research, clinical evidence and decades of studies by medical experts around the world that continue to support the safety of cosmetic talc."
Doctors diagnosed Daniels with ovarian cancer in 2013. She underwent a hysterectomy, and as part of her treatment, doctors removed her ovaries and fallopian tubes.
Daniels blames her use of Johnson & Johnson's baby powder products — and the company's failure to warn of the link between talc and ovarian cancer — for her diagnosis.
During the three-week trial, Daniels' lawyers focused on the science surrounding the link between talc and ovarian cancer while Johnson and Johnson responded to the studies.
Attorneys for Daniels told the jury Johnson & Johnson knew of more than 30 epidemiological studies over the last three-plus decades that tie talc use an increased risk of ovarian cancer.
---
"Thirty-five years of study, nearly every one of them shows an increased risk. Nearly every single one of them."

- A lawyer for Daniels said in court
---
However, attorneys for Johnson & Johnson argued that stronger, prospective studies disproved the results of the epidemiological studies. The defense also highlighted that the agencies including the National Cancer Institute and the Centers for Disease Control and Prevention had analyzed the scientific data and found no cause-and-effect link between talc and cancer.
"Each and every one of the prospective studies, each and every one of them, of the ones that look forward and follow women along, has found that there is no connection between the use of talc and ovarian cancer," an attorney for Johnson & Johnson said in court.
The defense recognized that the International Agency for Research on Cancer classified talc as "possibly carcinogenic to humans," but pointed out that pickled vegetables and even coffee have carried the same designation.
It took about seven hours for the jury to deliberate. All but one of the 12 jurors signed the verdict in favor of Johnson & Johnson. At least nine members needed to agree.
$110 Million Jury Verdict
Johnson & Johnson's victory was quickly followed by another loss. In May 2017, a different jury in St. Louis awarded $110 million in compensatory and punitive damages to Lois Slemp, 62, of Virginia.
Slemp alleged Johnson & Johnson's talcum powder products caused her ovarian cancer. She claimed to have used Johnson's Baby Powder and Shower to Shower body powder for more than 40 years.
Doctors diagnosed Slemp with ovarian cancer in 2012. It then spread to her liver. Slemp was too ill to appear in court, so jurors instead heard an audio recording of her deposition in July 2016.
In the audio testimony, which was played on the 14th day of the trial, Slemp stated she "wouldn't have used" the products if the labels had warned of the potential cancer risk.
The jury found Johnson & Johnson to be 99 percent at fault and awarded $105 million in punitive damages against the company. Imerys was 1 percent at fault and should pay $50,000, the jury concluded. It also awarded Slemp $5.4 million in compensatory damages.
$417 Million Jury Verdict Overturned
The largest verdict came in the first California trial in August 2017 in the case of Eva Echeverria, who was terminally ill from ovarian cancer after having been diagnosed 10 years earlier after using baby powder more than 40 years.
Echeverria testified in the trial via video because she was too weak to testify in person. Her attorney said she didn't have much longer to live.
The award, which was bigger than all the previous awards that preceded it, included a whopping $347 million in punitive damages against Johnson & Johnson and its consumer products subsidiary.
Johnson & Johnson had disputed during the trial that its product caused ovarian cancer and noted that the FDA has denied requests from consumer groups that it require a warning label.
The plaintiff maintained that Johnson & Johnson was aware of safety concerns for decades, but put its profits ahead of the health and lives of the public.
Echeverria died in September 2017, a month after winning the trial. Her daughter was substituted as the plaintiff. In October 2017, the trial judge overturned the verdict and ordered a new trial.
The judge said some evidence had been improperly allowed in the trial, jurors had considered factors they were not permitted to consider, and the evidence was not sufficient to prove that Echeverria's ovarian cancer was caused by talcum powder.
Please seek the advice of a medical professional before making health care decisions.
Author
Emily Miller is an award-winning writer who has held editorial positions with reputable print and online publications around the U.S. As the editor of Drugwatch.com, Emily draws on her background as both a patient and a journalist to ensure her team of writers provides consumers with the latest and most accurate information on drugs, medical devices, procedures and related lawsuits. Emily holds five Health Literacy certificates from the Centers for Disease Control and Prevention as well as a Bachelor of Science in Journalism from the University of Florida. She is a member of The Alliance of Professional Health Advocates, the American Association for the Advancement of Science, the Society of Professional Journalists and the Society for Technical Communication.
---