Talcum Powder & Ovarian Cancer
Studies suggest talcum powder applied directly to a woman's genital area or on sanitary napkins, diaphragms or condoms may cause cancer of the ovaries. A study by the American Cancer Society lists talcum powder as a risk factor for ovarian cancer, the deadliest cancer of the female reproductive system.
To date, there is no definitive evidence to show how talcum powder causes ovarian cancer. However, the U.S. Food and Drug Administration (FDA) says it's plausible that talc may trigger an inflammatory response that in some exposed women may progress to cancer.
Talcum powder is made from talc, a naturally occurring mineral that when finely ground absorbs moisture, oils and odor, and reduces friction. About 40 percent of women are said to regularly use talcum powder, which can be found in many baby powders, foot powders, medicated powders, cosmetics and intimate hygiene products.
Fact
Two out of five women are said to use talcum powder on a regular basis.
The International Agency for Research on Cancer, which is part of the World Health Organization (WHO), classifies genital use of talc-based body powder as possibly carcinogenic (cancer-causing) to humans.
One theory is that when talcum powder is used for feminine hygiene, talc particles can travel through the vagina, uterus and fallopian tubes to the ovaries. From there, it can take years to dissolve, and research shows that it can cause inflammation. Inflammation creates conditions that increase the likelihood of cancer growth, and long-term inflammation can eventually lead to the formation of cancerous tumors.
Pharmaceutical giant Johnson & Johnson, a major talcum powder manufacturer, is aware of research that shows the potential increased risk of ovarian cancer with its over-the-counter products, such as Johnson's Baby Powder and Shower to Shower body powder. However, the company has referred to research into the matter as inconclusive and does not include an ovarian cancer warning on its talcum powder products.
In a 2017 blog post called "5 Important Facts About the Safety of Talc," Johnson & Johnson noted that the U.S. Centers for Disease Control and Prevention (CDC), which identifies potential risk factors for many diseases, has not identified talc as a risk factor for ovarian cancer.
Still, thousands of ovarian cancer patients and their families have sued Johnson & Johnson over allegations that it failed to adequately warn consumers of studies linking its products to ovarian cancer. Litigation is ongoing, but so far, juries have ruled against Johnson & Johnson in four out of five trials, finding the company should pay more than $700 million.
In August 2022, J&J announced that it would stop selling talc-based baby powder in 2023. The company said the decision is purely financial and that its talc powders do not cause cancer and don't contain asbestos.
Were you or a loved one diagnosed with ovarian cancer after using talcum powder?
40+ Years of Talc and Ovarian Cancer Studies
In 1971, scientists in Wales pointed to a possible connection between the dusting of female genitals with talcum powder and ovarian cancer. They discovered particles of talc embedded in ovarian and cervical tumors.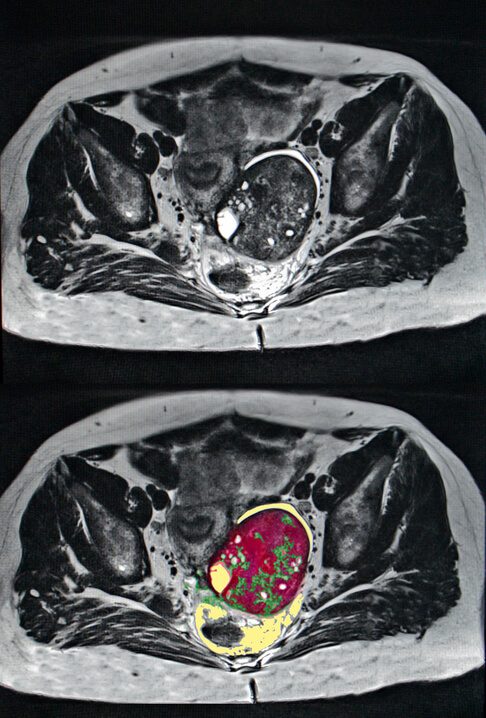 The scientists believed that talc particles entered a woman's reproductive tract through the vagina and traveled through the cervix into the uterus, then moved through the fallopian tubes to the ovaries. Researchers detailed findings in The Lancelet journal that a majority of ovarian tumors had particles of talc deeply embedded in them.
That study was followed by another study published in 1982 in the journal Cancer. The 1982 case-control study was the first to link genital talc use with ovarian cancer. Dozens of subsequent studies confirmed the association, with varying degrees of increased risk. A 2014 study in the Journal of the National Cancer Institute found no association; however, at least one expert has said that study was flawed because it didn't weigh the role of estrogen in increasing the risk for postmenopausal women.
Two- to Three-times Greater Risk
Dr. Daniel W. Cramer and his colleagues compared 215 white women with ovarian cancer with 215 similar women without ovarian cancer. They found women who used talcum powder were at nearly twice the risk for having ovarian cancer when compared with nonusers. Women who used talcum powder on their genitals and sanitary pads on a regular basis were at more than three times the risk.
Cramer, who is a Harvard epidemiologist and head of the Obstetrics and Gynecology Epidemiology Center at Brigham and Women's Hospital in Boston, has testified as a paid expert in lawsuits against talcum-powder makers.
fact
During a 2016 trial involving Johnson & Johnson, Cramer testified that about 10,000 women may develop ovarian cancer each year because of talcum powder.
Cramer also served as lead author of another talc and ovarian cancer study published in Epidemiology in 2016 that provided additional support for an association between talc use and ovarian cancer.
33% Higher Risk
The 2016 study in Epidemiology analyzed case-control data collected over 16 years on talc use and ovarian cancer. It found ovarian cancer was one-third higher among women who used talc on their genitals on a regular basis.
Researchers asked 2,014 ovarian cancer patients and 2,100 healthy women about their talcum powder use. Women who said they regularly dusted their genitals, sanitary napkins, tampons and underwear with talc had a 33 percent higher risk of ovarian cancer, according to the study. Most women in the study reported using Johnson & Johnson's Baby Powder or Shower to Shower.
The results are consistent with a recent pooled analysis from the Ovarian Cancer Association Consortium, which reported that use of talcum powder on genitals is associated with a 24 percent increased risk of ovarian cancer.
20% to 30% Heightened Risk
Researchers at the Tisch Cancer Institute of Mount Sinai Hospital in Manhattan, New York looked at 24 previously published statistical analyses and studies with data on more than 300,000 women with ovarian cancer. Their findings, published in the European Journal of Cancer Prevention in 2017, suggest a "weak but statistically significant association between genital use of talc and ovarian cancer, which appears to be limited to serous carcinoma."
"Overall, it is about a 20 percent higher risk for women who say they used talc, compared to women who say they did not use it."
The journal Cancer Prevention Research published a study in June 2013 that showed an increased risk of ovarian cancer between 20 and 30 percent for women who used talcum powder for intimate personal hygiene. Researchers from Brigham and Women's Hospital reviewed data from eight research papers that involved nearly 2,000 women.
An earlier study published in the journal Anticancer Research in 2003 found use of talcum powder on female genitals increased risk of ovarian cancer by about 30 percent. Researchers drew that conclusion after analyzing data from 16 separate research papers.
44% Increased Risk
In a study of African American women, genital powder use was significantly associated with ovarian cancer risk.
In 2016, Cancer Epidemiology, Biomarkers & Prevention published the study by Joellen M. Schildkraut, which found African American women who use talcum powder in their groin area have a 44 percent increased risk for ovarian cancer.
Critics Say:
Johnson & Johnson specifically marketed talcum powder products to African American women.
"The results support that body powder is a modifiable risk factor for [ovarian cancer] among AA women," according to the study.
"An association between powder use and upper respiratory conditions suggests an enhanced inflammatory response may explain the association between body powder and [ovarian cancer]," the study says.
FDA Funds Additional Research
In 2016, the FDA Office of Women's Health (OWH) announced its funding of a study addressing ovarian cancer risk from talc use in cosmetics. The OWH awards research grants for one- to two-year studies to support FDA regulatory decision-making. The FDA has denied at least two petitions for talc warning labels, citing "no conclusive evidence" to establish causality.
fact
Nakissa Sadrieh is leading the OWH-funded study, titled "Non-clinical mechanistic studies in addressing ovarian cancer risk from talc use in cosmetics."
In her research proposal, Sadrieh references a study published in 2009 that aimed to examine the cancer-causing effects of long-term talc exposure on the genital system of female rats. Rats exposed to talc intravaginally daily for three months had unfavorable effects on the female genital system, according to preliminary results. However, Sadrieh noted a need for studies with longer exposure periods and more detailed evaluation of the early events in genital system tissue transformation.
"Although some epidemiologic and animal studies have examined the relation between talc and ovarian cancer, talc's effects on female genital system tissues have not been adequately investigated," she wrote in her research proposal. "This proposed research will help to fill some of the existing data gaps, in the molecular and genetic events associated with early ovarian oncogenesis, as these are largely unknown."
Ovarian Cancer Symptoms
The ovaries are part of the female reproductive system and produce a woman's eggs and female hormones. Although it's an uncommon cancer, ovarian cancer causes more deaths than any other female reproductive cancer.
The chance for recovery from ovarian cancer is better if the cancer is found and treated early. Unfortunately, women with ovarian cancer may experience only mild symptoms or none at all until the disease has progressed into an advanced stage. At that point, the cancer is harder to treat.
Symptoms of ovarian cancer may include:
Pain or pressure in the pelvic area
Pain in the lower abdomen
Back pain that gets worse
Vaginal bleeding or abnormal discharge
Bloating
Weight gain or loss
Abnormal periods
Gas, nausea or vomiting
More frequent or urgent need to urinate and/or constipation
Loss of appetite, feeling full too quickly or difficulty eating
Diagnosing ovarian cancer typically involves a physical exam, a pelvic exam, lab tests, ultrasound or a biopsy. To treat ovarian cancer, doctors usually recommend a combination of surgery and chemotherapy.
Please seek the advice of a medical professional before making health care decisions.
Share This Page:
How can we improve this page?
Thank You for Your Feedback
We appreciate your feedback. One of our content team members will be in touch with you soon.
We appreciate your feedback. One of our content team members will be in touch with you soon.
Who Am I Calling?
Calling this number connects you with a Drugwatch representative. We will direct you to one of our trusted legal partners for a free case review.
Drugwatch's trusted legal partners support the organization's mission to keep people safe from dangerous drugs and medical devices. For more information, visit our partners page.