Transvaginal Mesh Revision Surgeries
When transvaginal mesh causes complications, women may require surgery to remove the implant. Revision surgery is a surgery to remove or repair transvaginal mesh. Some women who experience complications from mesh require multiple revision surgeries to remove the implant.
Doctors use transvaginal mesh implants to fix pelvic organ prolapse (POP) and stress urinary incontinence (SUI). But transvaginal mesh may damage internal organs and cause a number of complications. When mesh causes serious problems, surgeons usually have to remove the devices.
Urogynecologists are doctors who specialize in pelvic floor disorders. They are the most qualified doctors to lead revision surgeries to remove transvaginal mesh. However, mesh implants are designed to be permanent solutions. Thus, they're difficult to remove. If mesh erodes into other organs, women usually require multiple surgeries to remove all of the mesh.
The type and severity of complication determines the type of revision surgery. The type of mesh that was used usually determines how many procedures are necessary to remove it.
Complications that require revision surgery include:
Erosion and extrusion
Fistula
Obstruction of the urethra
Injuries to bowel or bladder (perforation)
Injuries to blood vessels
Injuries to nerves
When surgeons remove mesh, they have to cut out surrounding tissue. Then they stitch the area and give patients vaginal estrogen to help the area heal. Many women can only have a certain amount of mesh removed in one surgery, and they require multiple surgeries.
Surgeons also have to figure out how to treat the condition that the mesh was supposed to treat. Women with stress urinary incontinence or pelvic organ prolapse may consider more conservative, nonsurgical options after having mesh removed.
Mesh Revision Surgery Rates
The FDA approved transvaginal mesh to treat stress urinary incontinence in 1996 and pelvic organ prolapse in 2002. Before transvaginal mesh, doctors repaired prolapse and incontinence with surgery to tighten ligaments and muscles. When surgical mesh was introduced, the medical community began using it during POP and SUI surgery. It was hailed as a faster, easier fix.
Mesh implants grew in popularity during the 2000s. In 2010, nearly 300,000 transvaginal mesh surgeries were performed in the United States. But reports of serious complications also increased during that time period. From 2005 to 2010, the FDA received more than 4,000 reports of adverse events caused by the implants.
The FDA has stated that complications from mesh were not rare, and studies indicated that mesh complications occurred in up to 20 percent of patients. However, not all complications require revision surgery.
Multiple studies have found the revision rate to be less than five percent:
2011

A study published in the New England Journal of Medicine found that 3.2 percent of women who received mesh for pelvic organ prolapse required revision surgery within one year.

2013

A study published in the American Journal of Obstetrics & Gynecology concluded that 3.7 percent of women who receive bladder slings with mesh required revision surgery after nine years.

2015

A study published in JAMA Surgery found 2.2 percent of women who received mesh for stress urinary incontinence required revision surgery.
The low rate of revision surgeries does not lessen the negative impact that transvaginal mesh can have when it fails. Mesh erosion – the most common reason for revision surgery – can damage organs, cause severe pain and be very difficult to treat.
Aftermath of Transvaginal Mesh Revision Surgeries
When patients begin experiencing complications from transvaginal mesh, doctors may choose to monitor symptoms to decide if revision surgery is necessary. That might mean months of pain or discomfort for patients. Doctors don't rush to recommend revisions because corrective surgery is complex.
The process to remove mesh is time consuming, painful and difficult. It takes a skilled surgeon to remove pieces of fine mesh that have fused with nearby organs and tissues.
A 2015 study published in the International Urogynecology Journal reported the health outcomes of 233 women who had surgery to remove mesh: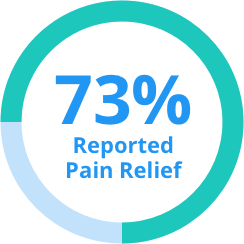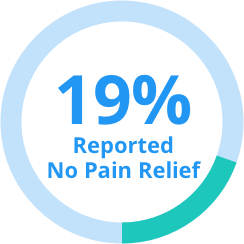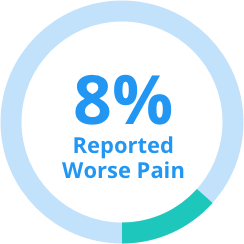 Sometimes, the mesh cannot be removed in its entirety. Janet Holt of San Antonio, Texas experienced this problem when trying to remove her mesh. Four years after her initial prolapse surgery, the 50-year-old told MSNBC that she had undergone seven surgeries to remove it.
Alternatives to Revision Surgery
Not all mesh complications require revision surgery. Some can be treated with physical therapy or other conservative treatments. Amy Robinson of Clear Passage Physical Therapy regularly treats women for complications from transvaginal mesh.
Physical therapy techniques include:
Connective tissue manipulation
Myofascial release
Sustained pressure
Visceral manipulation
Cranial sacral therapy
Manual lymph drainage
Wurn technique
"There are a whole host of techniques that we use, and we do not use any cookbook methods, which means that we do not use the same techniques over and over on patients," Robinson told Drugwatch Podcast.
Transvaginal mesh is designed to be a permanent treatment for pelvic organ prolapse or stress urinary incontinence. However, mesh implants are associated with several complications. Some of those complications require intensive revision surgery, and many patients require multiple surgeries to completely remove mesh. Alternative treatments may be preferable for patients with minor complications.
Please seek the advice of a medical professional before making health care decisions.
How helpful was this page?
How can we improve this page?
How can we improve this page?