Hepatitis A and Hepatitis B Vaccines
Hepatitis is an inflammation of the liver and can be life-threatening. There are five types of hepatitis: A, B, C, D and E. Diseases C, D, and E are caused by viral infection for which there are currently no vaccines. However, the U.S. Food and Drug Administration (FDA) has licensed two vaccines to guard exclusively against hepatitis A, two vaccines to protect against only hepatitis B and one combination vaccine that includes protection against both diseases. Hepatitis B protection is also present in two other vaccines that protect against various infections.
An estimated 2,500 people contracted hepatitis A in the U.S. in 2014 compared with the 19,200 people in the U.S. who contracted hepatitis B that same year. Hepatitis A is spread through ingestion of something that has been contaminated with the feces of an infected person. This can happen by way of close person-to-person contact with an infected person, sexual contact with an infected person or ingestion of contaminated food or drinks. Hepatitis B, on the other hand, is spread through infectious blood, semen and other bodily fluids. This happens primarily as a result of birth to an infected mother, sexual contact with an infected person, injuries caused by needle sticks or puncture by other sharp objects, or sharing of contaminated needles, syringes or other injection drug equipment.
The time between exposure to hepatitis A and the onset of symptoms is 15 to 50 days, with the average being 28 days. Symptoms after exposure to hepatitis B take an average of 120 days to appear. Symptoms of both diseases are similar and can include fatigue, loss of appetite, abdominal pain, nausea, vomiting, fever, gray-colored bowel movements, joint pain and jaundice.
Most people with hepatitis A or B recover with no lasting liver damage; however, in rare cases, these diseases can cause liver failure and death. As many as 25 percent of people infected with chronic hepatitis B develop chronic liver disease, including cirrhosis, liver failure or liver cancer. About 1,800 people in the U.S. die each year with hepatitis B-related liver disease.
The U.S. began recommending hepatitis A vaccines in 1996. Since then, the number of cases reported annually in the country has plummeted from about 31,000 cases to fewer than 1,500 cases. From 1990 to 2004, the U.S. saw a 75 percent decrease in the number of acute hepatitis B cases. The largest drop — 94 percent — occurred among children and adolescents and corresponded with an increase in hepatitis B vaccine coverage.
Hepatitis A Vaccines
The hepatitis A vaccine is a shot of inactive hepatitis A virus given in the muscle. The vaccine triggers the body's natural immune system to make antibodies that protect a person against the virus. The body then stores these antibodies, so if a person is ever exposed to the virus in the future, the antibodies fight off the infection. Protection against the virus kicks in about two to four weeks after the first injection. The CDC recommends two doses of hepatitis A vaccine given at least six months apart for long-lasting protection.
There are no known risks to getting hepatitis A vaccine at the same time as other vaccines, according to the CDC. While it's routine for children to get the hepatitis A vaccine between 12 and 23 months of age, children older than 23 months and adolescents can get the vaccine, too. Adults who have not previously received a hepatitis A vaccine and want to be protected against the virus can also get the vaccine.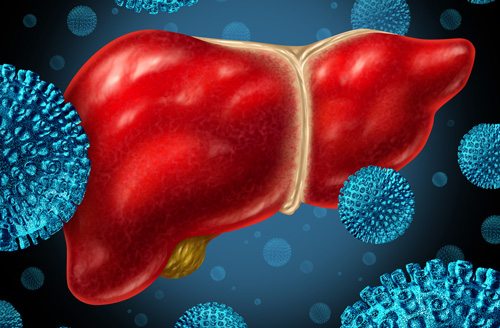 The CDC recommends unvaccinated adults get hepatitis A vaccine if they:
are traveling to countries where hepatitis A is common
are a man who has sex with other men
use illegal drugs
have a chronic liver disease such as hepatitis B or hepatitis C
are being treated with clotting-factor concentrates for hemophilia
work with hepatitis A-infected animals or in a hepatitis A research laboratory
expect to have close personal contact with someone from a country where hepatitis A is common
Two FDA-approved vaccines that exclusively protect against hepatitis A are Havrix and Vaqta. Both are licensed for use in people 12 months of age and older.
Hepatitis B Vaccines
The hepatitis B vaccine is usually given as a three- or four-shot series over a six-month period. It works similarly to the hepatitis A vaccine in that it causes the body to produce and store antibodies to fight off future infection. Hepatitis B vaccine gives more than 90 percent protection to infants, children and adults who receive the vaccine before being exposed to the virus.
The CDC recommends all infants receive the first dose of hepatitis B vaccine within 24 hours of birth and complete the series at 6 to 18 months of age. All minors (children and adolescents 18 years of age and younger) who have not yet gotten the vaccine should also get it, according to the CDC. Hepatitis B vaccine is also recommended for unvaccinated adults who are at risk for hepatitis B virus infection.
Unvaccinated adults at risk for hepatitis B include:
People whose sex partners have hepatitis B
Sexually active persons who are not in a long-term monogamous relationship
Persons seeking evaluation or treatment for a sexually transmitted disease
Men who have sexual contact with other men
People who share needles, syringes or other drug-injection equipment
People who have household contact with someone infected with the hepatitis B virus
Health care and public safety workers at risk for exposure to blood or body fluids
Residents and staff of facilities for developmentally disabled persons
Persons in correctional facilities
Victims of sexual assault or abuse
Travelers to regions with increased rates of hepatitis B
People with chronic liver disease, kidney disease, HIV infection or diabetes
Anyone who wants to be protected from hepatitis B
The FDA has approved two hepatitis B-only vaccines: Recombivax HB and Engerix-B. Both protect against infection caused by all known subtypes of hepatitis B virus.
Twinrix and Other Combination Vaccines
Protection against hepatitis also comes in the form of combination vaccines. Combination vaccines take two or more vaccines that could be given separately and put them into one, reducing the number of shots a person needs.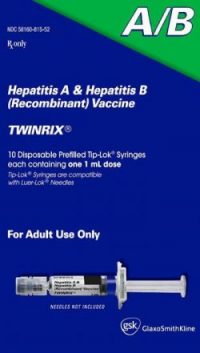 Twinrix is a combination vaccine that guards against both hepatitis A and hepatitis B. The FDA approved the vaccine in 2001. Manufactured by GlaxoSmithKline Biologics, Twinrix can be given to adults 18 years of age and older as three 1 mL shots over a six-month period. The vaccine can also be given using accelerated dosing, which involves a series of four 1 mL doses given on days 0, 7, and 21 to 30 followed by a booster dose at month 12. Pregnant women, nursing mothers and pediatric patients should not get Twinrix — safety and effectiveness of the vaccine has not been fully examined in these groups.
Hepatitis B protection is also included in two other vaccines: Comvax, which also includes protection against Haemophilus influenzae type b infection, and Pediarix, which also includes protection against diphtheria, tetanus, pertussis and poliovirus.
Vaccine Side Effects & Risks
Most people who get hepatitis A and/or hepatitis B vaccines do not have any problems. Still, minor problems following these vaccines can include fever and soreness where the shot was given. Headache and tiredness may also occur after hepatitis vaccination. If these reactions occur, they usually start shortly after the shot and continue for one or two days. The CDC recommends that people who are moderately to severely ill wait to get vaccinated until they recover.
Risks and side effects of the hepatitis A and B vaccines include:
Shoulder injury
Fainting
Severe allergic reaction
Death
Serious injury and death are also possible after vaccination. Both hepatitis A and hepatitis B vaccines are associated with shoulder injury related to vaccine administration (SIRVA) and a condition called vasovagal syncope, which is when a person's heart rate and blood pressure drop suddenly resulting in fainting.
Vaccination can also result in serious, life-threatening allergic reaction (anaphylaxis). The CDC advises against getting these vaccines if a person has ever had a life-threatening allergic reaction after getting a vaccine that contains hepatitis A or hepatitis B protection or if a person is allergic to any element of these vaccines. Signs of a severe allergic reaction usually start a few minutes to a few hours after the vaccination and can include hives, swelling of the face and throat, difficulty breathing, a fast heartbeat, dizziness and weakness, according to the CDC. If a severe allergic reaction occurs, call 911 and get to the closest hospital.
Both hepatitis A and hepatitis B vaccines are covered under the National Vaccine Injury Compensation Program (VICP). This means that anyone who received a hepatitis A or B vaccine and believes he or she was injured as a result can file a petition in order to seek compensation from VICP. Any person can file a petition regardless of age, and you do not need to be a U.S. citizen to file a petition. Parents, legal guardians and legal representatives can file a petition on behalf of infants, children, disabled adults and deceased persons.
Did You Know?
People can file petitions to seek compensation from the National Vaccine Injury Compensation Program (VICP) if they were injured as a result of the hepatitis A or B vaccine.
Fainting and shoulder injury after both hepatitis A and B vaccines are VICP-covered injuries. To be covered by VICP, the fainting must occur within 1 hour of vaccination and shoulder injury related to the vaccine must arise within 48 hours of getting the shot. The program also covers life-threatening allergic reactions that occur within four hours of hepatitis B vaccination. Since its inception in the 1980s, VICP has paid more than $3.6 billion in vaccine injury and death claims involving various vaccines.
Please seek the advice of a medical professional before making health care decisions.
How helpful was this page?
How can we improve this page?
How can we improve this page?