*UPDATE: Actemra lawsuits are in the early stages. Drugwatch's legal partners are not currently accepting cases on behalf of people who took Actemra and suffered serious side effects.
Actemra lawsuits say manufacturer Genentech failed to adequately warn patients and doctors about dangerous Actemra side effects. These include heart failure, heart attack, stroke, pancreatitis, lung disease, gastrointestinal perforation and death.
Injured patients also claim that the drug maker misrepresented the medication's safety. They say Genentech led patients and their doctors to believe that taking Actemra was safer than taking other drugs used to treat rheumatoid arthritis (RA).
A July 2018 search of the U.S. Food and Drug Administration Adverse Event Reporting System revealed 17,417 side-effect reports associated with Actemra. The FDA deemed more than 13,000 as serious cases. At least 990 involved death.
Despite its dangers, Actemra remains on the market. Genentech and its parent company, Roche, are now facing mounting lawsuits.
Status of Actemra Lawsuits
Actemra lawsuits are adding up. But they are still in the beginning stages.
Actemra lawyers are accepting cases on behalf of people who took Actemra and suffered serious side effects. They are also taking cases of people whose loved ones died after taking Actemra.
No trials are set. There have been no known settlement negotiations. Attorneys need to collect evidence before scheduling trials or negotiating settlements.
These types of cases can take years to resolve.
Why File an Actemra Side Effects Lawsuit?  
People filing Actemra lawsuits suffered from heart attack, heart failure or stroke. Others experienced pancreatitis, lung disease or gastrointestinal perforation. Some had a family member die.
They are filing lawsuits to get compensation for their injuries and losses.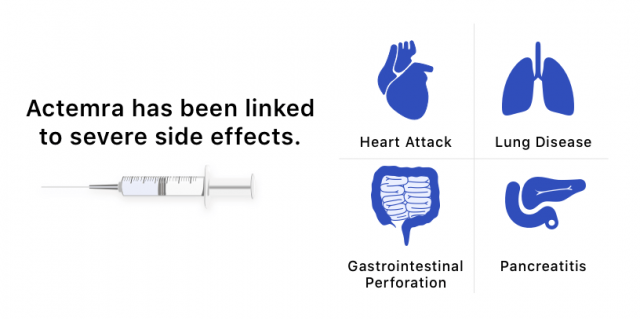 Some types of recovery injured patients may be entitled to include:
Past and future medical expenses incurred due to the injury or illness caused by Actemra
Past and future pain and suffering, including treatment, recovery and ongoing medical expenses
Past and future loss of income
Punitive damages – intended to punish the defendant and deter future wrong behavior
Accusations Against Actemra Manufacturer Genentech
Actemra lawsuits say Genentech failed to warn consumers of the drug's risks.
Other rheumatoid arthritis drugs have warnings on their labels about life-threatening risks. Actemra's labeling does not include the same warnings.
Lawsuits claim that Actemra's manufacturers misrepresented the drug's safety. They say Genentech misled patients and their doctors to believe Actemra was safer than other RA drugs.
A 2017 STAT investigation compared side-effect reports for Actemra with those for other RA drugs like Embrel and Humira. It found Actemra may carry the same or greater risk of certain dangerous conditions as its competitors.
Accusations against Actemra manufacturers include:
Failed to test
Failed to warn doctors
Concealed evidence
Misrepresented safety
Actemra Recalls
Genentech has not recalled Actemra, despite more than 13,000 reports of serious adverse events associated with the drug. The reported cases include at least 990 death cases, according to FDA data.
Actemra Death Reports
The FDA has identified at least 990 reports of people dying after taking Actemra.
How to File an Actemra Lawsuit
Patients wanting to file an Actemra lawsuit must have suffered an injury as a result of the drug. Family members of people who died after taking Actemra may also be eligible to file a lawsuit.
An important step is to speak with a qualified product liability lawyer. This type of lawyer can assess a case and determine what's needed to file a lawsuit.
A lawyer may ask for evidence of the injury. This may include medical records, physician statements and hospital bills. The lawyer may also ask for proof of time away from work or other documented losses.
What Is the Time Limit for Filing an Actemra Lawsuit?
Statutes of limitation control the time limits for filing a civil case. Each state sets specific deadlines to file a personal injury lawsuit. These range from one year to as many as six years depending on different factors.
Factors that determine the time limit to file include:
Type of injury
When the injury occurred
When the cause of the injury was first discovered
An experienced Actemra lawyer will be able to tell you the statute of limitations for your case.
Actemra Class Action Lawsuit
There are no known class action lawsuits involving Actemra injury claims. Lawyers are currently accepting individual lawsuits.
If there are enough individual lawsuits, a judicial panel may decide to group them. In federal court, this is multidistrict litigation, or MDL.
MDLs group lawsuits with common issues in a single court, under one judge. This simplifies the pretrial process.
Unlike class action lawsuits, MDLs allow each individual lawsuit to remain separate. This means people suing in an MDL are not all forced to accept the same settlement amount. A patient with major injuries and high medical bills may get more than a patient with minor injuries.
Actemra Settlements & Verdicts
No Actemra lawsuits have gone to trial. So, there have not been any verdicts.
Genentech has not agreed to settle large groups of cases. Large-scale settlements usually don't happen until after a few cases in have gone to trial.
Please seek the advice of a medical professional before making health care decisions.
How helpful was this page?
How can we improve this page?
How can we improve this page?