Amputee Battles Back: 'Bair Hugger Could Have Killed Me'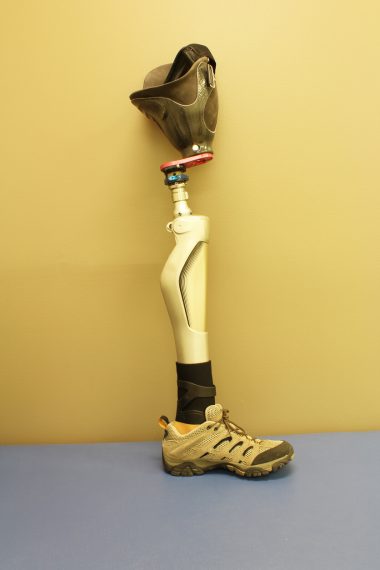 Tim Hopkin's gait is hard to miss. He's still getting used to the prosthetic leg.
"Being in prosthesis is like being a baby deer on roller skates," Hopkins told Drugwatch. "I still haven't mastered it. I'm still working with it."
On a recent business trip, he counted nine strangers who thanked him for his service. He has to let them know he is not a veteran.
Hopkins didn't lose his leg on a battlefield in Iraq or Afghanistan. He lost it on an operating table in a Cincinnati hospital.
The device that took his leg was not a terrorist bomb. Hopkins claims it was a medical device found in thousands of U.S. hospitals. It was a Bair Hugger warming blanket, Hopkins says.
Bair Hugger, Knee Replacements and Infection
The air never touches the patient. But studies suggest the devices may disrupt airflow in operating rooms. Lawsuits claim this can lift contaminants lurking below the operating table. They claim these particles can ride on air currents into open incisions.
If bacteria hitch a ride on these particles, the results could be severe. Even a single bacterium landing on a hip or knee implant during surgery can be disastrous. It can grow over months into a deep wound infection.
More than 4,000 people have filed Bair Hugger lawsuits over infections. Hopkins is among those suing the manufacturer, 3M. The company says the devices are safe after 200 million surgeries.
"Bair Hugger, the greed of that company, could have killed me," Hopkins said.
Claim: Knee Replacements, Bair Hugger and Infection Led to Amputation
Years of high school and college football took its toll on Hopkins' knees. He had both knees replaced in 2009.
But he needed revision surgery on his right knee in 2015 and again in 2016. Both surgeries used Bair Huggers.
Four months after Hopkins' second surgery, ligaments in his right leg snapped. His knee continued to worsen. Hopkins was sure he had an infection.
"My leg looked like a python," he said. "It was all red and covered in crusty sores."
But on repeated visits, his doctor denied he had an infection. That is, until Hopkins collapsed and woke up in an emergency room.
"The ER staff told me, 'You're completely septic. In fact, we don't know how you're alive,'" he said. "The bacteria was so bad it was eating all my ligaments and feeding itself off of me."
The hospital's surgeons described his infection as "a rope with fire attached to it." They told him his right leg had to come off.
Hopkins said the doctors gave him only a one in four chance of surviving. Without amputation, they said, he would be dead in two days.
"Let's do it," he told the doctors.
Surviving Leg Amputation After Infection
Hopkins beat the odds. But more surgeries would follow. Another infection and bone loss forced doctors to remove more of his leg.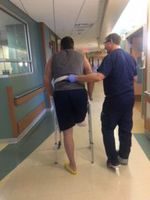 Through the ordeal, Hopkins had shifted weight and effort to his good leg. His left hip fused, and he had to have it replaced. The problems seemed to snowball.
"I keep track of this on a grid," Hopkins said. "I've spent more than 1,800 hours in medical appointments or in the hospital."
He has recorded every milestone on his journey back:
125 medical appointments – from prosthetics fittings to physical therapy
24 total days in hospitals
6 major surgeries
80 days in a wheelchair
More than $250,000 in lost income because he couldn't work
30 days of vacation his wife took to take care of him
He's still putting together the long list of how his life's changed.
"You look down and it's like, 'I can't believe my leg's gone.'" Hopkins said. "I still feel my foot. I can feel my foot right now. And a lot of times I'll get a second shoe out or a second sock to put on and I'm like, 'You don't have a foot anymore.'"
Bair Hugger Plaintiff: 'People Have Died from This'
Hopkins was 45 years old when he had his surgery. The former football player never let himself get out of shape.
He brags of "just 12 percent body fat" when he recalls going into his first surgery. A year and a half after his amputation, he's back to leg-pressing 270 pounds with his prosthetic leg.
"I was fortunate I was in the physical shape I was in to survive this," he said. "People have died from this."
The FDA's medical device database contains reports of people dying from infections following surgery with Bair Hugger devices. The FDA does not determine if devices were linked to specific complications.
Hopkins wants Bair Huggers taken off the market.
He compares them to Vioxx. Merck pulled the anti-inflammatory drug off the market in 2004.
Reports blamed Vioxx for more than 130,000 heart attacks. About of third of them were fatal.
"I'm a pharmacist. I've lived through all the Drugwatch reports," Hopkins said. "I've seen the same thing over and over. And I see this as 'Vioxx II.'"
Disclaimer: Thoughts and opinions expressed in this patient story are strictly anecdotal and should not be taken as medical information or advice. Views of the interviewee do not necessarily reflect those of the author, editor or Drugwatch.
Share This Page:
How can we improve this page?
Thank You for Your Feedback
We appreciate your feedback. One of our content team members will be in touch with you soon.
We appreciate your feedback. One of our content team members will be in touch with you soon.
Who Am I Calling?
Calling this number connects you with a Drugwatch representative. We will direct you to one of our trusted legal partners for a free case review.
Drugwatch's trusted legal partners support the organization's mission to keep people safe from dangerous drugs and medical devices. For more information, visit our partners page.