The Bair Hugger Normothermia System is a forced-air warming (FAW) system designed to prevent hypothermia and keep patients at a normal core body temperature during all three phases of orthopedic surgery — preoperative, intraoperative and postoperative phases. The blankets stabilize core temperature ahead of surgery, then maintain it during the procedure and immediately afterwards as the patient recovers.
Hospitals have used Bair Hugger devices on more than 200 million patients since 1987 and continue to do so today. More than 50,000 units are installed in the 80 percent of hospitals in the U.S. that use FAW therapy today.
The current Bair Hugger warming units include models 505, 750 and 775. Model 500 is no longer made. 3M also makes disposable Bair Hugger blankets and gowns.
How Bair Hugger Therapy Works
Bair Hugger warming units filter air and then force warm air through Bair Hugger disposable blankets, which cover patients before, during and after surgery. Bair Hugger blankets are designed to use pressure points on the patient's body to prevent heat from reaching areas at risk for pressure sores or burns. The blankets also include drain holes where fluid passes through the surface of the blanket to linen underneath, which is supposed to reduce the risk of skin softening and reduce the risk of unintended cooling because of heat loss from evaporation.
Bair Hugger blankets are disposable to reduce the chance of infection transmission from one patient to another. They are not designed to enter sterile fields during surgery.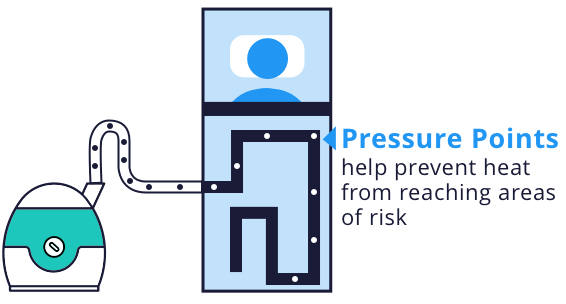 Bair Hugger History
Dr. Scott D. Augustine invented Bair Hugger in 1987 to keep patients warm during surgery. Almost all patients become hypothermic – a condition causing the body to lose heat faster than it can produce heat – during surgery. Even mild hypothermia during surgery can lead to blood loss, infections and prolonged hospital stays. The Bair Hugger equipment includes blankets, warming units and accessories.
Augustine began selling Bair Huggers through his company, Augustine Medical, 30 years ago. The company reorganized under new owners in 2003 and was renamed Arizant. In 2010 3M paid about $810 million to buy Arizant, and it continues to market Bair Hugger products today.
---
"I am very proud of the old technology," he said in a New York Times article in 2010. "But I am also proud to spread the word that there is a problem."

– Dr. Scott Augustine, Bair Hugger inventor
---
In 2010 Augustine's company began selling a warming device called HotDog that's a direct competitor to Bair Hugger. Augustine now says the Bair Hugger blanket should not be used in patients undergoing surgery, especially joint replacements including knee and hip replacement, because the device can spread bacteria linked to infections. "I am very proud of the old technology," he said in a New York Times article in 2010.
More than 50 orthopedic surgery patients have sued 3M, alleging Bair Hugger was responsible for infections they experienced during surgery. Bacterial joint infection can cause septic arthritis, which can cause sudden pain and swelling and can destroy a joint if not treated promptly with antibiotics.
FDA History
The U.S. Food and Drug Administration (FDA) cleared the first Bair Hugger warming system in 1987 through the 510(k) premarket clearance program as a substantially equivalent device. Under the 510(k) program, the FDA can clear a medical device without clinical proof that it is safe if it is similar enough to a previous device already on the market.
The FDA issued 12 additional clearances for Augustine Medical devices through the 510(k) premarket program from 1990 through 2002. After Arizant took over the Bair Hugger product line, the FDA issued two more clearances for medical devices through the 510(k) program from 2004 through 06.
Over the course of its 30 years on the market, numerous adverse events have been reported to the FDA. The majority of early adverse event reports involved burns from prolonged exposure to heat during surgery or equipment malfunctions that resulting in cold air circulating under the blanket.
The FDA has not issued a recall of Bair Hugger devices.
Infection Risk
While some infections are easily treated, others are not. Patients can and have developed serious deep joint infections during surgery, including methicillin-resistant Staphylococcus aureus (MRSA), which can cause incurable problems ranging from skin infections and sepsis to pneumonia to bloodstream infections. Surgeries involving implants, including knee, hip and other joint implants, have a higher risk for contamination than other surgeries.
Beginning in 2011, some studies claimed to have found forced-air warming could increase the risk of infection during high-risk orthopedic surgeries. However, some researchers say these studies have flaws that make them inconclusive, unreliable and unable to prove that FAW increases infection risk. And Bair Hugger maker 3M maintains that the systems are safe and effective in all surgeries, including orthopedic surgeries.
Bair Hugger Infection Risk Studies
2011: Deep Joint Infection

A 2011 study published in The Journal of Bone and Joint Surgery simulated hip replacement and lumbar spinal procedures using both forced-air warming and conductive fabric warming, with a mannequin as a patient. The researchers released neutral-buoyancy detergent bubbles near the mannequin's head and at floor level to assess the movement of non-sterile air into the clean airflow over the surgical site. They reported, "a significant increase in deep joint infection, as demonstrated by an elevated infection odds ratio … was identified during a period when forced-air warming was used compared to a period when conductive fabric warming was used."

2012: Convection

Researchers in 2012 conducted a similar study, as reported in the journal Anesthesia & Analgesia. They released neutrally buoyant detergent bubbles on the head side of an anesthesia drape and tracked whether they moved to the surgical site. When forced-air warming was used, they found "a significant mean increase in the temperature … and number of particles … over the surgical site when compared with radiant warming, which raises concern as bacteria are known to require particles for transport."

2012: Visualizing Forced-Air Warming

Another 2012 study, reported in Bone & Joint Journal, "attempted to visualise the airflow in theatre over a simulated total knee replacement using neutral-buoyancy helium bubbles." Researchers used a smoke machine under an operating table to simulate potentially contaminating particles. They found that "waste heat from the poorly insulated forced-air warming blanket increased the air temperature on the surgical side of the drape," creating convection currents that increased the number of particles found on the surgical side to more than a thousand times the number found without FAW.

2013: Increased Air Temperature

A 2013 study in the journal Anaesthesia put a mannequin on an operating table and covered it with three different kinds of lower-body warming devices: Bair Hugger forced-air warming blanket, HotDog conductive fabric blanket and Inditherm under-body resistive mattress. Researchers measured the temperatures at the mannequin's shoulders, knees and abdomen and at five heights: floor, table, patient, head and overhead. They found "forced-air warming to generate increased ventilation field temperatures vs. both conductive warming devices." Waste heat created convection currents that created turbulence over the patient that could draw damaging particles from below the operating table to the surgical site.
Lawsuits
Some surgical patients who developed infections have sued the maker of Bair Hugger warming devices, claiming that the company misrepresented its Bair Hugger products as safe and failed to warn of risks. Medical device manufacturers have a duty to develop and promote safe products to health-care professionals and consumers. When they fail to do so, people who are harmed can turn to the courts for relief. This has led to hundreds of people filing lawsuits accusing 3M of failing to properly and thoroughly test Bair Huggers, failing to conduct sufficient post-market testing and surveillance of Bair Huggers and continuing to market Bair Huggers after the manufacturer should have known of adverse effects.
One of the grounds for Bair Hugger lawsuits is failure to warn. When medical devices carry a risk, manufacturers have a duty to inform both health-care professionals and the public of that risk. Lawsuits have accused Bair Hugger's maker of failing to adequately warn health-care professionals and the public of the risk of circulating air in operating rooms, which they say could lead to infections.
Another ground for legal action is misrepresentation. Device manufacturers have an obligation to represent their products accurately and truthfully. Lawsuits have claimed 3M knowingly and recklessly disregarded that obligation, misrepresenting Bair Huggers as safe and as safer than alternative patient warming devices.
Status of Bair Hugger Lawsuits
The first Bair Hugger trials could begin by mid-2018.
More than 4,000 lawsuits over the devices are pending in a multidistrict litigation (MDL) in a Minnesota federal court. MDLs allow several similar cases to be combined to reduce costs and duplication and can speed up the legal process.
The MDL court in Minnesota has ordered that two cases, Skaar, et al. v. 3M Co., et al., 16-cv-2969 and Gareis v. 3M Co., et al., 16-cv-4187 be ready for trial by April 30, 2018. The court expects to put the cases on its calendar by that deadline.
MDLs are different from class-action lawsuits, and there have been no reports of Bair Huggers receiving class-action status.
The cases selected are called bellwether trials. These are representative "test cases" that allow all parties to test their arguments in court. Bellwethers also allow other potential plaintiffs to consider whether they wish to continue to litigate or attempt to settle.
Ahead of any trials, 3M could settle with some or all of the plaintiffs. If that doesn't happen, the results of the first trial may make other plaintiffs think about withdrawing their suits if the verdict goes against the injured patients, or encourage other patients who feel their injuries were caused by Bair Hugger warming units to file their own suits should the jury decide for the plaintiffs.
Litigation Timeline
1987

Bair Hugger first employed as a surgical warming device

2013 – 2015

March 2013: Tommy Walton becomes first patient to sue 3M for damages caused by Bair Hugger during surgery in 2011. More than a dozen other patients file lawsuits in U.S. District courts nationwide.

August 2015

Plaintiff William Lichlyter asks the courts to create an MDL. 3M opposes the motion, but the U.S. Judicial Panel on Multidistrict Litigation (JPML) agrees to consolidate all Bair Hugger infection lawsuits before one judge in the District of Minnesota.

November 2017

4,019 actions are pending as part of the Bair Hugger MDL

April 2018

First bellwether cases to be ready for trial
Profiles of People Who Filed
A number of people have filed lawsuits against 3M, alleging that the airflow from Bair Hugger products led to infections during surgery. Here are details about a few of their cases.
Tommy Walton – Tommy Walton had hip replacement surgery in March 2011. In 2013 Walton filed a lawsuit in the Southern District of Texas, Houston Division, against 3M, Arizant (the company that formerly made Bair Hugger and was bought by 3M) and a sales representative, claiming he developed a deep joint infection after his surgery and that is was caused by Bair Hugger. In the suit he says he required 15 follow-up surgeries, including a surgery in which his hip implant was removed, and his leg is permanently damaged. He is seeking more than $1 million in damages. Walton's was the first Bair Hugger lawsuit.
Barbara Libby – Barbara Libby filed a lawsuit against 3M and Arizant in the U.S. District Court, District of Minnesota. She claimed she developed a deep joint infection and was forced to undergo seven additional surgeries after a surgery involving a Bair Hugger device. The lawsuit claims the manufacturer lied to the FDA about air quality levels and that the device does not comply with air quality standards. Libby says she now suffers from permanent disability and decreased mobility.
Rosie Bartel – Rosie Bartel underwent what was supposed to be routine knee replacement surgery in 2009. After the operation she developed a methicillin-resistant Staphylococcus aureus (MRSA) infection that resulted in 27 additional surgeries. The knee implant was removed and replaced three times, and the tissue and surrounding muscle and bone cleaned or removed in attempt to rid her body of the infection. Eventually her right leg was amputated below the hip. In addition to her physical suffering, her medical problems caused her to lose her job and eventually her home.
Timothy Johnson – Timothy Johnson filed a lawsuit against 3M and Arizant in the U.S. District Court, District of Kansas, in 2014. He claimed he developed a deep joint infection after total knee arthroplasty in 2010" due to the introduction of contaminants unto his open surgical site by the Bair Hugger," he claimed in the suit. He required multiple revision surgeries, and eventually his leg had to be amputated. In addition to compensation for pain and suffering and medical expenses, Johnson is seeking punitive damages.
Ruth Childers – Ruth Childers filed a lawsuit against 3M in Harris County, Texas, state court, alleging that during knee replacement surgery in December 2013, Bair Hugger gave her a drug-resistant infection that required her leg to be amputated above the knee. She is seeking $1 million in damages.
Diane Shannon – In 2016 Diane Shannon filed a lawsuit in Cook County (Ill.) Circuit Court against 3M, Arizant and Rush University Medical Center alleging she suffered multiple burns caused by a Bair Hugger device during surgery. She's asking for more than $50,000 in damages.
3M Defends Bair Huggers
In response to Augustine's claims, these studies and increasing numbers of lawsuits, 3M launched a campaign to prove Bair Huggers were safe. 3M said Augustine's claims are alarmist and based on faulty studies and offers as evidence the results of more than 170 studies and more than 60 randomized clinical trials that show the system's benefits, efficacy and safety.
In 2016, 3M published a pamphlet entitled "Let's spread good science" in which it maintained that an independent review of literature about FAW systems by ECRI Institute, an independent organization, found "insufficient evidence to establish that the use of FAW systems leads to an increase in SSIs (surgical site infections) compared to other warming methods," and claimed that studies to the contrary used flawed methodologies.
"There is no evidence that forced-air warming increases the risk of infection," 3M attorney Christiana Jacxsens told Outpatient Surgery Magazine in 2015. "In its entire history, not one hospital, doctor or medical provider has reported a single confirmed incidence of infection believed to be caused by the Bair Hugger device."
Dr. Javad Parvizi, Professor of Orthopedic Surgery, Rothman Institute at Thomas Jefferson University, analyzed the evidence presented that FAW increased infections. He said, "There is no scientific proof that the use of forced-air warming blankets leads to an increase in surgical site infection regardless of the type of surgical procedure and the type of operating room."
Alternative Treatment Options
For patients who want to avoid operating theatres where forced-air warming is used , there are alternatives. One alternative to forced-air warming employs blankets with conductive fabric made with at least one layer of resistive polymers; in fact, Augustine's HotDog product uses conductive fabric. Another way of keeping patients warm uses a mattress or garments with circulating warm water. A third alternative is a mattress with a conductive heating surface, such as Inditherm.
Author
Terry Turner is an Emmy-winning, former television journalist. He is an associate member of the American Bar Association, the ABA's Health Law group and a member of the Alliance of Professional Health Advocates. He holds six certificates in Health Literacy for Healthcare Professionals from the Centers for Disease Control and Prevention. As a Washington-based investigative reporter, he routinely reported on health and medical policy issues before Congress, the FDA and other federal agencies. Terry received his B.A. in Media Arts from Lyon College.
---