Effexor Lawsuits
Studies show women who take Effexor during pregnancy are at higher risk of giving birth to a baby with birth defects and have an increased chance of having a miscarriage. These issues led to a string of lawsuits against drugmaker Wyeth Pharmaceuticals.
Effexor (venlafaxine) belongs to a category of drugs known as serotonin-norepinephrine reuptake inhibitors (SNRIs). These prescription drugs are used to treat depression and anxiety by affecting the balance of chemicals in the brain.
The Food and Drug Administration (FDA) approved Effexor in 1993. However, allegations have since emerged that Wyeth marketed Effexor as safe for pregnant women despite knowledge of increased risks for certain birth defects. Wyeth is now a subsidiary of Pfizer.
Effexor Risks
Effexor was marketed as safe for pregnant women despite knowledge of birth defect risks.
Legal claims against Wyeth for Effexor birth defect injuries allege the company was negligent in its duties to protect the public. Specifically, families who have been injured allege the drugmaker did not adequately warn the public about higher risks of birth defects while taking Effexor during pregnancy.
The FDA warns that babies born to women who take Effexor and other SNRIs are especially at risk of one particular birth defect known as persistent pulmonary hypertension of the newborn (PPHN), a life-threatening condition in which a baby does not change over from fetal to normal newborn blood circulation. This can damage an infant's heart and lungs. It is rarely detected before birth and can be fatal if not treated immediately.
Other birth defects associated with Effexor include:
Atrial or ventricular septal defects (holes in the heart)
Aortic stenosis (narrowing of the aortic valve opening)
Craniosynostosis (one or more fibrous joints in the skull fuse together)
Heart murmurs
Gastroschisis (intestines stick outside of the baby's body)
Spina bifida
Club foot
Pulmonary stenosis (obstruction to blood flow from the right ventricle of the heart's pulmonary artery)
These potential birth defects led to dozens of lawsuits against Wyeth, a majority of which were resolved in multidistrict litigation (MDL), a federal legal procedure used to consolidate similar cases into one federal district court.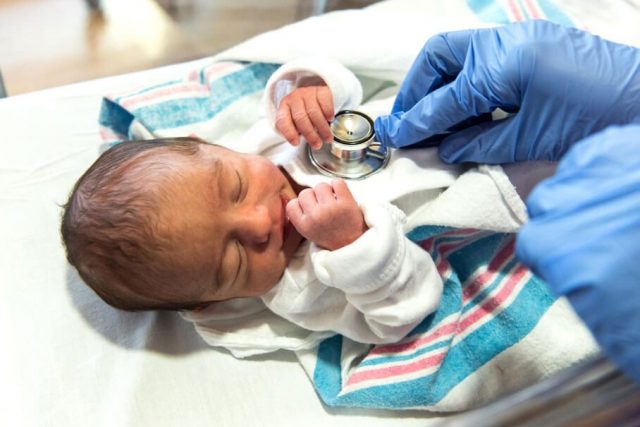 Effexor MDL Judge Closes Birth Defect Cases
In August 2013, federal Effexor birth defect lawsuits were consolidated into MDL No. 2458 in the U.S. District Court for the Eastern District of Pennsylvania.
By September 15, 2015, all cases were closed with the majority dismissed without prejudice by stipulation of counsel for the parties. Additionally, no other cases remained pending in any state or federal court that could be subject to transfer to the MDL.
Because no cases remained, federal Judge Cynthia M. Rufe called for the litigation to be stayed, a ruling by the court that halts further legal process or other legal proceedings. According to Rufe, the dismissals generally allow plaintiffs to re-file their cases within the applicable statute of limitations as long as they do so in federal court as a single plaintiff or single-family plaintiff.
Rufe also noted that since the claims concern birth defects, the statute of limitations — or the period of time someone has to bring forth legal action — is extended for minor plaintiffs.
At one time, the Effexor birth defect MDL had a high of 83 cases. In January 2015, at least 26 of those suits were requested to be dropped by plaintiffs, with Rufe signing off on at least eight of the requests. This came after Rufe ordered attorneys to select 14 cases for possible bellwether trials, which are essentially test cases intended to try a widely contested issue.
But neither those trials nor a settlement ever happened, and on Sept. 16, 2016, Rufe reported all cases were closed by stipulation subject to conditions for refiling.
As of November 2022, there have been no new developments in this litigation.
Effexor Lawsuits Prior to the MDL
Several Effexor-related birth defect lawsuits were filed prior to the establishment of the MDL.
In August 2012, two Texas families filed lawsuits in Philadelphia's Court of Common Pleas, alleging that Wyeth was responsible for their children's birth defects.
Birth defect allegations include:
Alvia Adamczyk was born with hypoplastic left heart syndrome, a birth defect that affects normal blood flow through the heart.
Lilypearl Demastus suffered from craniosynostosis, or the early growing together (or fusion) of two or more bones in the skull, preventing the brain from properly forming.
Both conditions are extremely rare and life-threatening and require surgery.
The families claimed that Wyeth had knowledge of clinical studies linking Effexor to birth defects, including heart defects and craniosynostosis. The Adamczyk and Demastus families further claimed that although the company was aware of the dangers, it failed to disclose potential problems to doctors and patients.
The mothers in both families consulted with their doctors and relied on product labels to disclose any birth defect or other pregnancy risks. In their complaints, both mothers say they would not have taken Effexor if they had been warned about these risks.
A separate lawsuit filed in 2013 by Charity Block alleged Effexor was responsible for her son's congenital anomalies.
Congenital Anomaly allegations include:
Cardiac anomalies
Paten foramen ovale (hole in the heart)
Central diaphragmatic hernia (hernia of the diaphragm)
Hypoplastic lungs (underdeveloped lungs)
Omphalocele (intestines, liver or other organs stick outside of the belly through the belly button)
The lawsuit stated: "Pfizer and Wyeth failed to fully, truthfully and accurately disclose Effexor data to the FDA, the Mother Plaintiff and the Mother Plaintiff's physicians, and as a result negligently, intentionally and fraudulently misled the medical community, physicians, the Mother Plaintiff's physicians, and Mother Plaintiff about the risks to a fetus associated with the use of Effexor during pregnancy."
Block's case was eventually rolled into the MDL in the Eastern District of Pennsylvania.
Please seek the advice of a medical professional before making health care decisions.
Share This Page:
How can we improve this page?
Thank You for Your Feedback
We appreciate your feedback. One of our content team members will be in touch with you soon.
We appreciate your feedback. One of our content team members will be in touch with you soon.
Who Am I Calling?
Calling this number connects you with a Drugwatch representative. We will direct you to one of our trusted legal partners for a free case review.
Drugwatch's trusted legal partners support the organization's mission to keep people safe from dangerous drugs and medical devices. For more information, visit our partners page.