Effexor Side Effects
Nausea, sexual dysfunction and decreased appetite are among the common side effects of Effexor (venlafaxine). The antidepressant drug can also cause more serious problems, including suicidal thoughts and behavior, elevated blood pressure and miscarriages.
Serious Effexor Side Effects
The antidepressant Effexor may worsen depression, trigger insomnia and mania, or lead to a heightened risk of suicidal thoughts and behaviors in some people. It is designed to boost brain levels of serotonin and norepinephrine, important neurotransmitters that can elevate energy levels, alertness and positive feelings.  
 Effexor — which is only available in its generic form, venlafaxine, or in the extended-release version of the drug, Effexor XR — can cause other serious side effects, including:
Abnormal Bleeding

Angle closure glaucoma

Dangerous elevations in serotonin levels (serotonin syndrome)

Decreased appetite and anorexia in pediatric patients

Discontinuation syndrome (withdrawal symptoms)

Elevated blood pressure

Eosinophilic pneumonia

Interstitial lung disease

Low sodium levels

Seizures

Weight and height changes in pediatric patients
Because Effexor and other antidepressants have also been linked to miscarriage and complications in newborns, patients should notify their doctor if they are pregnant or may become pregnant while taking the drug. Venlafaxine can also be passed from mother to child through breast milk, so women should talk to a physician if they plan to breastfeed while taking the drug.
Nausea, Sexual Dysfunction and Other Common Side Effects
Nearly one-third of patients taking Effexor XR in clinical trials developed nausea, the most common side effect of the medication. Other frequently reported side effects included sleepiness and dry mouth, which occurred in approximately 15% of patients. About 1 in 10 patients developed anorexia while taking venlafaxine.
Other common Effexor side effects include:
Blurred vision
Constipation
Diarrhea
Dizziness
Elevated heart rate
Feeling anxious or jittery
Frequent yawning
Headache
Sweating
Tremor or shaking
Unusual dreams and trouble sleeping
Vomiting
Sexual problems are another common problem associated with antidepressants. In clinical trials, nearly 10% of participants who took Effexor reported "abnormal ejaculation." One 2022 study in European Psychiatry reported that a man developed painful ejaculation after taking venlafaxine.
A 2010 study in the journal Psychiatry Investigation found nearly 55% of individuals on venlafaxine experienced sexual dysfunction. Symptoms range from decreased sexual desire (libido) to an inability to climax.
Advertisement
Professional Therapy, Done Online
A licensed therapist with BetterHelp can provide professional support and guidance, on your schedule. Sign up and get matched in as little as 48 hours.
Get Started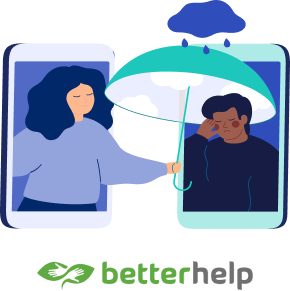 Higher Suicide Risk and Dangerous Serotonin Levels
Like most other antidepressant medications, Effexor has been associated with worsening depression and the emergence of suicidal thoughts and/or behaviors, or unusual changes in behavior. A 2007 study of nearly 200,000 patients found that adults using venlafaxine had a higher risk of suicide and attempted suicide than patients using other antidepressant medications. But study authors Annalisa Rubino and colleagues noted in the journal BMJ that those patients using venlafaxine also had a "higher burden of suicide risk factors" to begin with.
As with any antidepressant, the risk of suicide is greater during the "early phases of treatment," according to the drug's label — and young people under the age of 24 are most at risk.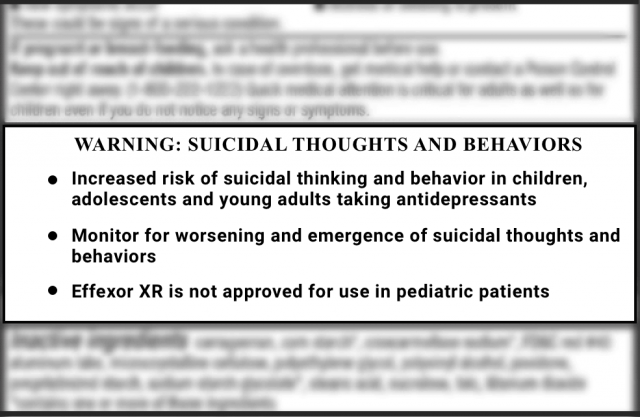 Venlafaxine has also been linked to a rare but potentially life-threatening elevation in the body's serotonin levels known as serotonin syndrome. A person's risk of serotonin syndrome is higher if they are taking other medications — such as triptans, tricyclic antidepressants, fentanyl and St. John's wort — that also increase serotonin levels. But serotonin syndrome has occurred in individuals taking venlafaxine alone. While rare, serotonin toxicity can be fatal if it's not treated.
A 2003 case report in the Annals of Pharmacotherapy described a 29-year-old woman in Taiwan who developed tremors, shivering, vomiting, diarrhea, an elevated heart rate and other symptoms of serotonin syndrome after receiving "low-dose" venlafaxine therapy of 37.5 mg per day. Doctors treated her with an antinausea medication and a sedative in the emergency department, and her symptoms resolved within two hours.
Rises in Blood Pressure 'Most Feared Complication'
Results of controlled trials found dose-related increases in systolic and diastolic blood pressure among patients taking venlafaxine, according to Effexor's label. The average diastolic increase was 7.2 points among patients taking 375 mg daily — and 13% of patients on that dose experienced some sort of sustained elevation in blood pressure. Patients taking 75 mg to 225 mg daily experienced no increase.
Fact
In a 2004 British study, 1 in 10 patients taking an average dose of 342 mg of venlafaxine daily for depression developed "mildly raised" blood pressure.
Most of the time the elevations in blood pressure associated with Effexor are mild, but some cases have been severe and required immediate treatment. A 2014 report in the journal Case Reports in Psychiatry described a 23-year-old man who developed nosebleeds and headaches after 10 months of taking 150 mg of venlafaxine daily for depression. He ended up hospitalized in a hypertensive crisis, with a blood pressure reading of 210 over 170. His blood pressure returned to normal when he was taken off the drug.
The authors of the study noted that hypertension is most common in doses exceeding 300 mg per day and is "the most feared complication" associated with the drug's use.
Advertisement
Real Therapy, Done Online
BetterHelp offers flexible scheduling so you can make time for therapy in between meetings, classes, child care, and more. Get 20% off your first month.
Get Started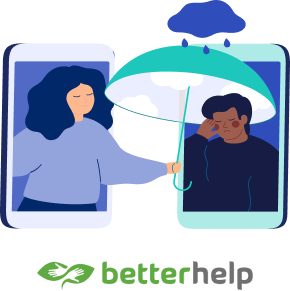 Increased Chance of Miscarriage and Birth Defects
The use of antidepressants has been linked to an increased risk of miscarriage, according to a study published in the Canadian Medical Association Journal in 2010.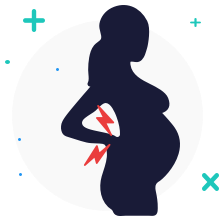 Researchers with the University of Montreal and the CHU Sainte-Justine Mother and Child University Hospital reviewed data collected by the Quebec Pregnancy Registry from 1998 to 2003. The review covered information about 70,000 women between the ages of 15 and 45.
The evaluation included more than 5,000 women who had experienced miscarriages up to 20 weeks into the pregnancy and another 51,000 women who did not have miscarriages. Of those women who miscarried, about 5.5% had taken antidepressants during their pregnancy. Overall, the study found a 68% increased risk of miscarriage in women who used antidepressants during pregnancy compared to those women who never used the drugs.
Miscarriage Risk
In one study, 33 of 161 women taking venlafaxine suffered a miscarriage. Half of the women taking a dose greater than 150 mg daily miscarried, compared to 19% of those taking a smaller dose.
Effexor XR's label warns that the drug should be used by expectant mothers "only if clearly needed." Babies exposed to Effexor and other antidepressants during the third trimester of pregnancy have been born with significant problems, including:
Bluish discoloration from poor oxygenation
Floppy or rigid muscle tone
Irritability, jitteriness and constant crying
Low blood sugar levels
Respiratory distress
Temporary pauses in breathing
Trouble feeding
Trouble maintaining body temperature
Vomiting
These complications may represent withdrawal symptoms, serotonin syndrome or other toxic side effects of the drug, according to the drug's manufacturer.
A 2012 study using data from the National Birth Defects Prevention Study found "statistically significant associations" between venlafaxine use during the first trimester of pregnancy and several serious birth defects. These included:
Anencephaly (underdeveloped brain and/or incomplete skull)
Coarctation (narrowing) of the aorta and other heart defects
Cleft palate
Gastroschisis (a hole in the abdominal wall through which intestines or other abdominal organs may protrude)
One explanation for these effects, according to the study's authors, could be that venlafaxine interrupts important "embryologic signaling pathways" that rely on serotonin and norepinephrine. Another possibility is that the women in the study who used Effexor had other risk factors.
Lawsuits alleged Effexor's manufacturer marketed the drug as safe for use during pregnancy despite being aware of an increased chance of birth defects.
Appetite Loss, Anorexia and Weight Loss in Children
In premarketing evaluation of the drug, decreased appetite was observed more frequently in pediatric patients treated with Effexor versus those treated with placebo. In some cases, appetite loss led to anorexia.
During clinical trials, 18% of pediatric patients experienced a weight loss of 3.5% or more while taking the drug. Over the course of the six-month study, both children and adolescents had height increases that were also less than expected when compared with their peers.
Interstitial Lung Disease and Eosinophilic Pneumonia
Effexor use has been associated with interstitial lung disease and eosinophilic pneumonia in rare instances, according to the drug's label. Interstitial lung disease is the name for a large group of diseases that can inflame or scar the lungs, resulting in a lack of oxygen. Scarring is permanent.
Eosinophilic pneumonia is a disease in which eosinophils, a type of white blood cell, accumulate in the lungs, usually in the bloodstream. These cells invade tiny air sacs (alveoli) in the lungs, despite the absence of infection, and make breathing difficult.
Patients who develop shortness of breath, a cough or chest discomfort while taking venlafaxine should contact their physician and consider ceasing use of the medication, according to the drug's label.
Withdrawal Symptoms
Another serious Effexor side effect is discontinuation syndrome, which can occur when the medicine is stopped suddenly, the dose is decreased too quickly or a dose is missed. Because venlafaxine has a short half-life of just four hours, withdrawal symptoms can come on quickly.
Withdrawal effects may include agitation, insomnia and flu-like symptoms, such as headaches, fatigue and nausea. But a number of patients also described unsettling sensations in the head mimicking electrical discharges. These popping sensations are sometimes referred to as "brain zaps" or "brain shivers."
To avoid discontinuation syndrome, Effexor should be discontinued gradually, and patients should be monitored for symptoms while weaning off the medication. According to the drug's label, patients in clinical trials were successfully tapered by reducing their dosage by 75 mg every week. If severe symptoms develop, the patient's doctor may temporarily increase the dose and then taper the patient more slowly.
Advertisement
Professional Therapy, Done Online
A licensed therapist with BetterHelp can provide professional support and guidance, on your schedule. Sign up and get matched in as little as 48 hours.
Get Started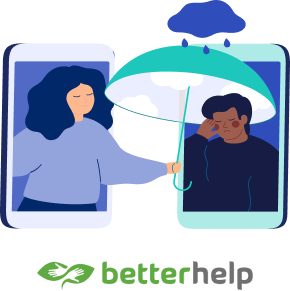 Please seek the advice of a medical professional before making health care decisions.
Share This Page:
How can we improve this page?
Thank You for Your Feedback
We appreciate your feedback. One of our content team members will be in touch with you soon.
We appreciate your feedback. One of our content team members will be in touch with you soon.
Who Am I Calling?
Calling this number connects you with a Drugwatch representative. We will direct you to one of our trusted legal partners for a free case review.
Drugwatch's trusted legal partners support the organization's mission to keep people safe from dangerous drugs and medical devices. For more information, visit our partners page.