Fosamax Side Effects
Doctors prescribe Fosamax to prevent age-related bone damage. The drug can cause minor side effects including abdominal pain, acid regurgitation and constipation. In rare cases, people who take the drug may suffer from serious side effects such as femur fractures, jaw problems and esophageal ulcers.
For many people, one of the worries that comes with getting older is the risk of developing osteoporosis. This debilitating disease makes bones so brittle they easily break.
When Fosamax (alendronate) was introduced in 1995, it was promoted as the solution to osteoporosis and other bone-damaging diseases. However, studies show that the drug causes serious side effects that may be more problematic than osteoporosis itself.
The drug's manufacturer, Merck, says the most common side effects include gastrointestinal issues, such as nausea, diarrhea, constipation and cramping. The U.S. Food and Drug Administration documented several of the drug's more serious side effects and subsequently distributed numerous warnings.
Though rare, severe health problems associated with Fosamax can be crippling. These include femur fractures, Dead Jaw Syndrome, esophagus problems and musculoskeletal pain. Some of these side effects led people to file Fosamax lawsuits against Merck.
Abdominal Pain and Other Side Effects Reported Most in Clinical Trials
According to the medication insert, Fosamax has a handful of common side effects. In clinical trials, these occurred in 3 percent or more of the participants. Researchers based their results on four clinical trials that enrolled 7,453 women with postmenopausal osteoporosis between the ages of 44 and 84.
The most frequently reported adverse events included:
Abdominal pain
Acid regurgitation
Constipation
Diarrhea
Dyspepsia (indigestion)
Musculoskeletal pain
Nausea
Overall, the most reported side effect was abdominal pain. Out of 196 participants who took 10 mg of the drug for three years, about 6.6 percent (roughly 12 people) reported abdominal pain. About 4.8 percent of the 397 participants who took the placebo reported the side effect.
Slightly more participants in the placebo group dropped out of the trial for adverse events than in the Fosamax group. Serious adverse events occurred in about 30 percent of participants in both groups.
Femur Fractures
Research has shown a connection between long-term Fosamax use and femur fractures. Some patients reported that they suffered unexplained aching in their thigh bones for weeks and months before experiencing unexplained breaks.
One study published in The Journal of Orthopaedic Trauma looked at 20 patients who had recent broken bones and 19 had been taking the drug for an average of about seven years, The New York Times reported.
"Many of these women will tell you they thought the bone broke before they hit the ground," study author Dr. Dean G. Lorich told The New York Times.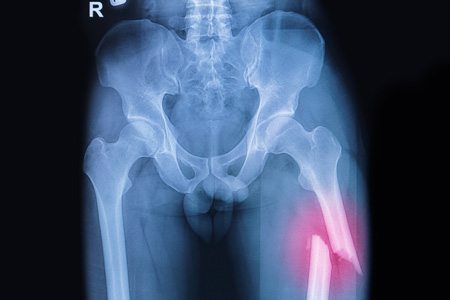 A 2007 study by Goh and colleagues looked at 13 women who had femur fractures. Nine had been taking alendronate, the generic form of Fosamax. Five of them reported pain in the affected area months before the fracture occurred.
Women who took alendronate were younger with an average age of about 66 years and many of their fractures occurred after "minimal trauma," Goh and colleagues reported. For example, one woman was shopping when she heard her leg crack. Another woman fractured her femur while walking down the stairs. One woman reported "tripping awkwardly" while crossing the road, then suffering right thigh pain.
E.B. Kwek and colleagues found that people who suffered fractures while undergoing alendronate therapy took the drug for an average of about 5 years. Researchers say that the fractures occurred because alendronate stops the body from breaking down bone. This creates thick, but brittle bones.
Did you know
In October 2010, the FDA ordered Merck to change its drug label to reflect the bone-fracture connection.
Fosamax use may also make fractures more difficult to heal. Mark L. Prasarn and colleagues found patients treated with bisphosphonates had more fractures that occurred during fracture repair surgery and had more complications after the surgery. They published their results in the journal Clinical Orthopaedics and Related Research.
Brett A. Lenart and colleagues wrote about safety of long-term use of alendronate in a letter to the editor in The New England Journal of Medicine. The letter said, "Bone biopsies in these patients showed evidence of severely suppressed bone turnover and fracture healing that was delayed or absent."
Osteonecrosis of the Jaw (ONJ)
According to the FDA, bisphosphonates including Fosamax, have carried warnings about osteonecrosis of the jaw (ONJ) since 2002. Osteonecrosis of the jaw occurs when jawbone is exposed and starves from lack of blood. Osteonecrosis literally means "bone death." The FDA has said the risk of osteonecrosis from bisphosphonates should not stop women from taking these drugs to prevent fractures from osteoporosis.
A 2014 update by Ruggerio and colleagues in the Journal of Oral Maxillofacial Surgery found the risk of ONJ in patients who used bisphosphonates for more than four years was 21 in 10,000.
In the same year, Paiva-Fonesca and colleagues found the rate of ONJ and bisphosphonates varies from 0.7 to 12 percent in patients receiving intravenous treatment. The authors noted that one study of 208 patients showed an incidence rate as high as 4 percent.
At the same time, Merck's clinical trials have found a very low incidence rate of ONJ connected to Fosamax. In its studies, the company looked at 17,000 patients who had taken the drug for as long as a decade and found a link unlikely. According to Paiva-Fonesca and colleagues, Merck has listed the incidence rate at about 1 in 100,000.
"In all of our controlled clinical trials, including the 10-year data with Fosamax, which have included more than 17,000 patients, we have not had reports of osteonecrosis of the jaw occurring in patients taking Fosamax," Merck told the Wall Street Journal in 2006.
Esophagus Problems
Bones aren't the only parts of the body vulnerable to Fosamax side effects. Some people who take the medication develop irritation, inflammation and bleeding ulcers in the esophagus, which is the tube that connects the mouth to the stomach.
Those who have pre-existing upper gastrointestinal problems, such as Barrett's esophagus and dysphagia, should not take Fosamax. In some patients, use of the drug leads to esophageal erosion with bleeding and esophageal perforation. Because of these potentially dangerous side effects, Merck recommends that patients sit upright or stand for a full 30 minutes after taking the drug and take it with a full glass of water.
In clinical trials conducted by Merck, 1.5 percent of 196 study participants suffered esophageal ulcers and 0.7 percent of 146 suffered gastroesophageal reflux disease.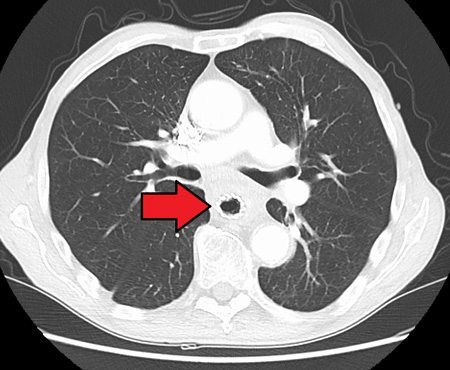 Some studies point to these problems leading to a small risk of esophageal cancer, though Merck's medication insert has no mention of cancer.
The concerns began in 2009 when Diane Wysowski of the FDA found 23 reports of esophageal cancer in patients taking Fosamax and published her findings in the New England Journal of Medicine, Medscape reported. She also found "crystalline material similar to ground alendronate tablets" in patients with erosive esophagitis.
But the FDA has since investigated the findings and said that the evidence linking the drug to the cancer is not consistent.
"Differences in methodologies in these studies may account for the discrepant findings. Also, since these studies are observational rather than randomized, they are subject to bias and confounding," the agency said in 2011 Drug Safety Communication.
The largest risk numbers came from a 2010 study published in BMJ by Jane Green and colleagues. Researchers looked at the U.K. General Practice Research Database for patients who had taken oral bisphosphonates. They found the risk of esophageal cancer increased for those who filled 10 or more prescriptions or used the drugs for five years.
"In Europe and North America, the incidence of oesophageal cancer at age 60-79 is typically 1 per 1000 population over five years, and this is estimated to increase to about 2 per 1000 with five years' use of oral bisphosphonates," researchers wrote.
Authors stressed that the overall risk remains low, but doctors should be mindful of symptoms of possible cancer of the esophagus.
Low Calcium Levels in Blood and Musculoskeletal Pain
Merck warns in its medication insert that Fosamax can lower blood calcium levels. Because the medicine works by hindering the natural breakdown of bone, less calcium is deposited back into the blood stream.
In long-term studies, calcium in the blood decreased by about 2 percent in the first month, according to Merck's medication insert. The insert suggests supplementing with calcium and vitamin D. People with low calcium levels, also known as hypocalcemia, should correct the deficiency before taking Fosamax.
The FDA found that Fosamax patients can also develop severe bone, muscle and joint pains within days, months or years after starting the drug. For some people, this pain stops almost immediately after discontinuing the medication. For others, the side effect is ongoing.
In 2008, the FDA advised health care professionals to consider bisphosphonates as a possible cause for severe musculoskeletal pain and "consider temporary or permanent discontinuation of the drug."
"Healthcare professionals should consider whether bisphosphonate use might be responsible for severe musculoskeletal pain in patients who present with these symptoms and consider temporary or permanent discontinuation of the drug."
In a 2010 case study reported in Indian Journal of Pharmacology, doctors described a patient who developed bone pain the day after she started taking alendronate, the generic form of Fosamax.
The 64-year-old woman described in the case study took the drug three times — each time a week a part. After the first two doses, she felt pain throughout her body that lasted for three days. After the third dose, she felt the pain and suffered swelling in her right ankle.
She sought medical care, and doctors found her calcium levels were low and markers of inflammation were high. They told her to discontinue the alendronate and gave her a pain reliever. Two weeks later, her symptoms had resolved and her blood work had returned to normal.
"We conclude that patients with osteoporosis can report pain, and bisphosphonate-related pain should also be considered before ascribing this complaint to osteoporosis," the authors wrote.
Please seek the advice of a medical professional before making health care decisions.
Share This Page:
How can we improve this page?
Thank You for Your Feedback
We appreciate your feedback. One of our content team members will be in touch with you soon.
We appreciate your feedback. One of our content team members will be in touch with you soon.
Who Am I Calling?
Calling this number connects you with a Drugwatch representative. We will direct you to one of our trusted legal partners for a free case review.
Drugwatch's trusted legal partners support the organization's mission to keep people safe from dangerous drugs and medical devices. For more information, visit our partners page.