J&J DePuy Claims Win in First Pinnacle Hip Trial
Fact-Checked
Editors carefully fact-check all Drugwatch content for accuracy and quality.
Drugwatch has a stringent fact-checking process. It starts with our strict sourcing guidelines.
We only gather information from credible sources. This includes peer-reviewed medical journals, reputable media outlets, government reports, court records and interviews with qualified experts.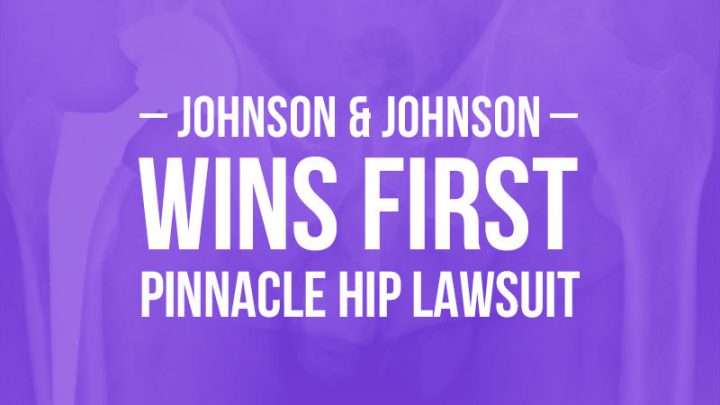 A Texas jury ruled against a woman who claimed that a DePuy Pinnacle hip implant poisoned her and made her incur a series of revision surgeries, handing Johnson & Johnson a victory in a bellwether case involving the implant.
Nine Dallas jurors, including an engineer and a real estate lawyer, took 12 hours over three days to conclude that the ULTRAMET Pinnacle hip implanted into Kathleen Herlihy-Paoli had no design defects and that the Big Pharma company properly warned patients about the risks. Herlihy-Paoli had asked for more than $1.5 million to compensate her for multiple surgeries because of complications from the implant.
"The evidence showed that ULTAMET Metal-on-Metal was designed to meet the needs of patients and is backed by clinical data showing a track record of safety and effectiveness in reducing pain and restoring mobility for patients suffering from chronic hip pain," J&J spokesperson Mindy Tinsley told Bloomberg.
The case in the U.S District Court in the Northern District of Texas was one of many lawsuits against J&J and its DePuy unit that poured in after patients complained that the metal-on-metal Pinnacle implants failed long before their lifespan was to end, leading to additional surgeries and painful complications. Other plaintiffs also claimed small metal particles flaking off the devices seeped into the blood and surrounding tissues, causing metal poisoning.
This is the first case to go to trial out of some 6,600 consolidated under Judge Ed Kinkeade.
"[This case] is the first skirmish in what is likely to be a long war," Herlihy-Paoli's attorney, Mark Lanier, told Reuters. "We still plan to press on with fierce dedication to clients we believe have been tragically wronged."
Lanier serves as lead counsel for all consolidated cases.
DePuy officials praised the jury's verdict and said they would continue to defend the implants.
Cobalt and Chromium Poisoning
Herlihy-Paoli's complaints mirrored those of these other plaintiffs. Shortly after she received her implants in 2009, she complained of pain and had them removed in 2011.
The tissue surrounding the implant became infected, and she required multiple surgeries to correct the problems and replace the implants. Blood tests also revealed that the cobalt and chromium levels in her blood were 85 times the normal level – a problem called metallosis and metal poisoning linked to metal-on-metal implants in several studies.
She said metal ions seeped into her blood after the metal parts of the Pinnacle rubbed together, according to her lawsuit. She blamed DePuy for concealing information of above-average failure rates and marketing the device to active people.
DePuy's lawyers blamed Herlihy-Paoli's doctor for implanting the device improperly and called the implant safe. They also said that her claims compared her Pinnacle device to another metal-on-metal implant, the ASR, J&J's problematic device beleaguered by several thousand lawsuits.
Thousands of Pinnacle Lawsuits Consolidated
Plaintiff's lawyers in charge of the consolidated cases selected Herlihy-Paoli's case to gauge how to proceed with other pending cases. In August 2013, DePuy stopped selling the implants after the U.S. Food and Drug Administration required the company to conduct more safety testing. The device maker claimed the decision had nothing to do with performance.
During the trial, Lanier and Herlihy-Paoli's team told the jury that the Pinnacle was the basis for J&J's other line of metal-on-metal implants, the ASR. The company recalled 93,000 implants in 2010 after studies revealed 12 percent of the devices failed within 5 years.
Evidence released during the trial of Loren Kransky, who sued J&J after his ASR left him injured, showed that the device maker knew the failure rate could be as high as 40 percent.
Last year, DePuy agreed to pay $2.5 billion to settle about 7,000 of the ASR claims, including $1 billion to insurers who paid for removing the recalled implants. Along with other expenses, the ASR litigation could cost J&J $4 billion.
That the jury sided with J&J in this latest verdict came as a surprise to some experts, including Carl Tobias, a University of Richmond law professor. Tobias told Reuters the jurors might have been swayed by defense's argument that the implants could have been implanted incorrectly.
"[DePuy] can take some comfort in this verdict," he said. "But I'm sure there will be more."
Share This Page:
How can we improve this page?
Thank You for Your Feedback
We appreciate your feedback. One of our content team members will be in touch with you soon.
We appreciate your feedback. One of our content team members will be in touch with you soon.