FDA Reconsiders, Orders Heart Attack Warning for Testosterone
Fact-Checked
Editors carefully fact-check all Drugwatch content for accuracy and quality.
Drugwatch has a stringent fact-checking process. It starts with our strict sourcing guidelines.
We only gather information from credible sources. This includes peer-reviewed medical journals, reputable media outlets, government reports, court records and interviews with qualified experts.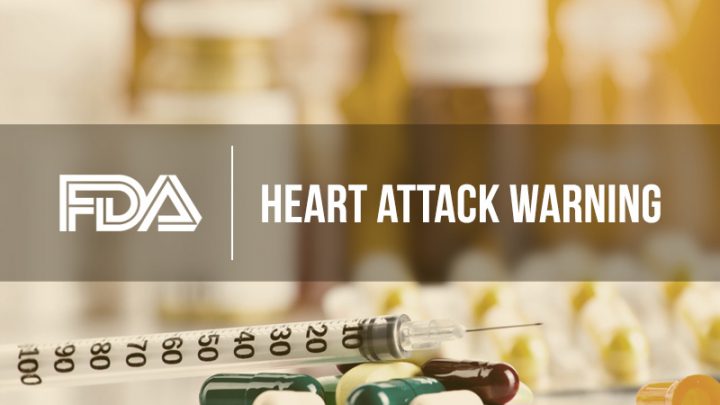 The Food and Drug Administration (FDA) ordered testosterone drugmakers to add heart attack and stroke risk warnings to medication labels and also warned doctors against over-prescribing the medication.
The agency announced recently that pharmaceutical companies must clarify that testosterone drugs are only approved for use in men with low testosterone caused by an injury or disease. They also must warn physicians and patients that the treatment is not without risks, that the medication may increase the risk of cardiovascular problems including heart attack and stroke.
"FDA has become aware that testosterone is being used extensively in attempts to relieve symptoms in men who have low testosterone for no apparent reason other than aging," the agency said. "The benefits and safety of this use have not been established."
Current information about testosterone drugs is vague enough that manufacturers could market their products to healthy older men with age-related testosterone decline and who wanted to regain their youth.
Millions of men take popular drugs like AndroGel, Testim and Axiron, thanks in part to multimillion-dollar advertising campaigns heralding the medications as treatments for common signs of aging such as depression, fatigue and low sex drive.
Sales skyrocketed into the billions over the past several years. Last year, AndroGel alone brought in $934 million, Bloomberg reported.
Some men claim these drugs caused them to have heart attacks, strokes and other health issues, and they started filing lawsuits to seek damages. More than 1,000 federal lawsuits are pending against various makers of testosterone products, including Eli Lilly and AbbVie.
Watchdog: FDA Delay on Warning 'Inexcusable'
The FDA's move to crack down on testosterone therapy drugs comes after more than a year of investigations into cardiac risk. It first announced it was "investigating the risk of stroke, heart attack, and death in men taking FDA-approved testosterone products" in a safety communication in January 2014.
At the time, it found no evidence of risk.
Dr. Sidney Wolfe of the consumer watchdog group Public Citizen is in favor of the FDA's mandate but questions an "inexcusable delay" in action. The group petitioned the FDA in February 2014 to add a black-box warning to the drugs. It included extensive evidence from studies as part of its request.
The FDA rejected the petition in July, citing "insufficient evidence."
"The real question here is why the FDA didn't do something sooner. This decision they made was based on the same data provided with the petition over a year ago," Wolfe told Drugwatch. "There was no question these drugs were harmful. The FDA's own advisory committee agreed."
In contrast, Canada acted the day after the petition went out and issued a health warning in July. Since then, health care providers in the U.S. wrote about 4 million new prescriptions in less than eight months.
Had the FDA acted sooner, it could have prevented more possible injuries from these drugs, Wolfe said. He cites the agency's ties to Big Pharma as part of the problem.
When the FDA rejected Public Citizen's petition last year, Wolfe fired off a statement: "The FDA is more sensitive to pressure from doctors dispensing more than 7 million prescriptions of testosterone in the past year and from the companies selling billions of dollars of testosterone products."
In September 2014, the FDA's Bone, Reproductive and Urologic Drugs Advisory Committee panel voted 20-1 that drugmakers like AbbVie, Pfizer and Eli Lilly & Co. need to revise product labels to include stricter language on what health conditions should be treated with the drugs.
Panel members also agreed that drug companies should conduct more safety studies to definitively rule out risk of cardiovascular problems.
Safety Controversy
Not all doctors agree that testosterone merits such warnings. In March of last year, a group of pro-testosterone doctors calling themselves The Androgen Study Group wrote a letter to the Journal of the American Medical Association calling for the journal to retract an article by Dr. Michael Ho and colleagues. Ho's article associated testosterone therapy with a greater risk of death, stroke and heart attack.
"There's no misconduct, no one faked any data, it's just sloppy," Abraham Morgentaler of Harvard Medical School and a member of The Androgen Study Group told MedPage Today.
In the past year, a number of new studies praising testosterone's benefits surfaced. Some even say testosterone prevents heart attacks.
Wolfe cautioned against studies that may overstate the benefits of a drug. According to Wolfe's article in the British Medical Journal (BMJ), the studies that found no cardiac risk with testosterone were all funded by Big Pharma, whereas those that were independent showed some risk.
"For every 10 studies, 7 or 8 are funded by drug companies," he said.
Share This Page:
How can we improve this page?
Thank You for Your Feedback
We appreciate your feedback. One of our content team members will be in touch with you soon.
We appreciate your feedback. One of our content team members will be in touch with you soon.