C.R. Bard Settles 3,000 Mesh Cases for $200 Million
Fact-Checked
Editors carefully fact-check all Drugwatch content for accuracy and quality.
Drugwatch has a stringent fact-checking process. It starts with our strict sourcing guidelines.
We only gather information from credible sources. This includes peer-reviewed medical journals, reputable media outlets, government reports, court records and interviews with qualified experts.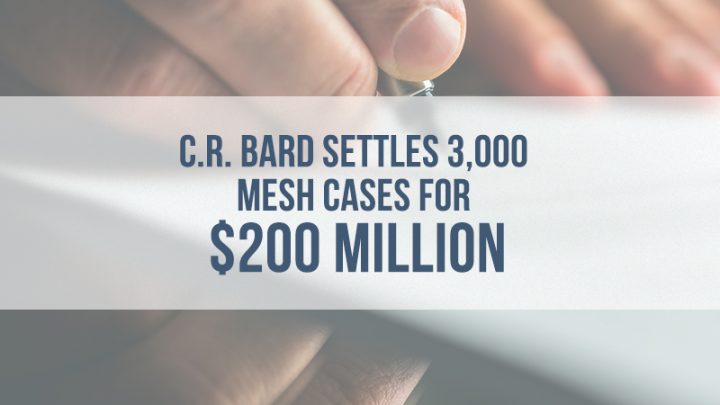 Victims of transvaginal mesh injuries earned another victory over device manufacturers. C.R. Bard agreed to pay $200 million to settle roughly 3,000 cases, concluding about 20 percent of remaining lawsuits against mesh manufacturers.
The settlement resolved the majority of the company's transvaginal mesh cases remaining in multidistrict litigation (MDL) courts.
Plaintiffs filed more than 80,000 cases in MDLs, claiming the devices injured them. Thus far, manufacturers agreed to settlements or lost verdicts resulting in more than $1 billion of payments.
Transvaginal mesh is a device made of polypropylene plastic which doctors insert through a woman's vagina to treat pelvic organ prolapse (POP) and stress urinary incontinence (SUI). POP and SUI are complications women suffer after a hysterectomy, menopause or childbirth.
Mesh surgery has a high complication rate, and mesh devices sometimes erode causing painful complications resulting in nerve damage, infection, scarring and muscular problems requiring revision surgery. Mesh lawsuits claim manufacturers failed to ensure the safety and effectiveness of their products and provided false and misleading information.
Injured by complications related to Transvaginal Mesh?
Years of Litigation Comes Closer to an End
C.R. Bard continues to claim its device is safe, admitting no fault in court settlements. The company initially took cases to trial, and appealed trial losses. But after appellate courts upheld verdicts, Bard began to settle cases before trial.
In 2012, Bard lost a $5.5 million mesh lawsuit in California which included $5 million in punitive damages. In 2013, the company lost its first federal mesh lawsuit, resulting in a $2 million verdict. Days later, the company settled another lawsuit for $2 million.
In 2014, Bard agreed to pay $21 million to resolve 500 lawsuits in its first major settlement.  Later in 2014, U.S. District Judge Joseph Goodwin warned Bard against taking more cases to trial. With more than 3,000 cases remaining against the company and a precedent of multi-million dollar verdicts, Bard could have been forced into bankruptcy if it did not settle the remaining cases.
Bard recently added $337 million to its $660 million reserve for lawsuits, according to a Bloomberg report.
While some mesh manufacturers already reached major settlements, others still have thousands of cases remaining in MDL and state courts:
American Medical Systems settled about 20,000 cases for $830 million in 2014.
Coloplast settled 400 lawsuits for $16 million in 2014.
Johnson & Johnson settled more than 100 lawsuits for an undisclosed amount in February of 2015. The company still has thousands of suits remaining against it.
Boston Scientific settled about 3,000 cases for $119 million in April of 2015. It still has thousands of cases against it.
Despite Controversy, FDA Approves New Mesh Device
A large amount of controversy surrounding transvaginal mesh devices involves the devices' clearance by the Food and Drug Administration (FDA).
The agency did not require manufacturers to conduct clinical trials before releasing mesh products, and no mesh device was tested in a human before it was marketed. The FDA clears medical devices without proof of safety through its 510(k) premarket clearance program. The manufacturer only has to prove a new device is similar to an already approved device to receive clearance.
In April of 2015, the FDA approved Caldera Medical's updated Vertessa Lite device through the 510(k) program. The 510(k) program came under scrutiny after mesh complications resulted in one of the largest mass torts in U.S. history. Those opposed to the program claim it allows the release of unsafe or unproven devices to the public.
Although manufacturers whose mesh devices were approved through the 510(k) program lost more than $1 billion in verdicts and settlements to patients harmed by their devices, the FDA used the program to approve Caldera Medical's new mesh product.
Share This Page:
How can we improve this page?
Thank You for Your Feedback
We appreciate your feedback. One of our content team members will be in touch with you soon.
We appreciate your feedback. One of our content team members will be in touch with you soon.