FDA: Diabetes Drugs Such as Januvia, Others Linked to Severe Joint Pain
Fact-Checked
Editors carefully fact-check all Drugwatch content for accuracy and quality.
Drugwatch has a stringent fact-checking process. It starts with our strict sourcing guidelines.
We only gather information from credible sources. This includes peer-reviewed medical journals, reputable media outlets, government reports, court records and interviews with qualified experts.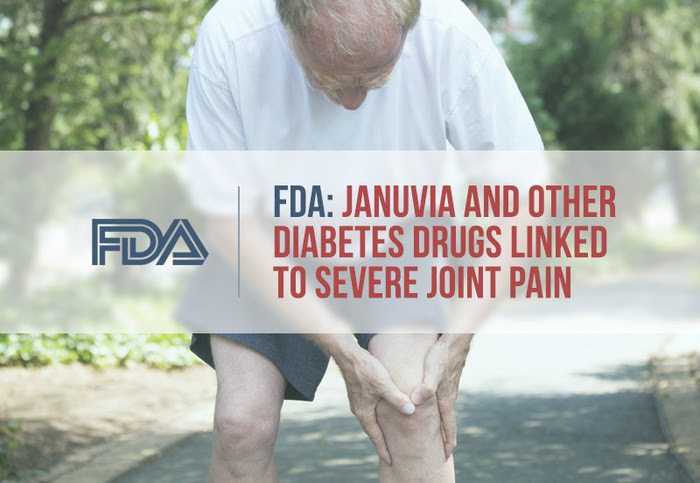 The U.S. Food and Drug Administration (FDA) warned that Type 2 diabetes drugs in the Dipeptidyl peptidase-4 (DPP-4) inhibitors class may cause severe joint pain.
A new warning will be added to the labels of all drugs in the class, said the FDA. These medications control blood sugar by blocking an enzyme in the body called dipeptidyl peptidase-4, allowing the body to make more insulin. The first approved medication in this class is Merck's Januvia (sitagliptin) which hit the market in 2006. From 2006 to 2013, the agency noted 33 cases of severe, disabling joint pain.
In addition, the FDA said these patients reported symptoms that might be the result of "an immunological reaction," including: rash, chills, fever and swelling. Symptoms appeared within about a month of taking one of the DPP-4 drugs.
Out of the 33 cases of joint pain, 28 cases were linked to Januvia, five were linked to Onglyza (saxagliptin), two to Tradjenta (linagliptin) and one to Nesina (alogliptin). Symptoms stopped in some patients after taking one of these drugs and came back when therapy resumed.
Merck, "anxious to avoid the impression that its product sitagliptin was especially risky in this regard," said that its drug accounts for more than 80 percent of all prescriptions in this class, MedPage Today reported.
The FDA also warned about other side effects linked to DPP-4 inhibitors, including low blood sugar and inflammation of the pancreas known as pancreatitis. It also said that patients should see their doctors if they develop joint pain symptoms and urged doctors to find an alternative medication if possible.
Patients should not discontinue medication on their own, the agency added.
Merck Makes Billions with Januvia
With more people diagnosed with diabetes each year, manufacturing medications to control blood sugar has become a big business. In 2012, it cost $244 billion to treat Americans with diabetes, according to figures provided by the American Diabetes Association – up almost 50 percent from 2007.
Big Pharma enjoys a health profit by treating this disease, and DPP-4 drugs are a popular choice.
Januvia is by far the most popular DPP-4 medication, and it raked in $6 billion in annual sales for Merck. By 2018, forecast experts say the drug's sales will climb to $7.1 billion. The drug maker also benefits from keeping the patent on Januvia until 2022, allowing them to keep charging full price – about $200 a month – without competition from generics.
AstraZeneca's Onglyza brings in about $820 million annually.
Diabetes Drugs with Questionable Safety Profiles and Lawsuits
Prior to this warning, in 2009 the FDA warned that Januvia could pose a risk of acute pancreatitis. In 2013, the agency began investigating DPP-4's along with other drugs in the incretin mimetic class like Victoza (liraglutide) and Byetta (exenatide) for pancreatitis and a possible increased risk of pre-cancerous cells in the pancreas.
Further studies have still been unable to confirm without a doubt that the drugs do not pose a risk. A number of patients have since file lawsuits against the drug's manufacturers.
Other Type 2 diabetes drugs that earned a warning this year are the sodium-glucose cotransporter-2 (SGLT2) inhibitors. SGLT2 inhibitors work by blocking glucose absorption in the kidneys and causing sugar to leave the body in urine. In May 2015, the FDA warned that drugs like Invokana (canagliflozin) and other drugs in its class may lead to ketoacidosis. The condition is caused by too much acid building up in the blood.
Attorneys are currently in the early stages of investigation Invokana lawsuits on behalf of people who suffered ketoacidosis.
Another diabetes drug that made headlines in 2015 is Takeda's Actos (pioglitazone). This year the drug maker agreed to a $2.37 billion settlement for thousands of lawsuits that claim the drug caused bladder cancer in people who took it.
Share This Page:
How can we improve this page?
Thank You for Your Feedback
We appreciate your feedback. One of our content team members will be in touch with you soon.
We appreciate your feedback. One of our content team members will be in touch with you soon.