Onglyza & Kombiglyze XR
Onglyza and Kombiglyze XR are Type 2 diabetes medications sold by AstraZeneca and Bristol-Myers Squibb. They are popular medications for controlling blood sugar, but studies and the FDA linked them to an increased risk of heart failure, pancreatitis and joint pain.
The U.S. Food and Drug Administration (FDA) approved Onglyza (saxagliptin) in 2009 and Kombiglyze XR (saxagliptin and metformin HCl extended-release) in 2010. Along with diet and exercise, these two medications — marketed and sold by AstraZeneca — help control high blood sugar in people with Type 2 diabetes who do not suffer from diabetic ketoacidosis — a condition where increased ketones are present in the blood or urine. Onglyza is a popular medication, partly because it effectively controls blood sugar and does not encourage weight gain like other diabetes medications.
It reached $786 million in sales in 2015 and analysts say that by 2018, annual sales of the drug could skyrocket to $2.47 billion. Kombiglyze XR contains the same active ingredient as Onglyza, but it incorporates metformin with saxagliptin in an extended release pill. Other drugs in the same class include: Januvia (sitagliptin), Tradjenta (linagliptin) and Nesina (alogliptin).
In February 2017, the FDA approved a new oral Type 2 diabetes medication called Qtern that combines Onglyza and Farxiga (dapagliflozin). These medications belong to a group of Type 2 diabetes medications called incretin-based therapies. Specifically, they belong to a class of drugs called DPP-4 inhibitors. These drugs help the pancreas secrete more insulin and stop the liver from making excess sugar. When DPP-4 drugs first appeared on the market, they were "touted as the 'new darlings of diabetes treatment' — the biggest breakthrough since the discovery of insulin nearly a hundred years before," according to British Medical Journal editor Deborah Cohen. However, these drugs do not come without the risk of serious side effects. Some of the most concerning include heart failure, severe joint pain and pancreatitis — swelling of the pancreas that can be fatal. Researchers found a 27 percent increase in heart failure risk, along with a potential increased risk for death.
How Do Onglyza & Kombiglyze XR Work?
The active ingredient in Onglyza is saxagliptin, which is a DPP-4 inhibitor. DPP-4 is an enzyme that naturally occurs in the body. Its job is to break down an incretin hormone called GLP-1. After a person eats, the body releases GLP-1 into the blood. The hormone signals the pancreas to make insulin.
People with diabetes secrete less GLP-1, which causes the pancreas to produce less insulin, resulting in too much sugar in the blood. Since DPP-4 breaks down GLP-1, inhibiting DPP-4 allows GLP-1 to remain in the body longer. This signals the pancreas to make more insulin after meals.
In addition to producing too little insulin, the pancreases of people with Type 2 diabetes also release too much glucagon, a hormone that tells the liver to produce more glucose.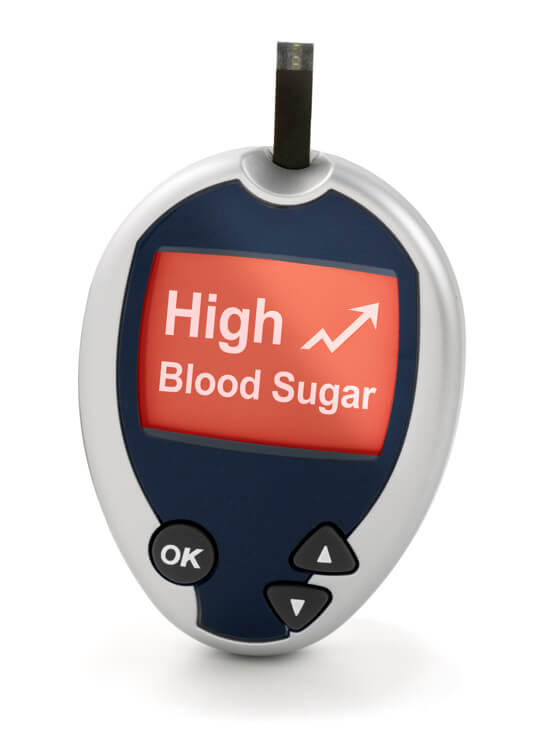 Onglyza helps control blood sugar in two ways, by:
Reducing the amount of glucagon secreted by the pancreas, stopping the liver from making too much glucose
Helping the body produce more insulin after meals
Kombiglyze XR also contains metformin, so it helps reduce blood sugar in four ways, by:
Decreasing sugar absorbed in the gut
Reducing sugar made by liver
Making the body more sensitive to insulin
Increasing amount of insulin produced after meals
Common Side Effects of Onglyza and Kombiglyze XR
In clinical trials, Onglyza and Kombiglyze XR caused a number of adverse reactions. Some were more serious than others. Because Kombiglyze XR combines the active ingredient of Onglyza with metformin, people taking the drug should be aware that this drug carries the same risks as Onglyza, but includes the possible complications of metformin as well.
According to the Kombiglyze XR medication insert, taking it with meals may lessen the stomach discomfort caused by metformin.
The most common side effects were:
Upper respiratory tract infection
Urinary tract infections
Headache
Stomach pain
Runny nose
Sore throat
Cough
Low blood sugar
Diarrhea
Nausea
Vomiting
Serious Side Effects of Onglyza and Kombiglyze XR
There is also a potential for serious side effects from taking these drugs. The manufacturer warns of possibilities ranging from skin reaction to heart failure or pancreatitis. There is some evidence of an increased risk of cancer of the pancreas or thyroid.
Heart Failure Studies
The FDA reviewed results of two large clinical trials in 2013: Saxagliptin Assessment of Vascular Outcomes Recorded in Patients with Diabetes Mellitus–Thrombolysis in Myocardial Infarction 53 (SAVOR-TIMI 53) and Examination of Cardiovascular Outcomes with Alogliptin versus Standard of Care (EXAMINE).
Fact
Researchers did not find any evidence that the drug could protect the heart, though the drug did not contribute to heart attacks. But, they found a 27 percent increased risk of hospitalization for heart failure and a potential increased risk for "all-cause mortality."
The SAVOR study found a possible link between Onglyza and an increase in heart failure (sometimes referred to as cardiac failure). The goal of the 16,492-patient study was to see if Onglyza could provide heart-protective benefits in addition to controlling blood sugar.
In EXAMINE, which included 5,380 study participants, 3.9 percent were hospitalized for heart failure versus 3.3 percent receiving placebo.
Heart failure occurs when the heart pumps blood at a slower-than-usual rate. This prevents the body from receiving the oxygen and nutrients it needs. It can also lead to a buildup or congestion of fluids throughout the body, called congestive heart failure. Symptoms of heart failure include congested lungs, bloating, increased need to urinate, dizziness, fatigue and rapid or irregular heartbeats.
Dr. Anthony DeMaria, editor in chief of the Journal of the American College of Cardiology, told Reuters that people at risk for heart failure should probably avoid the drug.
Patients taking Onglyza or Kombiglyze XR along with diabetes drugs in the thiazolidinedione (TZD) family, such as pioglitazone (Actos) or rosiglitazone (Avandia), are at an increased risk of swelling in the hands, feet or ankles.
Januvia (sitagliptin) is another DPP-4 drug similar to Onglyza and Kombiglyze XR. In the Trial Evaluating Cardiovascular Outcomes with Sitagliptin (TECOS) trial, researchers did not find a risk for heart failure with Januvia.
Pancreatitis
In November 2011, information about pancreatitis was added to Onglyza's warnings and precautions. Pancreatitis is inflammation of the pancreas; serious cases require hospitalization and can lead to death. Pancreatitis can also lead to pancreatic cancer.
The FDA received postmarket reports of patients suffering from acute pancreatitis after taking Onglyza.
According to the FDA, doctors should carefully monitor patients, and Onglyza and Kombiglyze XR should be discontinued if pancreatitis is suspected. It is unknown whether Onglyza increases the risk of a relapse in patients who have a history of pancreatitis.
Lactic Acidosis and Kombiglyze XR
Kombiglyze also contains metformin, so it has additional side effects. The biggest concern with metformin is a condition called lactic acidosis — a rare side effect that causes a buildup of lactic acid in the blood and can cause death. Patients need immediate medical attention for this condition. Symptoms include weakness, fatigue, muscle pain, trouble breathing, vomiting and irregular heartbeat.
FDA Safety Communications
The FDA released several drug safety communications related to Onglyza and Kombiglyze XR in 2013, 2015 and 2016. Subsequently, the agency ordered AstraZeneca to add information to the drugs' labels.
The FDA released the following safety communications:
2013

Increased risk of pancreatitis and pre-cancerous findings of the pancreas.

2015

May cause disabling and severe joint pain.

2016

Risk of heart failure.
Who Should Not Take Onglyza or Kombiglyze XR?
As with most medications, certain people with certain medical conditions should not take Onglyza or Kombiglyze XR.
Ask your doctor if you:
Know you are allergic to any of the ingredients in Onglyza or Kombiglyze XR
Have had previous heart failure of kidney problems
Are pregnant or plan to become pregnant (it is not known if saxagliptin may harm the baby)
Plan to breastfeed (it is not known if saxagliptin may be passed through breast milk)
Please seek the advice of a medical professional before making health care decisions.
How helpful was this page?
How can we improve this page?
How can we improve this page?