Congressman Fitzpatrick, 'E-Sisters' Take Fight Against Essure to Congress
Fact-Checked
Editors carefully fact-check all Drugwatch content for accuracy and quality.
Drugwatch has a stringent fact-checking process. It starts with our strict sourcing guidelines.
We only gather information from credible sources. This includes peer-reviewed medical journals, reputable media outlets, government reports, court records and interviews with qualified experts.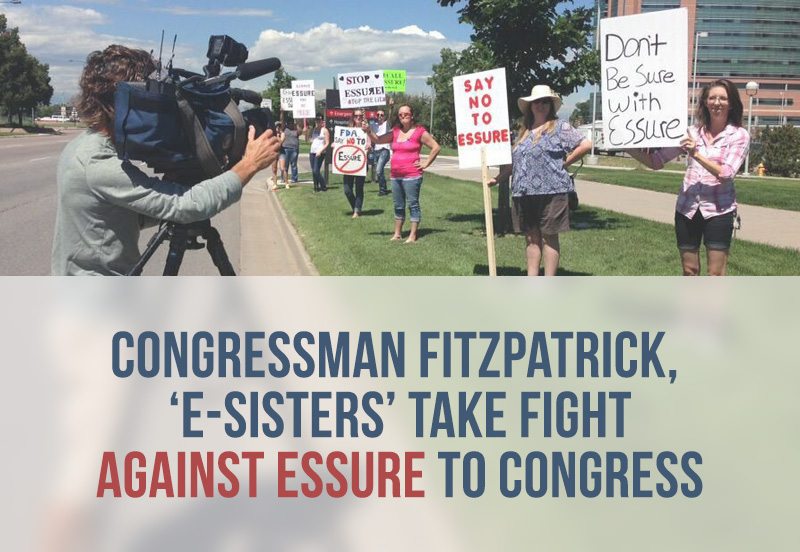 With U.S. Rep. Mike Fitzpatrick's help, women harmed by Bayer's controversial Essure birth control device are taking their fight to Congress.
At 2 p.m. today, Fitzpatrick will introduce a bipartisan bill at the U.S. Capitol Building calling for the removal of Essure from the market. The effort comes on the 13th anniversary of original approval for the device which has caused serious, life-changing injuries to thousands of women — and some deaths to women and unborn babies. The congressman's office received hundreds of complaints about the device.
Fitzpatrick's bill asks that the U.S. Food and Drug Administration revoke the device's premarket approval status and end all sales.  The action comes about a month after women injured by Essure — who call themselves E-Sisters — attended an FDA panel hearing on Essure on Sept. 24 at the agency's headquarters in Silver Spring, Maryland. The women threatened to stage a hunger strike to call more attention to their concerns.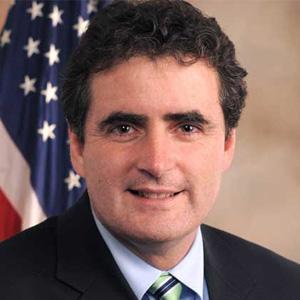 Essure has caused the deaths of at least five unborn babies and four women, Fitzpatrick said in his statement. Thousands of women have reported a host of health problems that they say were caused by Essure, including loss of hair and teeth, debilitating pelvic pain, bleeding, migraines and puncturing and cutting of other organs in the body. The FDA itself has reported about 5,000 adverse events linked to Essure.
Fitzpatrick said it's time to stop the injuries.
"Bayer is a trusted name in the industry. However, right now, one of their products, the Essure device, is harming women and needs to be removed from the market," he said in his statement. "I believe it is imperative to the continued success of their brand and the other work they do to immediately end production of a product that poses such a danger to patient safety."
The birth control implant hit the market in 2002 and consists of two metal coils doctors implant into a woman's fallopian tubes.

The birth control implant hit the market in 2002 and consists of two metal coils doctors implant into a woman's fallopian tubes. After three months, scar tissue develops around the implants, sealing the tubes and preventing pregnancy. Bayer maintains the device is almost 100 percent effective and safe, but thousands of women disagree, claiming the implant ruined their lives and some even filed lawsuits.
Tara DiFlumeri, a  spokeswoman for Bayer, responded with a statement in defense of the implant, citing more than 10 years of research backing Essure's safety.
"Bayer stands by the positive benefit-risk profile of Essure and we look forward to working closely with the FDA as it considers the advice of its Obstetrics and Gynecology Panel of the Medical Devices Advisory Committee," she said. "Bayer's highest priority is patient safety and we sympathize greatly with any woman who may have experienced problems following an Essure procedure."
E-Sisters Fight to Get Essure Off the Market
Bayer says about 750,000 women — 80 percent of them in the United States — have the device implanted in their bodies. Bayer has advertised Essure as a non-surgical alternative to getting tubes tied,  with a quick recovery period that allows most women to leave the doctor's office in about 45 minutes with no down time. However, a new study in the BMJ medical journal maintains that Essure is no more effective for preventing pregnancy than tubal ligation. The Essure procedure also costs more to perform, and women who get the implants are 10 times more likely to need another operation to treat complications.
It's been a long road for many Essure recipients, including many who suffered for years before discovering the cause of their deteriorating health.
"They sell it to you like it's a vacation," Essure recipient Angela Lynch told Drugwatch. Like many women, the busy single mother of three thought Essure would be a great option for her to prevent pregnancy. She eventually underwent a hysterectomy to remove the device years later.
"When I started having problems after getting Essure in 2008, I didn't know what it was. I had no reason not to trust my doctor. It didn't occur to me that it was Essure," she said.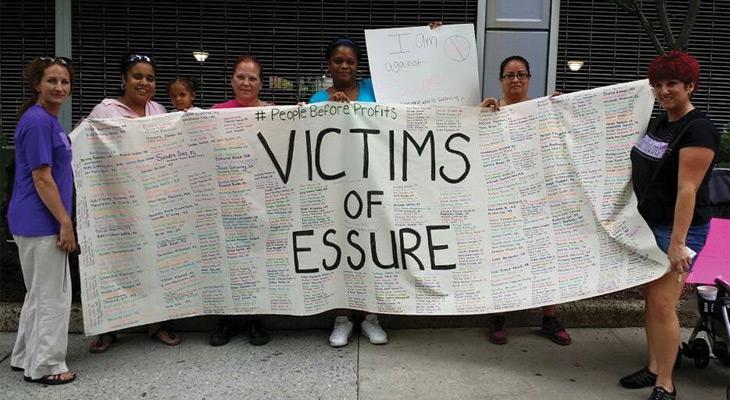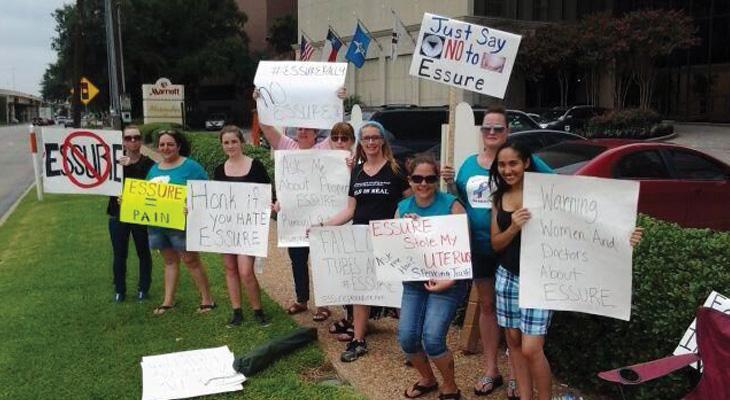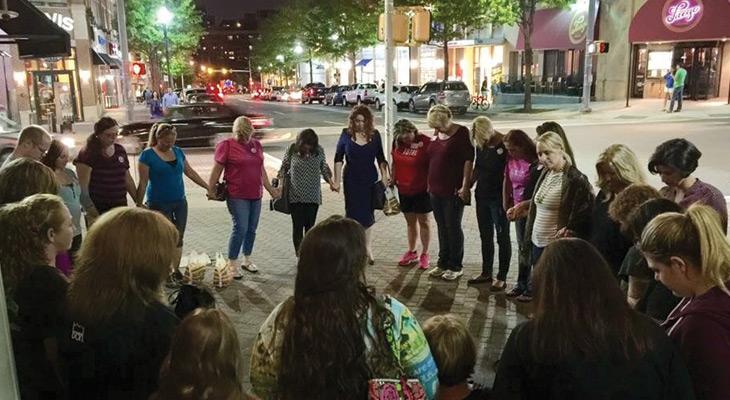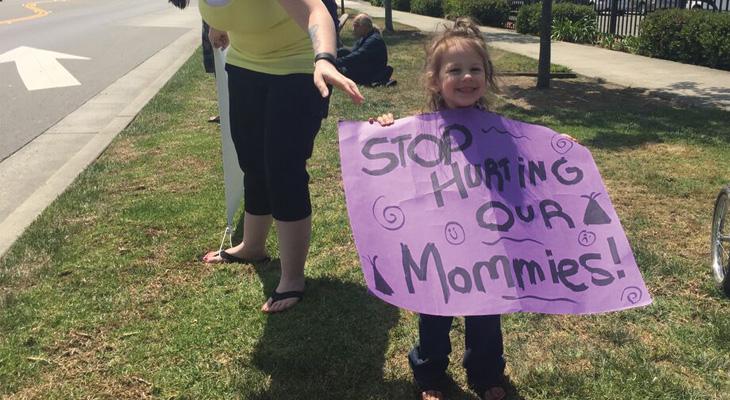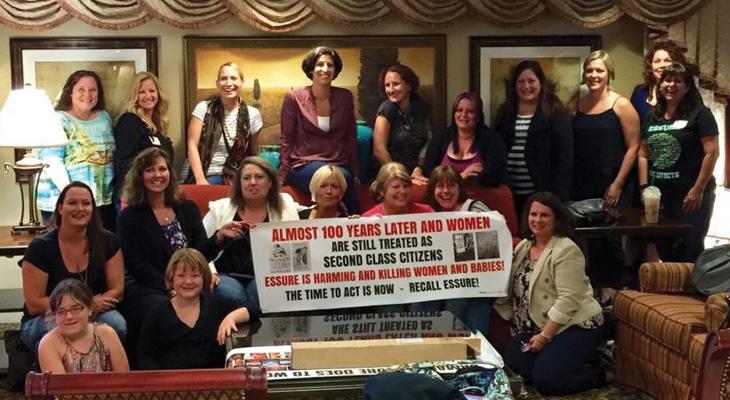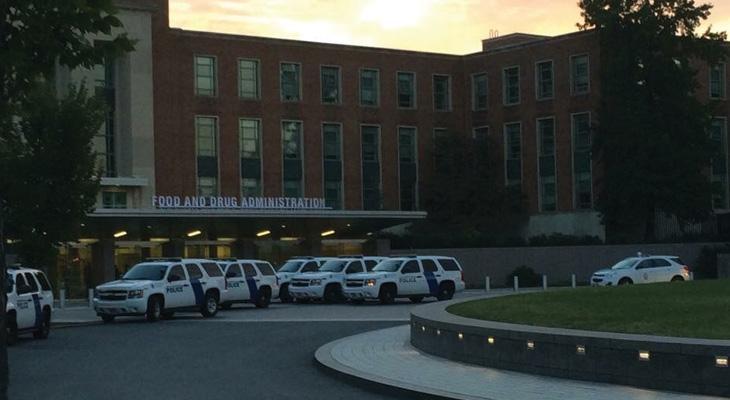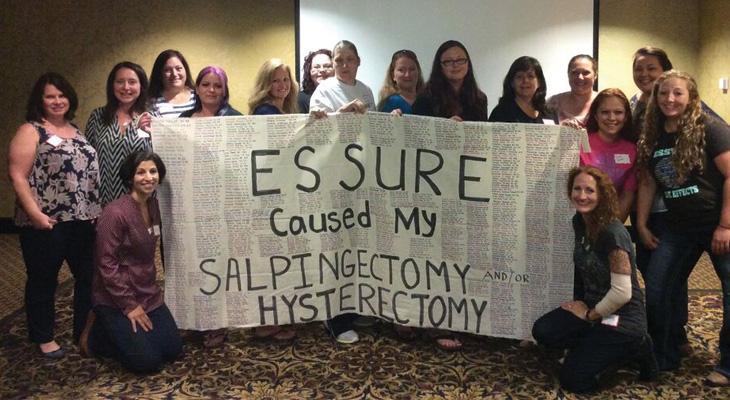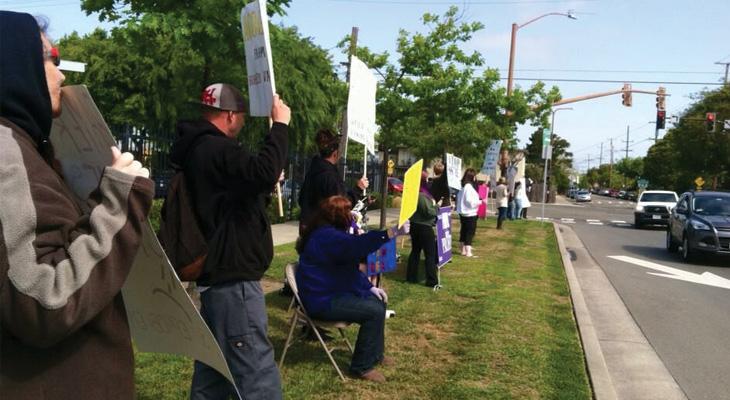 Lynch said she turned to the Internet to search for answers to the unexplained pain, headaches and sickness she felt after receiving Essure.  She found the Facebook group Essure Problems. When she joined the group in 2012 there were only about 130 members. The group began reaching out to other women harmed by Essure, calling themselves E-Sisters.
Three years later the group now supports about 22,000 women. The fire and passion of the group caught the eye of renowned consumer advocate Erin Brockovich.
"There's too many voices, there's too many women harmed all by the same common denominator, and that is a device called Essure," Brockovich said on Australian television program Seven's Sunday Night.
When the FDA finally announced a hearing for Essure on September 24, 2015, the E-Sisters mobilized and discussed having a hunger strike to coincide with the meeting.
Women Take their Fight to the FDA
Lynch and fellow E-Sister Darlene Taylor were among the women who attended the FDA hearing in Silver Spring.  Lynch and Taylor are two of the administrators of the Essure Problems page on Facebook. Taylor's own battle with Essure is ongoing. Not only did she lose her health, but her marriage of almost 30 years buckled and broke under the strain, ending in divorce. Much of the struggle many Essure sufferers go through occurs deep within the body, out of sight. Taylor said her experience with Essure was "nightmarish." The device practically exploded in her body after it shifted from her fallopian tube. She still carries fragments of it embedded in her hip, which cause her constant pain.
It isn't just the woman who suffers, Taylor said. It is the entire family. Taylor lost her marriage, and her children watch her suffer daily.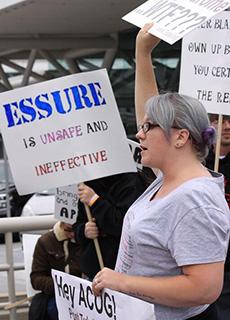 "You know, if you walk around with a cast on your arm, people know you are injured," Taylor told Drugwatch. "But when you walk around with an invisible illness, they tend to look at you as if you are crazy, as if you are addicted to pain pills or that you just want attention. We literally cry and beg for people to believe us. My children ask me everyday, 'Mommy are you okay? Are you going to die?' It's difficult to watch them go through this."
It was an emotional moment for the women as they expressed their concerns to the Obstetrics and Gynecology Devices Panel of the FDA's Medical Devices Advisory Committee.
The women maintain it was an eye-opening experience.
"The FDA is supposed to be an advocate for consumers. Everything I thought and wanted to believe was not there," Lynch said. "I had tears in my eyes when I watched the officials from Bayer shaking hands with people from the FDA. They were laughing and smiling."
Lynch and a number of other E-Sisters discussed starting a hunger strike outside the building after the meeting, depending on the outcome of the meeting.  To Lynch's surprise, several police departments and even the U.S. Department of Homeland Security contacted her with guidelines that they should follow during the protest. The Montgomery County Police Department warned them that they would be arrested for trespassing if they stayed longer than five days.
"What did they think a bunch of sick women were going to do?" she said. "The FDA even told us they gave the employees the day off so they 'wouldn't have to step over us' during the protest."
The group decided not to conduct the hunger strike because of pressure from authorities and the poor health of some of the protesters.
Lynch: FDA Meeting a 'Small Victory'
Lynch said the women left Silver Spring with more determination than before. "Now it is all on record," Lynch said. "All the data and studies, it's all there. No one can say this isn't happening anymore, and we intend to continue fighting. Cancelled protest aside, it's still a small victory."
The FDA panel found a lack of data on Essure and stressed the need for proper patient counseling and more physician training. They also cited the need for more training on how to remove the device. Currently,  few physicians are properly trained to perform the delicate procedure.
Fitzgerald's E-Free Act now breathes new life into the fight and a renewed sense of hope for the E-Sisters. Many of them, including Melanie Goshgarian, are praising Congressman Fitzpatrick for his support.
"I've been dealing with this for seven years," Goshgarian told Drugwatch. "It's a blessing to know many women might be saved years of suffering. Everyday I get at least 100 emails from new women who need help and advice."
Goshgarian underwent a hysterectomy through power morcellation to remove her Essure implant. The FDA recently warned that women who undergo a hysterectomy with morcellation risk the spread of uterine cancer. After her surgery, she found out she had cancer and fragments of Essure remain in her body. She is still grateful to be able to advocate for others.
"It's absolutely wonderful that people are finally listening," she said.
The E-Sisters have since channeled the support they amassed through Essure into a new non-profit called ASHES that they hope will help provide resources and support to all women affected by medical devices.
Update
Rep. Fitzpatrick presented the E-Free Act to Congress and urged his colleagues to support it. He criticized the FDA for its lack of action.
"The failures of Essure are well documented and wide ranging. Yet, in the face of all these facts, this device remains on the market; certified with the FDA's stamp of approval. That's unacceptable to me and unacceptable to the tens of thousands of "Essure Sisters" who are living with this device's effects," Fitzpatrick said in a statement. "If the FDA or manufacturer aren't willing to act in the best interest of these women, Congress must."
The bill must still go through a lengthy process before it is signed into law. After a senator or representative introduces a bill, the proper committee then votes on it. If enough people vote on it favorably, it makes its way back to the House and Senate for debate. After Congress creates a version of the bill with all amendments from the House and Senate, the bill must get a majority vote. If this happens, it makes it to the President. The President can either sign the bill into law or veto it.
Both Fitzpatrick and the women affected by the device hope Congress helps them put pressure on the FDA.
"The Essure Problems group is so very grateful for the support of Congressman Fitzpatrick. The women harmed represent every party, every nationality, every color, and every walk of life. We have been able to stand side by side and unite and work together for this cause," said Amanda Rusmisell, victim and Legislative Liaison of the Essure Problems group.
Share This Page:
How can we improve this page?
Thank You for Your Feedback
We appreciate your feedback. One of our content team members will be in touch with you soon.
We appreciate your feedback. One of our content team members will be in touch with you soon.