About 750,000 women have used Essure to prevent pregnancy. Conceptus Inc. originally manufactured the contraceptive, and the U.S. Food and Drug Administration approved Essure in 2002. In 2013, Bayer bought Conceptus for $1.1 billion and continued to market Essure. Bayer markets it as the only "FDA-approved permanent form of birth control with a procedure that can be performed in an office setting without general anesthesia." According to the company's five-year clinical study data, it is nearly 100 percent effective at preventing pregnancy.
Conceptus Inc. originally manufactured the contraceptive, and the U.S. Food and Drug Administration approved Essure in 2002. In 2013, Bayer bought Conceptus for $1.1 billion and continued to market Essure. Bayer markets it as the only "FDA-approved permanent form of birth control with a procedure that can be performed in an office setting without general anesthesia." According to the company's five-year clinical study data, it is nearly 100 percent effective at preventing pregnancy.
While the device's manufacturer claims Essure is safe and effective, thousands of women disagree. They say the metal coils caused them injuries such as perforation of the fallopian tube, neurological damage and severe pain. In some cases, women died from complications.
In September 2015, the FDA held a meeting to examine the safety of the product after reports of thousands of adverse events.
In September 2017, Bayer announced it was removing Essure from every market outside the U.S. The company said at the time the decision was "made for commercial reasons and that it is not related to a safety or product quality issue." Essure remained on the market in the U.S. following the announcement.
How Does Essure Work?
Three months following Essure insertion into the fallopian tubes, scar tissue builds around the coils, blocking the tubes. Women must still use other forms of birth control to prevent pregnancy during this time. A follow-up visit with the doctor can confirm that the fallopian tubes are properly sealed. In some cases, the tissue build-up may take more than three months to complete.
The woman's ovaries will continue to release eggs once the tubes are blocked, but sperm will not be able to reach them, preventing pregnancy. The body breaks down the unfertilized eggs and reabsorbs them.
Some gynecologists implant Essure while doing other gynecological procedures such as uterine ablation, which is an option for treating heavy menstrual bleeding. Ablation involves burning off the lining of the uterus. Women who have ablation are not likely to get pregnant. Typically, only women who no longer wish to become pregnant should undergo ablation. While the chance of pregnancy is slim after this procedure, there is still a chance it may happen. Women who become pregnant after ablation have a high risk of miscarriage and other pregnancy problems. For this reason, doctors recommend using birth control until after menopause. They usually recommend permanent birth control like Essure or tubal ligation.
Essure Insertion Procedure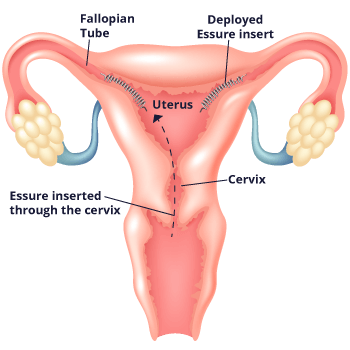 One of the selling points of Essure is that the procedure is fast. The procedure takes only about 10 minutes in a doctor's office without a need for incisions or anesthesia. In contrast, tubal ligation (tying tubes) requires small cuts and anesthesia. In tubal ligation, surgeons can either burn the fallopian tubes shut or clamp them with a small clip.
To insert Essure, the doctor uses a disposable, thin metal catheter containing the compressed Essure coils and inserts them into the body through the vagina. The doctor then positions the coils at the entrance of each fallopian tube and implants them. Once implanted, the coils expand to a length of about 1.5 inches and anchor to the walls of the tubes. One of the most common complaints after the procedure is cramping or mild discomfort similar to what occurs during a woman's monthly cycle. Most women go home and continue normal activities immediately after the procedure.
Reversing the Essure Procedure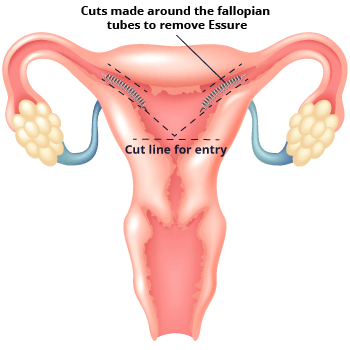 Like Essure, tubal ligation is considered a permanent method of birth control. But doctors can surgically reverse a tubal ligation because younger women may regret their decision to get their tubes tied. During tubal ligation reversal, surgeons reconnect the fallopian tubes. According to the National Institutes of Health, more than half the women who undergo reversal are able to become pregnant.
Reversing Essure is slightly more complex because the metal coils were never designed to come out. Scar tissue cements the coils in place in the body and makes them difficult to remove. But some surgeons are skilled enough to remove the coils with minimal damage. The surgeon makes small cuts above the pubic hairline. Then they make small cuts in the fallopian tubes and carefully cut out each metal coil along with surrounding scar tissue. Doctors then reconnect the fallopian tubes to the uterus. After the surgery, however, the uterus is more likely to rupture during the later stages of pregnancy.
Complications of Removing Essure
Sometimes a regular Essure reversal is not possible because the fallopian tubes and uterus may be too damaged. Surgeons then opt to do a complete hysterectomy.
The long-term effects of hysterectomies can affect a woman's quality of life. For instance, removing the uterus can lead to incontinence, bowel dysfunction, pelvic organ prolapse, sexual problems and the formation of scar tissue in the pelvic organs. Some women receive transvaginal mesh to treat incontinence and prolapse, but the implant may also cause its own complications, like organ perforation and severe pelvic pain.
One technique doctors use to perform hysterectomies is called power morcellation. Surgeons use power morcellators, electric, drill-like devices, to chop up the uterus into smaller pieces and remove it from the pelvic cavity. The danger in this technique is the spread of undiagnosed uterine cancer in the abdomen and pelvic area. So, in addition to issues with Essure, it is possible women may face other health problems related to Essure removal.
Essure Side Effects
Not all women have a complication-free experience with Essure. In the case of Essure, the manufacturers reported a list of side effects, and women later reported additional side effects they experienced.
In addition to the list of adverse reactions reported by the manufacturers, some women reported autoimmune problems, migraines, hair loss and perforation of the fallopian tubes or other organs.
E. Scott Sills, MD, PhD discusses the most common issues and side effects associated with Essure
Side Effects Reported in Premarketing Studies
There are several reported side effects related to Essure. According to Conceptus' premarket application, the majority of women experienced "mild to moderate pain" and spotting for about three days after the procedure.
Initial premarketing studies list the most common adverse events, including: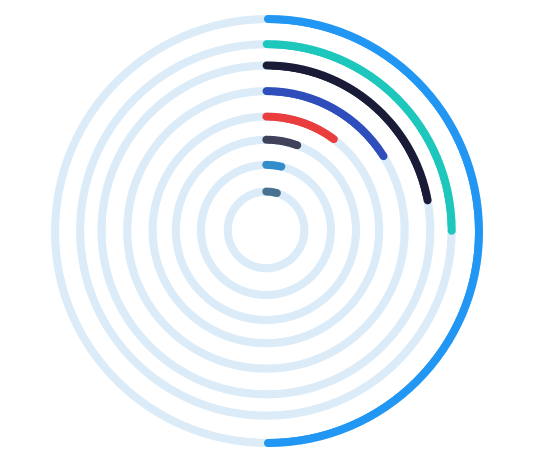 Cramping - 20%
Vomiting - 8%
Dizziness - 5%
Device expulsion - 2.2%
Perforation - 1.5%
Fainting - 1%
Device migration - 0.6%
Hypervolemia - 0.2%
Side effects in the first year of premarketing Essure use include:
Abdominal cramps
Bloating
Back pain
Arm and leg pain
Headaches
Severe cramps
Abdominal pain
Vaginal discharge and infection
Heavier periods
Abnormal bleeding
Painful intercourse
More Adverse Events Reported to the FDA
While the manufacturer reported relatively mild side effects initially, the FDA conducted a search of the Manufacturer and User Facility Device Experience database, also known as MAUDE. From November 2002 to May 2015, the agency received 5,093 reports about Essure. Most of the reports were voluntary and came from women experiencing problems.
Prior to the FDA panel review of the device in September 2015, the agency said it found 20,000 complaints from women who shared stories on Facebooks and Twitter, ABC News reported. In addition, the FDA also saw a "dramatic increase" in reported adverse events. In some cases, women may require removal of the inserts.
The Adverse Events Reported to FDA Include: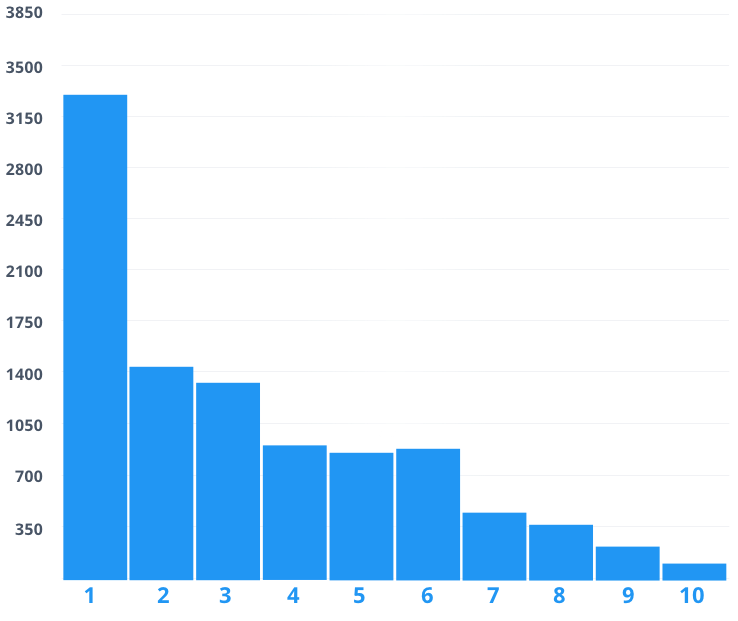 1

Abdominal pain - 3,353

2

Heavy periods - 1,408

3

Headache - 1,383

4

Fatigue - 966

5

Weight fluctuations - 936

6

Device incompatibility- 941

7

Device migration - 482

8

Device operating unexpectedly - 301

9

Device breakage - 259

10

Malposition of device - 133
Deaths Linked to Essure
In addition to the reported adverse events, a number of deaths are linked to Essure. According to the FDA, five fetuses died as a result of the birth control system. Four women also died from infection, uterine perforation, air embolism and suicide, respectively.
In February 2016, analyst Madris Tomes, founder and chief executive officer of Device Events, found 303 possible fetal deaths linked to Essure and more than 10,500 adverse events.

Pennsylvania Congressman Mike Fitzpatrick sent a letter to the FDA and called on Bayer to take responsibility.
"When we talk about data reporting, we are talking about more than just numbers," Fitzpatrick said. "We are talking about 303 unborn children who were killed because of a failure of a product. And, at the same time the deaths were not properly analyzed by the FDA."
Analyst Madris Tomes highlights the more than 10,500 adverse events she uncovered linked to Essure
FDA Black Box Warning and Recommendations

After finding thousands of adverse event reports, the FDA called a panel hearing on Sep. 24, 2015. During the meeting, the FDA noted more studies, and it ordered Bayer to conduct postmarket surveillance studies about Essure's benefits and risks.
The agency did not ban the device, as some women advocated, but it did issue recommendations.
The agency advised that:
Patients should be carefully selected and should sign a patient checklist acknowledging they understand complications.
Women with a hypersensitivity to nickel should not use Essure.
Women with autoimmune disorders, chronic pelvic pain or prior uterine surgery should not use Essure.
Doctors should counsel patients on risks.
More training is needed for physicians.
The agency also recommended a black box warning — its most serious warning — for adverse events.
Madris Tomes explains how the independent adverse events data she collected on Essure differs from the FDA's
Who Should Not Use Essure?
Because Essure is a permanent form of birth control, women who are unsure about wanting more children should not use it.
Essure is not recommended for use in women who:
Have previously had their tubes tied, had an abortion, just delivered a baby, or have active or recent infections six weeks prior to a scheduled Essure insertion.
Are undergoing chemotherapy or other immunosuppressive therapies. There is a risk of insufficient tissue growth around the coils.
Cannot have both inserts implanted because of possible complications.
Clinical Studies and Controversy
Researchers conducted premarket studies on 643 female participants, and there were no reported pregnancies. Bayer maintains that Essure is 99.83 percent effective, although the safety and effectiveness of the device was not tested on women younger than 21 or older than 45.
A study conducted in 2014 by Contraception journal questioned the device's efficacy claims. Dr. Aileen Gariepy, assistant professor in the department of gynecology and reproductive sciences at Yale School of Medicine, and colleagues used available published data to determine how effective Essure would be under real-world conditions outside of a lab setting.
Researchers found that nearly 10 percent of women who used Essure could become pregnant. That is four times the risk of pregnancy after tubal ligation, which is the more traditional method of permanent birth control in women.
Questionable Data
The FDA approved Essure through a fast-track process with the condition that Conceptus follow study participants for at least four to five years following the procedure, The New York Times reported.
Some of the study's findings include:
15 women had hysterectomies after using the device
38% of participants had unusually heavy periods
5% suffered from recurrent pelvic pain
4% reported painful intercourse
The long-term study was finished in 2007, but the data was not published until April 2015 in the Journal of Minimally Invasive Gynecology. Out of the original 518 study participants, 366 were followed for five years.
Bayer would not reveal how many women in the U.S. used Essure, making it difficult for experts to gauge the risk-to-benefit ratio. Dr. Gariepy found it troubling that only 70 percent of trial participants were followed for the full five years.
"The most common reason patients are lost like this is because they had a problem," she told the Times.
Women Claim Clinical Trials Were Falsified
Women who participated in clinical trials said Conceptus researchers hid their reports detailing how some women suffered severe pain from Essure. Kim Hudak, one of the trial participants, said her answers were altered to get the device approved. Two other women have also come forward, NBC 4 News New York reported.
Hudak told the Times that she suffered from sharp pains, migraines, fatigue and joint pain that interfered with her ability to work. She filed a lawsuit against Bayer for lost wages and suffering.
"It felt like I had a really severe case of the flu, and those were the good days, I had years and years of doctors telling me I was crazy."
– Kim Hudak, Essure clinical trial participant
In April 2015, the FDA began an investigation into the allegations that study results were falsified. They found six cases of possible tampering but said they were sporadic and did not reveal a pattern.
Legislation Inspired by Essure
Congress members have taken notice of rising complaints over Essure to push for legislative and regulatory reforms.
In October 2017, three congresswomen wrote to FDA Commissioner Scott Gottlieb about what they saw as slow progress in Bayer's post market safety investigation.
"The FDA cannot continue to allow Bayer to drag its feet on this post-market study while women are continuing to suffer," Representatives Rosa DeLauro, Jan Schakowsky and Louise Slaughter said in their joint letter.
The congresswomen said Bayer had promised in March 2016 to enroll 78 patients every month into the study once sites for the study had been approved. By October 2017, they claimed 60 sites had been approved for the study but only one patient had been enrolled.
Because of patients' groups formed by women injured by Essure — including the Facebook support group Essure Problems — a number of lawmakers have taken notice. They have sponsored bills intended to make medical devices safer.
These proposed laws include:
The E-Free Act (H.R. 3920) – The bill focuses on ordering the FDA to revoke the PMA (premarket approval) status of Essure. PMA protects Bayer from liability when Essure injures patients.
Ariel Grace's Law (H.R. 5403) – A bipartisan bill to remove federal preemption protections for all Class III PMA devices that harm patients. It is named for an unborn child who died because of Essure.
Medical Device Guardians Act of 2016 (H.R. 5404) – The bill would require physicians to report significant adverse events from medical devices. Under current laws & regulations, physician reporting of adverse events is voluntary.
Please seek the advice of a medical professional before making health care decisions.
Author
Michelle Y. Llamas is a senior content writer. She is also the host of Drugwatch Podcast where she interviews medical experts as well as patients affected by drugs and medical devices. She has written medical and legal content for several years — including an article in The Journal of Palliative Medicine and an academic book review for Nova Science Publishers. With Drugwatch, she has developed relationships with legal and medical professionals as well as with several patients and support groups. Prior to writing for Drugwatch, she spent several years as a legal assistant for a personal injury law firm in Orlando. She obtained her English – Technical Communication degree from the University of Central Florida. She is a committee member with the American Medical Writers Association.
---