Essure is a non-surgical, permanent birth control (female sterilization) implant. Doctors place a flexible metal coil with polyester fibers into each fallopian tube through the vagina.
Essure implants work by causing scar tissue to build up in the tubes. The Essure procedure is 99.3 percent effective at preventing pregnancy.
The U.S. Food and Drug Administration approved Essure in 2002. Conceptus originally manufactured Essure. Bayer bought the company in 2013.
Conceptus and Bayer have sold about 1 million devices worldwide since 2002.
But thousands of women in the U.S. and other countries reported serious Essure side effects. These women filed Essure lawsuits against Bayer.
Many of these women appeared in a 2018 Netflix documentary about dangerous medical devices called The Bleeding Edge.
In 2017, Bayer stopped selling Essure in all countries except the U.S.
In 2018, the FDA restricted the sale of the device because of Essure side effects. Only doctors and hospitals that inform women of the risks can buy and implant Essure. Bayer announced in July 2018 that Essure would leave the U.S market buy the end of the year.
How Essure Works
Essure works differently from other methods of permanent birth control. Doctors don't need to cut into the body. They don't use electricity to burn the fallopian tubes.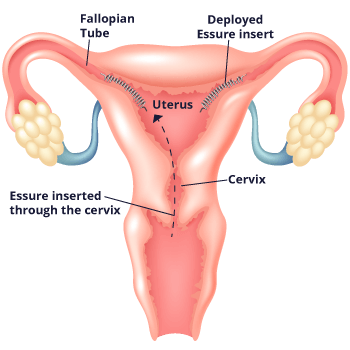 Doctors place an Essure device into each fallopian tube. They go through the vagina, cervix and uterus to do so.
Essure works by causing scar tissue to form in the tubes. This scar tissue blocks sperm from reaching the egg and prevents pregnancy.
Essure implants are made of polyester fibers, nickel, titanium, platinum, silver-tin and stainless steel. The implants don't contain hormones. So, women still get their period while on Essure.
It takes about three months for scar tissue to build up and prevent pregnancy.
After three months, women must have the Essure Confirmation Test.
Doctors use a transvaginal ultrasound or vaginal x-ray to confirm that the fallopian tubes are blocked. Until then, women must continue to use other forms of birth control.
Essure Procedure and Removal
Inserting an Essure implant takes about 10 minutes in a doctor's office. There is no cutting or anesthesia, according to Bayer.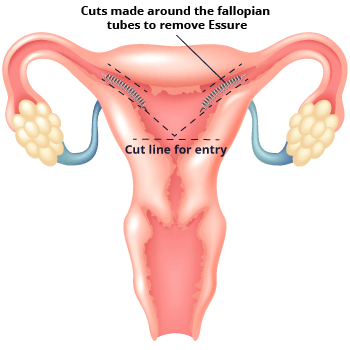 Doctors insert Essure coils with a disposable metal catheter. The catheter goes to the entrance of each fallopian tube through the vagina. The doctor then places a coil into each tube.
Once implanted, the coils expand to a length of about 1.5 inches. They anchor to the walls of the tubes.
In some cases, Essure birth control can cause serious side effects. This can lead to the need to remove the Essure device.
Essure removal requires additional surgery. Some women have had more than one surgery to remove them.
How Much Does the Essure Procedure Cost?
Essure can cost women anywhere from $0 to $2,500 on average. Most health insurance plans cover the Essure procedure. Because of the Affordable Care Act (ACA), Essure may be available at no cost.
Essure Side Effects and FDA Warning
Essure side effects can happen during the insertion procedure or after the procedure. There are also long-term Essure side effects.
The FDA required a black box warning on Essure for organ perforation, coils moving to the abdominal or pelvic cavity, persistent pain and allergic reactions. 
Essure side effects include:
Autoimmune disorders
Bleeding
Bowel or bladder injury
Abdominal cramps
Depression
Device migration
Dizziness
Ectopic pregnancy (pregnancy outside the uterus)
Essure coil breakage
Fainting
Fetal death
Hair loss
Headaches
Infections
Metal allergies
Nausea
Painful sex
Pelvic pain
Perforation of the uterus or fallopian tubes
Reactions to optional local anesthesia
Sexual problems
Surgery to remove Essure
Vomiting
Weight gain
Essure Lawsuits
Thousands of women filed Essure lawsuits against Bayer claiming Essure caused serious, permanent side effects. Women claim Conceptus falsified clinical trial results to obtain device approval.
Essure lawsuits also claim Bayer hid side effect reports from the FDA. Plaintiffs accuse Bayer of negligence and failure to warn. Bayer also failed to properly train doctors on how to implant Essure, lawsuits say.
Women across the country continue to file Essure lawsuits.
Essure Problems Group: Essure Ban and Law Reform
In 2011, Angie Firmalino founded the Essure Problems Facebook group. The group supports women suffering from Essure side effects. It also advocates for safer medical devices.
Essure Problems has more than 35,000 members. It also has spin-off groups in several countries. The group's goal is to ban Essure in the U.S.
In February 2018, Essure Problems members met with FDA Commissioner Dr. Scott Gottlieb. The meeting did not lead to a ban. But, in April 2018 the FDA restricted sales of the device.
Group members partnered with members of congress to propose laws that make Essure and other medical devices safer.
"Faulty medical devices, such as St. Jude defibrillators, Essure contraception and power morcellators have had tragic and life-changing effects on the lives of American families across the country."
Essure-inspired laws targeting medical device safety include:
The E-Free Act (H.R. 3920)

The bill focuses on ordering the FDA to revoke the PMA (premarket approval) status of Essure. PMA protects Bayer from liability when Essure injures patients.

Ariel Grace's Law (H.R. 5403)

A bipartisan bill, Ariel Grace's Law aims to remove federal preemption protections for all Class III PMA devices that harm patients. It is named for an unborn child who died because of Essure.

Medical Device Guardians Act of 2016 (H.R. 5404)

The bill would require physicians to report significant adverse events from medical devices. Under current laws and regulations, physician reporting of adverse events is voluntary.
Please seek the advice of a medical professional before making health care decisions.
How helpful was this page?
How can we improve this page?
How can we improve this page?