Essure Permanent Birth Control
Essure is a form of non-surgical, permanent birth control for women that is 99.3 percent effective at preventing pregnancy, according to the device's maker, Bayer. The company stopped selling the device in the United States in 2018, citing a decline in sales. Then, in 2020, Bayer announced it would pay $1.6 billion to settle nearly 39,000 Essure claims involving women who alleged serious device-related injuries.
The U.S. Food and Drug Administration approved Essure permanent birth control in 2002. Conceptus originally manufactured the female sterilization implant, and Bayer bought the company in 2013.
Since then, the device has had a tumultuous history. Thousands of women in the United States and other countries have reported serious side effects. They formed patient support groups and some filed lawsuits against Bayer. Some of these women appeared in a 2018 Netflix documentary called The Bleeding Edge to warn other women and tell their stories.
Shortly before the documentary's release, the FDA restricted the sale of the device because of side effects. Only doctors and hospitals that informed women of the risks could buy and implant the device. Then, Bayer announced it would discontinue the device after Dec. 31, 2018. The company maintains the device is safe and effective and said the decision to pull the device was a financial one.
The FDA said health care professionals can continue to implant the devices up to one year from the date they purchased them. Women who want to have the procedure have to find a doctor who still has a supply of implants. The procedure could cost women anywhere from $0 to $2,500 on average.
Most health insurance plans covered the procedure in the past. Because of the Affordable Care Act (ACA), the device may have been available at no cost. Conceptus and Bayer sold about 1 million devices worldwide between 2002 and 2018, according to a Reuters report.
How the Implant Works
Essure works differently from other methods of permanent birth control. Unlike with methods that require surgery such as tubal ligation, doctors who implant Essure don't need to cut into the body, and they don't use electricity to burn the fallopian tubes. Instead, doctors place the flexible metal coil into each fallopian tube without the need for incisions or anesthesia. They go through the vagina, cervix and uterus to do so.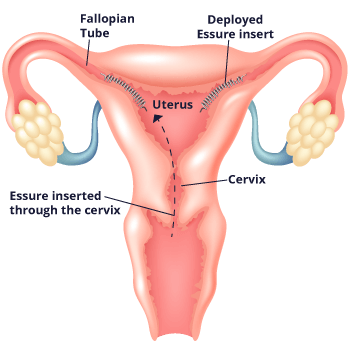 The device causes scar tissue to form in the tubes. This scar tissue blocks sperm from reaching the egg and prevents pregnancy. The implants are made of polyester fibers, nickel, titanium, platinum, silver-tin and stainless steel. The implants don't contain hormones, so women with the implant still get their period.
It takes about three months for scar tissue to build up and prevent pregnancy. After three months, women must have the Essure Confirmation Test. Doctors use a transvaginal ultrasound or vaginal X-ray to confirm the fallopian tubes are blocked. Until then, women must continue to use other forms of birth control.
Insertion and Removal
The entire implantation procedure takes an average of 36 minutes in a doctor's office, according to Bayer. Although neither cutting nor anesthesia is necessary, a doctor may recommend medicine to relieve anxiety or a local anesthetic to reduce potential discomfort.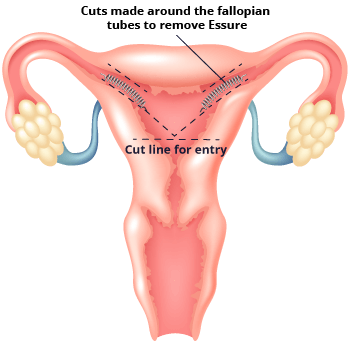 Doctors insert the coils with a disposable metal catheter. The catheter goes to the entrance of each fallopian tube through the vagina. The doctor then places a coil into each tube. Once implanted, the coils expand to a diameter of 1.5 millimeters to 2 millimeters. They anchor to the walls of the tubes.
In some cases, the implant can cause serious side effects. This can lead to the need to remove the device. Essure removal requires additional surgery. Some women have needed more than one surgery to remove their device.
Side Effects and Precautions
Essure side effects and complications can happen during or after the insertion procedure. They can be short-term or long-term. The FDA required Bayer to add a black box warning to the labeling information to let patients know about reports of organ perforation, coils moving to the abdominal or pelvic cavity, persistent pain and allergic reactions. In October 2022, the FDA announced an additional year of follow-up data for Essure device removal. Although Essure has not been available for implantation in the United States since December 2019, the FDA continues to monitor the product's safety through an FDA-required postmarket surveillance study and other activities.
According to Bayer's Essure website, side effects that can occur during or after the procedure include:
Perforation of the uterus or fallopian tube
Bladder or bowel injury
Pain
Cramping
Vaginal bleeding
Pelvic or back discomfort
Headaches
Nausea
Vomiting
Dizziness
Fainting
Infection
Allergic reactions (hives, rash, swelling and itching)
Ectopic pregnancy
Device migration
In addition to these side effects, women reported a number of postmarketing adverse events, including hair loss, dental problems, autoimmune disorders and painful sex. These complications occurred in real-world practice and not in controlled clinical trials.
Who Should Not Get Essure?
Women who are considering Essure should talk to their doctor to make sure the device is right for them. Bayer does not recommend the procedure for women with certain preexisting conditions or women who may wish to have more children. Clinical trials did not study the device's safety and effectiveness in women under the age of 21 or over the age of 45.
Some reasons not to get the device include:
desire to have more children
prior tubal ligation
allergies to contrast dye
unexplained vaginal bleeding
suspected or known cancer of reproductive organs
pregnancy or possible pregnancy
fallopian tube problems
use of immune suppressing therapy
history of allergies to nickel, titanium, platinum, silver-tin, stainless steel or polyester fibers
Women should wait to get the device if they have an existing gynecological infection or if they are in the third or fourth week of their menstrual cycle. Women implanted with the device in the second half of their menstrual cycle may be more likely to get pregnant. Women should wait at least six weeks after the end of a pregnancy to undergo the procedure.
Essure Problems Group: Support and Medical Device Reform
In 2011, Angie Firmalino founded the Essure Problems Facebook group. The group supports women who suffer from side effects of the implant. It also advocates for safer medical devices.
The group has more than 41,000 members. It also has spin-off groups in several countries.
Its goal has been to ban Essure in the United States. In February 2018, members of the group met with FDA Commissioner Dr. Scott Gottlieb. The meeting did not lead to a ban, but in April 2018 the FDA restricted sales of the device.
The group rejoiced when Bayer announced it would stop selling the device in the United States, but its members worry about the women who still undergo the procedure without knowing the risks.
Now, group members are focusing on making all medical devices safer. Essure Problems has partnered with members of Congress, including Congresswoman Rosa DeLauro, to propose laws to improve medical device safety.
"Faulty medical devices such as St. Jude defibrillators, Essure contraception and power morcellators have had tragic and life-changing effects on the lives of American families across the country," DeLauro said in a press release.
"Faulty medical devices, such as St. Jude defibrillators, Essure contraception and power morcellators have had tragic and life-changing effects on the lives of American families across the country."
Essure-inspired bills that target medical device safety include:
The E-Free Act (H.R. 3920)

The bill focuses on ordering the FDA to revoke the PMA (premarket approval) status of Essure. PMA protects Bayer from liability when Essure injures patients.

Ariel Grace's Law (H.R. 5403)

Ariel Grace's Law is a bipartisan bill that aims to remove federal preemption protections for all Class III PMA devices that harm patients. It is named for Ariel Grace Burrell, a stillborn baby. It is believed an improperly placed or migrated Essure coil ruptured the amniotic sac and caused the stillbirth delivery.

Medical Device Guardians Act of 2016 (H.R. 5404)

The bill would require physicians to report significant adverse events from medical devices. Under current laws and regulations, physician reporting of adverse events is voluntary.
Please seek the advice of a medical professional before making health care decisions.
Share This Page:
How can we improve this page?
Thank You for Your Feedback
We appreciate your feedback. One of our content team members will be in touch with you soon.
We appreciate your feedback. One of our content team members will be in touch with you soon.
Who Am I Calling?
Calling this number connects you with a Drugwatch representative. We will direct you to one of our trusted legal partners for a free case review.
Drugwatch's trusted legal partners support the organization's mission to keep people safe from dangerous drugs and medical devices. For more information, visit our partners page.