Scottish Government Apologizes to Mesh Victims While U.S. Remains Silent
Fact-Checked
Editors carefully fact-check all Drugwatch content for accuracy and quality.
Drugwatch has a stringent fact-checking process. It starts with our strict sourcing guidelines.
We only gather information from credible sources. This includes peer-reviewed medical journals, reputable media outlets, government reports, court records and interviews with qualified experts.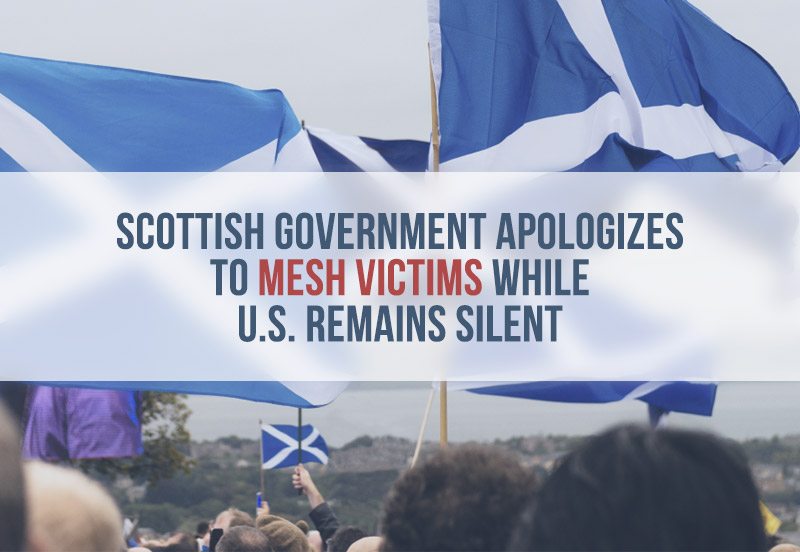 In October 2015, Scotland's Health Minister Shona Robison apologized to hundreds of Scottish women left in debilitating pain after receiving transvaginal mesh implants. It was a victory for Scottish women, but American women who suffered complications from mesh are disappointed in the U.S. government's lack of action regarding the device that they say caused debilitating injuries.
"It should never have taken women to have to campaign in this way to shine a light on this issue. I want to thank them for all that they have done. They have left a legacy for other women," Robison said at the Scottish Parliament.
Debbie McGreachy, a 46-year old Scottish woman now confined to a wheelchair because of mesh complications, wept at the apology.
"There were a lot of tears because this is them finally admitting what they have done. We and the MSPs (Members of Scottish Parliament) are concerned that every woman who has had this procedure should be made aware of the possibility of adverse reactions five or 10 years down the line," McGreachy told the National.
In Scotland, nearly 2,000 women receive mesh implants each year. The Scottish Parliament received a report from doctors with recommendations to increase doctor and patient education on the product. It accepted the recommendations.
Thousands Harmed by the 'Gold Standard' in U.S.
Transvaginal mesh — also called surgical mesh — is an implant made of polypropylene plastic that resembles a fine net. The product first appeared on the market in the 1990s in the U.S. It quickly became the "gold standard" of treatment for women with stress urinary incontinence and pelvic organ prolapse, a condition where organs may sag into the vagina after childbirth or a hysterectomy.
The gold standard ended up causing numerous problems for women who say the net-like implants destroyed their families and their lives.
In the years following mesh's release, thousands of women reported serious complications linked to mesh including organ perforation, inability to have intercourse and severe bleeding. Many women find they can no longer work, exercise or even walk. The U.S. Food and Drug Administration said it received over 4,000 reports of adverse events and eventually called a committee meeting in 2011 to review the implants.
American Mesh Sufferers 'Abandoned by the FDA'
In the U.S., hundreds of thousands of women received the implant, and there are more than 70,000 federal lawsuits pending against seven manufacturers of the device. Leading the pack in the litigation before U.S. District Judge Joseph R. Goodwin is Johnson & Johnson with more than 28,000 cases against its Ethicon unit. Boston Scientific and C.R. Bard rank second and third, with 18,625 and 12,192, respectively.
American women affected by mesh are supportive of Scotland's efforts, but bitter at their own government's lack of action.
"No one who we have asked for help has acknowledged the (women) mesh injured," Janis Urban, an American mesh recipient told Drugwatch in an email. "Women have been abandoned by the FDA, Congress and an entire medical community."
Urban received J&J's Ethicon mesh implant for a mild overactive bladder. Her life was never the same. She suffers from a number of autoimmune problems and daily pain. She said she reached out to legislators and various government agencies by phone, email and postal mail.
Her efforts were met with silence.
"I've been asking for almost four years why pelvic mesh is still being placed in women's bodies (at the rate of) 500,000 implants a year," Urban said in a video posted on Facebook she calls The Stone Cold Truth. "Am I talking to a bunch of rocks?"
Because of the lack of information and help from doctors and the FDA, many frustrated women end up turning to the legal system for help.
Mesh Me Not, a blog dedicated to helping educate women on the complications of mesh and provide support, posted an entry on its page about the controversy:  "Sometimes, it seems the only ones listening are the lawyers. Like many people, I have never been a fan of lawsuits, or lawyers in general.  But, guess what?  Sometimes, you need a lawyer," wrote Deb, the author of Mesh Me Not. She does not publish her last name on the site.
FDA Reclassification of Mesh Still Pending
In the US, the FDA held an Obstetrics & Gynecology Devices Advisory Committee Meeting in September 2011. During this meeting it recommended that the device be reclassified from a moderate risk class II device to a high-risk class III device. Under this new classification, manufacturers would have to provide more studies on safety. In 2014, it issued the proposal again.
"The FDA has identified clear risks associated with surgical mesh for the transvaginal repair of pelvic organ prolapse and is now proposing to address those risks for more safe and effective products," William Maisel, M.D., M.P.H., deputy director of science and chief scientist at the FDA's Center for Devices and Radiological Health wrote on the FDA website.
More than a year later, there is still no action from the FDA. In fact, it's only mesh-related action this year was to allow a new mesh implant called the Vertessa Lite on the market. Like all the other devices before it, the FDA approved it under the 510(k) program, a clearance process that does not require stringent testing for safety or efficacy.
Companies are still setting aside money for future lawsuits attached to the products. At the end of October 2015, Danish company Coloplast set aside and additional $448 million for an estimated 2,000 remaining cases.
"We have people that have had mesh put in just earlier this year that are suffering," Urban told Drugwatch. "Since 2011 they have been trying to reclassify mesh. But it's 2015! We're not getting anywhere. Our government has to step in like the Scottish government. Mark my words, you will eventually see me in front of Congress in Washington."
Share This Page:
How can we improve this page?
Thank You for Your Feedback
We appreciate your feedback. One of our content team members will be in touch with you soon.
We appreciate your feedback. One of our content team members will be in touch with you soon.