Testosterone Gel Not the Fountain of Youth, More Studies on Risk Needed
Fact-Checked
Editors carefully fact-check all Drugwatch content for accuracy and quality.
Drugwatch has a stringent fact-checking process. It starts with our strict sourcing guidelines.
We only gather information from credible sources. This includes peer-reviewed medical journals, reputable media outlets, government reports, court records and interviews with qualified experts.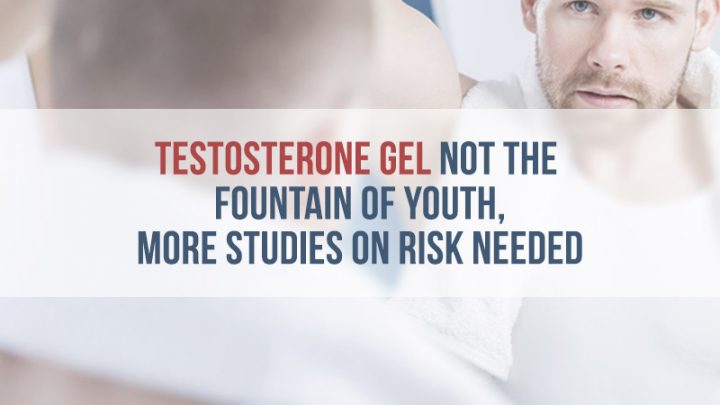 A new study on testosterone gel revealed that the benefits of drugs like AndroGel are more modest than previously thought. Some doctors are still unsure about encouraging widespread use of the drug without more data on long term health risks like heart problems and prostate cancer.
Makers of popular gels like AndroGel have been criticized for overhyping the benefits of testosterone replacement drugs and promising increased libido, energy and better mood while downplaying side effects. Results of the study suggest that testosterone gels are not cure-alls for the more than one million men that have been smearing gels on their bodies in recent years.
These so called anti-aging drugs rake in billions for drug companies. By 2017, analysts estimated revenue from testosterone drugs could reach $5 billion annually. Right now, Americans spend about $2 billion on testosterone replacement therapies each year.
The study published in the February 2016 issue of the New England Journal of Medicine is the first of its kind. Funding came from The National Institutes of Health and AbbVie, the maker of AndroGel, who also provided its drug for the study. Researchers looked at data from about 800 men aged 65 and older at various centers nationwide. Problems faced by men in the study were low sex drive, lack of energy and slower walking.
Only men diagnosed with low levels of testosterone and related symptoms were included in the study. Men in the study randomly received either a testosterone gel or gel without testosterone to use for a year. Scientists stress that the results of the study do not apply to patches, shots or oral forms of the drug.
Improvement scores in the testosterone group were modest when it came to increased sexual desire, and improvements with erectile dysfunction were much less. In fact, scientists compared results with drugs like Viagra and found those treatments more effective. Also, while there were slightly better improvements in mood, there was no change in energy boost or walking speed between the two groups.
Benefit Versus Risk
Some doctors hope the modest results would cool the testosterone drug frenzy of recent years.
"Frankly," Dr. Sundeep Khosla of Mayo Clinic College of Medicine told the New York Times, "There is a lot of abuse."
There are many men seduced by the promises in drug ads and doctors who prescribed the gels and other supplements without even testing men's testosterone levels, Khosla said. AbbVie led the pack in advertising dollars, even coining the term "Low T."
Study authors pointed out that not enough is known about risks to issue a recommendation for the drug's use. Some studies already suggested men who use testosterone replacement therapy, whether it is a gel, patch or injection, have an increased risk of heart attacks, strokes and even prostate cancer.
While the study design is considered the "gold-standard" and involves rigorous research, there are still concerns.
Dr. Peter Snyder, a University of Pennsylvania hormone specialist and the study's lead author, said that more studies were still needed on possible long-term risks.
"Making a recommendation depends on knowing all the benefits versus risks," he told The Associated Press. "We still don't know everything we want to know."
Several recent studies question the safety of the drugs. For instance, a study in PLoS One authored by a team from the National Cancer Institute found that heart attack risk rose three-fold in the first 90 days of taking a testosterone drug. What's more, these drugs are actually not FDA-approved for use in men without clinically diagnosed low levels of testosterone because of a medical condition.
Thousands of Men File Heart Attack, Stroke Lawsuits
The testosterone craze also brought about another side effect: mounting lawsuits. Thousands of men filed lawsuits against the makers of testosterone replacement drugs after they say the drugs caused them to have strokes and heart problems.
Currently nearly 5,000 federal lawsuits are pending in the Northern District of Illinois before Judge Matthew F. Kennelly and an unknown number are pending in state courts across the country.
Last year, the FDA asked manufacturers of testosterone gels to conduct a large clinical trial to properly gauge heart risks. A spokesman for AbbVie told the New Times the companies were designing the trials.
Share This Page:
How can we improve this page?
Thank You for Your Feedback
We appreciate your feedback. One of our content team members will be in touch with you soon.
We appreciate your feedback. One of our content team members will be in touch with you soon.