Judge Allows Essure Birth Control Lawsuits Against Bayer to Move Forward
Fact-Checked
Editors carefully fact-check all Drugwatch content for accuracy and quality.
Drugwatch has a stringent fact-checking process. It starts with our strict sourcing guidelines.
We only gather information from credible sources. This includes peer-reviewed medical journals, reputable media outlets, government reports, court records and interviews with qualified experts.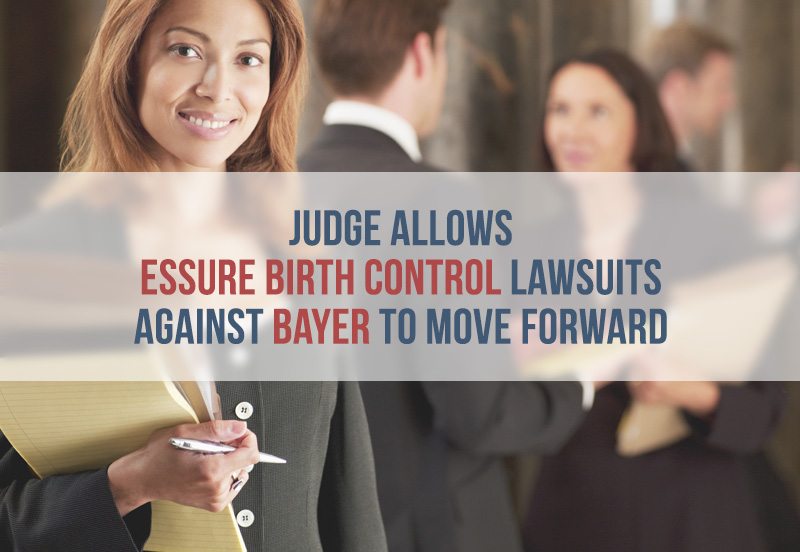 A federal judge dismissed a number of counts in five lawsuits filed against Bayer by women who say the company's Essure birth control device caused them permanent injuries.  But, he allowed the claims to proceed with failure to warn and negligent misrepresentation claims and will allow complaints to be amended.
The five lawsuits pending before U.S. District Judge John R. Padova of the Eastern District of Pennsylvania will continue against Bayer with the following claims: Negligent manufacture, negligent risk management, breach of express warranty, negligent training and fraudulent manufacture.
Thousands of women who say they were injured by the Essure birth control device said the ruling was a big victory in their fight against Bayer. Prior, many lawsuits were barred by preemption — a liability protectFDA let women downion that the FDA grants certain manufacturers who supposedly submitted to the agency's most rigorous safety and efficacy tests.
"We have been fighting to expose the truth about the dangers of, and the corruption behind this device," Angie Firmalino an administrator and co-founder of Essure Problems said in a statement. "To finally hear that we will have our day in court was cause for celebration. The order could not have come at a better time, as we recently were let down, yet again, by our FDA."
Women also filed a separate group of thirty cases in the Circuit Court of St. Louis, Mass Device reported.
"Bayer purposefully deceived not only the FDA, but our nation's physicians and ultimately their patients who entrusted their lives, health and well-being on the promise of a safe, effective product," plaintiff's attorney, Eric Holland said in a press release.
Meanwhile, Bayer says the claims are unfounded.
"We have sound defenses including federal preemption. The design, manufacturing method, warnings and instructions for use for Essure were approved by FDA under the agency's pre-market approval (PMA) authority, which subjected Essure to the highest level of scrutiny that exists in the federal regulatory system," Tara DiFlumeri told Mass Device. "This complaint is an attempt by plaintiffs to 2nd-guess the FDA."
Judge's Order 'Bodes Well For Litigation'
While the news is positive for plaintiffs, some attorneys also caution that it is still too early to predict the ultimate outcome of the litigation. Travis Lepicier — who was not involved in this specific litigation, but is also handling Essure cases for Levin, Papantonio, Thomas, Mitchell, Rafferty & Proctor, P.A. — cautioned that it was still too early to know how the order will affect Essure cases as a whole.
"Some of the claims did survive preemption, which certainly bodes well for the litigation," Lepicier told Drugwatch. "The order could get things rolling in the right direction."
In their complaints, the plaintiffs said they suffered a number of complications from the Essure birth control device, including: organ damage after the device migrated from the fallopian tubes. Four of the women had to undergo hysterectomies to remove the device, while one woman had her fallopian tubes removed and delivered a baby with birth defects.
Bayer attempted to have the claims dismissed and said the allegations were too vague. Judge Padova sided with the plaintiffs, saying the negligent misrepresentation claims were properly supported.
"We nevertheless caution plaintiffs to consider carefully the legal and pleading principles that we have set forth at length in this opinion and urge them to set forth with greater clarity the facts on which each individual plaintiff's claims are based," Padova said.
Women Affected by Essure Energized by Progress
For many women affected by Essure, this has been a hard-fought battle. For years, members of the Essure Problems Facebook support group have been taking to social media and to Congress to raise awareness and get the device banned. After being barred from lawsuits for several years by preemption, the women are feeling more hopeful.
The order provided the women much needed hope, and they considered it a victory.
"[The] announcement about five cases in Pennsylvania surviving some preemption claims was a huge milestone that many doubted we would ever reach," Amanda Dykeman, an administrator for the support group Essure Problems. "As someone who has served in the research role for Essure Problems over the past several years, I am humbled that women may now be able to seek justice for their injuries."
At the end of February, the FDA issued their long-awaited recommendations for the birth control device. The agency recommended a black box warning and more safety studies. Essure Problems members were outraged and felt the FDA let women down.
"While yesterday's judicial decision in Pennsylvania is monumental, it does not negate the fact that thousands of women are suffering and will continue to suffer from a substandard and dangerous product, which is still on the market," Elena Marie Mendez of Essure Problems said. "A black box warning does not encompass all that is necessary to protect women from harm."
Share This Page:
How can we improve this page?
Thank You for Your Feedback
We appreciate your feedback. One of our content team members will be in touch with you soon.
We appreciate your feedback. One of our content team members will be in touch with you soon.