Testosterone Linked to Greater Heart Attack Risk in Men, UK Study Shows
Fact-Checked
Editors carefully fact-check all Drugwatch content for accuracy and quality.
Drugwatch has a stringent fact-checking process. It starts with our strict sourcing guidelines.
We only gather information from credible sources. This includes peer-reviewed medical journals, reputable media outlets, government reports, court records and interviews with qualified experts.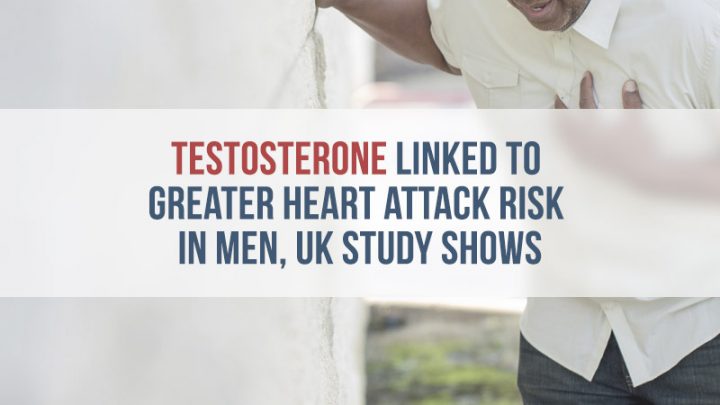 Scientists in the UK studied the effect testosterone has on blood vessels and found the hormone triggered hardening of the arteries, BBC News reported. The study could have new implications for millions of American men using testosterone therapy.
"Whilst testosterone deficiency has been linked with cardiovascular disease in men, the effects of ART [Androgen Replacement Therapy] on vascular health are currently highly controversial," study authors wrote. "Our work offers new insight into the role of androgens in disease and provides direct evidence to suggest that testosterone contributes to the pathological process of vascular calcification."
The study conducted by the British Heart Foundation and Biotechnology and Biological Sciences Research Council was prompted in part by the increase in testosterone replacement therapy, also called androgen replacement therapy. Athletes also use synthetic forms of testosterone to improve performance, authors Zhu et al. wrote in the Scientific Reports journal. The aim of the study was to understand how testosterone affects calcification, or hardening of the arteries.
Researchers at the University of Edinburgh conducted studies on the blood vessel tissue of mice and examined tissue from arteries of humans with heart disease. They found testosterone causes blood vessel cells to produce a bone-like calcium deposit. When scientists removed testosterone receptors in mice, there was much less calcification.
Hardening of the arteries is linked to increased risk of stroke and heart attack, and study authors feel they are closer to understanding the role testosterone plays in the process.
"Calcification is particularly difficult to treat, as the biological processes behind the disease are similar to those used by our body to make and repair bone," Dr. Vicky MacRae, of the University of Edinburgh's Roslin Institute said in a statement. "By finding this link between testosterone and calcification we may have discovered a new way of treating this disease and also reducing heart disease."
Testosterone Replacement Therapy Linked to Heart Attacks, Stroke
American men spend about $2 billion a year on testosterone therapy to treat symptoms of "Low T," but evidence on safety is far from solid. Some doctors worry that growing numbers of men without a medical diagnosis of abnormally low testosterone use the drug to regain lost youth. Side effects of these drugs are still poorly understood.
One study published in PLoS One found that men aged 65 and older on TRT have a 1 in 167 risk of having a heart attack in the first 90 days of therapy. For men younger than 65 with pre-existing heart trouble have a 1 in 100 risk.
Shortly after, the U.S. Food and Drug Administration announced it was investigating the risk and stressed that "none of the FDA-approved testosterone products are approved for use in men with low testosterone levels who lack an associated medical condition."
The topic of TRT is still highly debated among doctors.
Advocate Calls for Label Warning
Dr. Sidney Wolfe of advocate group Public Citizen feels the FDA should add heart attack warnings to the labels of drugs like AndroGel and Testim. Wolfe called the FDA "reckless" for its lack of action.
There are nearly 30 studies on TRT, Wolfe told Drugwatch. At least thirteen found no risk, but Wolfe points out these no risk studies were funded by drug companies, while independent studies show some evidence of cardiovascular issues.
The inconclusive studies didn't stop men who say they suffered heart attacks, blood clots and strokes after testosterone therapy from taking their concerns to court. Thousands of lawsuits are currently pending against drug makers in federal and state court.
But, some scientists feel more study is needed to definitively connect TRT to cardiovascular issues, including Professor Jeremy Pearson, Associate Medical Director at the British Heart Foundation, which helped fund the Scientific Reports study.
"This study, in cells taken from mice and human tissue, provides new evidence that testosterone can increase calcification," Pearson said in a statement. "But significantly more research is needed to understand whether the results have implications for patients with heart disease or those taking androgen replacement therapy."
Share This Page:
How can we improve this page?
Thank You for Your Feedback
We appreciate your feedback. One of our content team members will be in touch with you soon.
We appreciate your feedback. One of our content team members will be in touch with you soon.